Dubai Duty Free Shergar Cup

Saturday 6th August 2016
Hayley Turner comes out of retirement as a one-off to replace Michelle Payne
Hayley Turner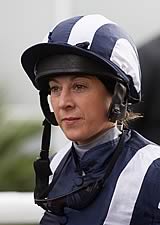 Hayley Turner will return to the saddle in a one-off appearance to ride in the Dubai Duty Free Shergar Cup at Ascot.
Britain's most successful female rider retired at the end of last season but hot on the heels of being awarded an OBE earlier this month, Turner has answered the call to make a short-lived comeback for the girls team at the annual riders' competition.
Top Australian jockey Michelle Payne had been due to compete in the August 6 event but she is currently sidelined for an indefinite period after suffering abdominal injuries in a fall.
Her injury left a space in the team alongside Canadian Emma-Jayne Wilson and Cathy Gannon, who is also out of action at present having broken all five toes in her foot.
Turner will now fill that void and she is hoping the girls team can complete back-to-back victories having landed the competition for a first time in 2015.
She said: "The Shergar Cup has always been my favourite day of the racing calendar and I wouldn't have considered coming out of retirement for any other event.
"It's a real shame that Michelle Payne is unable to join the team and I wish her a speedy recovery. I'm looking forward to the challenge and hope myself, Emma-Jayne and Cathy Gannon can recreate the magic of our team's victory from last year."
Nick Smith, director of racing and communications at Ascot, believes racing fans are lucky to see Turner back in the plate.
"British racegoers were going to see a new female legend in Michelle Payne and we are very fortunate that such is Hayley's passion for the event, they are instead going to get a rare, and possibly last chance to see her ride competitively under formal rules again," he told www.ascot.co.uk.
"It's incredibly bad luck on Michelle that she suffered such a serious injury. We were very much looking forward to welcoming her to the UK - something that had been planned from the day after her Melbourne Cup victory."