Exotic Dancer Powers to Gold Cup Glory
11/11/06
Exotic Dancer caused a 16/1 upset when collecting the feature of The Open, the £110,000 Paddy Power Gold Cup on Saturday 11th November 2006.
Exotic Dancer and AP McCoy


© racing-images.co.uk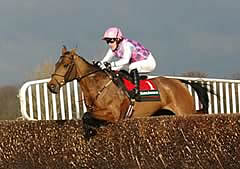 1st 5 Exotic Dancer 16/1
2nd 14 Vodka Bleu 4/1
3rd 15 New Alco 16/1
4th 18 Butler's Cabin 20/1

Non Runners
9 Chilling Place 17 Another Joker
Owned by Sir Robert Ogden, trained by Jonjo O'Neill and partnered by Tony McCoy, the six-year-old was still at the rear at the top of the hill but came with a strong late run to challenge Vodka Bleu at the last and went away to win by three lengths from that rival with New Alco half a length back in third.
Tony McCoy commented: "He jumped brilliantly all the way.

"I told Sir Robert Ogden that he was very disappointing and just didn't finish his race at Carlisle last time and that is why I decided just to ride him today to get him round - if it all went wrong it would be my fault!
"I don't think it was a great ride - I think it just happened. He was more relaxed today.

"It's always easy on the right horse!"
Jonjo O'Neill added: "He's a funny old horse. We always thought he was good but he's proved disappointing and frustrating - this was only his second win for us.

"He's had a few problems and fractured his pelvis last year and we left him for the season after that.
"This year he is a stronger horse but is still a bit of a character;.

"When he's good, he's good - it's just that he is not always on a going day.

"Although he only ran at Carlisle five days ago, he ran a funny sort of race that day and didn't take anything out of himself. He was fresh and well so we thought it was worth coming here today. Tony has given him a wonderful ride."
Looking ahead to the future, O'Neill added: "I don't know where he will go next. We will look at the programme book and we could come back to Cheltenham next month (for the £150,000 Boylesports.com Gold Cup on December 9) - we will have to see what the handicapper does."
Tony McCoy, partnering his fourth Paddy Power Gold Cup winner, said after his decisive victory on Exotic Dancer: "Before I went out I talked to Sir Robert Ogden, the horse's owner, and told him I was very disappointed when I rode Exotic Dancer at Carlisle on Monday. The horse did not finish his race.
"I said I was going to ride him now to run well. I said if I give him a bad ride, I'd accept that for him to finish. I don't think I gave him a good ride just now - it just happened for him.

"He relaxed today - in the three-runner race at Carlisle the other day he was keen. I put him in my 10 to follow in the Telegraph because I thought there was a nice race in him.

"It is easy when you are on the right horse."
His other Paddy Power Gold Cup winners have been Cyfor Malta (1998), Lady Cricket (2000) and Shooting Light (2001).
VODKA KEEPS PIPE STABLE IN TOP SPIRITS
Maintaining continuity is the watchword at Pond House Stables following the retirement of trainer Martin Pipe, and the yard's wonderful Paddy Power Gold Cup record was given another endorsement by Vodka Bleu.

Following an injury layoff of 714 days the odds were against Vodka Bleu, who was sent off the 4-1 favourite and finished three-lengths second to Exotic Dancer and half a length ahead of third-placed New Alco.

David Pipe said: "He's run a fantastic race and it looked like he was going to win turning for home, but then you could just see AP creeping closer - the winner has improved from his Carlisle run [on Monday].

"It's pleasing to see the horse back on the track. He jumped brilliantly for Timmy [Murphy]. He's in the Hennessy Gold Cup [for which he is 10-1 with William Hill and 12 with totesport], but we'll see how he is in the morning."

Ferdy Murphy, who trains New Alco, said: "He wants three miles and stayed on all the way to the line. A stronger gallop would have suited him.

"We can now play in the big handicaps if the handicapper doesn't do anything stupid. There's the William Hill here in March and the Grand Sefton at Aintree. He's not big, but he jumps and Graham [Lee] said he is there when you want him. I wouldn't mind having a few more like him, small as he is."

Jonjo O'Neill, who trained the winner and fourth, Butler's Cabin, said of the latter: "He ran a blinder, a nice race. I'm very happy with him."
THE PADDY POWER GOLD CUP CHASE
Class 1, Grade 3 Handicap, 2m 4 1/2f Old Course, £110,000 guaranteed for 4yo+; Weights: raised 8lb; Minimum Weight: 10st; Penalties: after October 28th, a winner of a Class 3 chase 3lb; of a Class 1 or 2 chase 6lb (no penalty to increase a horses's weight above 11st 12lb), Taranis' Handicap Mark 149; Entries: 55 pay £125; Confirmed: 28 pay £295; Penalty Value: 1st £62,722, 2nd £23,529, 3rd £11,781, 4th £5,874, 5th £2,948, 6th £1,474
1 EXOTIC DANCER (Sir Robert Ogden) Jonjo O'Neill 6-11-02 Tony McCoy 16-1
2 VODKA BLEU (David Johnson) David Pipe 7-10-11 Timmy Murphy 4-1F
3 NEW ALCO (D McGowan And S Murphy) Ferdy Murphy 5-10-07 Graham Lee 16-1
4 BUTLER'S CABIN (J P McManus) Jonjo O'Neill 6-9-07 Johnny Farrelly (7) 20-1
5 GRAPHIC APPROACH (Mr & Mrs Peter Orton) Charles Egerton 8-11-02 Noel Fehily
6 TAMARINBLEU (The Arthur White Partnership) David Pipe 6-11-10 Tom Scudamore
7 KANDJAR D'ALLIER (Let's Live Racing) Alan King 8-10-13 Robert Thornton
8 NAYODABAYO (D Tumman & R F Bloodstock) Evan Williams 6-10-09 Mr Nick Williams (5)
9 TOO FORWARD (T Gibson & D Mathias) Carl Llewellyn 10-11-10 Tony Dobbin
10 CALATAGAN (Mr 7 Mrs j Davenport) Malcolm Jefferson 7-10-10 Tom Dreaper (3)
11 TUMBLING DICE (Mrs John Donegan) Tom Taaffe IRE 7-11-02 Niall Madden
12 KELREV (Len Jakeman, Flintham, King & Roberts) Venetia Williams 8-10-13 Paul O'Neill (3)
F KNOWHERE (Raymond Mould) Nigel Twiston-Davies 8-11-01 Tony Evans
F 2 out TARANIS (Mrs A Yeoman) Paul Nicholls 5-11-12 Ruby Walsh
U 2 out TIGHE CASTER (Don Jones) Peter Bowen 7-10-06 Tom O'Brien
P COPSALE LAD (Swallow Partnership) Nicky Henderson 9-11-06 Mick Fitzgerald
16 ran
Non Runners: Chilling Place (Ground), Another Joker (Ground)
Distances: 3l, 1/2l, 3 1/2l, 2 1/2l, 3/4l, 4l, 12l, 7l, 1 1/2l, 3 1/2l, 11l
Breeder: Gaetan Gilles and Ecurie Jules Ouaki
Breeding: Turgeon (USA) - Northine (FR)
Tote Win: £14.80; Places: £2.50, £2.00, £4.20, £3.80; Exacta: £109.20
PADDY POWER GOLD CUP HISTORY

The Paddy Power Gold Cup is a great race with an illustrious history. The 2m 4.5f contest was first run in 1960 and the race has seen many well-known chasers in action.
Our Vic provided Martin Pipe with his eighth Paddy Power Gold Cup success last year when the seven-year-old, partnered by Timmy Murphy, came home two and a half lengths clear of Monkerhostin.

Martin Pipe's superb record had previously seen him win the Paddy Power Gold Cup with Beau Ranger (1987), Challenger Du Luc (1996), Cyfor Malta (1998 & 2002), Lady Cricket (2000), Shooting Light (2001) and Celestial Gold (2004).

However, Pipe will not be adding to that tally this year, having announced his retirement from the training ranks on the final day of last season. It will be up to his son David, who has taken over the reins at Pond House in Somerset, to continue the family tradition in the Paddy Power Gold Cup.
In 2002 the Pipe-trained Cyfor Malta, a horse whose racing career had been dogged by injury problems, stormed back to the form he had shown in his younger days with a second win in the Paddy Power Gold Cup - four years after his initial success in the first big handicap chase of the season.
This made him the fifth horse to win the race twice, following Fortria (1960 and 1962), Gay Trip (1969 and 1971), Half Free (1984 and 1985) and Bradbury Star (1993 and 1994).

Shooting Light was brilliantly ridden by champion jockey Tony McCoy to defeat 13 talented chasers in 2001.

Lady Cricket was impressive when scoring by 10 lengths from stable companion Exit Swinger in 2000, with another five lengths back to the third in a 15-strong field. The enigmatic Challenger Du Luc scored a cheeky head success over Strong Promise in 1996 while in 1987 Beau Ranger came home 15 lengths in front under Mark Perrett.

One of the best performances since the inaugural running came in 1965 from Dunkirk, who carried a massive 12st 7lb to victory and there have been plenty of other memorable renewals.
The Paddy Power Gold Cup has been won by Irish-trained horses on four occasions. Fortria took the initial running and was successful for a second time two years later in 1962.
The Irish had to wait for more than a decade for a further winner, which came in the shape of Skymas in 1973, and Bright Highway was the last successful horse from the Emerald Isle in 1980, when winning by seven lengths.

Gay Trip's two victories formed part of Fred Rimell's extraordinary training feat when he sent out the winner four years in a row. Jupiter Boy in 1968 and Chatham in 1970 completed Rimell's quartet. Gay Trip won the Grand National in 1970, in between his Cheltenham successes
Celestial Gold proved his stamina with a subsequent one and a half length victory over Ollie Magern in the Hennessy Cognac Gold Cup, which saw him become the fourth horse, along with Red Candle (1972), Bachelor's Hall (1977) and Bright Highway (1980), to add the Newbury prize to his Cheltenham victory.

Two and a half mile specialists like the dual-winner Half Free, handled by Fred Winter who trained three winners of the race, and Dublin Flyer (1995) have triumphed, while Skymas (1973) won the Queen Mother Champion Chase twice.

Tony McCoy is the most successful current jockey in the Paddy Power Gold Cup with three victories. The record-breaking rider triumphed on Cyfor Malta in 1998 and followed up two years later aboard Lady Cricket. He went on to secure a third success in 2001 on Shooting Light.

Following Shooting Light's victory, McCoy joined Richard Linley and Richard Dunwoody who both achieved three victories in the race during their riding careers, as the most successful jockeys in the history of the Paddy Power Gold Cup.

Linley was victorious on Fifty Dollars More in 1982 and Half Free in 1984 and 1985, while Dunwoody gained his wins on Very Promising in 1986, Another Coral in 1991 and Challenger Du Luc in 1996.

The popularity of Cheltenham's Open Meeting increases each year with the Irish. One of the great strengths of the three days is the relationship which draws Irish-trained horses and racegoers.
Both Cheltenham and Paddy Power are keen to continue this tradition. Last year there were 61 Irish runners over the three days, including four winners.

What they now want is an Irish victory in the Paddy Power Gold Cup, with the last one having been achieved 26 years ago. In the 1990s Toranfield (1991) and Second Schedual (1994) came second and Anabatic was fourth in 1996, while Feathered Leader finished third in 2000.
FACTS ABOUT PADDY POWER GOLD CUP AND THE OPEN
This year sees the 47th renewal of the first major contest of the National Hunt season, the Paddy Power Gold Cup. The race, run under its present title for the first time in 2003, was known as the Thomas Pink Gold Cup from 2000-2002 while Whitbread, under their Mackeson brand and then subsequently Murphys, backed the first 40 runnings.
****
Since the inaugural running in 1960, the contest has been won by Irish-trained horses on four occasions. Fortria won the first running and was successful for a second time two years later in 1962. The Irish had to wait for more than a decade for a further winner which came in the shape of Skymas in 1973, and Bright Highway was the last successful horse from the Emerald Isle in 1980.
****
Over the three days of The Open last season, there were four Irish-trained winners from 61 runners - 30 more than in 2004 - including Independent Newspaper Novices' Chase victor Accordion Etoile, who had also won at the meeting the previous year in the Greatwood Hurdle.
****
Five horses have won the Paddy Power Gold Cup twice. Fortria was the first, then Gay Trip completed the double in 1969 and 1971, with his victory in the 1970 Grand National sandwiched in between. Half Free was successful in 1984 and the following year, while Bradbury Star achieved this magnificent feat for Findon-based handler Josh Gifford in 1993 and 1994. Cyfor Malta, the 1998 winner, triumphed four years later in 2002.
****
Martin Pipe, now retired, has been the leading trainer in the Paddy Power Gold Cup, having saddled an amazing eight winners - Beau Ranger (1987), Challenger Du Luc (1996), Cyfor Malta (1998 & 2002), Lady Cricket (2000) , Shooting Light (2001), Celestial Gold (2004) and Our Vic (2005). No current trainer has landed the prize more than once.
****
Despite the competitiveness of the Paddy Power Gold Cup, it is not a race for outsiders. 31 of the 46 runnings of the contest have been won by horses returned at odds of 15/2 or less. However, the overall record of favourites is not that great, with only 13 having been successful during the history of the race, though four of the last six runnings have gone to the market leaders, with the latest being Our Vic last year. The shortest-priced winner in the history of this prestigious contest was Dunkirk who went off the 11/10 favourite in 1965, while the two longest-priced horses were Chatham (1970) and Senor El Betrutti (1997), both returned at 33/1.
****
Perhaps the greatest performance in the history of the contest was achieved by Dunkirk. The Domaha gelding carried a staggering 12st 7lb to victory when he gained his 1965 success.
****
The incomparable Arkle made his British racecourse bow in the Honeybourne Chase on the Saturday of The Open meeting 44 years ago. It was a fantastic day for Arkle's trainer and jockey, Tom Dreaper and Pat Taaffe, who, following Arkle's impressive destruction of the opposition by 20 lengths, went on to land what is now the Paddy Power Gold Cup with Fortria.
****
Best Mate, the latest horse to win three totesport Cheltenham Gold Cups, won the second chase of his career at The Open 2000, while the 2003 Smurfit Champion Hurdle victor Rooster Booster defied top weight to win the Greatwood Handicap Hurdle in 2002. The 2001 Greatwood Hurdle winner Westender was second to Rooster Booster in the 2003 Smurfit Champion Hurdle.
****
The Open has only once been held at an alternative venue to Prestbury Park. In 1976 a new drainage system was being installed at Cheltenham, so the then two-day meeting was switched to Haydock Park where Cancello became the only horse to win the Paddy Power Gold Cup anywhere but Cheltenham.
****
Josh Gifford is the only man to have both ridden and trained a winner of the Paddy Power Gold Cup, partnering Charlie Worcester to victory in 1967 and training Bradbury Star for his successes in 1993 and 1994.