Detroit City battles to victory 14/10/06
1st 7 Detroit City 9/2 FAV
2nd 20 Inchnadamph 25/1
3rd 21 Dr Sharp 100/1
4th 27 Ski Jump 25/1
Detroit City battled to victory in the totesport Cesarewitch to complete the autumn double for Jamie Spencer.
Jamie Spencer clocks up the second leg
of the Autumn double on the versatile
favourite, Detroit City
© racing-images.co.uk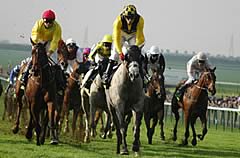 The champion jockey, who won the Cambridgeshire on Formal Decree two weeks ago, brought the 9-2 favourite home to a famous victory in the marathon handicap.
Trained by Philip Hobbs and owned by Terry Warner, the grey got the better of Inchnadamph (25-1) by a length, with Dr Sharp (100-1) two lengths away in third and Ski Jump (25-1) fourth.
Dr Sharp took the field along at a good pace with Boxhall, Full House and the hard-pulling Barathea Blazer also close up.
As they made the one and only turn about a mile and a quarter from the finish, Monolith moved into second place while Dr Sharp kept up the good gallop.
The challengers queued up four furlongs out with Key Time, Dont Call Me Derek and Inchnadamph all putting in their bids.
However, Detroit City burst into contention a furlong and a half out and the Triumph Hurdle winner soon headed Inchnadamph, who improved by one place on his third last year.
Spencer said: "He is a treat to ride. It wasn't as much hard work as it looked, it was just they were going so slow and I was a bit annoyed with myself for getting hemmed in on the rail.
"But once he found a bit of room he picked up and was always going to get there."


Competitive totesport Cesarewitch 2006 10/10/06
A typically competitive £150,000 totesport Cesarewich on Champions' Day at Newmarket on Saturday, October 14 (2.50pm) is in prospect with 36 horses going forward for the famous two and a quarter mile handicap, headed by Baddam, successful in both the Ascot Stakes and the marathon Queen Alexandra Stakes at Royal Ascot this season. Detroit City, winner of the Triumph Hurdle at the 2006 Cheltenham Festival, is the current ante-post favourite having confirmed his well being with a smooth success in a charity race at Chepstow on Saturday. The totesport Cesarewitch is one of the few handicaps to have eluded Sir Mark Prescott although the Heath House handler looks to have a live contender this year in the shape of Key Time, winner of the Goodwood Stakes on his penultimate appearance.
THE totesport CESAREWITCH (HERITAGE HANDICAP)
Class 2, 2m 2f, £150,000 Total Prize Fund. Newmarket Cesarewitch Course, 2.45pm, Saturday, October 14, 2006. For three-year-olds and upwards. Lowest weight 7st 12lb; highest weight not less than 9st 10lb. Penalties, after August 26, a winner 4lb; of any two races 7lb. Any horse rated above 110 (or 122 if such a horse is three years old) shall initially be treated as having that rating and the highest weight allotted shall be 9st 10lb. Subsequently, the excess over 110 (or 122 if such a horse is three years old) in any rating shall be added to the weight allotted to that horse without limitation to the highest weight to be carried. Entries closed August 16 (78 entries), forfeit stage September 26 (49 remain). Five-day confirmation stage October 9 (36 remain), final declaration stage, 10.00am ,October 12. Entries supplied by Weatherbys and are correct up to and including the racing of Sunday, October 8, 2006.

Form Horse Age/Wgt Owner Trainer
50115530 BADDAM 4-9-10 Noel Martin Mick Channon
1-4110(1) FINALMENTE 4-9-08 Edward Kirtland Neville Callaghan
2-25356 VINANDO 5-9-07 Evelyn Hankinson Charles Egerton
64(6)610 DOROTHY'S FRIEND 6-9-03 Mountgrange Stud Roger Charlton
130040//-00 BARATHEA BLAZER 7-9-02 Bettine Evans Kevin McAuliffe
415400 EBTIKAAR (IRE) 4-9-02 Hamdan Al Maktoum John Dunlop
-(4)(5)(1)(1)04 COLD TURKEY 6-9-02 A Grinter Gary Moore
(1)(1)5612- DETROIT CITY (USA) 4-9-01 Terry Warner Philip Hobbs
50-30(4)00 ODIHAM 5-9-01 D Brooks, J Dean, J Scott Hughie Morrison
162561//-65 SAINT ALEBE 7-8-13 The Howarting's Partnership David Elsworth
0-64500 TARANDOT (IRE) 5-8-12 Norcroft Park Stud George Margarson
21(1)1/01- DONT CALL ME DEREK 5-8-11 Camisgate Racing Club John Quinn
0-54031 MIRJAN (IRE) 10-8-11 Len Lungo Racing Limited Len Lungo
232030515 LETS ROLL 5-8-10 A Crute and Partners Chris Thornton
3/3300-06 CONTACT DANCER (IRE) 7-8-10 Michael Watt Mark Johnston
211112 KEY TIME (IRE) 4-8-09 G Moore - Osborne House Sir Mark Prescott
5(0)5426450 MCELDOWNEY 4-8-08 C Maybury Mark Johnston
0212140 WHISPERING DEATH 4-8-04 G Roberts/F Green William Haggas
22122/0-00 MR ED (IRE) 8-8-04 Gwilym Morris Peter Bowen
///30/5-310 MONOLITH 8-8-04 Elite Racing Club Len Lungo
103-0(0)00 INCHNADAMPH 6-8-03 R Cardwell Tim Fitzgerald
062-00000 DR SHARP (IRE) 6-8-03 The Ivy Syndicate Tom Tate
(1)(1)2451U52 LIGHTNING STRIKE (GER) 3-8-02 Terry Mills Terry Mills
0-5620020 QUIZZENE (USA) 4-8-02 Favourites Racing VII Mark Johnston
32100211 NUMERO DUE 4-8-01 Trattoria Due/Valueplace Ltd George Moore
030206423 TRANCE (IRE) 6-8-01 Nigel Shields David Barron
0/24//-414 FULL HOUSE (IRE) 7-8-01 The Chamberlain Addiscott Partnership Paul Webber
21-10513 SIR MONTY (USA) 4-8-00 Lingfield Breakfast Club Amanda Perrett
021(0)0034 SKI JUMP (USA) 6-8-00 P D Smith Holdings Ltd Richard Fahey
(1)06-2(3)300 GANDALF 4-7-12 R Thompson James Fanshawe
113-43016 DZESMIN (POL) 4-7-10 JAS Partnership Richard Guest
2-65(4)(3)221 THEATRE (USA) 7-7-10 Chris Steward Jamie Poulton
(5)(3)020(1)0 HIGH POINT (IRE) 8-7-09 The Aedean Partnership Gerry Enright
6-052260 BOXHALL (IRE) 4-7-07 Karyl Harris Walter Swinburn
(0)(5)/-30(0)42 LAGGAN BAY (IRE) 6-7-01 B Smith Stan Moore
4(0)(1)(5)56(0) MADIBA 7-5-13 Eastwell Manor Racing Ltd Paul Howling
36 entries remain at five-day confirmation stage
Latest totesport betting
6 Detroit City, 8 Key Time, (from 9) Saint Alebe, 12 Theatre, 14 Dorothy's Friend, Finalmente, 16 Baddam, Lets Roll, Numero Due, 20 (from 25) Contact Dancer, Ebtikaar, Lightning Strike, Mirjan, Whispering Death, 25 Cold Turkey, Don't Call Me Derek, Full House, Inchnadamph, Quizzene, Sir Monty, Vinando, 33 McEldowney, Monolith, Odiham, Ski Jump, 40 Tarandot, Trance, 50 Dr Sharp, Gandalf, High Point, Mr Ed, 66 Boxhall, Dzesmin, 100 Barathea Blazer, Laggan Bay, 500 Madiba
Each-way 1/4 1, 2, 3, 4, 5
Finalmente to contest totesport Cesarewitch 28/09/06
Improving stayer Finalmente has been given the green light to contest the £150,000 totesport Cesarewitch, run over two miles and two furlongs at Newmarket on Champions' Day, Saturday, October 14.
The four-year-old son of Kahyasi has landed three of his five starts this term and followed a luckless run in the Northumberland Plate at Newcastle by capturing a valuable two-mile handicap on the Polytrack at Lingfield on July 15, defeating Elusive Dream by a neck.
"Finalmente is a definite runner in the totesport Cesarewitch - it's been his aim for some time," revealed Simon Callaghan, son of trainer Neville, this morning.

"He won a decent race at Lingfield over two miles last time and only got up in the final strides, so I think the additional distance and easier surface will suit him.

"We have given him a break since his last race, which was always the plan, and he has done very well in the interim. We're very pleased with him."
Despite the prospect of a welter burden in the totesport Cesarewitch - Finalmente has 9st 8lb moment - Callaghan is confident of a big run from his father's charge, currently rated a 14/1 chance by the sponsors for the prestigious handicap.

"He's rated 101, so he's at the top end of the weights, but he's a very progressive horse. It's obviously a very competitive race but he would have a live each-way chance.

"Finalmente is an improving stayer on the upgrade, and in the future we hope that he could be Listed or even Group class. He will run very well in the totesport Cesarewitch."
49 Left In totesport Cesarewitch 28/09/06
A total of 49 entries have been received for the £150,000 totesport Cesarewitch, run over two miles and two furlongs on Champions' Day.
Key Time (Seb Sanders) holding on
from Theatre (John Egan) to win the
Goodwood Stakes at Glorious Goodwood
© racing-images.co.uk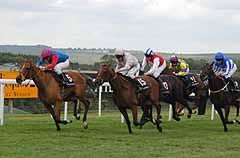 The weights are headed by Baddam on 9st 10lb, twice successful at Royal Ascot in June, while the enigmatic Winged d'Argent has been allotted 9st 9lb and Finalmente, successful three times this season, is set to carry 9st 8lb.
Dorothy's Friend (9st 3lb) won over two miles at Ascot's Shergar Cup meeting in August, Detroit City (9st 1lb) captured the Triumph Hurdle at the Cheltenham Festival in March, Leg Spinner (8st 12lb) scored at Royal Ascot at York in 2005 and made a low-key comeback over hurdles at Listowel earlier this month, and Key Time (8st 9lb) has scored five times this year already over staying trips.


Golden Quest Tops totesport Cesarewitch Weights 31/08/06
Golden Quest is set to carry top-weight of 9st 10lb as he heads a 78-strong entry for the £150,000 totesport Cesarewitch, run over two and a quarter miles at Newmarket, on Saturday, October 14, 2006.

Mark Johnston won the prestigious heritage handicap in 1998 with Spirit Of Love and again in 2004 with Contact Dancer, who is set to carry 8st 7lb this year. Golden Quest, second to Distinction in the 2005 Group Two Goodwood Cup, is one of a six-strong entry for the Kingsley House trainer, which also includes Winged d'Argent (9st 6lb), McEldowney (8st 5lb), Quizzene (7st 13lb) and Doctor Scott (7st 6lb).

Sir Mark Prescott has five engaged, including Elusive Dream (9st 7lb), who was fifth to Sergeant Cecil in 2005, the prolific winner, Key Time (8st 6lb and 12/1 joint-favourite), Liberate (7st 6lb) and Warsaw Pact (7st 6lb).

The Mick Channon-trained Baddam made history when completing the Ascot Stakes/Queen Alexandra Stakes double at the Royal meeting in June and could bid to add another major staying prize under 9st 7lb, while stablemate Desert Move has 8st 13lb.

Godolphin trainer Saeed bin Suroor has five engaged in a bid to land his first totesport Cesarewitch, including Northern Splendour (9st 6lb), Sunday Symphony (9st 2lb), Red Admiral (8st 10lb), Scriptwriter (8st 9lb) and Zabeel Palace (8st 5lb).

Zeroberto (7st 7lb and 12/1 joint-favourite) landed a gamble over hurdles at Galway in July and Dermot Weld could send the six-year-old across the Irish Sea. He may be joined by the Tony Martin-trained Leg Spinner (8st 9lb), who was last seen defeating Golden Quest by a head in the Ascot Stakes at York in June 2005.

Amanda Perrett's three-strong entry consists of Bulwark (9st 7lb), fourth to Sergeant Cecil in the Group Two Lonsdale Cup at York last time, Orange Touch (9st 4lb) and Sir Monty (7st 11lb).

Vinando finished third in the race last season and Charles Egerton's charge has 9st 4lb, while 2001 victor and Cesarewitch regular Distant Prospect is allotted 7st 11lb as he attempts to give the Andrew/Ian Balding stable its third victory in the race, having also saddled Top Cees to success in 1999. Callaghan's progressive Finalmente has 9st 5lb.
River Alhaarth was a good fifth in the totesport Ebor at York and has 8st 9lb, while those behind him that day include Lets Roll (8st 7lb), Odiham (8st 12lb) and Shergar Cup Stayers' winner, Dorothy's Friend (9st).

Philip Hobbs could run Triumph Hurdle hero Detroit City (8st 12lb) along with Noble Request (8st 13lb), while Len Lungo has a trio headed by 2004 Northumberland Plate winner Mirjan (8st 8lb).

Swift Sailor (9st 4lb) heads Gary Moore's trio that also includes Cold Turkey (8st 13lb) and Honduras (8st 12lb), while David Elsworth relies on Saint Alebe (8st 10lb), last seen winning the 2003 totesport Ebor, and John Gosden could run Group Three Queen's Vase third, Ermine Sea (8st 1lb).

The Eric Libaud-trained Sentry Duty (8st 10lb) and John Hammond's Hitaaf (7st 13lb) may represent France.

Michael Prosser, Clerk of the Course at Newmarket, commented: "Newmarket's two eagerly awaited autumn Saturdays, totesport Cambridgeshire Day on September 30 and Champions' Day on October 14, will once again be greatly enriched by each staging a leg of the historic 'autumn double.' These two great handicaps never fail to deliver high class, ultra-competitive fields on the day and, judging by these tremendous entries, the 2006 renewals look sure to follow that trend."
THE totesport CESAREWITCH (HERITAGE HANDICAP)
(Class 2), 2m 2f, £150,000 Total Prize Fund. Newmarket Cesarewitch Course, Saturday, October 14, 2006. For three-year-olds an upwards. Lowest weight 7st 12lb; highest weight not less than 9st 10lb. Penalties, after August 26, a winner 4lb; of any two races 7lb. Entries closed August 15, entries & weights revealed August 30 (78 entries). Forfeit stage September 12, five-day confirmation stage October 9, final declaration stage 10.00am, October 12. Form figures supplied by Weatherbys and are correct up to and including the racing of Monday, August 28.

Form Horse Age Weight Owner Trainer
2(2)12-06 GOLDEN QUEST 5-9-10 Syndicate 2002 Mark Johnston
20(2)110 ELUSIVE DREAM 5-9-7 Cheveley Park Stud Sir Mark Prescott
610(3)04 BULWARK (IRE) 4-9-7 Hesmonds Stud Amanda Perrett
501155 BADDAM 4-9-7 Noel Martin Mick Channon
020300 WINGED D'ARGENT (IRE) 5-9-6 Daniel Couper Mark Johnston
311/- NORTHERN SPLENDOUR (USA) 4-9-6 Godolphin Saeed bin Suroor
1-4110(1) FINALMENTE 4-9-5 Edward Kirtland Neville Callaghan
(3)0010-0 SWIFT SAILOR 5-9-4 Mike Charlton And Rodger Sargent Gary Moore
000-445 ORANGE TOUCH (GER) 6-9-4 R & P Scott Amanda Perrett
2-25356 VINANDO 5-9-4 Evelyn Hankinson Charles Egerton
134-30 AVALON 4-9-3 Patsy Byrne Jonjo O'Neill
4/00(5)2-5 CORRIB ECLIPSE 7-9-3 M Ioannou Ian Williams
5/2233-2 SUNDAY SYMPHONY 4-9-2 Godolphin Saeed bin Suroor
212-140 SIGNATORY (USA) 4-9-1 Sheikh Mohammed John Gosden
00/130- GOLD GUN (USA) 4-9-0 J Ryan Kevin Ryan
64(6)610 DOROTHY'S FRIEND 6-9-0 Mountgrange Stud Roger Charlton
130040//- BARATHEA BLAZER 7-8-13 Bettine Evans Kevin McAuliffe
415400 EBTIKAAR (IRE) 4-8-13 Hamdan Al Maktoum John Dunlop
1623/41/- NOBLE REQUEST (FR) 5-8-13 Karola Vann Philip Hobbs
-(4)(5)(1)(1)0 COLD TURKEY 6-8-13 A Grinter Gary Moore
4033-00 DESERT MOVE (IRE) 4-8-13 Jaber Abdullah Mick Channon
(1)(1)5612- DETROIT CITY (USA) 4-8-12 Terry Warner Philip Hobbs
50-30(4)0 ODIHAM 5-8-12 D Brooks, J Dean, J Scott Hughie Morrison
(0)0052-0 HONDURAS (SWI) 5-8-12 The Pink Punters Gary Moore
4-05033 CASUAL GLANCE 4-8-10 Kingsclere Stud Andrew Balding
162561//- SAINT ALEBE 7-8-10 The Howarting's Partnership David Elsworth
1-63154 SENTRY DUTY (FR) 4-8-10 R Spiller Eric Libaud FR
01/6051- RED ADMIRAL (USA) 4-8-10 Godolphin Saeed bin Suroor
1011/01- LEG SPINNER (IRE) 5-8-9 W Moffett Tony Martin IRE
52/11- SCRIPTWRITER (IRE) 4-8-9 Godolphin Saeed bin Suroor
2-24225 RIVER ALHAARTH (IRE) 4-8-9 Ronald Arculli Peter Chapple-Hyam
0-64500 TARANDOT (IRE) 5-8-9 Norcroft Park Stud George Margarson
(2)(4)4664 REHEARSAL 5-8-8 Elite Racing Club Len Lungo
21(1)1/01- DONT CALL ME DEREK 5-8-8 Camisgate Racing Club John Quinn
1/(0)(0)0(5)(0)- ADOPTED HERO (IRE) 6-8-8 N Jones Howard Johnson
0-54031 MIRJAN (IRE) 10-8-8 Len Lungo Racing Limited Len Lungo
011-02(6) COLLOQUIAL 5-8-8 Mrs David Blackburn & M Blackburn Henry Candy
232030 LETS ROLL 5-8-7 A Crute and Partners Chris Thornton
3/3300-0 CONTACT DANCER (IRE) 7-8-7 Michael Watt Mark Johnston
211112 KEY TIME (IRE) 4-8-6 G Moore - Osborne House Sir Mark Prescott
054/(1)1-(0) ZABEEL PALACE 4-8-5 Godolphin Saeed bin Suroor
104(1)(B)(0)- GARDEN SOCIETY (IRE) 9-8-5 Roy Marks Terry Clement
5(0)5426 MCELDOWNEY 4-8-5 C Maybury Mark Johnston
0/1114//0- ALMUTASADER 6-8-3 Wally Sturt Jim Old
021214 WHISPERING DEATH 4-8-1 G Roberts/F Green William Haggas
2(2)2315 ERMINE SEA 3-8-1 Lady Bamford John Gosden
22122/0- MR ED (IRE) 8-8-1 Gwilym Morris Peter Bowen
///30/5-31 MONOLITH 8-8-1 Elite Racing Club Len Lungo
103-0(0)0 INCHNADAMPH 6-8-0 R Cardwell Tim Fitzgerald
062-000 DR SHARP (IRE) 6-8-0 The Ivy Syndicate Tom Tate
(1)(1)2451 LIGHTNING STRIKE (GER) 3-7-13 Terry Mills Terry Mills
20-2612 HITAAF (IRE) 4-7-13 Hamdan Al Maktoum John Hammond FR
0-56200 QUIZZENE (USA) 4-7-13 Favourites Racing VII Mark Johnston
321002 NUMERO DUE 4-7-12 Trattoria Due/Valueplace Ltd George Moore
030206 TRANCE (IRE) 6-7-12 Nigel Shields David Barron
0/24//-414 FULL HOUSE (IRE) 7-7-12 The Chamberlain Addiscott Partnership Paul Webber
21-1051 SIR MONTY (USA) 4-7-11 Lingfield Breakfast Club Amanda Perrett
0040-00 DISTANT PROSPECT (IRE) 9-7-11 The Rae Smiths and Pauline Gale Andrew Balding
021(0)00 SKI JUMP (USA) 6-7-11 P D Smith Holdings Ltd Richard Fahey
(1)06-2(3)3 GANDALF 4-7-9 R Thompson James Fanshawe
200-621 GRAND REVIVAL (IRE) 4-7-8 Vincent O'Brien & Sue Magnier David Myerscough IRE
113-430 DZESMIN (POL) 4-7-7 JAS Partnership Richard Guest
2-65(4)(3)2 THEATRE (USA) 7-7-7 Chris Steward Jamie Poulton
6/4210-1 ZEROBERTO (IRE) 6-7-7 Dr R Lambe Dermot Weld IRE
052146 TAKAFU (USA) 4-7-7 Midd Shire Racing Sturat Kittow
0-(0)1220 OUR MONOGRAM 10-7-7 The Foxons Fillies Partnership Ralph Beckett
(5)(3)020(1) HIGH POINT (IRE) 8-7-6 The Aedean Partnership Gerry Enright
122(1)13 LIBERATE 3-7-6 Eclipse Thoroughbreds-Osborne House III Sir Mark Prescott
3-03314 INDONESIA 4-7-6 G Dempsey Tim Walford
652106 DOCTOR SCOTT 3-7-6 Irene White And Helen Bogie Mark Johnston
331110 CAPE SECRET (IRE) 3-7-5 Larkin, Legge And Milner Ralph Beckett
1(2)(1)(1)(1)2 WARSAW PACT (IRE) 3-7-5 J Fishpool - Osborne House Sir Mark Prescott
6-05226 BOXHALL (IRE) 4-7-4 Karyl Harris Walter Swinburn
004313 DANCER'S SERENADE (IRE) 4-7-3 S M Racing Tom Tate
2(5)(0)(5)/-30 LAGGAN BAY (IRE) 6-6-12 B Smith Stan Moore
122224- MAHMJRA 4-6-11 Travel Spot Ltd Conrad Allen
111113 ALAMBIC 3-6-5 Lady O'Reilly Sir Mark Prescott
14(0)(1)(5)5 MADIBA 7-5-10 Eastwell Manor Racing Ltd Paul Howling
78 entries, 3 Irish-trained, 2 French-trained