Supaseus Rewards Patience in Cambridgeshire Thriller
03/10/09
1 (9) Supaseus 16/1
2 (25) Tartan Gigha 33/1
3 (6) Nanton 33/1
4 (31) Applause 10/1
Supaseus put an injury sustained on the plane to Dubai behind him with a thrilling pillar-to-post victory in the totesport.com Cambridgeshire. Hughie Morrison's 16/1 charge repelled a late thrust from 33/1 hope Tartan Gigha, who forced a photo-finish, by a nose.
Supaseus (John Egan farside) just edges out Pinpoint (Adam Kirby) to snatch the Suffolk Stakes at Newmarket (06-05-07)
© racing-images.co.uk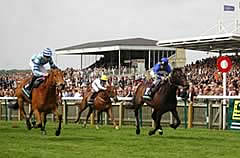 "I thought he'd been caught actually so it's a huge relief," said a beaming Morrison after Supaseus secured his most valuable prize to date.
"I wasn't sure we'd ever get him back to be the horse he used to be. He flipped over in the plane and cracked his coccyx but it became displaced when he ran. We did what the vet said and just looked after him but these big old horses need a few runs to get back."
The trainer continued: "It was always the plan to jump out and make all but I have to say Travis (Block) gave him an absolute peach of a ride. He's proved what a good jockey he is - he's a supreme judge of pace and he's advertised himself well there."
The six-year-old homebred owned by Sir Martyn and Ben Arbib was recording his third win at Newmarket and has also won the Wolferton Stakes at Royal Ascot.
"They gave him an easy lead and he's a difficult horse to pass - mind you, on his homework he doesn't do much," said Morrison.
"He's a class horse on his day. This horse deserves to win a big race every year and he's done that for the last three years. This is a great team effort and it's wonderful to have owners who are so patient."
The time of 1m 47.48s was just 0.22s outside the record.
Block added: "Mr Morrison said if we got an easy lead to go on. All credit to Mr Morrison for getting this horse back and I'm just thankful I got the ride on him today.
"Driving here today, I thought he doesn't feel like a horse who is fast enough to make it in the Cambridgeshire."
Position

Horse
Trainer
Jockey
Weight
Starting Price
Beaten Distance
1

Supaseus
H Morrison
T Block
9st 1lbs
16 - 1
Winner
2

Tartan Gigha
M Johnston
J Fanning
8st 5lbs
33 - 1
Nose
3

Nanton
J S Goldie
D Tudhope
9st 3lbs
33 - 1
1 1/4 length
4

Applause
J Noseda
William Buick
8st 3lbs
10 - 1
Neck
5

Shavansky
B R Millman
Kirsty Milczarek
8st 1lbs
100 - 1
1 1/4 length
6

Stevie Thunder
Ian Williams
Andrea Atzeni
8st 4lbs
33 - 1
3/4 length
7

Swop
L M Cumani
K Fallon
9st 6lbs
16 - 1
1 1/4 length
8

The Cayterers
A W Carroll
Amy Baker
8st 6lbs
100 - 1
1 length
9

Howdigo
J R Best
P M Quinn
8st 1lbs
66 - 1
1 1/2 length
10

Charm School
J H M Gosden
J Fortune
8st 10lbs
14 - 1
1 1/2 length
11

Almiqdaad
M A Jarvis
R Hills
8st 8lbs
8 - 1
Neck
12

Wannabe King
D R Lanigan
T E Durcan
8st 9lbs
8 - 1
5 lengths
13

Alfathaa
W J Haggas
T P O'Shea
9st 2lbs
33 - 1
1/2 length
14

Kay Gee Be
W Jarvis
G F Carroll
8st 7lbs
25 - 1
1/2 length
15

Moynahan
P F I Cole
A Munro
8st 12lbs
28 - 1
1 3/4 length
16

Marajaa
W J Musson
C Catlin
8st 5lbs
40 - 1
3/4 length
17

Alazeyab
M A Jarvis
N Callan
9st 0lbs
33 - 1
Neck
18

The Which Doctor
J Noseda
J Quinn
8st 6lbs
33 - 1
2 lengths
19

Granston
J D Bethell
R Ffrench
8st 3lbs
100 - 1
3/4 length
20

Tryst
Sir Michael Stoute
P Hanagan
8st 5lbs
10 - 1
1 1/2 length
21

Brief Encounter
A M Balding
L Keniry
8st 11lbs
14 - 1
2 lengths
22

Ellemujie
D K Ivory
A McCarthy
8st 2lbs
100 - 1
2 3/4 lengths
23

Salute Him
A J Martin
R Hughes
9st 5lbs
12 - 1
3/4 length
24

Kaolak
J Ryan
Luke Morris
8st 3lbs
33 - 1
Neck
25

General Eliott
P F I Cole
J Murtagh
9st 10lbs
50 - 1
2 1/2 lengths
26

Sirvino
T D Barron
P Makin
9st 2lbs
12 - 1
3/4 length
27

Greylami
T G Mills
M Hills
8st 5lbs
20 - 1
3 1/4 lengths
28

Royal Destination
J Noseda
Dale Gibson
9st 0lbs
33 - 1
3/4 length
29

Fight Club
Evan Williams
V Slattery
8st 13lbs
100 - 1
1 1/2 length
30

Docofthebay
J A Osborne
R L Moore
8st 12lbs
33 - 1
1/2 length
31

Bencoolen
D Nicholls
D O'Donohoe
8st 9lbs
66 - 1
3/4 length
32

Smokey Oakey
M H Tompkins
Ashley Morgan
9st 3lbs
66 - 1
6 lengths
NonRunner

Bushman
D M Simcock
D Holland
9st 3lbs


NonRunner

Credit Swap
M Wigham
T Atkinson
8st 4lbs


NonRunner

Sweet Lightning
W R Muir

8st 3lbs


NonRunner

Hillview Boy
J S Goldie

8st 2lbs


NO AUTUMN DOUBLE FOR GALLANT NANTON
Nanton's tilt at the Autumn Double came undone when the Jim Goldie-trained grey could finish no better than a gallant third in the totesport.com Cambridgeshire, a length and a half behind the winner Supaseus.
The seven-year-old is also entered in the second leg of the historic autumn challenge, the totesport.com Cesarewitch over two and a quarter miles at Newmarket on Saturday, October 17, but Goldie is unsure about whether Nanton will take up that engagement.
No horse has completed the Autumn Double since Plaisanterie in 1885.
Goldie said: "I'll probably not run him in the Cesarewitch but I don't know. He has proved himself again at a mile and a quarter so we'll probably save him for Dubai. If it's fast ground we might have to sit down and think about the Cesarewitch but I really don't know."
Nanton, runner-up at 66/1 a year ago, was making the frame for the second successive year in the nine-furlong totesport.com Cambridgeshire, despite starting from an unfavourbale draw in stall four.
Goldie's versatile charge is a regular in big handicaps and has finished fourth in the Royal Hunt Cup over a mile and the totesport Ebor over a mile and three quarters already this season.
The trainer continued: "He travelled brilliantly all the way and it looks like we haven't slowed him down by running him at a mile and six. I would have preferred it if he had been drawn high. We were stuck out there away from the pace."
Mark Johnston's string is in fantastic form at present and the trainer came close to clinching a second major prize of the meeting following Awzaan's victory in yesterday's Group One Shadwell Middle Park Stakes.
The Middleham handler's Tartan Gighe went head to head with eventual winner Supaseus through the final furlong but was edged out by a nose at the line.
Johnston said: "From where I was standing, I didn't think he had got up but I thought he was going to at on point. He just came too soon. I have no plans for him at this moment.=
"It's incredible, the horses have had such a long season but they're still running so well."