Charm Spirit At Tweenhills In 2017 Dahlia Stakes

Fillies' Group 2, Newmarket 14:20
£90,000 added,
4yo plus,
1m 1f, Class 1  
Sunday 7th May 2017
Godolphin's Usherette was last seen contesting the Kingdom of Bahrain Sun Chariot Stakes where she finished a disappointing sixth, having won twice on these shores previous. However, trainer Andre Fabre reported that she has wintered well and is eyeing top level success with her after she contests the Group 2 £90,000 Dahlia Stakes.
Usherette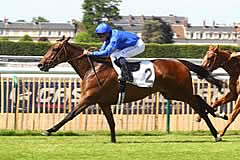 "Usherette has had a long rest and it is a case of so far so good with her – she looks great, stronger than before, and has been working well. I do not intend to run her before the Charm Spirit Dahlia Stakes as I don't want to rush her – she goes on any ground.
"Her target for the season is to win a Group 1. If could be more difficult for her this year as in 2016 she was an unknown filly but now everyone has seen exactly what she is capable of."
She has 16 possible opponents including last October's Group 1 Prix de l'Opera third, So Mi Dar; Smart Call, a three-time Group 1 scorer in her native South Africa now trained by Sir Michael Stoute; and Mick Channon's pair of Opal Tiara and Czabo, both already successful in Pattern company this term.
Dahlia Stakes (Fillies' Group 2)
£90,000 added, 1m 1f, 4yo+, Class 1
17 entries
Going: Good
| Form | Horse | Age | Weight | Trainer |
| --- | --- | --- | --- | --- |
| 2511/11- | Smart Call (SAF) 463 | 6 | 9-0 | Sir Michael Stoute |
| 3153- | Skiffle 252 | 4 | 9-0 | C Appleby |
| 1201-44 | Silver Step (FR) 80 | 4 | 9-0 | Mme P Brandt |
| 1/1113- | So Mi Dar 217 | 4 | 9-0 | J H M Gosden |
| 14521-2 | Somehow (IRE) 42 | 4 | 9-0 | A P O'Brien |
| 7/11116- | Usherette (IRE) 303 | 5 | 9-0 | A Fabre |
| 12/6745- | Turret Rocks (IRE) 262 | 4 | 9-0 | J S Bolger |
| 247213- | Rosental 177 | 5 | 9-0 | L M Cumani |
| 131527- | Nezwaah 203 | 4 | 9-0 | R Varian |
| 1/40149- | Aljazzi 183 | 4 | 9-0 | M Botti |
| 03310-8 | Aim To Please (FR) 35 | 4 | 9-0 | F Doumen |
| 2-11231 | Absolute Blast (IRE) 36 | 5 | 9-0 | Archie Watson |
| 4410-61 | Czabo 42 | 4 | 9-0 | M R Channon |
| 41233-1 | Elbereth 44 | 6 | 9-0 | A M Balding |
| 111-333 | Muffri'Ha (IRE) 64 | 5 | 9-0 | W J Haggas |
| 6/22121- | Laugh Aloud 226 | 4 | 9-0 | J H M Gosden |
| 117-210 | Opal Tiara (IRE) 43 | 4 | 9-3 | M R Channon |