Hardwicke Stakes

Group 2, Ascot 15:05
£225,000 added,
4yo plus,
1m 3f 211y, Class 1
Saturday 23rd June 2018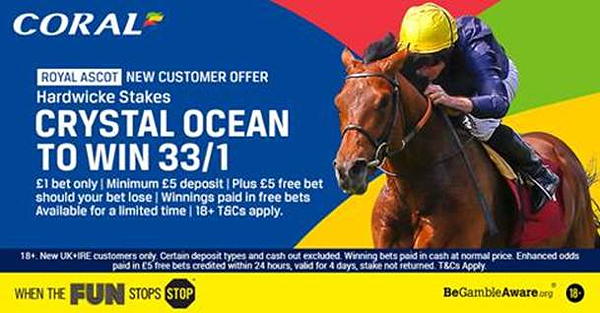 The bookies won't want Crystal Ocean to win the Hardwicke Stakes. No chances are being taken on Sir Michael Stoute's runner and he's odd-on to win the mile and a half Group 2, but he is unbeaten in two starts so far this season, is still improving and we expect him to make it three here.
He had the option of the higher grade Prince Of Wales's Stakes, but taking on Cracksman seemed like unnecessary folly at this stage, so this easier option should give Sir Michael his 78th Royal Ascot winner.
The Aidan O'Brien-trained Cliffs Of Moher, who finished fourth behind Poet's Word in the Prince of Wales's Stakes on Wednesday, is one of two runners for the Ballydoyle team, who will also be represented by last year's winner Idaho.
Hardwicke Stakes (Group 2)
£225,000 added, 4yo plus, 1m 3f 211y, Class 1
6 runners
Going: Good to Firm
| No | Form | Horse | Weight | Jockey | Trainer | Age |
| --- | --- | --- | --- | --- | --- | --- |
| 1 (1) | 12/3 22-1 | Barsanti (IRE) 42 | 9-1 | Andrea Atzeni | R Varian | 6 |
| 2 (6) | 78-5 124 | Cliffs Of Moher (IRE) 3 | 9-1 t | J A Heffernan | A P O'Brien | 4 |
| 3 (4) | 331 2-11 | Crystal Ocean 35 | 9-1 | R L Moore | Sir Michael Stoute | 4 |
| 4 (2) | 845-814 | Idaho (IRE) 22 | 9-1 | D O'Brien | A P O'Brien | 5 |
| 5 (5) | 8/11-134 | Rare Rhythm 20 | 9-1 | W Buick | C Appleby | 6 |
| 6 (3) | 21-1 422 | Red Verdon (USA) 30 | 9-1 b | James Doyle | E A L Dunlop | 5 |
HARDWICKE STAKES WINNERS
YR/DATE GR WINNER TRAINER JOCKEY OWNER AGE/WGT SP
2017 2 IDAHO Aidan O'Brien IRE Seamie Heffernan Michael Tabor, Derrick Smith & Sue Magnier 4-9-01 9/2
2016 2 DARTMOUTH Sir Michael Stoute Olivier Peslier H M The Queen 4-9-01 10/1
2015 2 SNOW SKY Sir Michael Stoute Pat Smullen Khalid Abdullah 4-9-01 12/1
2014 2 TELESCOPE Sir Michael Stoute Ryan Moore Highclere Thoroughbred Racing 4-9-01 7/4F
2013 2 THOMAS CHIPPENDALE Lady Cecil Johnny Murtagh Sir Robert Ogden 4-9-00 8/1
2012 2 SEA MOON Sir Michael Stoute Ryan Moore Khalid Abdullah 4-9-00 3/1F
2011 2 AWAIT THE DAWN Aidan O'Brien IRE Ryan Moore Michael Tabor & Sue Magnier 4-9-00 4/6F
2010 2 HARBINGER Sir Michael Stoute Ryan Moore Highclere Thoroughbred Racing 4-9-00 8/11F
2009 2 BRONZE CANNON John Gosden Jimmy Fortune Anthony Oppenheimer 4-9-03 8/1
2008 MACARTHUR Aidan O'Brien IRE Johnny Murtagh Derrick Smith, Sue Magnier, Michael Tabor 4-9-00 11/8F
2007 2 MARAAHEL Sir Michael Stoute Richard Hills Hamdan Al Maktoum 6-9-00 100/30
06/24/06 2 MARAAHEL Sir Michael Stoute Richard Hills Hamdan Al Maktoum 5-9-00 9/2
*05/18/06 2 BANDARI Mark Johnston Willie Supple Hamdan Al Maktoum 6-8-09 10/1
04/19/06 2 DOYEN Saeed bin Suroor Frankie Dettori Godolphin 4-8-09 6/5F
03/21/06 2 INDIAN CREEK David Elsworth Richard Quinn Seymour Cohn 5-8-09 14/1
02/22/06 2 ZINDABAD Mark Johnston Kevin Darley Abdulla Buhaleeba 6-8-12 4/1
01/22/06 2 SANDMASON Henry Cecil Willie Ryan Plantation Stud 4-8-09 12/1
00/23/06 2 FRUITS OF LOVE Mark Johnston Olivier Peslier Mick Doyle 4-8-12 9/2
99/18/06 2 FRUITS OF LOVE Mark Johnston Olivier Peslier Mick Doyle 4-8-12 12/1
98/19/06 2 POSIDONAS Paul Cole Pat Eddery Athos Christodoulou 6-8-09 15/2
97/20/06 2 PREDAPPIO Saeed bin Suroor Gary Stevens Godolphin 4-8-12 6/1
96/21/06 2 OSCAR SCHINDLER Kevin Prendergast IRE Michael Kinane Oliver Lehane 4-8-09 7/4F
95/23/06 2 BEAUCHAMP HERO John Dunlop John Reid Erik Penser 5-8-09 11/2
94/17/06 2 BOBZAO Terry Mills John Reid Terry Mills 5-8-09 11/1
93/18/06 2 JEUNE Geoff Wragg Ray Cochrane Exors of late Sir Robin McAlpine 4-8-09 7/2
92/19/06 2 ROCK HOPPER Michael Stoute Pat Eddery Maktoum Al Maktoum 5-8-12 8/15F
91/21/06 2 ROCK HOPPER Michael Stoute Pat Eddery Maktoum Al Maktoum 4-8-12 5/6F
90/22/06 2 ASSATIS Guy Harwood Ray Cochrane S Harada 5-9-00 50/1
89/23/06 2 ASSATIS Guy Harwood Pat Eddery Khalid Abdullah 4-8-09 4/11F
88/17/06 2 ALMAARAD John Dunlop Willie Carson Hamdan Al Maktoum 5-8-12 6/1
87/19/06 2 ORBAN Henry Cecil Steve Cauthen Prince A A Faisal 4-8-09 11/4
86/20/06 2 DIHISTAN Michael Stoute Pat Eddery H H Aga Khan 4-8-09 11/2
85/21/06 2 JUPITER ISLAND Clive Brittain Lester Piggott The Marquess of Tavistock 6-8-09 85/40
84/22/06 2 KHAIRPOUR Fulke Johnson Houghton Steve Cauthen G J Chittick 5-8-12 13/2
83/17/06 2 STANERRA Frank Dunne IRE Brian Rouse Frank Dunne 5-8-09 4/1
82/18/06 2 CRITIQUE Henry Cecil Lester Piggott Garo Vanlan 4-8-09 7/2
81/19/06 2 PELERIN Harry Wragg Brian Taylor Sir Phillip Oppenheimer 4-8-12 7/1
80/20/062 SCORPIO Francois Boutin FR Philippe Paquet Gerry Oldham 4-9-00 2/1F
79/22/06 2 OBRAZTSOVY Ryan Price Brian Taylor Robert Sangster 4-8-09 9/4F
78/23/06 2 MONTCONTOUR Maurice Zilber FR Yves Saint-Martin Mrs H H Hausmann 4-8-12 25/1
77/17/06 2 MENEVAL Vincent O'Brien IRE Lester Piggott Mrs George F Getty II 4-9-00 2/1F
*run at York