Lord Shanakill Shows Class in Betfair Cup
27/07/10
1 Lord Shanakill 13/2
2 Cat Junior 33/1
3 Dalghar 7/2F
Lord Shanakill roared back to his best when landing the £155,000 Betfair Cup, the feature race on the opening day of Glorious Goodwood.
Lord Shanakill


© racing-images.co.uk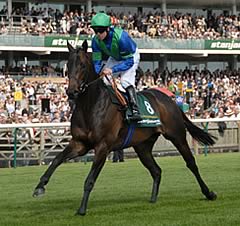 A high-class two-year-old who won the Prix Jean Prat last year when based with Karl Burke, Lord Shanakill joined Henry Cecil this year, and, after winning at Chester earlier this month, stepped up on that effort to score again today.
Cecil was absent, while owner Mark Gittins was at Galway's Festival meeting, but his mother, Maura, said: "We bought the horse for Mark on his 21st birthday and he's been fantastic, despite all the ups and downs. It was very exciting today and unbelievable. I'm shocked because I really didn't expect this. I'm sure Mark is watching on television.
"It's great for Henry - he's a superb trainer. He was very optimistic about the horse."
Lord Shanakill's jockey, Tom Queally, said: "He's a class horse and that has told today. The pace of the race told me what to do today because from the outset we went quick. I had him near the front, steadied as we turned in and they rushed up a little bit.
"I was forced to cut inside, which you wouldn't want to do at Goodwood. He took a couple of strides to go up through the gears, but when he did he had the speed to go through the gaps. We've tried him over six furlongs and a mile, but this race and this distance played to his strengths today.
"Seven is his best trip. As he gets older, you would hope that he would have options but this trip brings the very best out of him. It's good for the horse to get his head in front and it looked a pretty decent affair.
"It's up to Henry where he goes next and I just do the steering, but he is definitely entitled to have another crack at the top level. The owners have been very patient with him and they have believed in the horse, like me. We are going to enjoy today and let Henry ponder the next step."
Jamie Spencer, rider of the second Cat Junior, was found by the stewards to have used his whip with excessive frequency and with excessive force - he was banned for one day - Tuesday, August 10.
Position

Horse
Trainer
Jockey
Weight
Starting Price
Beaten Distance
1

Lord Shanakill
H R A Cecil
T P Queally
9st 2lbs
13 - 2
Winner
2

Cat Junior
B J Meehan
J P Spencer
9st 2lbs
33 - 1
Head
3

Dalghar
A De Royer Dupre
G Mosse
9st 2lbs
7 - 2
1/2 length
4

Main Aim
Sir Michael Stoute
R L Moore
9st 2lbs
9 - 1
1/2 length
5

Balthazaar's Gift
C G Cox
P Robinson
9st 2lbs
8 - 1
1 length
6

Riggins
A M Balding
J Fortune
9st 2lbs
7 - 1
1/2 length
7

Finjaan
M P Tregoning
R Hills
9st 2lbs
8 - 1
1 1/2 length
8

Red Jazz
B W Hills
M Hills
8st 9lbs
7 - 1
Nose
9

Lovelace
D Nicholls
A Nicholls
9st 2lbs
16 - 1
1 1/2 length
10

Dunelight
C G Cox
A Kirby
9st 2lbs
33 - 1
3/4 length
11

Air Chief Marshal
A P O'Brien
C O'Donoghue
8st 9lbs
16 - 1
6 lengths
12

Forgotten Voice
J Noseda
R Hughes
9st 2lbs
14 - 1
4 1/2 lengths
CAT NEARLY TAKES THE CREAM
The Brian Meehan-trained Cat Junior belied his odds of 33/1 to finish with a wet sail and lose out by just a head when finishing second in the Group Two Betfair Cup.
"I'm delighted. Jamie (Spencer) gave him a great ride and I thought he was going to get there and win," said Meehan. "The headgear suits although he's a very game and genuine horse.
"There's a good series of seven-furlong races for him - the Hungerford at Newbury, the Supreme here and the Park at Doncaster and hopefully he can win one of those."
Alain de Royer Dupre, trainer of 7/2 favourite Dalghar, felt the colt hit the front too soon.
"He was in front of the field for a long time and it is a long straight here - that's the problem," said de Royer Dupre. "Seven furlongs is as far as we want to go and we will think about coming back to England for the Park Stakes at Doncaster in September."