racing news /

Will Victory go to the Queen?
18/10/13

In most cases, when we refer to 'sporting royalty', we're talking about the likes of the unstoppable Serena Williams, the superhuman Usain Bolt, the majestic Messi… in the world of horseracing and equestrianism however, the term can sometimes be taken altogether more literally.

Ryan Moore and Her Majesty The Queen with Estimate after winning the 2013 Gold Cup.
© Caroline Norris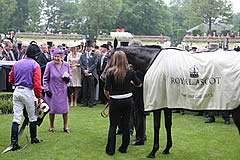 It's just so in the case of the racehorse Estimate, whose owner is none other than Her Majesty Queen Elizabeth II (as anyone who owns a pet can attest, this qualifies the animal as a bona fide family member).
Not only is the filly blue-blooded, she's also red hot at the moment, carrying incredibly impressive form into this weekend's British Champions Day meet at Ascot, which will see her start as favourite for the Long Distance Cup (Saturday, 13:45 BST). All the latest odds on the runners and riders can be found on the Betfair Online Sportsbook.
Who could forget the heart-warming sight of our habitually poker-faced monarch beaming unreservedly as Estimate came home in first place at the Ascot Gold Cup in June, sealing the first victory for a reigning monarch since the race was founded over two centuries ago.
It would take a brave punter to bet against this filly racing to repeat glory this Saturday, with racing manager John Warren commenting in a BBC interview, "She is moving beautifully and looks wonderful. The trainer couldn't be happier. She's had a nice long lay-off to freshen her up for this autumn target."
Under the watchful eye of trainer Sir Michael Stoute, Estimate has become a consummately brilliant racehorse, with a trio of major wins to her name just under three seasons into her career; first the Queen's Vase at Ascot, followed by this season's Sagaro Stakes and Ascot Gold Cup victories.
Speculation within the royal stables is rife that this could be the final race of Estimate's career - the Queen is a keen breeder and would likely be loathe to risk her champion filly's bloodline before taking her to stud. If this is indeed to be the end of this horse's competitive days, let's hope to see her go out in style, in a classic race.
For full information on the Ascot British Champion's Meet including programming and tickets, click here.
Having a little flutter? Check out our Betting Strategy guide to furnish yourself with the nous you'll need to win by a nose or more at the bookmakers!