cheltenham festival / news /

The Jockey Club Unveils £45m Vision for Cheltenham Racecourse
28/03/13

The Jockey Club, the largest commercial group in British horseracing, today announced plans to make its largest ever investment in racecourse facilities with the unveiling of a £45 million concept for the next stage of development at its flagship Cheltenham Racecourse, which just days ago welcomed in excess of 235,000 people to enjoy world-class Jump racing at the 2013 Cheltenham Festival.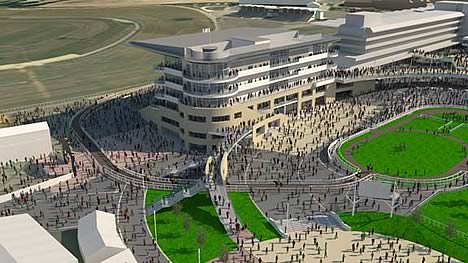 Subject to planning permission, the proposed development will create a state-of-the-art new grandstand in place of the circa 1920s 'A&R' block that currently contains private boxes, which will include new annual members' facilities, general public viewing areas, private boxes and Royal Box facilities. The Jockey Club investment will include improvements for owners and trainers, and focus on enhancing the overall customer experience at the racecourse, including elevated walkways to ease mobility and multi-tiered viewing of the parade ring.
The Jockey Club, which runs 15 racecourses in the UK under its Jockey Club Racecourses banner, including Cheltenham, Aintree, Epsom Downs and the Rowley Mile and July Course in Newmarket, has invested more than £80 million in facilities at Cheltenham over the last 30 years. In the last ten years, The Jockey Club has invested more than £155 million in new facilities and upgrades across its racecourse estate including the new grandstands at Aintree (£31m, two grandstands) and Epsom Downs (£28m, one grandstand).

Provided planning permission for the proposed development at Cheltenham is achieved in time and the necessary financing is in place, the main development will begin immediately after the 2014 Festival with a scheduled completion date ahead of the 2016 Festival. During the construction period, Cheltenham would be able to continue staging its race programme as normal.

Yesterday, the concept of the proposed Cheltenham development project was showcased to officers from Cheltenham Borough Council, in advance of a detailed planning application being submitted in April 2013.

From 5 April 2013, an exhibition giving interested parties the opportunity to give feedback on the project will take place in Cheltenham as follows: in the Regent Arcade in Cheltenham Town Centre on 5 and 6 April from 11am until 5pm and at Cheltenham Racecourse on 9 and 10 April between 1pm and 7pm.
Paul Fisher, Group Managing Director of Jockey Club Racecourses, said:

"Cheltenham Racecourse is not only one of The Jockey Club's crown jewels, we recognise it is the home of Jump racing and one of the great theatres in British sport. It is vital we continue to invest in its appeal, the experience it offers and its success, for the good of British racing.

"The Jockey Club has owned and run Cheltenham since 1964 and is very proud of its success and the role it plays within our sport, thanks to the hard work of excellent teams of people, the support of the racing industry and The Jockey Club's major and continued investment.

"The Jockey Club Board commissioned a feasibility study into the proposed development at Cheltenham. With that completed and having now been presented with a robust business plan, a range of financing options and a carefully tested design, they had no hesitation in approving the project.

"The economy remains challenging, but we continue to grow our business successfully year-after-year, allowing us to invest more into our sport. We are contributing a record amount into prize money in 2013 from our own resources and that will remain a key area of focus for us. We propose to finance the development at Cheltenham through a range of commercially-sound methods, on which there will be more news in the coming weeks."

Ian Renton, Cheltenham and the South West Regional Director of Jockey Club Racecourses, said:

"All of us at Cheltenham are delighted to be involved in this new iconic grandstand development, which will make a huge difference to the experience for many racegoers.

"Over the course of a successful 2013 Festival, we gathered customer feedback asking us to improve bar facilities, increase the number of toilets, provide further viewing opportunities of the racing and the parade ring and help improve circulation on the busiest days.

"This new development will deliver all these enhancements as well as offering much improved facilities for Annual Members and Owners & Trainers, an excellent facility for our existing A&R boxholders, and new opportunities through additional hospitality areas and viewing boxes to generate revenue to reinvest into racing.

"We look forward to submitting a detailed application to the planning authorities for their consideration in April and to working with our development team to deliver this fantastic new grandstand in readiness for the 2016 Festival, provided the financial and planning timetables required can be met.

"We are proud of the outstanding racing at the very heart of the Cheltenham experience and the unrivalled atmosphere we offer on racedays. Through The Jockey Club's major investment in our facilities, I am excited about the improved customer experience that we will be able to offer."

Robert Waley-Cohen, Chairman of Cheltenham Racecourse, said:

"I'm delighted The Jockey Club Board of Stewards has chosen Cheltenham for the Group's largest ever investment in a single project and we hope our planning application proves successful.

"This development will enhance Cheltenham's unique character and is the last part of the grandstand development that began 30 years ago. It focuses on two key objectives: maximising enjoyment of the horse and improving the overall Cheltenham experience for all racegoers.

"We have already contacted our 50 boxholders in the current A&R block, who are some of Cheltenham's most loyal supporters, and I can reassure them that excellent facilities will be available for their use in the new development which will accommodate them.

"The project is an important and necessary step in the evolution of Cheltenham Racecourse to ensure we can continue to operate at the very highest levels of British sport and fulfil our responsibilities to British racing for many more years to come."
Before and after shots: