Godolphin Seven Stars 2008 Goes to Italy
15/12/08
Paolo Figini has become the first Italian winner of the Godolphin Seven Stars competition.
The 2008 Godolphin Seven Stars
winner Paolo Figini


© Paolo Figini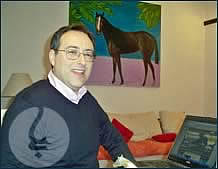 The 44-year-old, a marketing director who lives in Milan, gains the first prize of US$50,000 as well as two business class return flights to Dubai with Emirates Airline and five nights in a luxury hotel for the 2009 Dubai World Cup in March.
In a thrilling finish to the 2008 free-to-enter online racing competition, Paolo Figini amassed 319 points, just seven more than runner-up Masaya Tokiwa, from Japan, with Samir Beldjilali, from Algeria, in third with 306 points.
Paolo Figini commented: "I am thrilled to win the Godolphin Seven Stars. I have entered the competition for each of the past seven years and it is a great opportunity to get involved with Godolphin's horses."
Cocoa Beach, who recently recorded her second Grade One victory of the season in the Matriarch Stakes at Hollywood Park on November 30, was his highest scoring Godolphin horse, notching an impressive total of 103 points.
Mr Figini acknowledged the huge role played by the four-year-old filly and the keen racegoer went to the prestigious Breeders' Cup meeting at Santa Anita, USA, in October to see Cocoa Beach take on American filly of the year Zenyatta in the Breeders' Cup Ladies' Classic.
He explained: "I picked Cocoa Beach on the basis of her runs at the start of the season at Nad Al Sheba. It was hard to weigh up her form in Chile, but I thought she ran a really good race against colts when third in the UAE Derby.
"I was lucky to put her in the third leg of the competition and she really made all of the difference.
"I never thought that I could win the Godolphin Seven Stars until Cocoa Beach started running in the United States. After she won at Saratoga in August, I started to think that I could finish in the first three.
"Towards the end of the competition, I was printing out the top 100 names on the leaderboard after every Godolphin runner so that I could see who was catching up with me.
"Two days before the Breeders' Cup, I was tempted to go to Santa Anita and watch Cocoa Beach run in the Ladies' Classic. So I booked the flights and hotel and saw her finish second to Zenyatta."
As well as Cocoa Beach, Paolo Figini was able to see two of his other Seven Stars selections, Grade One E P Taylor Stakes heroine Folk Opera (102 points) and sprinter Diabolical (6 points), in action at Santa Anita.
"It was fantastic to see all three of them in the flesh. I selected Folk Opera, who finished ninth in the Breeders' Cup Filly & Mare Turf, because she is by Singspiel and I saw on the Godolphin website that she was going to be one of the first European runners of the season.
"Folk Opera is a very tough filly and she's a real fighter. Her last race was not her true form but she had been kept very busy throughout the season and had previously won a Grade One race in Canada. She also won a Group Two at Deauville and I was delighted that I chose her for my stable.
"I thought Diabolical was going to win the Breeders' Cup Turf Sprint and he was unlucky to get beaten on the line. I was disappointed that I had left him out of Challenge Three, when he was second in a Group Two, so I was still pleased to pick up some points with him in Challenge Four."
As well as closely examining the form of every Godolphin horse, he also scrutinises their breeding and he admits to having a soft spot for the offspring of Kingmambo and Godolphin's 2002 Dubai World Cup winner Street Cry.
"I love to look at the genealogy of horses and I always take a close look at horses by Street Cry and Kingmambo. Three of my selections this year were related to Kingmambo, including Alexandros, who I saw finish third in the Prix Morny at Deauville last year.
"Creachadoir, a son of King's Best, who is by Kingmambo, was another automatic choice for me. He ran a great race in the Hong Kong Mile and I thought his victory in the Lockinge was fantastic. I was hoping to see him run in some of the big races throughout the season, but unfortunately he got injured like another selection of mine, Ramonti.
"The other horse with a connection to Kingmambo is Sagara, whose mother was a daughter of Kingmambo. I have to give thanks to Ted Durcan, who gave Sagara such a great ride when he finished second to Veracity in the Group Three Jockey Club Cup at Newmarket in October. The points I gained from that race gave me the lead in the Seven Stars competition for the first time."
Paolo Figini, who has been to Epsom Downs, England, several times to see the Derby and attended Royal Ascot in the same country for the first time earlier this year, has been interested in horses all his life.
He first went racing in his home town and continued to be fascinated by the sport after his family moved to Belgium when still a young child.
He said: "Varese is a small city and there is very little to do in the summer apart from go racing. My parents used to take me to the racecourse because it was a big social occasion in the evenings and I was always very excited about going racing.
"When we moved to Belgium, I used to force my father to take me racing on the weekends. I love my job but I think that it's important to have something else outside of work and horseracing has always been a passion.
"I actually own, with my friend Franco, a horse called Echad, who is trained by Maurizio Guarnieri. She's a three-year-old filly who has won five races this year and her sire is the Epsom Derby winner Kris Kin. Hopefully, she can race in Pattern company on her next start and we can see how good she is.
"My favourite horse is Banks Hill. My wife spent a week working in Paris in October, 2000, shortly after my eldest daughter was born, and I went with her to go racing at Maison-Laffitte. I was fortunate enough to see Banks Hill make her racecourse debut. I remember thinking she was such a beautiful filly and she went on to win at the highest level in the Coronation Stakes, the Breeders' Cup Filly & Mare Turf, and the Prix Jacques Le Marois.
"I also love Street Cry. I put him in my Seven Stars stable when he was a four-year-old and his victory in the Dubai World Cup was superb. I always look out for horses by Street Cry, such as Zenyatta, who beat Cocoa Beach at Santa Anita.
"My other favourite Godolphin horse is Librettist, who is a half-brother to another great, Dubai Destination. I remember him winning at Nottingham in June, 2006, and I told all of my friends that he would go on and take the Prix Jacques le Marois at Deauville later that season. I took my parents to see him win that race and the victory paid for the whole holiday!"
Paolo Figini is looking forward to visiting Dubai for a third time and hopes that he will be able to meet his favourite rider and Godolphin's retained jockey Frankie Dettori.
"I have been to Dubai twice before. My wife Barbara and I enjoyed our honeymoon there in 2000 and I also stayed in Dubai in the mid-1990s on business. I went racing at Nad Al Sheba and loved it, but that was before the Dubai International Racing Carnival so I can't wait to see some top-quality racing action. I have seen a great deal of the city in the news recently and would love to see how it has changed since I last visited.
"It will be great to see the Godolphin team at work in Dubai as well, especially Frankie Dettori. He is the best jockey in the world at the moment and I love that he's such an emotional rider and the fact that he's Italian of course!"