racing_news/
Jumping Clinics to Take Off at Newton Rigg College
16/03/12
Olympic eventer Jeanette Brakewell is hosting a series of jumping clinics at Newton Rigg College's Equestrian Centre this spring.
Jeanette Brakewell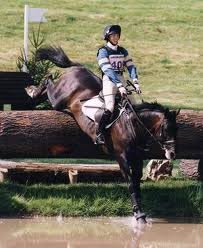 Jeanette, part of Britain's silver medal three-day event teams at both Athens and Sydney, will be running the clinics at the Penrith college between April and July in a new initiative for enthusiastic riders aged from nine upwards.
Samantha Ingram of the College's Equine Department said: "This is a great opportunity to learn from one of the world's best riders. It should appeal to anyone who wants to either polish up their skills, gain confidence or indeed start from scratch. The clinics will be divided into hour-long lessons with no more than four riders in each. Riders in each group will be matched according to ability, experience and expectation so that everyone has an enjoyable time and gets the maximum benefit."
The clinics will tackle a variety of showjumping questions in the college's outdoor arena. Newton Rigg also has 12 stables all situated within a quiet courtyard setting, a 24m x 42m indoor arena, and a cross country schooling field with a selection of jumps up to 90cm.
The College currently has around 50 students on courses ranging from entry level through to BTEC National Diplomas and Apprenticeships. Affiliated dressage competitions have recently been re-introduced.
The first jumping clinic takes place on Tuesday 3 April, followed by Tuesday 19 June, Tuesday 3 July and Tuesday 17 July. The cost is £30 per person per lesson. For more information or to book a place please call Samantha on 01768 893 442 or email samantha.ingram@newtonrigg.ac.uk
Alternatively collect an application form from our Indoor Arena or from our website –www.newtonrigg.ac.uk
Stop Press
In addition, riders can top up their showjumping skills on Thursday 5 April and Saturday 5 May by taking advantage of the College's outdoor arena. Practice jumps will be positioned around the area providing the ideal opportunity for anyone wanting to practice on a young horse without the pressure of a competition, novice riders wanting fun or simply practicing jump off techniques. For more information contact Samantha.