racing news
Girls Team Ready to Win Shergar Cup
10/08/12
Hayley Turner is already a veteran as far as the Dubai Duty Free Shergar Cup is concerned.

Britain's most successful female jockey competes for the seventh time in the unique jockeys' competition on Saturday (August 11) at Ascot Racecourse.
Left to Right - Emma-Jayne Wilson, Hayley Turner & Chantal Sutherland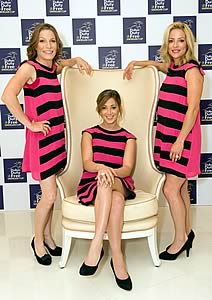 The 29-year-old, previously part of the Great Britain team which she captained on three occasions, is now in charge of the new Girls Team in which she is joined by star Canadians Chantal Sutherland and Emma-Jayne Wilson.

She competed against Sutherland and Wilson in last year's Female Jockey Challenge at Pimlico Racecourse in America and wanted them to form a team at the Dubai Duty Free Shergar Cup.

After a photo-shoot at the Dorchester Hotel in London this morning and before dashing off for rides at Haydock Park and Southwell, Turner said: "The Girls Team is good for helping to attract people who don't normally go racing as it gives them more of an interest.

"I don't think Chantal and Emma-Jayne need much advice from me as they are experienced jockeys. They will do their homework about the horses they are riding and I should be able to help them with this.

"I met Emma-Jayne years ago when she came over for the Shergar Cup and Chantal in both America last year and Dubai this year.

"The main thing is to do what they are told by the trainers. I just want the team to win. Chantal and Emma-Jayne are really good fun and we have already had a laugh."

Turner has a real affinity to the Dubai Duty Free Shergar Cup at Ascot and continued: "I look forward to the Shergar Cup every year - it is just something a little bit different. My mum and dad come and they get well looked after and my agent brings his kids. It has become an annual event which everybody looks forward to.

"I've done quite well - with four winners at the Shergar Cup - but I would like to win the trophy there (the Silver Saddle for being leading rider at the Dubai Duty Free Shergar Cup).

"I like Ascot and have had plenty of winners at the course. However, my favourite Ascot moment was my first ride back (July, 2009) after my head injury. I didn't win but it was just nice to be riding at the races again after the long, boring process of trying to return."

Turner has participated in jockeys' competitions in America, Mauritius and South Africa.

"They are always good fun. I enjoy taking part as often you can mix them in with a holiday as well."

She is very busy at the moment, working seven days a week at racecourses all around Britain, with the only respite coming when she is suspended. However, the stewards have been looking kindly on her and she has only had one day off so far in 2012.

"If I wasn't busy in the middle of August, I would be worried. I'm getting plenty of rides and winners.

"I don't set myself a target - I just want to stay in one piece this year following injuries in previous seasons.

"It is a shame that jockeys cannot get involved in the Olympics but maybe people who aren't able to buy tickets can come to the Shergar Cup instead.

"I have been riding every day so I haven't had a chance to go to the Olympics which is frustrating. It is so competitive that it is difficult to take a day off, which is all part of the job. We have to sacrifice things now but get an easier time in the winter.

"I've had just one day's suspension this year and that is it, while last year I was in double figures easily."

Emma-Jayne Wilson was born in Canada to British parents and has some experience of London and riding at Ascot.

She said: "I arrived late Tuesday morning and I made an attempt to go down to the Olympic Park but that was rather short-lived, though it was good fun to bounce around London a little bit.

"We used to come to England every now and then when I was younger so I have been to London a couple of times before but never as an independent adult.

"I am riding at Woodbine in Toronto on Sunday, the day after the Shergar Cup so I have a car ready to make a quick getaway.

"We are at full swing at Woodbine at the moment. The racing season goes from April through December and we operate five days a week.

"The last day of racing is in mid-December and it can be pretty cold then. We have a had a few times when races have been cancelled because it is so cold.

"I usually take a break afterwards and I have done different things in the last few years. I have been to Gulfstream Park in Florida for a working holiday, had some fun at Philadelphia Park and one year I spent the winter in Hong Kong. I like to see what comes up and go from there.

"I rode in the Shergar Cup in 2006 - Hayley tells me I was useless! But it was good fun. Looking back at it now, I was very young as a rider. The week I was at Ascot then was my last week as an apprentice and I went back to Canada a fully-fledged journeyman.

"I've had a few more years' experience now and I would say I am a little more seasoned. The ambition on Saturday is as always to win. Win, win and win - I think Hayley would agree.

"The idea of pitching the Girls Team to Ascot came about at Pimlico last year and we have all run with it - this going to be quite some event."

A star apprentice at Woodbine, the 30-year-old has developed into one of the leading jockeys at the main Canadian racetrack.

"The momentum of my success as an apprentice really helped me kick on and I have been in the top five ever since. It was a challenge in terms of the initial transition but I think my riding spoke for itself.

"To be at the top at Woodbine, it is always good to have a larger stable at your back and then fill in the gaps. Reade Baker and Ian Black have been very good plus others - every good building needs a good foundation."

Chantal Sutherland has enjoyed high-profile success with the Bob Baffert-trained Game On Dude, winning three Grade Ones on the five-year-old - the Santa Anita Handicap and Goodwood Stakes last year and the Hollywood Gold Cup Handicap this year.

There was also a terrific second in the 2011 Breeders' Cup Classic, with the only blip coming in the world's richest race, the Dubai World Cup, earlier in the year.

Saturday's 2012 Dubai Duty Free Shergar Cup will be her first experience of riding in Britain.

The 36-year-old jockey, who hopes to reach her 1,000th winner soon, is a model and aspiring actress as well as a jockey.

Based full-time in Southern California, she is looking forward to the rest of the year.

She said: "It is gorgeous here in England - the buildings are so old - and the hotel we are staying in, Coworth Park at Ascot, is amazing.

"We got here yesterday afternoon and went for a walk - it was so green - and we are trying to visit art galleries and museums tomorrow.

"Del Mar is going very well at the moment but this was such an opportunity to come to England for the first time and I have heard so many good things about Ascot that I had to take the time off.

"After Del Mar, there is a three-week break, which I really need, and then we start back at Santa Anita, including the Breeders' Cup, and finish the year at Hollywood Park.

"Game On Dude is going for the Pacific Classic and then the Breeders' Cup Classic - he is doing very well. I just love the Dude, we just have this really good sort of relationship.

"My ambitions include winning the Pacific Classic, the Breeders' Cup Classic, the Kentucky Derby and getting 1,000 wins hopefully this year.

"I have a fantastic agent and a very good manager, which makes my life much easier. The next place I want to visit is Japan and we are in the process of organising a trip to Australia too."

Sutherland is anticipating a good day on Saturday at the Dubai Duty Free Shergar Cup.

"I don't know a whole lot about Ascot but it looks like it will be an amazing experience. Everything has been very well organised so far and there is fantastic marketing.

"I like it that at least one of my mounts will have a good chance because in other jockey challenges you can end up on crazy longshots. It would be amazing to have a winner at Ascot and I am really excited to be part of the event."

Aaron Gryder is one of the world's most experienced jockeys, with over 3,500 winners and earnings of more than US$111 million in America alone.

His biggest success came on Well Armed in the 2009 Dubai World Cup and the 42-year-old ridden all over America and overseas.

Gryder commented: "I got into town on Tuesday afternoon and yesterday explored London all day long, probably walking about eight miles and taking many trains. And last night we enjoyed the US v Australia basketball at the Olympics at the North Greenwich Arena, which was a very nice stadium.

"It is an honour to be asked to represent America in the Rest Of The World team at the Shergar Cup and at the same time it is a pleasure to be able to experience the culture over here for a few days.

"It is a working vacation and I am very excited about riding on Saturday. I have just moved back down to Southern California and we are in the middle of the Del Mar meeting right now.

"I chose to make sure I can ride at Del Mar on Sunday afternoon by leaving on Saturday night. I fly to New York where I have a 10-hour lay-over and then take an early Sunday morning flight to San Diego and go straight to the races.

"When you love what you do, you make the effort. I came to England for one ride in 1992. It was such a great experience. I rode a horse called Diamonds Galore in the Nunthorpe Stakes for Mr Frank Stronach and got beat three quarters of a length. I was very young then and I was very excited to get the invite to come back to England."

Reflecting on his career, Gryder explained: "I sometimes think I moved too much. I am very blessed because I have been all around the world and to so many places a lot of riders don't get to experience. I don't regret the choices I have made but professionally it might have led to a stronger career if I had stayed in one place.

"I am not complaining because, if I had done that, I would have never won the Dubai World Cup and been to Hong Kong and other places. I have always loved Dubai - I have been there 17 times.

"Dubai World Cup night was special in my career. I have always believed that horses have one special effort in them and luckily Well Armed's coincided with the Dubai World Cup.

"My most memorable win in America was when I was 17 and my father said go and win a race for me tomorrow. Unexpectedly, he died that night in a car accident and I told my mother that I have got to go and ride - this is what Dad asked me to do. That means more than any race I have won as I was able to fulfil that promise to him by riding a winner the next day."

He still thinks he has five to 10 years left as a jockey and would like to remain in the sport afterwards on the broadcasting side in which he has already gained plenty of experience.