racing news /

OLBG.com Launches Free Sports Betting Tips App
03/10/12

OLBG.com, the Sports Betting Community, has launched a free sports betting tips app. The app gives access to free betting tips and expert opinions across a range of sporting events. Using the combined knowledge and skill of the OLBG.com Sports Betting Community, the app helps users make informed betting decisions.

OLBG Sports Betting Tips App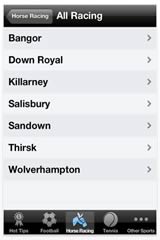 Using the iPhone GPS module, the new app can detect the user's location and offer up-to-date odds for any relevant event close by; a perfect companion for a day at the races.

OLBG.com is a community of knowledgeable and expert bettors. The community provides a forum for members to discuss, analyse and predict a wide variety of sporting events. The size of the OLBG.com community means there is a variety of opinions across hundreds of popular sporting events. Punters looking to improve their betting record can use this app to check what the OLBG.com betting experts are saying, before placing a bet.

The app allows users to browse by events to see tips, detailed comments and expert tipster selections on Horse Racing, Football, Tennis and many more sports. Users can see what the most popular tips on the big events for each day are.

The OLBG.com Sports Betting Tips app is now available to download for free in iTunes. See the five star reviews from users who are calling it a must for anyone who is interested in gambling.