World-Class King George VI & Queen Elizabeth Stakes Entries Revealed 11/06/08
This year's King George VI & Queen Elizabeth Stakes has attracted 50 outstanding entries, 13 more than in 2007, and a vintage renewal is in prospect at Ascot on Saturday, July 26, with many of the world's top middle-distance performers engaged in the £850,000 Group One event.
St Ledger winner Sixties Icon
has been entered by Jeremy Noseda


© racing-images.co.uk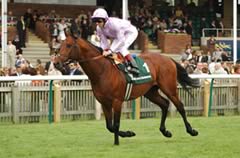 After sending over Heart's Cry to finish third behind Hurricane Run and Electrocutionist in 2006, Japan looks set to have another runner in the Ascot showpiece, with the Noriyuki Hori-trained Roc De Cambes among the 29 overseas-trained entries.
The four-year-old won his first four starts before coming home a fast-finishing third in the Group One Kikuka Sho, the Japanese St Leger, run over a mile and seven furlongs at Kyoto in October, 2007. The son of Red Ransom, owned by the Yoshida family, finished his classic campaign with a closing fourth in the Group One Arima Kinen over an extended mile and a half at Nakayama in December, 2007.
Hori is planning to send over Roc De Cambes, who finished third on his seasonal bow in the competitive Meguro Kinen Handicap over an extended 11 furlongs at Tokyo on June 1, after consulting with five-time King George VI & Queen Elizabeth Stakes winning jockey Michael Kinane.
Hori revealed today: "I started to think about the King George as the race for Roc De Cambes in December after the Arima Kinen. I spoke to Michael Kinane, who rode him on that occasion, and he said this horse has the class to compete at the top level in Europe, and that the King George would be the most suitable race for him.
"As Roc De Cambes is a New Zealand-bred, he can enjoy a 4lb Southern Hemisphere allowance in the King George, which I think is a good advantage for him, and there is no suitable race for him in Japan over the summer.
"He is going to run in the Group One Takarazuka Kinen over 11 furlongs at Hanshin on June 29 and, provided he runs well there, the plan is for him to then travel to Newmarket in preparation for the King George VI & Queen Elizabeth Stakes."
There is a strong three-year-old entry including the first three home in Saturday's Vodafone Derby, New Approach, Tartan Bearer and Casual Conquest. The Jim Bolger-trained New Approach - one of 23 entries from Ireland - could attempt to become the first horse since Galileo in 2001 to complete the Epsom Downs/Ascot double in the same year and follow in the footsteps of Lammtarra (1995), Generous (1991), Nashwan (1989), Reference Point (1987), Shergar (1981), Troy (1979), The Minstrel (1977), Grundy (1975), Mill Reef (1971), Nijinsky (1970), Pinza (1953) and Tulyar (1952).
Tartan Bearer, one of six horses trained by Sir Michael Stoute, could bid to emulate his full-brother Golan, who won the King George VI and Queen Elizabeth Stakes as a four-year-old in 2002.
The Epsom form is also represented by the Juddmonte Oaks runner-up Moonstone, one of 21 entries trained by Aidan O'Brien. The master of Ballydoyle, who followed up Galileo's success in the King George VI & Queen Elizabeth Stakes with Dylan Thomas last year, could step up in trip this season's dual Group One winner Duke Of Marmalade.
The 2007 Irish Derby winner and recent Juddmonte Coronation Cup scorer Soldier Of Fortune, multiple Group One-winning filly Peeping Fawn, dual Gold Cup victor Yeats and Hebridean - who has recently been bought by owner Adrian Nolan - are also among O'Brien's entry.
The three French-trained entries are Group Two Jockey Club Stakes winner Getaway, whose trainer Andre Fabre won the King George VI & Queen Elizabeth Stakes with Hurricane Run in 2006, globe-trotting dual Group One scorer Doctor Dino and the Pascal Bary-trained Zambezi Sun.
Mike de Kock, who saddled South Africa's first King George VI & Queen Elizabeth Stakes runner Victory Moon in 2003, has this year entered Dubai Sheema Classic scorer Sun Classique, while German handler Peter Rau has engaged his talented five-year-old Saddex, who finished second to Duke Of Marmalade in the Prix Ganay on his seasonal debut before taking the Group One Premio Presidente della Repubblica in May.
Rau is looking forward to having his first runner in the King George VI & Queen Elizabeth Stakes and reckons that Saddex has already shown this season that the five-year-old can race with some of the best horses in Europe.
Rau commented: "I have entered Saddex in the King George VI & Queen Elizabeth Stakes and I am hoping that he will take his chance on July 26. He will run in the Group One Grand Prix de Saint-Cloud over a mile and a half on June 29 and, hopefully, if he comes out of that race in good form, he will go straight to Ascot from there.
"I was pleased with his seasonal reappearance in the Prix Ganay at Longchamp in April, where he ran a good race behind Duke Of Marmalade, who is a very smart horse. He then ran well over in Italy, where he needed all of the 10 furlongs to win by a head.
"I think the mile and a half distance will suit him well since he won a Group One and two Group Two races over that distance last season. He's quite versatile and his best trip is between 2,000 metres and 2,400 metres (10 and 12 furlongs). He likes good or good to soft ground so, providing the going is not too fast, I hope that he can take his chance at Ascot."
Saeed bin Suroor, a five-time winner of the King George VI & Queen Elizabeth Stakes with Lammtarra (1995), Swain (1997 and 1998), Daylami (1999) and Doyen (2004), has six horses entered, including last season's Group One Emirates Airline Champion Stakes scorer Literato and Prix de l'Arc de Triomphe third Sagara. Campanologist, Happy Boy, Regal Flush and Stage Gift complete the Godolphin trainer's sextet.
Sir Michael Stoute, who has saddled Shergar (1981) and Opera House (1993) as well as Golan to King George VI & Queen Elizabeth Stakes glory, has a strong team entered. Along with Tartan Bearer, they include last year's third and dual Group Two Hardwicke Stakes scorer Maraahel, 2006 Group Two King Edward VII Stakes winner Papal Bull, Hi Calypso, Spanish Moon and Ask, who was successful over the same course and distance in last season's Group Three Cumberland Lodge Stakes prior to finishing second in the Grade One Canadian International.
The Mick Channon-trained Youmzain, who finished ahead of Maraahel when chasing home Dylan Thomas in last year's King George VI & Queen Elizabeth Stakes, could also take his chance again this season, while the last two winners of the St Leger, Sixties Icon and Lucarno, have been entered by Jeremy Noseda and John Gosden respectively.
Nick Smith, Ascot's Head of Public Relations, is delighted with the quality of this year's King George VI & Queen Elizabeth Stakes entry.
Smith commented: "This year's King George VI & Queen Elizabeth Stakes looks set to be a truly international race, with some of the top horses that Europe and the world has to offer racing against the best of Britain and Ireland.
"We are particularly pleased that the Japanese are set to have another runner in the race and I am certain that Roc De Cambes will continue the exceptionally high standard set by Heart's Cry in 2006."
THE KING GEORGE VI & QUEEN ELIZABETH STAKES
Class 1, Group 1, Total Prize Fund £850,000. 4.20pm, Ascot, Saturday, July 26, 2008. One mile & four furlongs (Swinley Course). For 3yo & upwards. Weights: 3yo colts & geldings 8st 9lb; fillies 8st 6lb; 4yo+ colts & geldings 9st 7lb; fillies & mares 9st 4lb. Southern Hemisphere allowance: 4yo - 4lb. Entries closed June 10, entries revealed June 11 (50 entries), forfeit stage July 8, five-day confirmation & £70,000 supplementary entry stage July 21, final declaration stage 10.00am, July 24. Form figures supplied by Weatherbys & are correct up to and including the racing of Monday, June 9. May not include some overseas form.
Form Horse Age Owner Trainer
031-416 ALESSANDRO VOLTA 3 Michael Tabor, Derrick Smith & Sue Magnier Aidan O'Brien IRE
32(1)-12 ALL THE ACES (IRE) 3 Alan Spence Michael Jarvis
24/112-1 ASK 5 Patrick Fahey Sir Michael Stoute
34-530 BASHKIROV 3 Michael Tabor, Derrick Smith & Sue Magnier Aidan O'Brien IRE
410-(1)13 CAMPANOLOGIST (USA) 3 Godolphin Saeed bin Suroor
1-13 CASUAL CONQUEST (IRE) 3 Moyglare Stud Farms Ltd Dermot Weld IRE
3131-31 DOCTOR DINO (FR) 6 J Martinez Salmean Richard Gibson FR
2423-11 DUKE OF MARMALADE (IRE) 4 Sue Magnier & Michael Tabor Aidan O'Brien IRE
10-20 FROZEN FIRE (GER) 3 Michael Tabor, Derrick Smith & Sue Magnier Aidan O'Brien IRE
22522-1 GEORDIELAND (FR) 7 Mountgrange Stud Jamie Osborne
3/124-15 GETAWAY (GER) 5 Baron Georg von Ullmann Andre Fabre FR
2431-(1)0 HAPPY BOY (BRZ) 5 Godolphin Saeed bin Suroor
40-(1)200 HATTAN (IRE) 6 Saeed Manana Clive Brittain
05-3211 HEBRIDEAN (IRE) 3 Adrian Nolan Aidan O'Brien IRE
0/51111- HI CALYPSO (IRE) 4 Philip Newton Sir Michael Stoute
05-441 HINDU KUSH (IRE) 3 Sue Magnier Aidan O'Brien IRE
12330-4 HONOLULU (IRE) 4 Derrick Smith, Sue Magnier, Michael Tabor Aidan O'Brien IRE
010-520 KING OF ROME (IRE) 3 Derrick Smith, Sue Magnier, Michael Tabor Aidan O'Brien IRE
2111-06 LITERATO (FR) 4 Godolphin Saeed bin Suroor
42411-0 LUCARNO (USA) 4 George Strawbridge John Gosden
336-013 MACARTHUR 4 Derrick Smith, Sue Magnier, Michael Tabor Aidan O'Brien IRE
1350-22 MARAAHEL (IRE) 7 Hamdan Al Maktoum Sir Michael Stoute
242 MOONSTONE 3 Sue Magnier, Michael Tabor & Derrick Smith Aidan O'Brien IRE
211/0-63 MOUNT NELSON 4 Derrick Smith, Sue Magnier, Michael Tabor Aidan O'Brien IRE
1/15-440 MULTIDIMENSIONAL (IRE) 5 Niarchos Family Henry Cecil
111-221 NEW APPROACH (IRE) 3 H R H Princess Haya of Jordan Jim Bolger IRE
51130-4 PAPAL BULL 5 Papal Bull Syndicate Sir Michael Stoute
321111- PEEPING FAWN (USA) 4 Michael Tabor & Sue Magnier Aidan O'Brien IRE
100-036 PETARA BAY (IRE) 4 Slavica Ecclestone Terry Mills
(1)/11-12 PHOENIX TOWER (USA) 4 Khalid Abdulla Henry Cecil
3 QUEEN OF THE NIGHT 3 Sue Magnier, Michael Tabor & Derrick Smith Aidan O'Brien IRE
20223-3 RED ROCK CANYON (IRE) 4 Michael Tabor, Sue Magnier, Derrick Smith, Diane Nagle Aidan O'Brien IRE
0114-23 REGAL FLUSH 4 Godolphin Saeed bin Suroor
11134-3 ROC DE CAMBES (NZ) 4 Ms Kazumi Yoshida Noriyuki Hori JPN
1160-21 SADDEX 5 Stall Avena Peter Rau GER
03523-0 SAGARA (USA) 4 Godolphin Saeed bin Suroor
10/1211- SEPTIMUS (IRE) 5 Derrick Smith, Sue Magnier, Michael Tabor Aidan O'Brien IRE
6/100-21 SIXTIES ICON 5 Susan Roy Jeremy Noseda
15115-1 SOLDIER OF FORTUNE (IRE) 4 Sue Magnier, Michael Tabor & Derrick Smith Aidan O'Brien IRE
12060-0 SONG OF HIAWATHA 4 Derrick Smith, Suie Magnier, Michael Tabor Aidan O'Brien IRE
1/5-1 SPANISH MOON (USA) 4 Khalid Abdulla Sir Michael Stoute
1/(0)0110- STAGE GIFT (IRE) 5 Godolphin Saeed bin Suroor
010-111 SUN CLASSIQUE (AUS) 5 L Cohen & W V Rippen Mike de Kock SAF
2-112 TARTAN BEARER (IRE) 3 Ballymacoll Stud Sir Michael Stoute
4-225 WASHINGTON IRVING (IRE) 3 Derrick Smith, Sue Magnier, Michael Tabor Aidan O'Brien IRE
64-3 WILLIAM HOGARTH 3 Michael Tabor, Derrick Smith & Sue Magnier Aidan O'Brien IRE
11113-1 YEATS (IRE) 7 Sue Magnier & Diane Nagle Aidan O'Brien IRE
5242-52 YOUMZAIN (IRE) 5 Jaber Abdullah Mick Channon
4130-62 ZAMBEZI SUN 4 Khalid Abdulla Pascal Bary FR
3 ZULU CHIEF (USA) 3 Sue Magnier Aidan O'Brien IRE
50 entries
23 Irish-trained
3 French-trained
1 German-trained
1 Japanese-trained
1 South African-trained