Mongan Hoping Alsadaa Can Go One Better in The Ladbroke at Ascot
10/12/08
Trainer Laura Mongan is optimistic that last year's runner-up Alsadaa can get his head in front in The Ladbroke at Ascot on Saturday, December 20, after the weights for the £150,000 Listed contest were revealed today.
The five-year-old, who has been allotted 11st 4lb and is rated a 20/1 chance for Ladbroke glory by the race sponsor, found only Jack The Giant a length too strong in the race 12 months ago and returned to Ascot to finish fourth behind Sentry Duty over the same course and distance in a valuable handicap hurdle on November 1.
Alsadaa, who has been successful at Ascot in both a novice hurdle in November, 2007, and a Flat handicap for amateur riders in September, comes into The Ladbroke on the back of a pleasing second on the all-weather in a Lingfield Flat handicap on December 5.
Mongan revealed: "Alsadaa will definitely take his chance in The Ladbroke providing the ground is good. He absolutely relishes decent ground so we are just praying that there is not much rain between now and next weekend.
"He's a front runner and he needs good going to be at his best. I was delighted with his run behind Sentry Duty at Ascot at the start of November, especially because the ground was on the easy side of good. He loves it round the course and I think he would be there or thereabouts if he took his chance.
"He will have no problem carrying 11st 4lb and I would be confident of his chances in the race following his good run last year. We were unlucky to come up against a horse like Jack The Giant and Alsadaa is in great form at the moment.
"We gave him a spin on the all-weather at Lingfield last Friday because he gets so bored at home that he was crying out for a run. He was a bit unlucky to get beaten on that occasion but it tuned him up nicely for a tilt at The Ladbroke. He has come out of that race bucking and kicking and we go to Ascot with every chance."
The weights for The Ladbroke are headed Ashkazar (left)


© racing-images.co.uk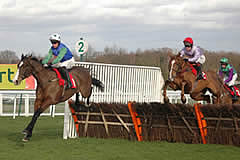 The weights for The Ladbroke are headed Ashkazar, who is set to carry 11st 12lb and is currently the 6/1 joint favourite with the race sponsor. The David Pipe-trained winner of last season's Listed Imperial Cup at Sandown is joined at the head of the market by the Gary Moore-trained Numide (10st 11lb) who recently got the better of Aigle D'Or (11st 11lb & 7/1) in a Grade Three handicap hurdle at Cheltenham. Pipe has also entered Acambo (11st 5lb & 25/1), successful in The Ladbroke in 2006, and Mamlook (11st & 25/1).
Apart from Aigle D'Or, in-form trainer Nicky Henderson may also bid for back-to-back victories in The Ladbroke with Sentry Duty (11st 9lb & 8/1), French Opera (11st 3lb & 25/1) and Blue Shark (10st 12lb & 33/1), while Numide could be joined by stablemate Wingman (10st 11lb & 20/1), who took a Grade Three handicap hurdle at Newbury in February.
The four entries from the stable of champion trainer Paul Nicholls includes Font (10st 9lb & 25/1), who beat Noble Alan (11st 5lb & 20/1) in a handicap hurdle at Cheltenham in October, and Take The Breeze (10st 9lb & 20/1). The Ditcheat handler has also entered Tchico Polios (10st 6lb & 25/1) and Five Dream (11st 10lb & 14/1), who finished a close third to Sunnyhillboy (10st 13lb & 10/1) and Spear Thistle (10st 5lb & 20/1) when carrying top-weight in a Listed handicap hurdle at Sandown on December 6.
A strong Irish challenge of nine entries includes Grade Three runner-up Psycho (11st 3lb & 10/1) and the unexposed Mourne Rambler (10st 7lb & 25/1) from the shrewd yard of Tony Martin, recent Listed scorer River Liane (11st 9lb & 12/1), as well as 2006 Galway Hurdle winner Cuan Na Grai (11st 2lb & 20/1). Recent Fairyhouse runner-up Sky Hall (10st 13lb & 14/1) is one of three horses engaged by six-time Irish champion jump trainer Noel Meade.
Other notable entries include Listed second Khyber Kim (11st 10lb & 14/1), course and distance winner Art Professor (10st 11lb & 20/1), and the Philip Hobbs-trained quartet of Hector's Choice (10st 12lb & 40/1), Belcantista (10st 6lb & 20/1), Prince Taime (10st 6lb & 25/1) and Hibiki (10st 6lb & 25/1).
The Ladbroke - Latest prices from Ladbrokes
Ashkazar 6/1, Numide 6/1, Aigle D'Or 7/1, Sentry Duty 8/1, Psycho 10/1, Sunnyhillboy 10/1, River Liane 12/1, Five Dream 14/1, Khyber Kim 14/1, Sky Hall 14/1, Alsadaa 20/1, Art Professor 20/1, Belcantista 20/1, Cuan Na Grai 20/1, Gloucester 20/1, Noble Alan 20/1, Spear Thistle 20/1, Take The Breeze 20/1, Wingman 20/1, Acambo 25/1, European Dream 25/1, Font 25/1, French Opera 25/1, Hernando Royal 25/1, Hibiki 25/1, Mamlook 25/1, Mourne Rambler 25/1, Prince Taime 25/1, Tchico Polos 25/1, Blue Shark 33/1, Gay Sloane 33/1, Group Captain 33/1, Harry Tricker 33/1, Irish Legend 33/1, Sanglote 33/1, Sole Bonne Femme 33/1, Squadron 33/1, Folk Tune 40/1, Gringo 40/1, Hector's Choice 40/1, King's Revenge 40/1, Leamington Lad 40/1, Motive 40/1, Right Or Wrong 40/1, Weather Front 40/1, Approved Force 50/1, Red Admiral 50/1, Riguez Dancer 50/1, Songe 50/1, Stripe Me Blue 50/1, Annie's Answer 66/1, Arcalis 66/1, Hue 66/1, Matuhi 66/1, Cnoc Moy 100/1, Good Spirit 100/1
All quoted. 1/4 the odds 1, 2, 3, 4
GROUND
The ground at Ascot is currently good to soft.
Clerk of the Course Chris Stickels commented: "We are due some rain over the weekend and into Monday. The long-range forecast is for high-pressure to return in the middle of next week and I would expect next weekend's weather to be similar to the present cold and sunny conditions.
"I don't anticipate the going to change significantly between now and then and expect ground similar to our first two meetings of the season."
THE LADBROKE
Class 1, Listed Race, £150,000 Total Prize Fund. 2.15pm, Ascot, Saturday, December 20, 2008. For 4yo+ rated 0-150. Two miles. Penalties: after December 6, a winner of a hurdle 6lb. No penalty to increase a horse's weight above 11st 12lb. Entries closed December 2, entries revealed December 3 (56 entries), weights revealed December 10, five-day confirmation stage December 15, final 48-hour declaration stage 10.00am, December 18. Form figures supplied by Weatherbys and are correct up to and including the racing of Monday, December 1.

Form Horse Age/Wgt Owner Trainer
14112- ASHKAZAR (FR) 4-11-12 David Johnson David Pipe
110-2 AIGLE D'OR 5-11-11 J P McManus Nicky Henderson
31100-43 FIVE DREAM (FR) 4-11-10 Scott-Macdonald, Kilduff, Donlon & Doyle Paul Nicholls
465541/-6 ARCALIS 8-11-10 Andrea & Graham Wylie Howard Johnson
1404-2 KHYBER KIM 6-11-10 Caroline Mould Nigel Twiston-Davies
3P210-1 RIVER LIANE (FR) 4-11-09 Valerie Courtney Tom Cooper IRE
4/100-1 SENTRY DUTY (FR) 6-11-09 Peter Spiller Nicky Henderson
1542-03 GROUP CAPTAIN 6-11-07 Peter Webb Hugh Collingridge
1421-12 NOBLE ALAN (GER) 5-11-05 Craig Bennett Nicky Richards
P6/1F6-P ACAMBO (GER) 7-11-05 David Johnson David Pipe
12560-4 ALSADAA (USA) 5-11-04 Mrs P J Sheen Laura Mongan
1/222-1F FRENCH OPERA 5-11-03 Judy Wilson & Martin Landau Nicky Henderson
61F20-6 PSYCHO (IRE) 7-11-03 Exors of The Late C McClure Tony Martin IRE
01-2145 SQUADRON 4-11-02 Tony & Jeni Fisher Alan King
1162P/-4 CUAN NA GRAI (IRE) 7-11-02 J J Brennan Paul Nolan IRE
140-63P SONGE (FR) 4-11-02 Alan Halsall Charlie Longsdon
110/140- ANNIE'S ANSWER (IRE) 8-11-00 R G Makin Jane Makin
1001-B0 MAMLOOK (IRE) 4-11-00 Peter Deal & G Lowe David Pipe
14-311 SUNNYHILLBOY (IRE) 5-10-13 J P McManus Jonjo O'Neill
1-00132 SKY HALL (IRE) 5-10-13 SPK Syndicate Noel Meade IRE
1214 HECTOR'S CHOICE (FR) 4-10-12 James and Jean Potter Philip Hobbs
23311//-0 BLUE SHARK (FR) 6-10-12 Trevor Hemmings Nicky Henderson
1140-1 NUMIDE (FR) 5-10-11 H R Hunt Gary Moore
11263-1 ART PROFESSOR (IRE) 4-10-11 Jeremy Hancock Venetia Williams
0/1310-65 WINGMAN (IRE) 6-10-11 Graham Gillespie Gary Moore
1/3040-1 TAKE THE BREEZE (FR) 5-10-09 Mr & Mrs G Calder Paul Nicholls
033-023 KING'S REVENGE 5-10-09 Ian, Jonny & Richard Kirkham Alan King
P440-11 IRISH LEGEND (IRE) 8-10-09 Irish Legend Racing Team Craig Roberts
42-1102 FONT 5-10-09 Mr & Mrs R Nevinson And Mr & Mrs G Mason Paul Nicholls
3320-010 EUROPEAN DREAM (IRE) 5-10-08 You Trotters Richard Guest
31213-2 RIGUEZ DANCER 4-10-07 Middleham Park Racing XII Patrick Haslam
212310 LEAMINGTON LAD (IRE) 5-10-07 Three Off The Tee Partnership Nigel Twiston-Davies
14114-0 MOURNE RAMBLER (IRE) 6 -10-07 Dewsweepers Syndicate Tony Martin IRE
2332-01 BELCANTISTA (FR) 6-10-06 J P McManus Philip Hobbs
42-110 TCHICO POLOS (FR) 4-10-06 Mark Tincknell & Chris Giles Paul Nicholls
111-3 PRINCE TAIME (FR) 5-10-06 Diana Whateley Philip Hobbs
2110-22 HIBIKI (IRE) 4-10-06 Richard Green Philip Hobbs
0203-20 RIGHT OR WRONG (IRE) 4-10-05 Neighbours Racing Club Noel Meade IRE
6/0P-4112 SPEAR THISTLE 6-10-05 Tony Hayward & Sue Head Charlie Mann
F3120/-P GOOD SPIRIT (FR) 6-10-04 P And Mrs G A Clarke Jennie Candlish
21501-0 MATUHI 5-10-04 Willsford Racing Incorporated Ben De Haan
23-20424 SANGLOTE (FR) 5-10-03 J J Brennan Eoin Griffin IRE
220-124 GAY SLOANE (IRE) 4-10-03 Wee County Syndicate Noel Meade IRE
1B430-0 HUE 7-10-02 Mike Ashton Brian Ellison
F414-10 SOLE BONNE FEMME (IRE) 6-10-02 E&T Fitzpatrick Partnership Arthur Moore IRE
05-622B GLOUCESTER 5-10-02 S M Smith & Keith Hunter Michael Scudamore
26210-4 STRIPE ME BLUE 6-10-01 Mrs A H Jones Peter Jones
414-200 CNOC MOY (IRE) 4-10-01 Mrs C Hardman Oliver Sherwood
310F-06 HARRY TRICKER 4-10-00 Richard Green Gary Moore
11050-40 APPROVED FORCE (USA) 4-09-13 Tim Wood Lucy Wadham
1/0053-2 GRINGO 6-09-13 Andrea & Graham Wylie Howard Johnson
0225-244 HERNANDO ROYAL 5-09-13 Paul Murphy Dr Richard Newland
341140 RED ADMIRAL (USA) 6-09-12 T A Swerling Charlie Mann
106-110 WEATHER FRONT 4-09-12 Mrs N Unsworth & R Greenway Nigel Twiston-Davies
0/0306-10 MOTIVE (FR) 7-09-11 Andrea & Graham Wylie Howard Johnson
50-00446 FOLK TUNE (IRE) 5-09-08 J N Blackburn Ferdy Murphy
56 entries
9 Irish-trained
THE LADBROKE HURDLE ROLL OF HONOUR (1987-2007)
Ascot, Saturday, December 20, 2008
run at Sandown in 2005 (January 7, 2006) and in 2004 (January 8, 2005); run at Leopardstown in January up to & including 2000
Year Winner Age/Wt Owner Trainer Jockey SP
2007 JACK THE GIANT 5-11-00 Hanbury Syndicate Nicky Henderson Mick Fitzgerald 9/4F
2006 ACAMBO 5-11-09 David Johnson David Pipe Timmy Murphy 7/1
2005 DESERT AIR 7-10-09 Belinda Harvey Martin Pipe Tom Scudamore 25/1
2004 TAMARINBLEU 5-10-11 Arthur White Partnership Martin Pipe Tony McCoy 14/1
2003 THESIS 5-11-02 1961 Partnership Venetia Williams Brian Crowley 33/1
2002 CHAUVINIST 7-10-00 Bunny & Nick Roberts Nicky Henderson Norman Williamson 15/2
2001 MARBLE ARCH 5-10-11 Martin & Mary Wilson Rory Sweet Hughie Morrison Norman Williamson 7/1
2000 MANTLES PRINCE 6-9-12 R J McSharry Pat Hughes IRE Fran Berry 12/1
1999 ARCHIVE FOOTAGE 7-11-08 Michael Smurfit Dermot Weld IRE David Evans 25/1
1998 GRAPHIC EQUALISER 6-10-00 BRASK Syndicate Arthur Moore IRE Conor O'Dwyer 5/1F
1997 MASTER TRIBE 7-10-04 Jebel Ali Racing Stables Jenny Pitman Norman Williamson 18/1
1996 DANCE BEAT 5-9-12 Mrs E Queally Jessica Harrington IRE Anthony Powell 12/1
1995 ANUSHA 5-10-02 G A Hoggard Michael Hourigan IRE Shane Broderick 25/1
1994 ATONE 7-10-08 Robert Sinclair Bunny Cox IRE Kevin O'Brien 10/1
1993 GLENCLOUD 5-10-13 D Tierney Noel Meade IRE Gerry O'Neill 20/1
1992 HOW'S THE BOSS 6-10-02 Edward Farrell John Brassill IRE Jason Titley 20/1
1991 THE ILLIAD 10-10-13 Elizabeth Furlong Andy Geraghty IRE Pat McWilliams 7/1
1990 REDUNDANT PAL 7-11-05 P S O'Neill Paddy Mullins IRE Conor O'Dwyer 20/1
1989 REDUNDANT PAL 6-10-00 P S O'Neill Paddy Mullins IRE P Kavanagh 16/1
1988 ROARK 6-11-01 P Leeper Arthur Moore IRE Tom Taaffe 5/1
1987 BARNBROOK AGAIN 6-11-08 Mel Davies David Elsworth Colin Brown 5/2F