20 for Ascot's BGC Long Walk Hurdle
03/12/08
A cracking renewal of the Grade One £100,000 Grade One BGC Long Walk Hurdle (1.40pm) is in prospect at Ascot on Saturday, December 20, with 20 entries having been received.
Blazing Bailey
© racing-images.co.uk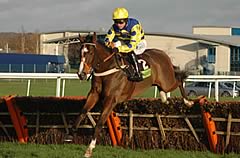 Duc de Regniere could not have been more impressive when collecting the Grade Two Long Distance Hurdle at Newbury on November 29, when he overcame Mobaasher, Pettifour and Blazing Bailey. The six-year-old is one of three entries for the red-hot Nicky Henderson stable alongside stable companions Afrad and Punchestowns, who caught the eye when successful under top-weight in a handicap hurdle at Cheltenham last month.
Last year Lough Derg scored a famous front-running victory and is a possible starter once again this year while other interesting contenders include last season's Triumph Hurdle runner-up Franchoek, Elusive Dream, a Grade Two winner at Aintree last season and Fair Along, a Listed winner at Cheltenham last month.
There are two decent mares entered in Kruguyrova, who finished second to Tidal Bay in the Arkle Chase at Cheltenham last season and One Gulp, who recorded a decisive success in a Listed mares' event at Kempton in November.
THE BGC LONG WALK HURDLE
Class 1, Grade 1, £100,000 Total Prize Fund. 1.40pm, Ascot, Saturday, December 20, 2008. For 4yo+. Three miles and one furlong. Weights: 11st 7lb. Allowances: fillies & mares 7lb. Entries closed December 2, entries revealed December 3 (20 entries), five-day confirmation stage December 15, final 48-hour declaration stage 10.00am, December 18. Form figures supplied by Weatherbys and are correct up to and including the racing of Monday, December 1.

Form Horse Age Owner Trainer
F21323/- AFRAD (FR) 7 The Not Afraid Partnership Nicky Henderson
22-0521 ATAMANE (GER) 5 Eckhard Sauren Mario Hofer GER
12411-4 BLAZING BAILEY 6 Three Line Whip Alan King
0/312-11 DUC DE REGNIERE (FR) 6 Sir Peter & Lady Gibbings Nicky Henderson
21411-3 ELUSIVE DREAM 7 Findlay & Bloom Paul Nicholls
5P20-51 FAASEL (IRE) 7 Jim Ennis Nicky Richards
3430-21 FAIR ALONG (GER) 6 Alan Peterson Philip Hobbs
11234-5 FRANCHOEK (IRE) 4 J P McManus Alan King
1530-16 HILLS OF ARAN 6 David Hughes Mike Evans and Partners Keith Goldsworthy
3136-46 KAZAL (FR) 7 Joseph Comerford Eoin Griffin IRE
212125- KRUGUYROVA (FR) 5 Ronald Brimacombe Charles Egerton
0400-66 LOUGH DERG (FR) 8 W Frewen David Pipe
5041-22 MOBAASHER (USA) 5 Seasons Holidays Paul Nicholls
445/15-3 NO REFUGE (IRE) 8 Andrea & Graham Wylie Howard Johnson
11301-1 ONE GULP 5 Bobby McAlpine Paul Webber
2111-13 PETTIFOUR (IRE) 6 J B Pettifer Nigel Twiston-Davies
113-1 PUNCHESTOWNS (FR) 5 Judy Wilson Nicky Henderson
21640-1 SERABAD (FR) 4 Walters Plant Hire Ltd Peter Bowen
31340-2 SOUFFLEUR 5 Karen Bowen, W Bryan Mr& MrsJ Timmons Peter Bowen
311-23 SULLUMO (GER) 5 C & P Sturgeon & P & K Warren Charlie Mann
20 entries
1 German-trained
1 Irish-trained
THE BGC LONG WALK HURDLE ROLL OF HONOUR (1965-2007)
Race run as a handicap prior to 1971
Ascot, Saturday, December 20, 2008 (run at Chepstow in 2005 and Windsor in 2004)

Year Winner Age/Wt Owner Trainer Jockey SP
2007 LOUGH DERG 7-11-07 W Frewen David Pipe Tom Scudamore 14/1
2006 MIGHTY MAN 6-11-07 Joss Hanbury Henry Daly Richard Johnson 11/8F
2005 MY WAY DE SOLZEN 5-11-07 B Windfield, A Longman, J Wright, C Fenton; Alan King Robert Thornton 12/1
2004 BARACOUDA 9-11-07 J P McManus Francois Doumen FR Tony McCoy 8/13F
2003 BARACOUDA 8-11-07 J P McManus Francois Doumen FR Thierry Doumen 2/7F
2002 DEANO'S BEENO 10-11-07 Axom Martin Pipe Tony McCoy 14/1
2001 BARACOUDA 6-11-07 J P McManus Francois Doumen FR Thierry Doumen 2/5F
2000 BARACOUDA 5-11-07 Roger Barby Francois Doumen FR Thierry Doumen 11/4
1999 ANZUM 8-11-07 Old Foresters P'ship Alan King Richard Johnson 4/1
1998 PRINCEFUL 7-11-07 Robert Hitchins Jenny Pitman Richard Dunwoody 11/4F
1997 PADDY'S RETURN 5-11-07 Paddy O'Donnell Ferdy Murphy Norman Williamson 8/1
1996 OCEAN HAWK 4-11-07 Matt Archer/Jean Broadhurst Nigel Twiston-Davies Carl Llewellyn 7/1
1995 SILVER WEDGE 4-11-07 Shirley & Bill Robins Oliver Sherwood Jamie Osborne 7/1
1994 HEBRIDEAN 7-11-07 Peter Deal David Nicholson Adrian Maguire 100/30
1993 SWEET DUKE 6-11-07 Andy Mavrou Nigel Twiston-Davies Carl Llewellyn 7/2
1992 VAGOG 7-11-07 M A Swift Martin Pipe Martin Foster 15/2
1991 Abandoned due to frost
1990 FLOYD 10-11-07 Mike Walsh David Elsworth Graham Bradley 10/1
1989 ROYAL ATHLETE 6-10-08 Gary Johnson Jenny Pitman Dean Gallagher 33/1
1988 FRENCH GOBLIN 5-11-01 Maurice Pinto Josh Gifford Peter Hobbs 3/1
1987 BLUFF COVE 5-10-08 Dickins Ltd Reg Hollinshead Richard Dunwoody 14/1
1986 OUT OF THE GLOOM 5-10-08 Paul Green Reg Hollinshead Peter Scudamore 4/1
1985 MISTY DALE 7-10-08 David Rose Jenny Pitman Phil Tuck 9/4F
1984 KRISTENSON 7-10-08 Ursula Fantasia Roger Fisher Michael Williams 7/2
1983 CRIMSON EMBERS 8-10-11 Pam Smart Fulke Walwyn Stuart Shilston 14/1
1982 MAYOTTE 7-10-11 B Davies Richard Holder Paul Richards 15/8F
1981 Abandoned due to snow
1980 DERRING ROSE 5-11-11 Peter Savill Fred Winter John Francome 7/1
1979 JOHN CHERRY 8-10-11 Milton Ritzenberg Tom Jones Steve Smith Eccles 6/1
1978 KELSO CHANT 6-11-07 Mrs M Richardson Jumbo Wilkinson Steve Charlton 10/1
1977 JOHN CHERRY 6-10-11 Milton Ritzenberg Tom Jones Steve Smith Eccles 11/8F
1976 Abandoned due to frost
1975 LANZAROTE 7-12-05 Lord Howard de Walden Fred Winter John Francome 4/9F
1974 GO BINGO 5-11-12 Guy Reed Sam Hall David Munro 9/4
1973 SOLONING 8-11-08 Mrs C Thornton Fred Winter Richard Pitman 9/2
1972 HIGHLAND ABBE 6-11-12 Mrs K Hankey Les Kennard Mr R Smith 11/1
1971 ST PATRICK'S BLUE 6-11-12 P Aunger David Tatlow Bill Smith 7/2F
1970 ROUGE AUTUMN 6-10-05 Bryan Jenks Fred Rimell Ken White 9/2F
1969 CANDID CAMERA 6-10-06 R F P Ross Ted Goddard Joe Guest 100/8
1968 Abandoned due to waterlogging
1967 Abandoned due to foot and mouth epidemic
1966 SIR EDWARD 6-10-09 R Heaton Ryan Price Josh Gifford 7/2F
1965 MINUTE GUN 8-10-04 Bill Shand Kydd Bill Shand Kydd Richard Pitman 100/8