Harbinger Smashes Course Record to Take King George by Record 11 Lengths 24/07/10
1 Harbinger 4/1
2 Cape Blanco 9/2
3 Youmzain 12/1
NR: Dar Re Mi
6 ran Distances: 11l, 3¼l, nk
TIME 2m 26.78s (fast by 3.42s)
It was billed as a match between the three-year-olds, consisting of the Derby winner Workforce and the Irish Derby victor Cape Blanco, and the older horses but in the event the 2010 King George VI & Queen Elizabeth II Stakes was only ever about one horse - Harbinger.
Harbinger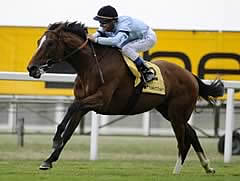 Owned by Highclere Thoroughbred Racing's Admiral Rouse syndicate, the four-year-old Dansili colt travelled supremely well throughout under French ace Olivier Peslier in the mile-and-a-half contest and pulled right away from his pursuers to win by a race record of 11 lengths - the previous record margin of victory was seven lengths, set by Generous in 1991. Harbinger's victory was also achieved in a course record time of 2m 26.78s - taking almost a second off the previous record of 2m 27.24s - and was the fastest time ever for this race.

It was a fifth King George success for trainer Sir Michael Stoute, which now means he has equalled the record number of wins achieved in the £1 million contest. The two other trainers to have won the King George five times are the late Dick Hern and Godolphin's Saeed bin Suroor.

Sir Michael Stoute said: "Olivier was just cantering and he just travelled so well. It was looking good from a long way out with Harbinger.

"He was a decent three-year-old. He was very impressive in winning the Gordon Stakes and then he had a blip in the Voltigeur. He bounced back well in the John Porter Stakes at the start of this year - he was very impressive that day.

"He has just progressed with each race this year and the Arc will certainly be considered.

"At home, we did not pit Harbinger and Workforce together. I did not know which of them had the best chance coming into today's race. We knew Harbinger had progressed since the Hardwicke and he just travelled so well today. I thought he had a good chance today but the manner in which he won today is very pleasing. We might have peaked him too early!

Referring to Derby winner Workforce, who came home fifth of the six runners, Stoute said: "I was concerned about the ground today for both runners today, but particularly for Workforce. Ryan (Moore) said that Workforce didn't switch off like he normally does and the ground was quick enough - it's pretty fast for him out there.

"I thought he was racing very keenly going into Swinley Bottom and was not relaxed. The ground was fast enough for him today. He had seven weeks between the Derby and today as we did not go to Ireland. You have to remember that was only his fourth run today and make no mistake - he will bounce back."
Position

Horse
Trainer
Jockey
Weight
Starting Price
Beaten Distance
1

Harbinger
Sir Michael Stoute
O Peslier
9st 7lbs
4 - 1
Winner
2

Cape Blanco
A P O'Brien
C O'Donoghue
8st 9lbs
9 - 2
11 lengths
3

Youmzain
M R Channon
R Hughes
9st 7lbs
12 - 1
3 1/4 lengths
4

Daryakana
A De Royer Dupre
G Mosse
9st 4lbs
14 - 1
Neck
5

Workforce
Sir Michael Stoute
R L Moore
8st 9lbs
8 - 11
2 1/4 lengths
6

Confront
Sir Michael Stoute
R Mullen
9st 7lbs
100 - 1
6 lengths
NonRunner

Dar Re Mi
J H M Gosden
Non Runner
9st 4lbs


PESLIER AND HERBERT ON HARBINGER
Olivier Peslier came in for the ride on Harbinger when Ryan Moore opted to ride Derby winner Workforce in the King George VI & Queen Elizabeth Stakes (sponsored by Betfair) but there was never any doubt that the Frenchman was on the best of trainer Sir Michael Stoute's runners today.
Peslier said: "It was a comfortable race and you can imagine when I saw the big screen in the final furlong and I didn't know where the horses were. When I gave him one smack with my whip, I turned to see where are the rest of the horses and they were so far behind. You feel that you have won a furlong before the marker.
"Today Harbinger is the king. He is a wonderful horse and I knew that he was very good but today he was flying and he won so well. It's not difficult to ride him because he is very good.
"He travelled where I wanted him to and when I asked him to go, he just kept going and I didn't have to ask him anything - he was just flying."
Harry Herbert, Managing Director of owners Highclere Thoroughbred Racing, is usually never short of words but even he was overcome with emotion following Harbinger's imperious triumph.
An emotional Herbert said immediately after the race: "It's just such an ambition for everybody, whether it is the stable team, Sir Michael and all of his group or whether it is us at Highclere and all of my team that work so hard or the owners, who have put so much money into it.
"It comes down to suddenly being dealt the cards that you have dreamt off all of your life. This is it and right now it has happened. For everyone out there, you don't have to get inolved with Highclere, but get into racehorse ownership because, I promise you, it brings grown men down to their knees in tears.
"This is the best moment in my life, bar Motivator winning the Derby. But this is Highclere, it's the blue silks (Motivator ran in the colours of the Royal Ascot Racing Club, which Herbert also manages)."
On entering the winner's enclosure, he continued: "I've done my blubbing now! That was just incredible. Days like today are the ultimate ambition for all the owners, the team at Highclere and John Warren who buys all our horses.
"We try to find the perfect racehorse. John told me he had found a beautiful horse, but we thought we would not be able to afford him. I found the catalogue from when he was sold and all I had written on Harbinger's page in the catalogue was 'AWESOME!'.
"When he went through the ring we kept bidding on him. We knew he was going to go to our most expensive syndicate and in the end we went to 180,000 guineas to get him. A call to the bank manager was required that day!
"I think I must have dreamt through every possible scenario since Royal Ascot. In one dream he was tailed off, in another he made steady progress but was always held. The one dream I never had was the jockey coming there with a triple handful.
"We are truly blessed to have this horse. You would have to say the Arc is the target after today."
TOTE MAKE HARBINGER 6/4 FOR ARC
Harbinger is the new 6/4 favourite (from 10/1) for the Prix de l'Arc de Triomphe with totesport following a devastating display at Ascot this afternoon.
Olivier Peslier's mount was cruising turning for home and when the Frenchman asked him for his effort, the four-year-old put the race to bed in a matter of seconds to not only break the track record but also chalk up the biggest winning margin in the history of the race.
"Harbinger has brought delight rather than doom to bookmakers up and down the country after his brilliant King George success and the Arc looks his for the taking judged by that performance," said totesport spokesman George Primarolo.

THE WINNER - HARBINGER (GB) FACTFILE
4 b c Dansili - Penang Pearl (FR) (Bering)
Form: 21173-1111 Owner: Highclere Thoroughbred Rcaing (Adm. Rous)
Trainer: Sir Michael Stoute Breeder: Mrs A K H Ooi Jockey: Olivier Peslier
Harbinger
John Warren paid 180,000 guineas to purchase Harbinger on behalf of Highclere Thoroughbred Racing at Tattersalls in October, 2007. Harbinger is out of the mile Listed winner Penang Pearl, who was trained by Gerard Butler for her owner breeder Nick Ooi. Harbinger did not make his racecourse debut until April 16, 2009, when he was second to Militarist in the Wood Ditton Stakes for three-year-olds over a mile at Newmarket. Stepped up to 10 furlongs at Chester in May, the Dansili colt gained his maiden victory by an impressive three lengths from Changingoftheguard. Harbinger sidestepped the Derby due to a lack of experience, and a pulled muscle forced his absence from Royal Ascot. When he did return to action in the Group Three Gordon Stakes over a mile and a half at Glorious Goodwood that July, Harbinger was again impressive, as he saw off Firebet. After making such a good start to his career, the colt posted his first below-par effort when last of seven in the Group Two Great Voltigeur Stakes at York in August. That run ended hopes of a tilt at the St Leger the following month. Harbinger signed off his three-year-old season when third in the St Simon Stakes at Newbury in October. With another winter on his back, Sir Michael Stoute's progressive charge returned to Newbury for his four-year-old bow on April 17, and stormed to a three-length triumph over Manifest in the Group Three John Porter Stakes. A second visit to Chester on May 7, brought a commanding victory over Age Of Aquarius in the Group Three Ormonde Stakes over an extended mile and five furlongs. Harbinger was all the rage for the 12-furlong Group Two Hardwicke Stakes at Royal Ascot. Sent off the 8/11 favourite, he brushed aside his rivals for a three and a half-length success. He won the Group One King George VI & Queen Elizabeth Stakes sponsored by Betfair by a record distance for the race of 11 lengths and in a new course record time of 2m 26.78s.. Race Record: Starts: 9; Wins: 6; 2nd: 1; 3rd: 1; Win & Place Prize Money: £773,931
THE WINNER FLEW, BUT PLACED CONNECTIONS HAPPY
Connections of the placed horses could only look on in amazement at the record-breaking performance of Harbinger in the King George VI & Queen Elizabeth Stakes Sponsored by Betfair. But Aidan O'Brien, trainer of the second-placed Cape Blanco, and Mick Channon, trainer of Youmzain, were more than satisfied with their horses' performances.
"Delighted," said O'Brien. "He ran a great race, he ran right to the line. We wanted the two Derby winners to get together and they went stride for stride, but it was an astonishing performance by the winner.
"I won't mind stepping Cape Blanco back down in trip, but obviously we will go home and talk about it. But he ran his heart out, he never stopped and he is moving up, he is progressing. He is a typically tough son of Galileo."
A slightly resigned Mick Channon, trainer of the third-placed Youmzain, said: "Well, we ran our race again! I was very impressed with the winner. We will be looking at the Arc, and it is unlikely we will run before. Who knows, fourth time lucky!"
Pat Downes, racing manager for the Aga Khan, said of the Aga Khan's four-year-old filly Daraykana: "She ran well and has run her race. We were beaten by some good horses and the winner was very impressive. There are no excuses and there are no plans as yet."
FAVOURITE WORKFORCE FIFTH
The 8/11 favourite Workforce finished a well beaten fifth after racing prominently - third then second - before finding no extra in the straight.
His trainer Sir Michael Stoute, rather than immediately going to attend the easy winner Harbinger whom he also trains, came to see how Workforce and pacemaker Confront were after the race.
He also chatted with Lord Grimthorpe, racing manager to the owner of Workforce and Confront, Khalid Adbulla.
Lord Grimthorpe said: "Workforce raced a bit keen and the ground was probably a bit too fast for him.
"It is very disappointing given everything. That is racing. We have to try and get him back to the form he was in at Epsom.
"We will make sure he is all right and then sit down and think about a plan."