By Billy Blakeman ValueChecker
Master Minded Hangs On to Win Victor Chandler Chase
22/01/11
1 Master Minded 4/7F
2 Somersby 8/1
3 Mad Max 8/1
9 ran Distances: shd, 20l, 1¾l
TIME 4m 4.90s (slow by 0.90s)
Paul Nicholls has been having a rare difficult run with Kauto Star's eclipse last weekend being the showcase in a period where not all the stable's inmates are performing as expected. That will have added to the pressure on the champion trainer's shoulders ahead of Master Minded's run in the Victor Chandler on Saturday. All good in the end though as the 2 mile star came home victorious; albeit by a narrow margin over a gutsy Somersby.
Master Minded
© racing-images.co.uk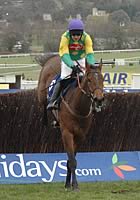 Nicholls told the press; "I'm relieved. I was disappointed initially because turning in I thought he was going to go away and win quite nice. I just said that to AP (McCoy) but he wasn't having any of that, he just said he gave him a bad ride - his words not mine. He said they went a good gallop and he was travelling powerfully and let him roll on too soon which meant he got tired in the ground. The runner-up is a good horse and we are probably not in the best of form. In the spring it will be totally different.
"AP is kicking himself because he said if he'd got beat he wouldn't have forgiven himself. They can't always run to their very best, we saw that last week, and I've got to get him back to his very best. He travels brilliantly and jumps well. Don't forget he's had a breathing operation in the summer and no horse with a breathing issue wants this ground. Come the spring, with the horses in better form, he'll be there again. I've been under a bit of pressure this week with one thing or another as some haven't run as well as they can so it's nice to have a winner."
Somersby
© racing-images.co.uk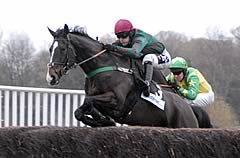 McCoy said: "He did well to win, they went a real good gallop early on and at Swinley Bottom he came back on the bridle and I let him run when I shouldn't have done - I should have sat and let him fill up more. But he's a very good horse, he got a bit tried on the ground and he probably idled a bit."
Bookmakers have reacted sharply, pushing Master Minded out to 5/2 for the Queen Mother at Cheltenham and I reckon that is a bit too generous.
Position

Horse
Trainer
Jockey
Weight
Starting Price
Beaten Distance
1

Master Minded
P F Nicholls
A P McCoy
11st 7lbs
4 - 7
Winner
2

Somersby
Miss H C Knight
Hadden Frost
11st 7lbs
8 - 1
Short Head
3

Mad Max
N J Henderson
David Bass
11st 7lbs
8 - 1
20 lengths
4

Kalahari King
Ferdy Murphy
G Lee
11st 7lbs
25 - 1
1 3/4 length
5

Gauvain
Nick Williams
D Jacob
11st 7lbs
20 - 1
8 lengths
6

I'm So Lucky
D Pipe
T Scudamore
11st 7lbs
33 - 1
7 lengths
7

Tchico Polos
P F Nicholls
Ian Popham
11st 7lbs
25 - 1
7 lengths
8

Crack Away Jack
Miss E C Lavelle
W Hutchinson
11st 7lbs
14 - 1
31 lengths
UnseatedRider

Petit Robin
N J Henderson
B J Geraghty
11st 7lbs
8 - 1