racing news /
Europe Romp to Dubai Duty Free Shergar Cup Victory
10/08/13
Gerald Mosse, 46, had a dream day. Returning to action after a shoulder injury incurred last month at Happy Valley Hong Kong, he captained the Europe team to a decisive victory in the Dubai Duty Free Shergar Cup at Ascot, took the Silver Saddle for being leading rider of the competition and also received the ride of the day accolade for his success on Royal Skies in the fourth race, the Keltbray Shergar Cup Classic.
Team Europe - comprising captain Gerald Mosse, fellow Frenchman Ioritz Mendizabal and German jockey Andrasch Starke - lift the Shergar Cup
©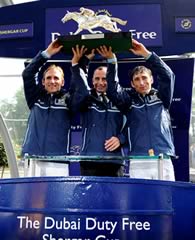 The team scores were EUR 97, GBI 61, ROW 46 & GIRLS 40

Mosse, who amassed 46 points – 12 ahead of his nearest rival, said: "We are always happy to be here and to compete.

"It's already good to get the chance to win a race and I think it's ideal to win the Silver Saddle. We are here to make a nice show and to show to the public that we like to compete and we have good horses and the best track. Everybody has enjoyed it from the beginning to the end and even the weather was beautiful. I am more than happy to be here.

"Royal Skies is a lovely horse to ride. The trainer told me to make him happy, to go out and relax him. When I dropped him in at the front, I said that we weren't going to go too fast and I am going to give him the maximum chance. Gradually, he picked up all the way to the winning post. It was a lovely attitude from him to do it like that.

"I have won before (in 2008) – this is the advantage of being mature, I have been here many times.

"I am not greedy and I am just enjoying riding and competing."

At the presentation to the winning team of Mosse, Ioritz Mendizabal and Andrasch Starke, there was plenty of champagne sprayed around in celebration.
NAPRAVNIK HEADED IN THE LAST
Pipped at the post, Rosie Napravnik just failed to register a winner when the short-head second in the final event of the 2013 Dubai Duty Free Shergar Cup, the Dubai Duty Free Shergar Cup Sprint, on board the 3/1 favourite Noble Deed. "It is going to be a lot longer trip home" said Napravnik as she came back to weigh in.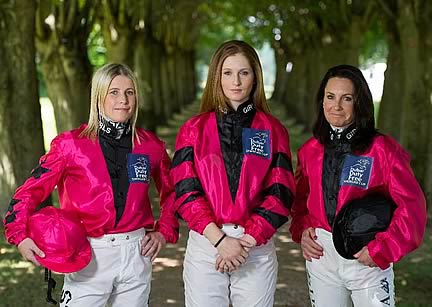 Left to Right: Cathy Gannon, Rosie Napravnik, Lisa Allpress
Napravnik had the consolation of being the leading female rider on points (15) with Girls team-mates Cathy Gannon on 13 and Lisa Allpress on 12, which left them trailing in fourth by six points to Rest of the World (46), GBI (61) and winners Europe on 97 points.

Napravnik reflected on her experience at the Dubai Duty Free Shergar Cup, saying: "It was great fun and very competitive. It was great to ride with some of the best riders in the world. I would love to come back – but I want to win next time!"

Ioritz Mendizabal, who came home in third on Barracuda Boy to register seven points for team winners Europe and second place in the jockey standings, said: "I liked this horse and thought I had the possibility of a win on him – maybe next time it would be better if there was a bit more cover for four or five hundred metres – it was a good race.

"I enjoyed the Dubai Duty Free Shergar Cup – it is very important for me as a jockey to have a winner at Ascot (Mendazibal won the Pagegroup Shergar Cup Challenge on Star Lahib). It is one of the most famous courses in the world."
STEVENS THINKS OF HUGHESIE WHEN RIDING ANNUNCIATION

Gary Stevens won the final race on Dubai Duty Free Shergar Cup day when Annunciation, trained by Richard Hannon, won this sprint for three-year-olds.

Stevens, whose mount produced a late thrust that narrowly deprived fellow American Rosie Napravnik on Noble Deed, took his personal tally to 18pts, although his team, the Rest of the World, could finish only third in the competition with 46 points – the winning Europe team amassed 97 points.

Stevens, for whom this was a 50th winner in Britain, said: "That was fun, and the only ride I've had today that played out right. The trainer wanted to try something new today and to drop him out, because he felt that was the only way he would get the trip. The partnership [owners Middleham Park Racing] didn't think much of those instructions, but they are happy now.

"I'm proud of Rosie, on her first trip to Britain. She has done us proud. I know a lot of people have been impressed with her performance, including this camp that I just rode for.

"It's been a long time since I was here – about ten years ago – and there is a new grandstand and winner's enclosure, but the course is the same and you never get tired of winning. If someone would have told me a year ago that I would be standing here as a jockey and not a presenter, I would have said 'you're wrong'.

"Before this race I was feeling bad at not having shown a little better, but nothing was going right. A couple of horses gave me a good feel but didn't get the run of the race.

"Everything this camp [Hannon's stable] has been doing this year has been win, after win, after win, and I've enjoyed watching them and Hughesie on television. I just pretended I was Richard Hughes out there.

"The track rode well, the weather was lovely and I've had a helluva day."

For Middleham Park syndicate members a winner ridden by the legend that is Gary Stevens was one to treasure. One member, James Pak, said: "That was brilliant, and I'm so glad he came over from America to ride for us. He's one of the legends and it was a privilege to see him in our colours. He did a fine job. The idea was to ride him like that and Gary did it to perfection."