Iris De Balme Bags Shock Scottish National Win
19/04/08
1st 22 Iris De Balme 66/1
2nd 1 Halcon Genelard' 10/1
3rd 9 Flintoff 28/1
4th 4 Old Benny 4/1
Iris De Balme produced an extraordinary performance to land the Coral Scottish Grand National at Ayr.
Racing from almost two stone out of the handicap, the Sean Curran-trained eight-year-old was an unconsidered 66-1 chance but was almost running away with Charlie Huxley at the last as he streaked clear of gallant top-weight Halcon Genelardais.
Old Benny, the 4-1 favourite, was fourth
© racing-images.co.uk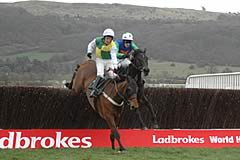 Fourteen lengths was the margin of victory at the end of the four-mile marathon, with Halcon Genelardais another two and a quarter lengths in front of Flintoff. Old Benny, the 4-1 favourite, was fourth after being far from fluent throughout.
Huxley said: "To be fair, the horse has jumped me into the race. I saw 'Choc' (Robert Thornton) come off the bridle (on Halcon Genelardais) and I thought it was time to kick on. He's a class horse, a class jumper - absolutely super."
Former jockey-turned-trainer Curran added: "I've been training 18 months. I rode in the race a couple of years ago, but I was more nervous watching than riding!"
Curran, who has ridden more than 100 winners and still holds a jockey's licence, went on: "He has done it really well, but I didn't think he would come and win this like he did from out of the handicap.
"He is the Bet365 Gold Cup at Sandown next week - he's out of the handicap again but he might as well take his chance before the handicapper gets a hold of him."
Curran plans to return to the saddle at Plumpton on Monday and added: "I will keep riding as long as I enjoy it and take things as they come."
Alan King, trainer of the runner-up and the fourth, said: "I was very proud of my two horses. Halcon ran a great race under his big weight, Choc (Thornton) and I walked the course and thought it (the ground) would be OK. Old Benny has run a smashing race too, although the ground might have dried up too much for him."
Position

Horse
Trainer
Jockey
Weight
Starting Price
Beaten Distance
1

Iris De Balme
S Curran
Mr C Huxley
10st 0lbs
66 - 1
Winner
2

Halcon Genelardais
A King
R Thornton
11st 12lbs
10 - 1
14 lengths
3

Flintoff
Miss V Williams
A Coleman
10st 0lbs
28 - 1
2 1/4 lengths
4

Old Benny
A King
R Johnson
10st 0lbs
4 - 1
3/4 length
5

Philson Run
Nick Williams
D Jacob
10st 0lbs
20 - 1
2 1/2 lengths
6

Royal Rosa
J Howard Johnson
J P O'Farrell
10st 0lbs
66 - 1
14 lengths
7

Tommy Spar
P Bowen
P Buchanan
10st 0lbs
100 - 1
10 lengths
8

Openide
B W Duke
T Molloy
10st 0lbs
16 - 1
Short Head
9

Mon Mome
Miss V Williams
L Treadwell
10st 0lbs
25 - 1
3 lengths
10

Strong Resolve
Miss Lucinda V Russell
D C Costello
10st 0lbs
100 - 1
1 1/2 length
11

Another Rum
J R Weymes
B Harding
10st 0lbs
66 - 1
16 lengths
12

Noir Et Vert
Ferdy Murphy
C I Gillies
10st 0lbs
7 - 1
1 1/2 length
13

Leading Man
Ferdy Murphy
K Mercer
10st 0lbs
12 - 1
11 lengths
14

Dunbrody Millar
P Bowen
B Hughes
10st 0lbs
100 - 1
4 lengths
15

Ossmoses
D M Forster
R McGrath
10st 0lbs
16 - 1
6 lengths
Brought Down

Patsy Hall
A J Martin
P Carberry
10st 0lbs
15 - 2

Fell

Model Son
P A Blockley
T Scudamore
10st 0lbs
66 - 1

PulledUp

Kilbeggan Blade
T R George
P J Brennan
10st 0lbs
25 - 1

PulledUp

In The Loop
R Wilson
R Loughran
10st 0lbs
40 - 1

PulledUp

Opera Mundi
P F Nicholls
R Walsh
10st 7lbs
17 - 2

PulledUp

Miko de Beauchene
R H & Mrs S Alner
R Walford
10st 10lbs
8 - 1

PulledUp

Azulejo
M Scudamore
J Kington
10st 0lbs
150 - 1

PulledUp

Irish Wolf
P Bowen
T J O'Brien
10st 0lbs
50 - 1

PulledUp

Wild Cane Ridge
L Lungo
K Renwick
10st 0lbs
16 - 1