Detroit City Devastating in Cheltenham's Greatwood Hurdle 2006
12/11/06
Detroit City destroyed the opposition with a brilliant front-running performance to turn Cheltenham's Greatwood Handicap Hurdle into a procession.
Detroit City


© racing-images.co.uk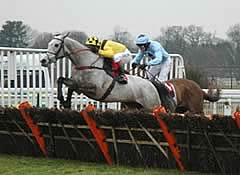 1st 1 Detroit City 2.20 FAV
2nd 12 Ameeq 9.00
3rd 11 Caraman 51.00
Non Runners
2 Crow Wood 3 Caracciola 6 Acambo
Four-year-old Detroit City conceded weight to useful rivals, yet ground them into submission to score by an easy 14 lengths and three lengths from Ameeq and Caraman. The Philip Hobbs-trained winner took the JCB Triumph Hurdle at last season's Cheltenham Festival and is now favourite or vying for that position on betting for the Smurfit Kappa Champion Hurdle in March.

He is now 4-1 joint-favourite with last year's winner Brave Inca with totesport and Paddy Power - the latter firm offered 6-1 immediately after today's race but was soon on the retreat. Ladbrokes make the grey 4-1 favourite ahead of 5-1 Brave Inca, but Boylesports and Sean Graham make the Irish horse 4-1 ahead of 5-1 Detroit City. Blue Square offers 9-2 on Hobbs' horse.

There has been speculation that Detroit City, who is owned by Terry Warner, could prove better over distances beyond two miles, but today's race means Britain has a top-notch prospect for races at the minimum distance. Hobbs is now eyeing the £200,000 Boylesports.com International at Cheltenham next month (December 9) for Detroit City, and said: "I'm sure he will stay further, but if he's effective at two miles then for the moment we stay at that trip because of the Champion Hurdle.

"I was a bit concerned the ground was too soft for him today, and did discuss with Terry taking the horse out of the race. We've never run him on ground this soft so we had to run to find out how he would cope. It wasn't a problem so that's ground sorted out..

"I hoped he would win like that because he's improved from last year. He's done everything so much better this autumn and won the Cesarewitch which was a good performance in itself. We thought he'd improved, but it's good to come to the races and see them do it.

"He's got the size to be a chaser, but we won't worry about that for now. See You Then was the last five-year-old to win the Champion Hurdle, so the statistics are against us, but this horse was probably the best Triumph Hurdle winner we've seen for some time."
Hobbs and Warner have already won a Smurfit Kappa Champion Hurdle with Rooster Booster who also won the Greatwood Hurdle under top-weight in 2002 before his triumph in the 2003 hurdling championship Asked to compare the two horses, Hobbs said: "They are totally different. Rooster Booster needed holding up and an enormous amount of pace, whereas this horse is more of a staying type."
Winning rider Richard Johnson, like Hobbs enjoying an 8.5/1 double on the day, said: "It was brilliant. I was a bit worried there was no pace in the race.

"Jamie Spencer when he rode him at Newmarket said he might have found it easier if he'd been a bit handier so I thought I'd just let him bowl along.
"He has galloped away from them very easily. I let him stride down the hill and he obviously stays very well - to be honest I never felt like I was getting to the bottom of him, which was very nice.''
THE GREATWOOD HANDICAP HURDLE
Class 1, Grade 3, 2m 1/2f Old Course, £65,000 guaranteed, for 4yo+; Weights Raised: 8lb; Minimum Weight: 10st; Penalties: after October 28th, a winner of a Class 1 to 3 hurdle 6lb (no penalty to increase a horse's weight above 11st 12lb), Detroit City's Handicap Mark 148; Entries: 40 pay £90; Confirmed: 20 pay £210; Penalty Value: 1st £37,063, 2nd £13,903.50, 3rd £6,961.50, 4th £3,471, 5th £1,742, 6th £871
1 DETROIT CITY (Terry Warner) Philip Hobbs 4-11-12 Richard Johnson 6-5F
2 AMEEQ (C Stedman) Gary Moore 4-10-03 Ruby Walsh 8-1
3 CARAMAN (Alan Mann) John Quinn 8-10-02 Dougie Costello (3) 50-1
4 ALERON (Grahame Liles) John Quinn 8-10-13 Russ Garritty
5 MAHOGANY BLAZE (Lorna Berryman) Nigel Twiston-Davies 4-10-11 Mr David England (5)
6 VERASI (F Ledger, J Bateman) Gary Moore 5-10-08 Eamon Dehdashti (5)
7 O'TOOLE (Mrs L Lovell) Philip Hobbs 7-10-07 Darren O'Dwyer (7)
8 SWEET WAKE (High Street Ceathar Syndicate) Noel Meade IRE 5-11-01 Denis O'Regan
9 THE LAST HURRAH (Mrs A Gurney) Jessica Harrington IRE 6-10-02 Andrew Leigh (5)
9 ran
Non Runners: Crow Wood (Ground), Acambo (Vet's Certificate), Caracciola (Ground)
Distances: 14l, 3l, 2 1/2l, 1l, 1/2l, 6l, short head, 8l
Breeder: E J Kelly
Breeding: Kingmambo (USA) - Seattle Victory (USA)
Tote Win: £2.10; Places: £1.30, £1.90, £8.60; Exacta: £10.50
MOORE AND QUINN TEAMS PLEASED
Connections of the placed horses in the Greatwood Hurdle were satisfied with the performances of their horses.

David Wilson, assistant trainer to Gary Moore, said of Ameeq, beaten 14 lengths into second behind Detroit City: "He's run a very good race on ground softer than he likes.

"We expected Detroit City to be the main danger and we're very pleased with the effort of our horse.

"I would hope there would be a nice handicap in him on faster ground, as he will be better on that."
John Quinn, trainer of the third Caraman and the fourth Aleron, was simply in awe of the winner Detroit City.

Quinn said: "I think we've seen a Champion Hurdle winner today - to make all with top weight on that ground was amazing.

"My two are fair handicappers and both nice horses.

"I am just pleased that we have picked up some decent prize money today."
GREATWOOD HURDLE BACKGROUND
Barbury Castle Estate generously sponsors the Greatwood Handicap Hurdle which is named after the racehorse rehabilitation charity which is based on the outskirts of Marlborough, Wiltshire. Prize money this year has risen to £65,000 from £50,000.

Greatwood is based at Rainscombe Hill Farm, located on the A345 just two miles south of Marlborough in Wiltshire. Founded in 1990, Greatwood is a charity that rescues, rehabilitates and re-homes ex-racehorses. Greatwood supports horseracing and encourages all others that love the sport to help us succeed in our work.
The majority of owners and trainers will do their best to ensure that their horses go on to good homes following their retirement from racing - with some going on to successfully compete in other equestrian disciplines.
Greatwood is the safety net for horses that may fall on hard times in their retirement. Greatwood retains ownership of every horse which goes to its new home on 'permanent loan' with regular welfare checks throughout its life.

Greatwood Horse Power
For those horses that cannot be ridden due to temperament or injury, Greatwood has developed a new use for them - as therapy horses for children with special needs, within the Horse Power Programme.

The Horse Power Programme aims to develop and improve life skills by means of interaction with the horses. A set of structured multi-sensory activities are designed especially for children with Emotional and Behavioural Difficulties (EBD) and Autistic Spectrum Disorder.

Each six-week programme includes learning skills such as communication, relationship building, personal responsibility and teamwork. Activities for the children include horse care and grooming.

By considering the children's individual needs and providing life skills programmes in a caring, calming and supportive environment, the programme helps them develop the capabilities they need for a fruitful and positive life - just as Greatwood has done for horses since 1990.

Down to Earth
As well as running the Horse Power Programme, Greatwood is also involved in the Down to Earth project - a bio-diversity project that allows children, especially those with special needs and from urban areas, to study conversation and nature.

The project creates ideal conditions for indigenous birds such as the skylark and tree sparrow as well as bumble bees, butterflies and small mammals.
Children can explore these natural habitats and learn about the creatures they support, while experiencing the open space and stunning views that the countryside has to offer.

It therefore serves as both an environmental scheme and educational resource.
PAST WINNERS SINCE 1990 - THE GREATWOOD HANDICAP HURDLE

2005 Lingo 6-10-06 5-1 Jonjo O'Neill Tony McCoy 19
2004 Accordion Etoile 5-10-06 10-3F Paul Nolan IRE John Cullen 9
2003 Rigmarole 5-11-12 33-1 Paul Nicholls Ruby Walsh 10
2002 Rooster Booster 8-11-12 7-1 Philip Hobbs Seamus Durack 11
2001 Westender 5-10-13 11-8F Martin Pipe Tony McCoy 13
2000 Hulysse Royal 5-10-00 9-1 Oliver Sherwood Jimmy McCarthy 12
1999 Rodock 5-10-00 11-4F Martin Pipe Tony McCoy 13
1998 Grey Shot 6-11-05 11-4F Ian Balding Jamie Osborne 16
1997 Mr Percy 9-10-09 14-1 Josh Gifford Philip Hide 17
1996 Space Trucker 5-11-11 7-1 Jessica Harrington IRE Jamie Osborne 9
1995 Lonesome Train 6-9-09 33-1 Colin Weedon Barry Fenton 15
1994 Atours 6-11-05 3-1F David Elsworth Paul Holley 10
1993 Leotard 6-12-00 3-1 Oliver Sherwood Jamie Osborne 7
1992 Valfinet 5-10-09 7-2F Martin Pipe Peter Scudamore 9
1991 Shu Fly 7-11-01 10-1 Susan Oliver Steve Smith Eccles 12
1990 Liadett 5-11-10 9-2 Martin Pipe Mark Perrett 8