Quantitativeeasing Helps Out Bookies
10/12/11
1 Quantitativeeasing 6/1
2 Medermit 11/1
3 Roudoudou Ville 10/1
4 I'msingingtheblues 25/1
NR: Woolcombe Folly (IRE)
16 ran Distances: ¾l, nk, 10l
TIME 5m 9.77s (slow by 2.77s)
It is a rare occasion when the bookmakers celebrate a JP McManus winner at Cheltenham but it was certainly the case in the Spinal Research The Atlantic 4 Gold Cup.
Quantitativeeasing


© racing-images.co.uk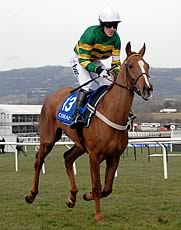 The decision of the legendary owner and gambler's retained jockey Tony McCoy to waste down to 10st 4lb in order to ride Sunnyhillboy caused him to be sent off an incredibly well-backed 7-2 favourite, only to be eventually pulled up.
Instead, it was McCoy's original mount Quantitativeeasing (6-1) who got the better of a close finish in the hands of Barry Geraghty, forming part of a memorable 61st birthday for trainer Nicky Henderson, whose Grandouet and Oscar Whisky later displayed their top hurdling credentials.
Each leg of the 34-1 treble was ridden by Geraghty, who dusted himself off after a heavy fall from Tanks For That to focus all his energies on bustling Quantitativeeasing along from the back of the pack to deprive Medermit by three-quarters of a length up the hill.
"It has been a great day, but it relies on a lot of people working together and it's a happy coincidence it all happened on December 10," said Henderson.
Of Quantitativeeasing, he went on: "It was a great race and a great ride. I feel sorry for AP, it was his idea I suppose (to ride Sunnyhillboy). I thought he would ride our horse with it having 10st 7lb and the other horse 10st 4lb.
"The horse has been very consistent and you'd have to say he deserves one. He was second at the Festival and in the Paddy Power, so he's got one back at last."
McManus added: "I didn't really know which one AP was going to pick, I got the impression it was going to be a toss-up and you don't always make the right decision. I'm sure he'll be happy for me anyway."
Geraghty said: "We knew he had a chance, but I didn't think we had much of a chance four or five out. I struggled a bit through the race.
"But I knew turning in if I wasn't far off I'd have a chance, and I pinged the last few. It was a rough race if you weren't travelling."
Position

Horse
Trainer
Jockey
Weight
Starting Price
Beaten Distance
1

Quantitativeeasing
N J Henderson
B J Geraghty
10st 7lbs
6 - 1
Winner
2

Medermit
A King
R Thornton
11st 5lbs
11 - 1
3/4 length
3

Roudoudou Ville
V R A Dartnall
A Glassonbury
10st 7lbs
10 - 1
Neck
4

I'msingingtheblues
D Pipe
Hadden Frost
11st 0lbs
25 - 1
10 lengths
5

Calgary Bay
Miss H C Knight
D Elsworth
10st 7lbs
20 - 1
1/2 length
6

Ghizao
P F Nicholls
R Walsh
11st 2lbs
17 - 2
1 1/2 length
7

Tatenen
R Rowe
A Thornton
10st 7lbs
33 - 1
4 1/2 lengths
8

Mad Moose
N A Twiston-Davies
S Twiston-Davies
10st 0lbs
33 - 1
4 lengths
9

Roberto Goldback
D T Hughes
P J Brennan
11st 4lbs
25 - 1
12 lengths
10

Matuhi
D Pipe
T Scudamore
10st 3lbs
16 - 1
3 1/4 lengths
11

Great Endeavour
D Pipe
T J Murphy
11st 5lbs
8 - 1
2 3/4 lengths
12

Salut Flo
D Pipe
Conor O'Farrell
10st 0lbs
13 - 2
6 lengths
Fell

Finger Onthe Pulse
T J Taaffe
W Kennedy
10st 6lbs
50 - 1

UnseatedRider

Divers
Ferdy Murphy
K Mercer
10st 4lbs
11 - 1

PulledUp

Sunnyhillboy
Jonjo O'Neill
A P McCoy
10st 4lbs
7 - 2

PulledUp

Nomecheki
N J Gifford
L Aspell
10st 0lbs
66 - 1

NonRunner

Woolcombe Folly
P F Nicholls
Ryan Mahon
11st 12lbs
-

If you are thinking of making a bet on an upcoming horse race then look no further than the Betfair Horse Racing odds they have. Give yourself the chance to win big at Betfair today!