racing news /

Nick & Jane Williams Win the 2012 Crystal Cup
14/12/12

Nick Williams, from Devon, is the leading trainer of the 2012 Crystal Cup series and his wife Jane the leading owner.

James Reveley finished the series as the leading jockey and Maljimar was awarded the trophy for the leading horse.

A familiar set of colours were seen in the winner's enclosure after Cheltenham's latest cross-country race, the Glenfarclas Cross Country Handicap Chase, but for a rather different trainer and jockey combination.

Owner JP McManus has dominated this unusual discipline over the last decade, with Enda Bolger preparing Spot Thedifference and then Garde Champetre for success over the banks time after time.

Outlaw Pete was trained by Bolger until this year but now represents Fethard handler John Halley and his son Josh, who guided the eight-year-old over the varied obstacles and through the heavy ground to score by seven lengths from Bostons Angel.

The Glenfarclas-sponsored series, which culminates at the Cheltenham Festival, is due a new star and Outlaw Pete (7-2) appears young enough to keep improving, with Paddy Power making him the 6-1 joint-favourite along with Uncle Junior, who took an uncharacteristic fall here.

Halley jnr, a practical design student at the University of Limerick, claimed a handy 7lb from Outlaw Pete's back, while his father is primarily a vet in County Tipperary, with Coolmore among his clients.

John Halley said: "Other fellows play golf for fun, we do point-to-pointing.

"This is the only track, isn't it? It's wonderful to have a winner here and we're very grateful to JP for letting us keep him.

"He ran well here at the last meeting (third) and he loved the track and conditions. Conditions won't be the same in March, but God willing, we'll be back."

Jessica Harrington was delighted with the performance of Bostons Angel, who has lost his way over conventional fences since winning the 2011 RSA Chase, and said: "He's had problems but this gave him a new lease of life and hopefully he'll come back in March."

Glenfarclas Cross Country Handicap Chase

1st - Outlaw Pete - Mr. J. P. McManus, John Halley, Josh Halley
2nd - Bostons Angel - Mr. E. A. P. Scouller, Mrs J Harrington, Robbie Power
3rd - Leac An Scail - Mrs J Drake, Joanne Foster, Samantha Drake
4th - Double Dizzy - Mr M Forrester, Bob Buckler, Andrew Glassonbury
5th - Maljimar - Mrs Jane Williams, Nick Williams, James Reveley
6th - Shakervitz - Wicklow Bloodstock Ltd, W P Mullins, Danny Mullins

Nick Williams Dominates in Compiegne
16/11/12

Sarika and Shalimar Fromentro finished first and second for trainer Nick Williams in the penultimate leg of Europe's Cross Country Championship at Compiegne on November 16.

Sarika, sent off a 29-1 chance, beat stable mate Shalimar Fromentro by a neck in a sprint from the last under last-minute replacement jockey Alain Chitray

Grand Steeple Chase Cross Country De Compiegne

1st - Sarika - Nick Williams, Jane Williams, A. de Chitray
2nd - Shalimar Fromentro - Nick Williams, Jane Williams, James Reveley
3rd - Quick Baby - Jerome Follain, Jerome Follain, A. Thierry
4th - Sulon - Patrice Quinton, Mme P Papot, D Cottin
5th - Ratzyniac - E Leray, D Josset, A Blais
6th - Roselaine - G. Chaignon, G. Chaignon, R. Delozior

The Crystal Cup series culminates at Cheltenham Racecourse on December 14, where the leading trainer and owner of the series will be awarded the Crystal Cup and share €35,000 in prize money.

Velká Pardubická 2012
13/10/12

The Grzegorz Wroblewski-trained Orpin Des Blins, a 54-1 outsider, was given a positive ride from the front by Jan Faltesjek and came home 16 lengths clear of Ronino, with Tiumen third.

The Nick Williams-trained Maljimar did best of the British and Irish runners, given a waiting ride by James Reveley, the horse came through in the home straight to take fourth.

The Willie Mullins-trained Uncle Junior and Enda Bolger-trained Doctor Pat finished sixth and seventh.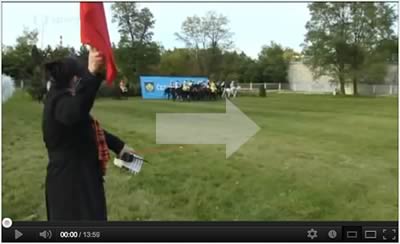 Matin De Clermont wins the Premio Delle Nazioni at Merano
28/09/12
© FOTO PRESS ARIGOSSI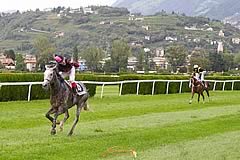 Local trainer Paolo Favero won the 7th race in the Crystal Cup series on Saturday 28th September.
English trainer Nick Williams reagined the lead at the top of the Crystal Cup leaderboard after Shalimar Fromentro finished 3rd in the race, ridden by James Reveley.
Chriseti wins the Grand Cross Country de Craon
02/09/12
Chriseti, trained by Etienne Leenders, won the Grand Cross Country de Craon for the second year in succession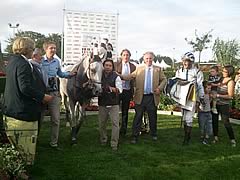 A total of 13 runners went to post for the three mile and six furlong contest including Another Jewel, Uncle Junior and A New Story from Ireland while Nick Williams was represented by Maljimar and Shalimar Fromentro.
However, despite the strong numerical representation the raiding party failed to trouble the judge as last year's winner, Chriseti, followed up by four lengths with 15 lengths back to the third.
Willie Mullins' Uncle Junior was just a head back in fourth under Emmet Mullins with Another Jewel sixth and Maljimar seventh.
Martalin wins the ING Grand Steeple Chase of Flanders
28/08/12
Martalin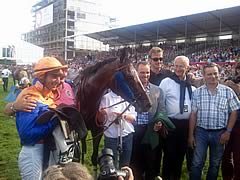 Martalin, trained by Patrice Quinton and ridden by Jerome Zuliani, win the ING Grand Steeple Chase of Flanders at Waregem.
It was a second straight success in the race for Quinton, having saddled last year's hero Royal Frou.
The next round of the Crystal Cup is staged at Craon near Le Mans in north-western France on Sunday, September 2.
Results with Jockey, Owner and Trainer:
1st Martalin - J Zuliani, Ecurie des Dunes, Patrice Quinton
2nd Quintos - K Nabet, Mme Guy Denuault, Guy Denuault
3rd Santiago de Balago - H Terrien, J P Vanden Heede, S Foucher
4th Bretaye - Philip Carberry, J P Vanden Heede, H Billot
5th Success River - B Thelier, Ecurie Etoile N V, G Cherel
6th Tell No One - Cyr Gombeau, Ecurie Etoile N V, G Cherel
Chriseti Wins the Prix Anjou Loire Challenge
17/05/12
Chriseti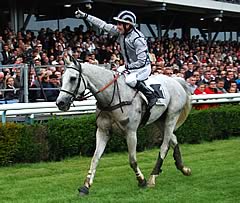 Chriseti, trained by Etienne Leenders and ridden by Wilfrid Denuault, won the €112,000 Prix Anjou Loire Challenge for the second year running.
Chriseti won by 15 lengths over Silver Whisper in 2nd and Phakos in 3rd.
Six Irish & English horses travelled to Lion d'Angers for the race
Results with Owner, Trainer & Jockey:
1st Chriseti - Joel Glandin, Etienne Leenders, Wilfrid Denuault
2nd Silver Whisper - PA Le Clerc, A Le Clerc, Nicolas Moisson
3rd Phakos - Philippe Cottin, Philippe Cottin, David Cottin
4th Another Jewel - Frank Magee & C Murphy, Denis Murphy, Davy Russell
5th Maljimar - Jane Williams, Nick Williams, James Reveley
6th Uncle Junior - M McMahon, Willie Mullins, E Mullins


SCHEDULE FOR THE CRYSTAL CUP 2012
| | | | | |
| --- | --- | --- | --- | --- |
| Date | Course | Race | Distance | Purse |
| 5 Feb | Pau | Prix Gaston De Bataille (Listed) | 6200m (3m 7f) | €65,000 |
| 4 Apr | Fontainebleau | Grand Steeple Chase Cross Country De Fontainebleau | 6000m (3m 6f) | €40,000 |
| 26 Apr | Punchestown | La Touche Cup | 6800m (4m 2f) | €30,000 |
| 17 May | Lion d'Angers | Prix Anjou-Loire Challenge | 7300m (4m 4f) | €112,000 |
| 28 Aug | Waregem | ING Grand Steeple Chase of Flanders | 4600m (2m 7 f) | €100,000 |
| 2 Sept | Craon | Prix Louis De Guebriant (Listed) | 6000m (3m 6f) | €75,000 |
| 28 Sept | Merano | Crosse delle Nazioni (Grand Cross) | 6000m (3m 6f) | €30,000 |
| 13 Oct | Pardubice | Velka Pardubice | 6900m (4m 2 1/2f) | €178,000 |
| 23 Oct | Compiegne | Grand Steeple Chase Cross Country De Compiegne | 5400m (3m 4f) | €40,000 |
| 14 Dec | Cheltenham | Glenfarclas Cross Country Steeple Chase | 6200m (3m 7f) | €25,000 |