Goldikova Back on Song in Falmouth Stakes
08/07/09
1 (3) Goldikova 7/4 (Fav)
2 (4) Heaven Sent 8/1
3 (6) Spacious 11/2
Trainer Freddie Head described the sensation of his stable returning to Group One race victories as "Lovely, lovely, lovely, lovely," after his filly had won the Etihad Airways Falmouth Stakes by half a length with just a little bit in hand.
Spacious - 3rd


© racing-images.co.uk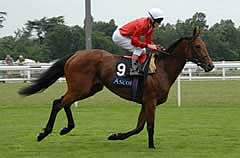 "She came early and I was a bit scared, but she kept finding something. I think she could have won a little further. No one came back to her at the end very fast.

"She did it the hard way. But she kept on finding something. I don't think there was much pace early on, it was a funny race. You can't just sprint for 800 yards, it's hard to get away," said the trainer.
Head admitted that he had some anxiety as to whether his filly, who had been so impressive as a three-year-old, had trained on, after she was defeated in the Prix d'Ispahan at Longchamp in May. "You never know with fillies going from three to four. I thought she was going well at home. But we had a day [at Longchamp] when the going was too soft."
Jockey Olivier Peslier also thought the ground that day, when the filly was only seventh, had been too soft, but argued that "maybe she was not 100% also."
Peslier said the filly had been a little playful before the race. "She's always like that. She's a nice filly and in the race she's great, but sometimes beforehand she plays up a bit.
"She did just enough out in front today - she looked around a bit and she still might not be 100%. Next time she might be better and she was a little bit cheeky today after I gave her a slap."
Peslier had reported to the trainer that there was a "bit of give in the ground" but when asked the same question directly, Peslier said the ground was "Perfect - it's always perfect when you win."
Head explained that the two main targets for Goldikova now would be the Jacques Le Marois at Deauville and then California for the Breeders' Cup Mile, which the filly won last year.
Rainbow View - 4th


© racing-images.co.uk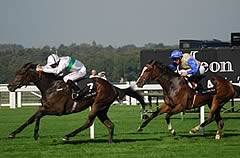 Spacious and Heaven Sent finished first and second in the Group Two Windsor Forest Stakes at Royal Ascot last month but in the Group One Etihad Airways Falmouth Stakes at Newmarket today it was Heaven Sent who came out on top as the pair finished second and third behind Goldikova.

Chris Richardson, Managing Director of Cheveley Park Stud, owners of both Heaven Sent and Spacious, said: "You can't split them. They have both run extremely well and it was no disgrace for the two girls to finish behind a filly like Goldikova.
"We will look at the Nassau Stakes at Goodwood now for Spacious. Heaven Sent is also in that race and we could also consider the Matron Stakes at Leopardstown for her."
James Fanshawe, trainer of Spacious, added: "She ran very well and the form with Heaven Sent was very close to that of the Windsor Forest Stakes.
"Goldikova is a very special filly.
"We will look at stepping her up to 10 furlongs now, possibly in the Nassau Stakes at Goodwood."
Back in fourth was last year's champion juvenile filly Rainbow View and her trainer John Gosden said: "She ran great and it was the older fillies who were in front today.
"We were beaten only a length and a half and she was just caught for toe. I think she probably wants a mile on soft ground or a mile and a quarter.
"She is in the Nassau and there is also the Prix Rothschild at Deauville on the same day to consider."
Position

Horse
Trainer
Jockey
Weight
Starting Price
Beaten Distance
1

Goldikova
F Head
O Peslier
9st 5lbs
7 - 4
Winner
2

Heaven Sent
Sir Michael Stoute
R L Moore
9st 5lbs
8 - 1
1/2 length
3

Spacious
J R Fanshawe
J Murtagh
9st 5lbs
11 - 2
1/2 length
4

Rainbow View
J H M Gosden
J Fortune
8st 10lbs
9 - 4
Neck
5

Penny's Gift
R Hannon
J P Spencer
8st 10lbs
14 - 1
6 lengths
6

San Sicharia
Ms J Morgan
T E Durcan
9st 5lbs
80 - 1
Head
7

Eva's Request
M R Channon
E Creighton
9st 5lbs
20 - 1
1 1/2 length
8

Cosmopolitan
J H M Gosden
L Dettori
9st 5lbs
28 - 1
16 lengths