Frankel Takes Dewhurst Stakes Crown
16/10/10
1 Frankel 4/6F
2 Roderic O'Connor 25/1
3 Glor Na Mara 33/1
After Frankel's memorable victory in the Dubai Dewhurst Stakes when carrying the colours of Prince Khalid Abdulla, an emotional trainer, Henry Cecil, said: "It's lovely to have a horse like this. I've never had a two-year-old who works like him. The last horse [juvenile] I saw [of this calibre] was Arazi.
Frankel


© racing-images.co.uk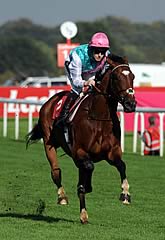 "Frankel is in second gear and, while he doesn't run away with you, he can go up into a sixth gear. If he was a Formula One car, he'd win everything, so long as I didn't drive him!
"He's very settled at home - he lengthens and he's gone. He's got a lot of potential and I hope he has a good winter and makes a lovely three-year-old.
"I'm not going to do the usual thing and say he's the best I've ever trained - that's alright before they go to stud, but there's a long way to go.

"I'm hopeful he'll make a Guineas horse and perhaps the St James's Palace Stakes, but whether he'll get further later in his life we'll have to see. It will be up to the Prince. I want to thank him for sending me the horse."
He excused the horse for pulling in the race's early stages and said: "He got a bump coming out of the stalls and that set him alight.
"He's relaxed at home and was relaxed going to post. Tom [Queally] said he hung slightly on the ground, but he won well."
Frankel was bred and is owned by Prince Khalid Abdullah, whose racing manager, Teddy Grimthorpe, said: "There was so much hype beforehand. He got a bump coming out of the stalls, they didn't go fast enough for him, yet he still put in a fantastic performance.
"He's as good a two-year-old as the Prince has owned, and perhaps as good as anyone has owned."
Paddy Power make Frankel evens for the 2000 Guineas back her at Newmarket next year and 9/4 for the Investec Derby, while offer 4/5 for the Guineas and 4/1 for Epsom.
QUEALLY DELIGHTED WITH FRANKEL
Winning jockey Tom Queally said: "It was straightforward and Frankel took the preliminaries much better than at Ascot and went to post much better.

"The work we have done to settle him did the job but he got a bump early on and that undid all of our good work - but when I asked him to quicken the response was immense.

"He won as easy as you can in a Group One. I didn't have to resort to the stick and if you don't punish young horses like this at this stage of their career then it is a bonus.

"I would imagine that will be it for the year and he can now go into the winter with an unblemished record.

"Hopefully, he can reappear in the spring as he is now but judging on how he ran in the first three or four furlongs it looks like he won't be (a Derby horse), but who knows how he will mature.

"It is great he has won as there was a lot of hype about him and bubbles are there to be burst.

"Thankfully he has stepped up to the mark and it is great for Henry. He has been talking about this horse being as good as Wollow and he has the same high hopes for this horse as he did for Wollow."
Position

Horse
Trainer
Jockey
Weight
Starting Price
Beaten Distance
1

Frankel
H R A Cecil
T P Queally
9st 1lbs
4 - 6
Winner
2

Roderic O'Connor
A P O'Brien
J P Murtagh
9st 1lbs
25 - 1
2 1/4 lengths
3

Glor Na Mara
J S Bolger
K J Manning
9st 1lbs
33 - 1
2 3/4 lengths
4

Waiter's Dream
B J Meehan
K Fallon
9st 1lbs
50 - 1
Head
5

Dream Ahead
D M Simcock
William Buick
9st 1lbs
5 - 2
1 3/4 length
6

Saamidd
S bin Suroor
L Dettori
9st 1lbs
7 - 1
10 lengths
PLACED CONNECTIONS MORE THAN HAPPY
The connections of the two-three-four all took great recompense from finishing in the places behind such a wonderful-looking horse as Frankel.
"I am delighted with that run," said Aidan O'Brien, trainer of the second horse, Roderic O'Connor. "He has been off a long time and has put in a good performance here. He did not mind the ground.
"He will probably be put away, but we will think about the remaining European juvenile Group 1s for him."
Trainer Jim Bolger of the third-placed Glor Na Mara was equally pleased.
"I am happy with that," he said. "Last time out he did not handle the very soft ground at all, but this was more suitable. He has run well and has finished behind what looks like a very smart horse."
Brian Meehan, trainer of the fourth horse, Waiter's Dream, said: "I am pleased enough, that was a nice run.
"He is not as effective as when he won the Acomb in the summer - he was not quite 100 per cent at Doncaster last time and is still not quite right in himself.
DREAM AHEAD - ONE RACE TOO MANY?
Dream Ahead may have had one race too many this season.
Trainer David Simcock said about the disappointing fifth in the Dubai Dewhurst Stakes: "Dream Ahead did not pick up when asked and ran like a horse who has had one race too many for the season - he also only raced two weeks ago."
Dream Ahead's rider David Buick said: "The ground was too loose - he could never get to grips with it - he has too big a stride - and lost his action a bit coming into the dip."
Frankie Dettori said about the sixth Saamidd: "He hated the ground."