Murphy Plays Late Poker Hand
23/04/11
1 Poker De Sivola 11/1
2 Faasel 14/1
3 Baby Run 6/1F
4 Triggerman 10/1
18 ran Distances: 2¼l, 1¼l, 1l
TIME 7m 16.30s (fast by 0.70s)
Timmy Murphy staved off thoughts of retirement for at least another season with a magical ride aboard Poker De Sivola in the bet365 Gold Cup at Sandown.
Poker De Sivola


© racing-images.co.uk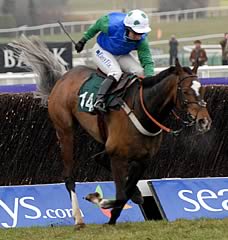 After this reinvigorating success, the 36-year-old revealed he had become so disillusioned with the lack of rides he has received this season that he had seriously considered quitting.

But he displayed his trademark mastery on the Ferdy Murphy-trained Poker De Sivola, a complex individual who was making a quick reappearance after unseating Graham Lee at the 11th fence of last weekend's Scottish National.

The 11-1 shot was right at the back for much of the way on a scorching afternoon in Esher and although he began to progress through the field, he looked a lost cause jumping the Pond Fence three from home.

But Murphy persevered and Poker De Sivola crept into contention before charging up the hill in another famous finish to the race to beat Faasel by two and a quarter lengths, with Baby Run third.

"When you drive for three and a half hours for one ride, you find it a bit demoralising and there have been times this year when I have considered not continuing," said Murphy.

"This has probably been my lowest total of winners (32) in a season since I was a conditional. I appreciate those who have continued to support me and David Johnson (the winning owner) has always been there. If it wasn't for him, I'd be gone.

"These are the days you wait for and luckily we have some nice horses to look forward to and I'm going to go for another season. As long as I've got David, I'll keep going."

Murphy, who picked up a two-day whip ban, continued: "It was really enjoyable, but he (Poker De Sivola) is a bit of an enigma. You have to sort of not try, and kid him along, and the more you do that the more he enjoys it. He loves passing horses."

Johnson added: "If he had not unseated Graham Lee in the Scottish National last weekend we wouldn't be here. Even at the third-last I was wondering what the prize-money for fourth was! Timmy gave him a brilliant ride - he is a great horseman."
Position

Horse
Trainer
Jockey
Weight
Starting Price
Beaten Distance
1

Poker De Sivola
Ferdy Murphy
T J Murphy
10st 12lbs
11 - 1
Winner
2

Faasel
D Pipe
Conor O'Farrell
10st 12lbs
14 - 1
2 1/4 lengths
3

Baby Run
N A Twiston-Davies
S Twiston-Davies
10st 12lbs
6 - 1
1 1/4 length
4

Triggerman
P J Hobbs
R P Flint
10st 8lbs
10 - 1
1 length
5

Major Malarkey
N A Twiston-Davies
Aidan Coleman
10st 4lbs
16 - 1
1 1/2 length
6

Maktu
P G Murphy
L Aspell
10st 12lbs
10 - 1
9 lengths
7

Briery Fox
H D Daly
M Bradburne
10st 2lbs
50 - 1
28 lengths
8

Aimigayle
Miss S Smith
C Bolger
10st 9lbs
7 - 1
41 lengths
Pulled Up

Church Island
M Hourigan
A P Heskin
11st 12lbs
22 - 1

Pulled Up

Exmoor Ranger
V R A Dartnall
D F O'Regan
11st 6lbs
20 - 1

Pulled Up

Balthazar King
P J Hobbs
R Johnson
11st 2lbs
8 - 1

Pulled Up

Richard's Sundance
V R A Dartnall
A Glassonbury
10st 12lbs
33 - 1

Pulled Up

Meanus Dandy
P F Nicholls
R Walsh
10st 12lbs
9 - 1

Pulled Up

Can't Buy Time
Jonjo O'Neill
A P McCoy
10st 9lbs
14 - 1

Pulled Up

Gentle Ranger
D Pipe
J W Farrelly
10st 5lbs
12 - 1

Pulled Up

Iris De Balme
Miss J S Davis
Charlie Huxley
10st 4lbs
50 - 1

Pulled Up

Fire And Rain
Miss E C Lavelle
Paul Moloney
10st 2lbs
33 - 1

Pulled Up

Silver Adonis
Dr R D P Newland
Mr T J Cannon
10st 0lbs
40 - 1