Tidal Bay of Plenty in bet365 Gold Cup
28/04/12
1 Tidal Bay 9/1
2 Roalco De Farges 7/1
3 Any Currency 16/1
4 Vic Venturi 25/1
NR: Free World (IRE)
19 ran Distances: 15l, 7l, 4½l
TIME 7m 50.30s (slow by 35.30s)
Tidal Bay put up a remarkable performance to sweep to victory in the bet365 Gold Cup at Sandown Park under top weight.
Tidal Bay


© racing-images.co.uk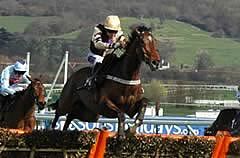 One of the most enigmatic horses in training, the hugely talented 11-year-old has never quite lived up to his billing having won the Arkle Trophy at the Cheltenham Festival back in 2008.
Now with Paul Nicholls, the 9-1 shot was always travelling supremely well for Daryl Jacob and it was simply a matter of whether he would consent to go clear after jumping the last. He did, and quickened away to beat Roalco De Farges by 15 lengths.
Jacob said: "The horse gave me a great ride, I just sat there and pointed him in the right direction. He always travelled well and jumped great. Another fine team effort at Ditcheat.
"I was always fairly confident and he was travelling in his comfort zone. I tried to reserve a bit of energy as he had a lot of weight, to try to get away from Dickie (Johnson) at the last. He did it well. He got a good jump at the last and got some momentum."
Nicholls added: "I knew he ran really well over hurdles at Aintree the other day, but he nearly got brought down on the far side. He flew up the straight and finished fourth. He might have finished second but for that and that race was a prep for this.
"When it kept on raining to slow the ground down, it was always going to suit him. We knew they would go that bit slower and it would give him time to get his confidence. If it had been quick ground, it might have rushed him and he would not have jumped well enough.
"Everything was right for him today for the first time for a long time," he told .
Position

Horse
Trainer
Jockey
Weight
Starting Price
Beaten Distance
1

Tidal Bay
P F Nicholls
D A Jacob
11st 12lbs
9 - 1
Winner
2

Roalco De Farges
P J Hobbs
R Johnson
10st 6lbs
7 - 1
15 lengths
3

Any Currency
M Keighley
Aidan Coleman
10st 3lbs
16 - 1
7 lengths
4

Vic Venturi
D T Hughes
J M Maguire
10st 9lbs
25 - 1
4 1/2 lengths
5

Aldertune
P F Nicholls
Nick Scholfield
10st 1lbs
11 - 1
3/4 length
6

Dover's Hill
Mrs Mary Hambro
S Thomas
10st 11lbs
20 - 1
14 lengths
7

Knighton Combe
Jamie Snowden
Brendan Powell
10st 0lbs
25 - 1
10 lengths
8

Rare Bob
D T Hughes
P J Brennan
11st 3lbs
11 - 1
14 lengths
9

Galaxy Rock
Jonjo O'Neill
D C Costello
11st 2lbs
20 - 1
22 lengths
10

Le Beau Bai
R Lee
J E Moore
10st 12lbs
6 - 1
4 lengths
PulledUp

Deep Purple
Evan Williams
Paul Moloney
11st 10lbs
25 - 1

PulledUp

West End Rocker
A King
W Hutchinson
11st 7lbs
8 - 1

PulledUp

Tullamore Dew
N J Gifford
D F O'Regan
11st 0lbs
25 - 1

PulledUp

Ouzbeck
Miss E C Lavelle
D Elsworth
10st 10lbs
20 - 1

PulledUp

Swing Bill
D Pipe
T J Murphy
10st 10lbs
25 - 1

PulledUp

Viking Blond
N A Twiston-Davies
William Twiston-Davies
10st 7lbs
12 - 1

PulledUp

Enter Paradise
C J Mann
D Crosse
10st 6lbs
25 - 1

PulledUp

Major Malarkey
N A Twiston-Davies
S Twiston-Davies
10st 5lbs
15 - 2

PulledUp

Ethiopia
R H Buckler
James Best
10st 0lbs
100 - 1

NonRunner

Free World
W Greatrex
T Scudamore
10st 0lbs
-