Super Smooth Nacarat Lands Charlie Hall
30/10/10
1 Nacarat 6/1
2 The Tother One 9/4F
3 Deep Purple 15/2
Nacarat put up a near perfect display of jumping to land the bet365 Charlie Hall Chase at Wetherby on Saturday.
Having set a challenging gallop for the whole of the three-mile Grade Two contest together with the veteran Ollie Magern, Tom George's grey had plenty left to survive a minor blunder at the third-last and then powered clear.
Nacarat


© racing-images.co.uk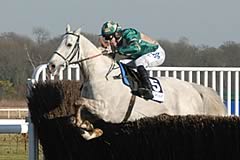 The heavily-backed The Tother One was off the bridle some way out but plugged on for second, four lengths behind, while last year's winner Deep Purple ran well under a penalty in third. Ollie Magern ran respectably in fourth.
The big disappointments of the race were Barbers Shop and Knockara Beau, with the latter being pulled up before a circuit had been run.
Wining rider Sam Thomas said: "I've had a quiet week and it makes it a bit more special to have a good winner at the weekend. I'm delighted for the owners, they are very loyal and I have paid them back.
"We got there too soon, but he likes to be ridden handy. He went half a stride quicker going to the third-last, but he's a different horse this year and I think he'll be competitive wherever he goes."
George added: "We've had a much easier preparation with him this year and I'm delighted the hard work everyone has put in has done the trick.
The Tother One


© racing-images.co.uk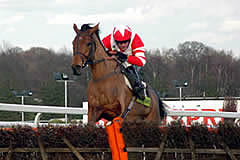 "He has worked just like a normal horse in the past, but now he's working like a good horse and I hope there is a lot more to come, as he will improve for this.
"In the past we have actually had to take him to the gallops in the horsebox as he couldn't even trot, but he is much better now. The ground has helped him and we'll have to decide where we run him next, but the King George has to be high on his list of targets.
"We'll obviously have to improve to get the better of Kauto, but without him I think we'd have been a good winner of the race last year. We'll see how he is before we decide if he runs again before then."
Position

Horse
Trainer
Jockey
Weight
Starting Price
Beaten Distance
1

Nacarat
T R George
S Thomas
11st 0lbs
6 - 1
Winner
2

The Tother One
P F Nicholls
R Walsh
11st 0lbs
9 - 4
4 lengths
3

Deep Purple
Evan Williams
Paul Moloney
11st 10lbs
15 - 2
2 1/2 lengths
4

Ollie Magern
N A Twiston-Davies
P J Brennan
11st 4lbs
11 - 1
5 lengths
5

That's Rhythm
M Todhunter
G Lee
11st 0lbs
33 - 1
2 3/4 lengths
6

Calgary Bay
Miss H C Knight
Hadden Frost
11st 4lbs
7 - 1
4 1/2 lengths
7

Barbers Shop
N J Henderson
B J Geraghty
11st 0lbs
4 - 1
distance
PulledUp

Knockara Beau
G A Charlton
Jan Faltejsek
11st 6lbs
8 - 1

THE bet365 CHARLIE HALL CHASE - ROLL OF HONOUR

YEAR WINNER AGE/WGT TRAINER JOCKEY SP RAN
1969 ARCTURUS 8-11-10 Neville Crump Pat Buckley 11/4 3
1970 KILDRUMMY 5-11-07 Bill Crawford Ron Barry 100/30 8
1971 Abandoned - snow & frost
1972 COXSWAIN 7-11-10 Arthur Stephenson Mr Graham Macmillan 4/5F 8
1973 DUNROBIN 6-11-05 Bill Crawford S P Taylor 4/5F 6
1974 TAMALIN 7-11-09 Gordon Richards Jonjo O'Neill 9/4 7
1975 DAVY LAD 5-11-07 Mick O'Toole IRE Dessie Hughes 2/5F 5
1976 DH SET POINT 8-11-09 Lady Herries Tommy Stack 20/1 6
DH CURRENT GOLD 5-11-07 Gordon Richards David Goulding 4/1
1977 GOOLAGONG 7-11-09 Neville Crump Mr Harry Orde-Powlett 8/1 8
1978 FIGHTING FIT 6-11-09 Ken Oliver Ridley Lamb 6/5F 5
1979 SPARKIE'S CHOICE 6-11-09 Neville Crump Colin Hawkins 9/2 8
1980 MANTON CASTLE 6-11-09 Maurice Camacho Gordon Holmes 16/1 9
1981 GAY RETURN 6-11-10 Edward O'Grady IRE Tommy Ryan 12/1 11
1982 RIGHTHAND MAN 5-11-07 Michael Dickinson Graham Bradley 11/10F 10
1983 WAYWARD LAD 8-11-10 Michael Dickinson Robert Earnshaw 1/3F 3
1984 BURROUGH HILL LAD 8-11-09 Jenny Pitman Phil Tuck 10/11JF 4
1985 WAYWARD LAD 10-11-06 Monica Dickinson Graham Bradley EvensF 4
1986 FORGIVE'N FORGET 9-11-10 Jimmy FitzGerald Mark Dwyer 5/2 6
1987 CYBRANDIAN 9-11-02 Peter Easterby Chris Grant 7/4 4
1988 HIGH EDGE GREY 7-11-02 Ken Oliver Tim Reed 13/2 10
1989 DURHAM EDITION 11-11-02 Arthur Stephenson Alan Merrigan 33/1 7
1990 CELTIC SHOT 8-11-02 Charlie Brooks Peter Scudamore 7/4F 7
1991 CELTIC SHOT 9-11-10 Charlie Brooks Graham Bradley 4/5F 6
1992 TIPPING TIM 7-11-02 Nigel Twiston-Davies Carl Llewellyn 11/4 7
1993 BARTON BANK 7-11-02 David Nicholson Adrian Maguire 12/1 7
1994 YOUNG HUSTLER 7-11-10 Nigel Twiston-Davies Carl Llewellyn 8/1 7
1995 BARTON BANK 9-11-02 David Nicholson Adrian Maguire 8/15F 3
1996 ONE MAN 8-11-10 Gordon Richards Richard Dunwoody 8/11F 4
1997 ONE MAN 9-11-10 Gordon Richards Richard Dunwoody 4/7F 4
1998 STRATH ROYAL 12-11-03 Owen Brennan Martin Brennan 14/1 5
1999 SEE MORE BUSINESS 9-11-12 Paul Nicholls Mick Fitzgerald 11/4JF 6
2000 SEE MORE BUSINESS 10-11-12 Paul Nicholls Mick Fitzgerald 1/3F 4
2001 SACKVILLE 8-11-05 Frances Crowley IRE David Casey 5/1 9
2002 MARLBOROUGH 10-11-00 Nicky Henderson Mick Fitzgerald 7/2 8
2003 BALLYBOUGH RASHER 8-11-00 Howard Johnson Graham Lee 40/1 6
2004 GREY ABBEY 10-11-06 Howard Johnson Graham Lee 5/1 6
2005 OLLIE MAGERN 7-11-05 Nigel Twiston-Davies Carl Llewellyn 11/4F 8
2006 OUR VIC 8-11-10 David Pipe Timmy Murphy 6/1 10
2007 OLLIE MAGERN 9-11-00 Nigel Twiston-Davies Paddy Brennan 11/4 7
2008 STATE OF PLAY 8-11-00 Evan Williams Paul Moloney 5/2F 6
2009 DEEP PURPLE 8-11-05 Evan Williams Paul Moloney 9/2 5