racing news /

Coral Giving Champions Day Huge Trading and Marketing Effort
14/10/11

Coral is devoting considerable effort tomorrow to promote betting on, and interest in, British Champions Day in its 1,700 betting shops and it confidently expects the day to generate over £40 million betting turnover industry-wide.

Frankel is a red hot favourite for the The Queen Elizabeth II Stakes Sponsored by Qipco
© Racehorse Photos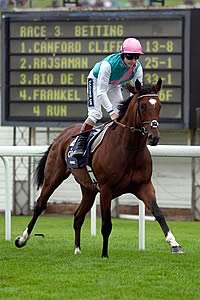 " Coral
is totally committed to supporting this fantastic new day and we will be heavily promoting it via CoralTV tomorrow as well as giving our customers strong trading offers to drive betting on the event", said Simon Clare, Coral Spokesman.
"I am convinced Champions Day is going to go down an absolute storm with the nation's punters and if our turnover expectations are met, it will prove to be the second biggest betting day of the Flat season behind only The Derby", added Clare.
- Coral have been playing out the brilliant QIPCO Champions Day promotional video all week and will be playing it regularly from opening at 8.30pm through to the start of racing.
- Coral have recorded interviews with dual - Group 1 winning jockey Hayley Turner previewing the big races and will play these out all day, as well as previews from Coral TV's respected pundit, Alex Steedman.
- Coral will have Chris Dixon (regular pundit on Racing UK) at Ascot all day delivering live audio bulletins on Coral TV.
- All 1,700 Coral betting shops will have window posters promoting trading offers on British Champions Day
- Champions Day trading offers will include enhanced each way terms on all races, standout top prices on many of the big race horses and cash back specials. (details will be communicated in Coral adverts tomorrow)
**The Qipco Champion Stakes
9-4 So You Think, 5-1 Nathaniel, 7-1 Midday, Cirrus Des Aigles, 8-1 Twice Over, Snow Fairy, 9-1 Dubai Prince, 16-1 Green Destiny, 25-1 Wigmore Hall, Casamento, 50-1 Ransom Note, Sri Putra
**The Queen Elizabeth II Stakes Sponsored by Qipco
1-3 Frankel, 11-2 Immortal Verse, 6-1 Excelebration, 25-1 Dick Turpin, 40-1Dubawi Gold, Side Glance, Poet's Voice, 150-1 Bullet Train
**The Qipco British Champions Long Distance Cup
2-1 Fame And Glory, Opinion Poll, 7-2 Times Up, 12-1 Colour Vision. Motrice, 20-1 Chiberta King, 25-1 Darley Sun, 33-1 Eternal Heart, 40-1 Nehaam, Polly's Mark,
**The Qipco British Champions Fillies & Mares Stakes
11-4 Vita Nova, 7-2 Ferdoos, 5-1 Dancing Rain, 11-2 Crystal Capella, 7-1 Meeznah, 9-1 Banimpire, 14-1 Gertrude Bell, Bible Belt, 40-1 Cill Rialaig, 100-1 Brushing 200-1 Bolivia,
**The Qipco British Champions Sprint Stakes
9-4 Deacon Blues, 3-1 Moonlight Cloud, 6-1 Society Rock, 11-1 Wizz Kid, 16-1 Genki, 20-1 Ladies Are Forever, Night Carnation, Medicean Man, Royal Rock, 33-1 Dafeef, Silverside, Hooray, Libranno, 50-1 Jimmy Styles, Perfect Tribute, 66-1 Prime Defender
**Breeders' Cup Mile
5-2 Goldikova, 4-1 Strong Suit, 8-1 Gio Ponti, 10-1 Tullalure, 12-1 Courageous Cat, Western Aristocrat, 16-1 Get Stormy, 20-1 Sidney's Candy
**Breeders' Cup Classic
7-2 Uncle Mo, 5-1 Havre De Grace, 8-1 So You Think, Tizway, 10-1 Await The Dawn, Flat Out, To Honor And Serve, 14-1 Game On Dude, Twirling Candy, 16-1 Prayer For Relief, Ruler On Ice, Stay Thirsty, 20-1 Bar
**Caulfield Cup
11-8 December Draw, 11-2 Lucas Cranach. 8-1 Absolutely, 12-1 Green Moon, Mighty High, 14-1 Manighar, 16-1 Drunken Sailor, Southern Speed, Tullamore, 20-1 Precedence, 25-1 Hawk Island, Saptapadi, 50-1 Bar
**Melbourne Cup
9-1 Lucas Cranach, 10-1 December Draw, 12-1 Americain, Midas Touch, 14-1 At First Sight, 16-1 Descarado, Lion Tamer, 20-1 Absolutely, Jukebox Jury, Modun, Moyenne Corniche, Precedence, 25-1 Bauer, Drunken Sailor, Mighty High, Mourayan, My Kingdom Of Fife, Shamrocker, 33-1 Bar
**2012 Qipco 2,000 Guineas
7-1 Harbour Watch, 8-1 Born To Sea, 10-1 Dabirsim, Power, 12-1 Ektihaam, 14-1 Top Offer, 16-1 Fencing, 20-1 Daddy Long Legs, Tales Of Grimm, 25-1 Apollo, Trumpet Major, 33-1 Mezmaar, Red Duke, Roman Soldier, St Barths,
**2012 Qipco 1,000 Guineas
7-2 Maybe, 7-1 Discourse, 8-1 Lyric Of Light, 10-1 Elusive Kate, 12-1 Best Terms, Fallen For You, 16-1 La Collina, Lighning Pearl, 20-1 Firdaws, Zantenda, 25-1 Alsindi, Gamilati, Regal Realm, Rythmic, Samitar,
**2012 Investec Oaks
6-1 Maybe, 10-1 Lyric Of Light, 16-1 Firdaws, Was
**2012 Investec Derby
14-1 Born To Sea, 16-1 Akeed Mofeed, Camelot, 20-1 David Livingston, Fencing, 25-1 Apollo, Imperial Monarch, 40-1 Roman Soldier