Smith Pleased With Weights Response But Neptune Defection Disappoints 02/03/11
It is a little over two weeks since Phil Smith, the British Horseracing Authority's Head of Handicapping, released the eagerly anticipated weights for the 2011 John Smith's Grand National.
Tidal Bay
© racing-images.co.uk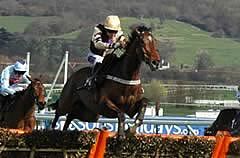 Plenty of flak can fly in the aftermath of the annual release of the weights for the world's most famous chase, with some owners and trainers brusquely venting their consternation at Smith's weighting of a particular horse but, so far, the handicapper's tin hat and Kevlar vest have been left to gather dust.
Smith revealed today: "The main news is that there is no news. No one has said that they are not happy, which, from a handicapper's point of view is relieving, but I'm also surprised because you normally get someone who is not happy."
This year, Smith compressed the top 14 horses in the handicap, allotting horses such as Tidal Bay and Neptune Collonges a rating lower than they would carry in a regular handicap, the theory being that the John Smith's Grand National, with it's marathon four and a half-mile distance and unique fences, requires a slightly different approach to its assessment.
Having compressed the weights at the top to encourage a high-class field, Smith is disappointed with the scratching of the Paul Nicholls-trained Neptune Collonges - joint top-weight with 11st 10lb - winner of the Grade Two Argento Chase at Cheltenham last time and set to contest the Grade One totesport Gold Cup.
Smith continued: "I was very disappointed to see Neptune Collonges come out. He was a really credible joint top-weight and, while one has to respect the decision made by connections, I fail to understand the reasons.
"If it was an ordinary handicap he would be 8lb higher, so I tried to give him every incentive. In terms of the physical weight, I had set him to carry 11st 10lb and that is the weight he will carry in the Gold Cup. The difference being, if the Gold Cup was a handicap he'd be receiving weight from some of those horses, whereas obviously he would be giving weight to inferior horses in the National, but physically it's the same weight.
"Don't Push It is clear top-weight now and he's a credible horse as last year's winner, and all things being equal, he'll run."
The Howard Johnson-trained Tidal Bay almost caught Gold Cup hero Imperial Commander in the Grade One Betfair Chase at Haydock in November and was storming up the hill when a close second to Neptune Collonges in the Argento Chase. He is one of the class horses Smith hopes to attract to this year's renewal.
He said: "Tidal Bay (11st 9lb) is one of those horses that I compressed and in normal circumstances he would be running off a mark of 166. I've tried to tempt the connections to go because he is on a 7lb lower mark in the John Smith's Grand National than he would be anywhere else and the thinking behind that is that he has got to carry the weight for further. I definitely hope he runs."
Smith also made a swathe of changes to the ratings of exposed horses in the handicap, dropping 15 of them to lower marks.
The handicapper revealed: "When I handicap the National, I look at every horse in the race again and consider their form - every year there are a few horses in the race that I drop but I have never dropped as many as this year. I really took a pair of shears to the ratings of some of the exposed older horses. I looked back at the form and where it hadn't worked out that well I dropped them a fair bit.
"It was a difficult year because there were a lot of unexposed younger horses who I have not had enough time to see because of the abandonments, so knowing that there were a lot of potential improvers in the race it was important to try and give the older horses, who I have had plenty of opportunities to see, a chance. I just made sure that they were on what I would call a fair mark
"I'm pretty pleased with it at the moment - it looks very competitive. As we speak, bookmakers are still betting 12/1 the field, so that's good from my point of view and that's all I've got at the moment as a barometer to what people think of the fairness of the job I've done. But there's a long way to go, so I'm not counting any chickens."
The second scratchings deadline for the John Smith's Grand National is at noon on Tuesday, March 22.
THE 2011 JOHN SMITH'S GRAND NATIONAL
Class 1, Grade 3, £950,000 total Prize Fund. 4.15pm, Aintree, Saturday, April 9, 2011, four miles and four furlongs. For six-year-olds old and upwards which are allotted a rating of 110 or more by the BHA Head of Handicapping following a review of the horses entered and after taking account of races run up to and including February 13, 2011. Horses which are not qualified for a rating in Great Britain or Ireland at February 1, 2011, may also be entered. Such horses may be eligible for a weight providing the Handicapper is satisfied that the horse's racecourse performances to February 13, 2011, would merit a minimum rating of 110. To qualify horses must have run at least three times in Steeple Chases run under the Rules of Racing of the same Recognised Turf Authority up to and including February 13, 2011. At the Handicapper's discretion such horses may be allocated a rating. The decision of the BHA Head of Handicapping shall be final. No penalties after publication of the weights. Highest weight 11st 10lb. Entries closed February 1, entries revealed February 2 (102 entries, 3 subsequently scratched), weights revealed February 15, first scratchings deadline March 1 (82 remain), second scratchings deadline March 22. Five-day confirmation stage April 4, final declaration stage 10.00am, April 7. Maximum field size of 40, plus 4 reserves. Form figures supplied by Weatherbys and are correct up to and including the racing of Monday, February 28.
Form Horse Age/Wgt Owner Trainer
1) 23P1-P00 DON'T PUSH IT (IRE) 11-11-10 J P McManus Jonjo O'Neill
2) 104-322 TIDAL BAY (IRE) 10-11-09 Andrea & Graham Wylie Howard Johnson
3) 1-41111 MIDNIGHT CHASE 9-11-08 Lady Clarke Neil Mulholland
4) 1P46-3U3 DEEP PURPLE 10-11-07 Paul Green Evan Williams
5) 131-561 SYNCHRONISED (IRE) 8-11-06 J P McManus Jonjo O'Neill
6) 501B-004 VIC VENTURI (IRE) 11-11-06 Seamus Dunne Dessie Hughes IRE
7) 61/211-52 WHAT A FRIEND 8-11-06 Ged Mason & Sir Alex Ferguson Paul Nicholls
8) U62/1-31 MAJESTIC CONCORDE (IRE) 8-11-05 Dr Ronan Lambe Dermot Weld IRE
9) 2F1425 OR NOIR DE SOMOZA (FR) 9-11-05 Filsal Stadeg Racing David Pipe
10) 01F24-41 DOONEYS GATE (IRE) 10-11-04 Jackie Mullins Willie Mullins IRE
11) 20-35344 SCOTSIRISH (IRE) 10-11-02 Double R Stables Syndicate Willie Mullins IRE
12) 2U14-2F4 BIG FELLA THANKS 9-11-01 Maggie Findlay Ferdy Murphy
13) 3111-11 BALLABRIGGS (IRE) 10-11-00 Trevor Hemmings Donald McCain
14) UP-36310 TATENEN (FR) 7-11-00 The Stewart Family Richard Rowe
15) 205-244 THE TOTHER ONE (IRE) 10-11-00 Graham Roach Paul Nicholls
16) 520P-F5 NICHE MARKET (IRE) 10-10-13 Graham Regan Paul Nicholls
17) U3133-21 THE MIDNIGHT CLUB (IRE) 10-10-13 Susannah Ricci Willie Mullins IRE
18) 0BP-500 BACKSTAGE (FR) 9-10-12 MPR & Capranny Syndicate Gordon Elliott IRE
19) 30011-05 CHIEF DAN GEORGE (IRE) 11-10-12 Maurice Chapman Jimmy Moffatt
20) 5121-001 SILVER BY NATURE 9-10-12 Geoff Brown Lucinda Russell
21) 4UP-250 NOTRE PERE (FR) 10-10-11 Tilly Conway Barry Potts IRE
21) 4-56242 CALGARY BAY (IRE) 8-10-10 Camilla Radford Henrietta Knight
23) P2P-253 KILLYGLEN (IRE) 9-10-10 David McCammon Stuart Crawford IRE
24) 1/2100-P5 TRICKY TRICKSTER (IRE) 8-10-10 Chris Giles Paul Nicholls
25) 3152-263 OSCAR TIME (IRE) 10-10-09 Robert Waley-Cohen/Sir Martin & S Broughton Martin Lynch IRE
26) 032236- SNOWY MORNING (IRE) 11-10-09 Quayside Syndicate Colin Bowe IRE
27) 0100-03 BALLYTRIM (IRE) 10-10-08 Violet O'Leary Willie Mullins IRE
28) 2212-42 BECAUSEICOULDNTSEE (IRE) 8-10-08 Noel Glynn Noel Glynn IRE
29) 2/000-06P COMPLY OR DIE (IRE) 12-10-08 David Johnson David Pipe
30) 1-122B0 NEDZER'S RETURN (IRE) 9-10-08 William Elliott Gordon Elliott IRE
31) P-5500423 NORTHERN ALLIANCE (IRE) 10-10-08 Irish Rover Syndicate Tony Martin IRE
32) 510-1131 QUINZ (FR) 7-10-08 Andrew Cohen Philip Hobbs
33) 2F-FF25 QUOLIBET (FR) 7-10-08 J P McManus Jonjo O'Nell
34) 11FP10P GRAND SLAM HERO (IRE) 10-10-07 Walters Plant Hire Ltd Nigel Twiston-Davies
35) 3P6/454-P6 ROLL ALONG (IRE) 11-10-07 Bryan & Philippa Burrough Nigel Twiston-Davies
36) P22-41F GULLIBLE GORDON (IRE) 8-10-06 Bunty Millard Paul Nicholls
37) 3211-11P KING FONTAINE (IRE) 8-10-06 Trevor Hemmings Malcolm Jefferson
38) 0/144/P3- STATE OF PLAY 11-10-06 William & Angela Rucker Evan Williams
39) 21PP-PP DREAM ALLIANCE 10-10-05 The Alliance Partnership Philip Hobbs
40) 005P-1P HELLO BUD (IRE) 13-10-05 Seamus Murphy Nigel Twiston-Davies
41) 566U-3431 IN COMPLIANCE (IRE) 11-10-05 Westerly Breeze Syndicate Dessie Hughes IRE
42) 6-220001 SANTA'S SON (IRE) 11-10-05 Douglas Pryde & Jim Beaumont Howard Johnson
43) 2P/00-11P WEST END ROCKER (IRE) 9-10-05 Barry Winfield & Tim Leadbeater Alan King
44) 0C21-046 BLUESEA CRACKER (IRE) 9-10-04 Note The Link Syndicate James Motherway IRE
45) 16F-0P5 CAN'T BUY TIME (IRE) 9-10-04 J P McManus Jonjo O'Neill
46) 000-3056 CHARACTER BUILDING (IRE) 11-10-04 Patricia Thompson John Quinn
47) 1215/1P/-5 ORNAIS (FR) 9-10-04 The Stewart Family Paul Nicholls
48) 00P-234P PIRAYA (FR) 8-10-04 Terry Neill David Pipe
49) PP2/111/- SURFACE TO AIR 10-10-04 Tim Urry Chris Bealby
50) 301050 THAT'S RHYTHM (FR) 11-10-04 Don't Tell Henry Martin Todhunter
51) 0U2F-0P2 ARBOR SUPREME (IRE) 9-10-03 J P McManus Willie Mullins IRE
52) 1F3U-P1U FRANKIE FIGG (IRE) 9-10-03 Andrea & Graham Wylie Howard Johnson
53) 1P0-053U ONE COOL COOKIE (IRE) 10-10-03 Gigginstown House Stud Charlie Swan IRE
54) 013111- OUR MONTY (IRE) 8-10-03 Colland Sand & Gravel Ltd Willie Mullins IRE
55) P5U-42P ROYAL ROSA (FR) 12-10-03 Andrea & Graham Wylie Howard Johnson
56) 0P1-0060 ALWAYS WAINING (IRE) 10-10-02 Mr & Mrs Peter James Douglas Peter Bowen
57) 421001 GOLDEN KITE (IRE) 9-10-02 Dr Anthony Calnan Adrian Maguire IRE
58) P1P-41U MEANUS DANDY (IRE) 8-10-02 Mark & Tessa Woodhouse & Paul Barber Paul Nicholls
59) 41/313-01 SKIPPERS BRIG (IRE) 10-10-02 Ashleybank Investments Limited Nicky Richards
60) 1F4/22-1P BELON GALE (IRE) 8-10-01 Andrea & Graham Wylie Howard Johnson
61) 3/402P-0 FAASEL (IRE) 10-10-01 Hush Hush Partnership David Pipe
62) 3P-02043 LE BEAU BAI (FR) 8-10-01 Glass Half Full Richard Lee
63) 0D61-0F MERIGO (FR) 10-10-01 Raymond & Anita Anderson Green Andrew Parker
64) 321112 PUTNEY BRIDGE 9-10-01 Louise Goldsworthy Keith Goldsworthy
65) 256-0216 ASKTHEMASTER (IRE) 11-10-00 Carrolle Wall Robert Tyner IRE
66) 363221- DEV (IRE) 11-10-00 Liam Mulryan Gordon Elliott IRE
67) F123-P22 GILES CROSS (IRE) 9-10-00 KCMS Partnership Victor Dartnall
68) 111U0-66 SADDLERS STORM (IRE) 9-10-00 Billy Moffett/R T & J McLoughlin Tony Martin IRE
69) 11P61/0/- STARZAAN (IRE) 12-10-00 Ben Arbib Hughie Morrison
70) 60U0-60 AMBOBO (USA) 11-9-13 Deirdre Brassil Martin Brassil IRE
71) 05241P DUERS (IRE) 9-9-13 Kate Kelly/Kate Ronan Paul Magnier IRE
72) 31-PP11P SAGALYRIQUE (FR) 7-9-13 Sir Robert Ogden Donald McCain
73) 311120- TOBY JUG 10-9-13 Paul & Caron Chapman & Sarah Humphrey Sarah Humphrey
74) 5/2613-P GALANT NUIT (FR) 7-9-12 David Parry Ferdy Murphy
75) 3131-32 JUNIOR 8-9-12 Middleham Park Racing LI David Pipe
76) 00-50642 THE SAWYER (BEL) 11-9-12 David Fear Bob Buckler
77) 40F-04452 BALLYFITZ 11-9-09 Fred & Wayne Mills Nigel Twiston-Davies
78) P0-24U344 I'MONCLOUDNINE (IRE) 8-9-09 Fred Matthews Neil Mulholland
79) PF4-536 POMME TIEPY (FR) 8-9-09 Susannah Ricci Willie Mullins IRE
80) 204/12-PP THE SLIOTAR (IRE) 10-9-08 Roger Brookhouse Philip Hobbs
81) F/116PP- TREACLE (IRE) 10-9-04 Bjorn Nielsen Tom Taaffe IRE
82) 560-P2322 REGAL HEIGHTS (IRE) 10-9-02 Janet Heler Tom George
82 entries remain after March 1 scratchings deadline
27 Irish-trained
THE FOLLOWING ENTRIRD HAVE BEEN SCRATCHED: APT APPROACH (IRE), CANE BRAKE (IRE), CARRONHILLS (IRE), FAIR ALONG (GER), FROM DAWN TO DUSK, GLENCOVE MARINA (IRE), I'MSINGINGTHEBLUES (IRE), JUST AMAZING (IRE), KHACHATURIAN (IRE), LITTLE JOSH (IRE), MOBAASHER (USA), NEPTUNE COLLONGES (FR), NICTO DE BEAUCHENE (FR), NOBLE CONCORDE, QUEZAC DE LA ROQUE (FR), QUISCOVER FONTAINE (FR), TARANIS (FR), TINAKELLYLAD (IRE), TRANQUIL SEA (IRE)