Top Irish Contenders Remain in Grand National Mix
22/03/11
74 horses are still engaged, after the second scratchings deadline on March 22, for the £950,000 John Smith's Grand National over four and a half miles at Aintree on Saturday, April 9.
The Midnight Club


© racing-images.co.uk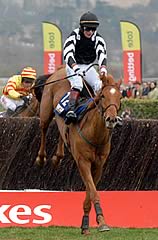 26 Irish-trained horses are still standing, including Willie Mullins' The Midnight Club, who is 10/1 favourite for the marathon event.
The Midnight Club jumped to the head of the ante-post market with a defeat of stable companion Arbor Supreme in the Grade Two Bobbyjo Chase at Fairyhouse on 23 February.
Other Irish contenders include the Martin Lynch-trained Oscar Time, last year's Irish Grand National runner-up, who could cap a dream season for amateur rider Sam Waley-Cohen following his totesport Cheltenham Gold Cup victory on Long Run last week.
Gordon Elliott, who sent out Silver Birch to a memorable success in the 2007 John Smith's Grand National, has another live contender in Backstage, who confirmed his wellbeing with a point-to-point victory on 6 March and is totesport's 12/1 second favourite with Oscar Time.
Just eight horses were taken out of the race at this forfeit stage, leaving 74 still engaged. Topping the list is last year's hero Don't Push It on 11st 10lb.
Paul Nicholls has four entries going forward including What A Friend, who is part-owned by Alex Ferguson and was a creditable fourth in last week's totesport Cheltenham Gold Cup.
Nicholls also looks set to be represented by the 2009 Irish Grand National victor Niche Market.
Tidal Bay


© racing-images.co.uk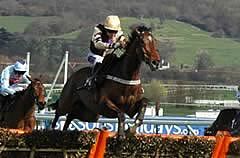 Tidal Bay, sixth in the Gold Cup, has been given the go-ahead by trainer Howard Johnson after talking to owners Graham and Andrea Wylie.

"He has come out of Cheltenham grand and goes to Liverpool," said Johnson on Tuesday.

"He doesn't over-exert himself and is bouncing and there is nothing else to go for. It was a bit lively for him at Cheltenham and if they had had a bit more rain he might have finished fourth."

Tidal Bay, who is as short as 33-1 for the big race, will be running at his sixth National meeting having finished second in the champion bumper of 2006, won the Grade 1 2m novice chase and finished fourth to Big Buck's in the Grade 1 Liverpool Hurdle last year.

Seventy-four runners remained in the National following the second forfeit stage on Tuesday. Deep Purple, Tatenen, Tricky Trickster, Dream Alliance, Snowy Morning, Gullible Gordon, Meanus Dandy and The Sliotar were the eight horses scratched.

THE 2011 JOHN SMITH'S GRAND NATIONAL

Class 1, Grade 3, £950,000 total Prize Fund. 4.15pm, Aintree, Saturday, April 9, 2011, four miles and four furlongs. For six-year-olds old and upwards which are allotted a rating of 110 or more by the BHA Head of Handicapping following a review of the horses entered and after taking account of races run up to and including February 13, 2011. Horses which are not qualified for a rating in Great Britain or Ireland at February 1, 2011, may also be entered. Such horses may be eligible for a weight providing the Handicapper is satisfied that the horse's racecourse performances to February 13, 2011, would merit a minimum rating of 110. To qualify horses must have run at least three times in Steeple Chases run under the Rules of Racing of the same Recognised Turf Authority up to and including February 13, 2011. At the Handicapper's discretion such horses may be allocated a rating. The decision of the BHA Head of Handicapping shall be final. No penalties after publication of the weights. Highest weight 11st 10lb. Entries closed February 1, entries revealed February 2 (102 entries, 3 subsequently scratched), weights revealed February 15, first scratchings deadline March 1, second scratchings deadline March 22 (74 remain). Five-day confirmation stage April 4, final declaration stage 10.00am, April 7. Maximum field size of 40, plus 4 reserves. Form figures supplied by Weatherbys and are correct up to and including the racing of Monday, February 28.

Form Horse Age/Wgt Trainer

1) 23P1-P00 DON'T PUSH IT (IRE) 11-11-10 Jonjo O'Neill

2) 104-322 TIDAL BAY (IRE) 10-11-09 Howard Johnson

3) 1-41111 MIDNIGHT CHASE 9-11-08 Neil Mulholland

4) 131-561 SYNCHRONISED (IRE) 8-11-06 Jonjo O'Neill

5) 501B-004 VIC VENTURI (IRE) 11-11-06 Dessie Hughes IRE

6) 61/211-52 WHAT A FRIEND 8-11-06 Paul Nicholls

7) U62/1-31 MAJESTIC CONCORDE (IRE) 8-11-05 Dermot Weld IRE

8) 2F1425 OR NOIR DE SOMOZA (FR) 9-11-05 Racing David Pipe

9) 01F24-41 DOONEYS GATE (IRE) 10-11-04 Willie Mullins IRE

10) 20-35344 SCOTSIRISH (IRE) 10-11-02 Willie Mullins IRE

11) 2U14-2F4 BIG FELLA THANKS 9-11-01 Ferdy Murphy

12) 3111-11 BALLABRIGGS (IRE) 10-11-00 Donald McCain

13) 205-244 THE TOTHER ONE (IRE) 10-11-00 Paul Nicholls

14) 520P-F5 NICHE MARKET (IRE) 10-10-13 Paul Nicholls

15) U3133-21 THE MIDNIGHT CLUB (IRE) 10-10-13 Willie Mullins IRE

16) 0BP-500 BACKSTAGE (FR) 9-10-12 Gordon Elliott IRE

17) 30011-05 CHIEF DAN GEORGE (IRE) 11-10-12 Jimmy Moffatt

18) 5121-001 SILVER BY NATURE 9-10-12 Lucinda Russell

19) 4UP-250 NOTRE PERE (FR) 10-10-11 Barry Potts IRE

20) 4-56242 CALGARY BAY (IRE) 8-10-10 Henrietta Knight

21) P2P-253 KILLYGLEN (IRE) 9-10-10 Stuart Crawford IRE

22) 3152-263 OSCAR TIME (IRE) 10-10-09 Martin Lynch IRE

23) 0100-03 BALLYTRIM (IRE) 10-10-08 Willie Mullins IRE

24) 2212-42 BECAUSEICOULDNTSEE (IRE) 8-10-08 Noel Glynn IRE

25) 2/000-06P COMPLY OR DIE (IRE) 12-10-08 David Pipe

26) 1-122B0 NEDZER'S RETURN (IRE) 9-10-08 Gordon Elliott IRE

27) P-5500423 NORTHERN ALLIANCE (IRE) 10-10-08 Tony Martin IRE

28) 510-1131 QUINZ (FR) 7-10-08 Philip Hobbs

29) 2F-FF25 QUOLIBET (FR) 7-10-08 Jonjo O'Nell

30) 11FP10P GRAND SLAM HERO (IRE) 10-10-07 Nigel Twiston-Davies

31) 3P6/454-P6 ROLL ALONG (IRE) 11-10-07 Nigel Twiston-Davies

32) 3211-11P KING FONTAINE (IRE) 8-10-06 Malcolm Jefferson

33) 0/144/P3- STATE OF PLAY 11-10-06 Evan Williams

34) 005P-1P HELLO BUD (IRE) 13-10-05 Nigel Twiston-Davies

35) 566U-3431 IN COMPLIANCE (IRE) 11-10-05 Dessie Hughes IRE

36) 6-220001 SANTA'S SON (IRE) 11-10-05 Howard Johnson

37) 2P/00-11P WEST END ROCKER (IRE) 9-10-05 Alan King

38) 0C21-046 BLUESEA CRACKER (IRE) 9-10-04 James Motherway IRE

39) 16F-0P5 CAN'T BUY TIME (IRE) 9-10-04 Jonjo O'Neill

40) 000-3056 CHARACTER BUILDING (IRE) 11-10-04 John Quinn

41) 1215/1P/-5 ORNAIS (FR) 9-10-04 Paul Nicholls

42) 00P-234P PIRAYA (FR) 8-10-04 David Pipe

43) PP2/111/- SURFACE TO AIR 10-10-04 Chris Bealby

44) 301050 THAT'S RHYTHM (FR) 11-10-04 Martin Todhunter

45) 0U2F-0P2 ARBOR SUPREME (IRE) 9-10-03 Willie Mullins IRE

46) 1F3U-P1U FRANKIE FIGG (IRE) 9-10-03 Howard Johnson

47) 1P0-053U ONE COOL COOKIE (IRE) 10-10-03 Charlie Swan IRE

48) 013111- OUR MONTY (IRE) 8-10-03 Willie Mullins IRE

49) P5U-42P ROYAL ROSA (FR) 12-10-03 Howard Johnson

50) 0P1-0060 ALWAYS WAINING (IRE) 10-10-02 Peter Bowen

51) 421001 GOLDEN KITE (IRE) 9-10-02 Adrian Maguire IRE

52) 41/313-01 SKIPPERS BRIG (IRE) 10-10-02 Nicky Richards

53) 1F4/22-1P BELON GALE (IRE) 8-10-01 Howard Johnson

54) 3/402P-0 FAASEL (IRE) 10-10-01 David Pipe

55) 3P-02043 LE BEAU BAI (FR) 8-10-01 Richard Lee

56) 0D61-0F MERIGO (FR) 10-10-01 Andrew Parker

57) 321112 PUTNEY BRIDGE 9-10-01 Keith Goldsworthy

58) 256-0216 ASKTHEMASTER (IRE) 11-10-00 Robert Tyner IRE

59) 363221- DEV (IRE) 11-10-00 Gordon Elliott IRE

60) F123-P22 GILES CROSS (IRE) 9-10-00 Victor Dartnall

61) 11U0-66 SADDLERS STORM (IRE) 9-10-00 Tony Martin IRE

62)11P61/0/- STARZAAN (IRE) 12-10-00 Hughie Morrison

63)60U0-60 AMBOBO (USA) 11-9-13 Martin Brassil IRE

64) 05241P DUERS (IRE) 9-9-13 Paul Magnier IRE

65) 31-PP11P SAGALYRIQUE (FR) 7-9-13 Donald McCain

66) 311120- TOBY JUG 10-9-13 Sarah Humphrey

67) 5/2613-P GALANT NUIT (FR) 7-9-12 Ferdy Murphy

68) 3131-32 JUNIOR 8-9-12 David Pipe

69) 00-50642 THE SAWYER (BEL) 11-9-12 Bob Buckler

70) 40F-04452 BALLYFITZ 11-9-09 Nigel Twiston-Davies

71) P0-24U344 I'MONCLOUDNINE (IRE) 8-9-09 Neil Mulholland

72) PF4-536 POMME TIEPY (FR) 8-9-09 Willie Mullins IRE

73) F/116PP- TREACLE (IRE) 10-9-04 Bjorn Nielsen IRE

74) 560-P2322 REGAL HEIGHTS (IRE) 10-9-02 Tom George

Withdrawls: DEEP PURPLE, TATENEN, TRICKY TRICKSTER, DREAM ALLIANCE, SNOWY MORNING, GULLIBLE GORDON, MEANUS DANDY, THE SLIOTAR