Run Up to the Grand National
31/03/11
The 2011 Grand National is just around the corner, and punters from both Britain and Ireland are looking forward to seeing some exceptional runners and their world-class trainers in action.
Last year's winner Don't Push It


© racing-images.co.uk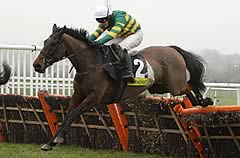 The runners are already listed yet unconfirmed, so be sure to take a look at the Grand National odds that are available at your local bookmakers or online.
Last year's winner Don't Push It is eager to be first past the post once again, and it seems that much of the public are hoping for the same. Early odds are 16-1 with a few weeks still to go; this is despite the mount being one of this year's top weights.
Some of the other horses returning for more of the action are Backstage, Big Fella Thanks and Niche Market. These three have already experienced the four and a half mile course at Aintree, which may prove to be an advantage.
An early favourite for the 2011 Grand National is The Midnight Club, currently sitting pretty at 10-1. There's something promising about this horse, and it was placed in the novice events at Cheltenham and Punchestown. Its trainer Willie Mullins will have high hopes while waiting at the finishing post.
There is still a chance that we could see a repeat of the memorable 2009 race when 100-1 Mon Mome took home the title. This year, Royal Rosa is currently an outsider at 66-1. As there is a royal wedding in the same month, you may think of it as a good omen.
Many National followers will be keen to see which horse will take Ruby Walsh; winning the Grand National twice makes him a much sought after jockey. A P McCoy, fresh from his first National win last year, is another jockey who has tasted success and will be hoping for more.
There will of course be some fresh-faced jockeys this year, and it is almost certain that they will be hungry for one of the most prestigious titles in horse racing.
The Grand National is popular because of the distance and the number of horses running. This makes the race more appealing to those who don't often gamble, as only 11 times in the 100-year history of the race has a favourite won.
There are many ways to pick a horse, from simply liking the name through to studying its form in detail. Whichever way you decide to choose you're never out of the running before the race, as quite simply, nobody knows who will win.
In recent years, the fences on course have been tamed slightly to protect horses and jockeys from any possible injury; but this hasn't made the course any easier.
It's the run up to the Grand National 2011 and your bets can be placed now. It is arguably the toughest test for horse and jockey in the world, and each year it continues to make history.