Ballymore Properties Novices' Hurdle 14/03/07
1st (9) Massini's Maguire 20-1
2nd (14) Tidal Bay 10-1
3rd (3) Catch Me 7-1
15 ran
Also: 5-2 Fav Aran Concerto, 7-2 Silverburn 4th
Massini's Maguire wins Compensation for Hobbs 14/03/07
Racing's luck pendulum swung in Philip Hobbs' favour when Massini's Maguire won the opener on day two of the Cheltenham Festival - it was a dramatic change in fortune following a miserable first day for the Somerset-based trainer.

Hobbs said: "We thought yesterday we had our best two chances of the week by a long, long way, and having seen them beaten we thought that was the end of this year's Cheltenham - and now we've won the first race on the second day.

"He [Massini's Maguire] ended up in front because they didn't go too fast and it suited him very well. He's always run well here at Cheltenham and earlier this season he beat Wichita Lineman so why he should be 20-1 today I don't know. Sometimes he's been a bit inconsistent, but I don't know why because he's certainly genuine."
Owner Alan Peterson was also gaining compensation following the defeat of his Fair Along in The Irish Independent Arkle Trophy yesterday.

Hobbs said Fair Along will be back at Cheltenham on Friday for the Vincent O'Brien County Handicap Hurdle, while he also had news of Detroit City, beaten favourite in yesterday's Smurfit Kappa Champion Hurdle.

Hobbs said: "We cantered him this morning because we wanted to scope him. He ate up last night and was really fresh when he cantered and scoped absolutely clean - so for now we are absolutely stumped."
Massini's Maguire is a chaser for the future, added Hobbs, who said Aintree would be his next target. Cashmans Bookmakers rate Massini's Maguire a 20-1 shot for next year's Royal & Sunalliance Chase.

The winning rider Richard Johnson: "He's done it really well. It's amazing what [difference] a day can make - yesterday didn't really go well.
"He's had some on and off days really, but he's produced it on the right day. The run-in seemed a very, very long way. You always want the winning post to come when you're in front up this hill.
"It shows the ground has probably dried up, and we've ended up making nearly all. He's a real, brave little horse. He's won twice round here now and seems to love the hill."
SO CLOSE FOR TIDAL BAY
Tidal Bay
© racing-images.co.uk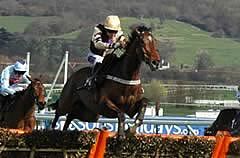 The Howard Johnson-trained Tidal Bay battled on to finish within in a neck of long-time leader Massini's Maguire in the opening Ballymore Properties Novices' Hurdle.

"He came up the hill well and in another five yards would have had the winner," said Johnson.

Tidal Bay's owner Graham Wylie added: "Paddy (Brennan) said that the horse battled on gamely and I'm very happy for that. He was second in the bumper at Aintree last year so we'd consider going there again but we also have Key Time for there as he prefers a flat track."
Edward O'Grady, who saddled third-placed Catch Me, commented: "You're never happy when you're beaten but he ran well."
ARAN CONCERTO - THE BEATEN FAVOURITE
Noel Meade, the trainer of the 5/2 favourite Aran Concerto who finished fifth, reported: "He was very disappointing. Tony (McCoy) said Aran Concerto did not settle and he felt, if he rode the horse again, that he would have him up with the leaders or walk him out of the gate (hold him up).

"Tony said he was in the middle and the horse would not relax - tanking along. Aran Concerto stumbled after the second last hurdle. Tony described him as very babyish.

"He thought yesterday's opening race might have suited him better because there was a better gallop."
INTERFERENCE ACCIDENTAL
A Stewards' Enquiry was held after the running of the Ballymore Properties Novices' Hurdle under Rule 171 (3).

The stewards looked into possible interference caused by the second, Tidal Bay, to the third, Catch Me.

It was held by the stewards that the interference was accidental and that Tidal Bay had not improved his finishing position. No further action was taken.
Position

Horse
Trainer
Jockey
Weight
Starting Price
Beaten Distance
1

Massini's Maguire
P J Hobbs
R Johnson
11st 7lbs
20 - 1
Winner
2

Tidal Bay
J Howard Johnson
P J Brennan
11st 7lbs
10 - 1
Neck
3

Catch Me
E J O'Grady
B J Geraghty
11st 7lbs
7 - 1
1 1/2 length
4

Silverburn
P F Nicholls
R Walsh
11st 7lbs
7 - 2
3 1/2 lengths
5

Aran Concerto
N Meade
A P McCoy
11st 7lbs
5 - 2
5 lengths
6

My Turn Now
C J Mann
N Fehily
11st 7lbs
15 - 2
Short Head
7

Imperial Commander
N A Twiston-Davies
Tony Evans
11st 7lbs
25 - 1
3 1/2 lengths
8

Scotsirish
W P Mullins
D J Condon
11st 7lbs
12 - 1
5 lengths
9

Battlecry
N A Twiston-Davies
T Scudamore
11st 7lbs
100 - 1
3 lengths
10

Foligold
Mrs J Harrington
T P Treacy
11st 7lbs
66 - 1
10 lengths
11

Hot Port
E McNamara
R M Power
11st 7lbs
150 - 1
6 lengths
12

Raslan
D Pipe
T J Murphy
10st 12lbs
25 - 1
13 lengths
13

Duc De Regniere
N J Henderson
M A Fitzgerald
11st 7lbs
9 - 1
14 lengths
14

Santando
P Bowen
T J O'Brien
11st 7lbs
150 - 1
11 lengths
na

Johnnie Dillinger
M F Morris
D N Russell
11st 7lbs
100 - 1

BALLYMORE PROPERTIES NOVICES' HURDLE FACTS AND FIGURES
1. The Ballymore Properties Novices' Hurdle was introduced to The Festival in 1971 as the Aldsworth Hurdle. Sun Alliance, who merged with Royal Insurance in 1996, took it on in 1974, together with the Sun Alliance Chase, having previously sponsored the Foxhunter Chase. Ballymore Properties sponsor the contest for the first time in 2007.

2. The Ballymore Properties Novices' Hurdle, along with the new Brit Insurance Novices' Hurdle and the Royal & SunAlliance Chase, are acknowledged as championship races for the staying novice hurdler and chaser.
3. Only one horse has won both the Ballymore Properties Novices' Hurdle and the Royal & SunAlliance Novices' Chase. The West Awake took the hurdle race in 1987 and the chase event a year later.

4. The smallest field for the Ballymore Properties Novices' Hurdle was 14 in 2000, when there were three non-runners. Previously the lowest number of runners was 15 in 1973, the year of Willie Wumpkins, who later dominated the Coral Golden Hurdle Final at the Festival with three straight wins from 1979-81. The largest field was 29, achieved in 1979, 1984 and 1991. Last year there were 17 runners and the safety limit is 24.

5. The Irish-trained 1994 winner, Danoli, was the subject of a massive gamble and was sent off the 7/4 favourite. The shortest-priced winner was another Irish victor, Mr Kildare, at 8/11 in 1978. Favourites have been successful in 12 of the 35 runnings. The longest-priced winner was 40/1 chance Even Dawn in the second running in 1972.

6. Five of the last 18 winners won the Blue Square Novices' Hurdle at Warwick in mid-February en route to the race. These are Rebel Song (1988), Sayfar's Lad (1989), Thetford Forest (1992), Putty Road (1995) and Monsignor (2000). The Warwick race was abandoned in 2006.

7. The Irish have an excellent record in the Ballymore Properties Novices' Hurdle with 13 wins, including six consecutive victories from 1973-78. Nicanor, trained by Noel Meade, scored for the Irish last year when upsetting hot favourite Denman.

8. Aidan O'Brien, Martin Pipe, Oliver Sherwood, Mick O'Toole, Edward O'Grady and Nigel Twiston-Davies have each won two Ballymore Properties Novices' Hurdles. Oliver Sherwood and Dessie Hughes are the two trainers to have also won the race as jockeys. Sherwood was in the saddle on Venture To Cognac in 1979, while his training wins were with The West Awake (1987) and Rebel Song (1988). Dessie Hughes was twice successful as a jockey with Davy Lad (1975) and Parkhill (1976) and sent out Hardy Eustace (2003) to victory as a trainer.

9. The fastest time for the winning horse was 4m 52.0s set by Monsignor in 2000,beating the 4m 56.2s of Regal Ambition in 1990.

10. Istabraq (1997) and Hardy Eustace (2003) both won this race en route to victory in the Smurfit Kappa Champion Hurdle while Davy Lad (1975) went on to take the totesport Cheltenham Gold Cup.
Previous results - BALLYMORE PROPERTIES NOVICES' HURDLE
2006-WINNER-NICANOR 5-11-07 Owner-Des Sharkey; Trainer-Noel Meade IRE; Jockey-Paul Carberry; SP-17/2
2ND-Denman 6-11-07 Owner-Paul Barber & Maggie Findlay; Trainer-Paul Nicholls; Jockey-Ruby Walsh; SP-11/10 Fav
3RD-Refinement 7-11-00 Owner-Michael Tabor; Trainer-Jonjo O'Neill; Jockey-Tony McCoy; SP-11/2
17 ran, Time-5m 1.00s Dist: 2.5, 6
2005-WINNER-NO REFUGE 5-11-07 Owner-Andrea & Graham Wylie; Trainer-Howard Johnson; Jockey-Graham Lee; SP-17/2
2ND-Racing Demon 5-11-07 Owner-Camilla Radford; Trainer-Henrietta Knight; Jockey-Jim Culloty; SP-14/1
3RD-Our Ben 6-11-07 Owner-Trevor Hemmings; Trainer-Willie Mullins IRE; Jockey-Ruby Walsh; SP-33/1
20 ran, Time-5m 00.00s Dist: .75, 2.5 9/2 Jt Favs Gold Medalist (5th) & Royal Paradise (7th)
2004-WINNER-FUNDAMENTALIST 6-11-07 Owner-Gripen; Trainer-Nigel Twiston-Davies; Jockey-Carl Llewellyn; SP-12/1
2ND-Inglis Drever 5-11-07 Owner-Andrea & Graham Wylie; Trainer-Howard Johnson; Jockey-Graham Lee; SP-7/4 Fav
3RD-Grey Report 7-11-07 Owner-Anne La Trobe; Trainer-Philip Hobbs; Jockey-Richard Johnson; SP-25/1
15 ran, Time-5m 1.90s, Dist-.5, 4
2003-WINNER-HARDY EUSTACE 5-11-07 Owner-Laurence Byrne; Trainer-Dessie Hughes IRE; Jockey-Kieran Kelly; SP-6/1
2ND-Pizarro 6-11-07 Owner-Edward Wallace; Trainer-Edward O'Grady IRE; Jockey-Norman Williamson; SP-2/1 Fav
3RD-Lord Sam 7-11-07 Owner-Plain Peeps; Trainer-Victor Dartnall; Jockey-Warren Marston; SP-10/1
Coolnagorna, finished 2nd, placed last for causing interference
19 ran, Time-5m 5.70s, Dist (as they passed the post)-1.25, 1
2002-WINNER-GALILEO 6-11-07 Owner-Sharon Nelson, Allan Stennett, Terry Warner; Trainer-Tom George; Jockey-Jason Maguire; SP-12/1
2ND-Over The Bar 6-11-07 Owner-J P McManus; Trainer-Edward O'Grady IRE; Jockey-Norman Williamson; SP-14/1
3RD-Lanzerac 5-11-07 Owner-Cleartherm Ltd; Trainer-John Harris; Jockey-Paul Flynn; SP-66/1
27 ran; Time-5m 19.70s, Dist-3.5, sh; 5/1 Fav Classified (4th)
2001-Cancelled (Foot and Mouth Disease)
2000-WINNER-MONSIGNOR 6-11-07 Owner-Malcolm Denmark; Trainer-Mark Pitman; Jockey-Norman Williamson; SP-5/4 Fav
2ND-No Discount 6-11-06 Owner-Seamus Ross; Trainer-Charlie Swan IRE; Jockey-Charlie Swan; SP-20/1
3RD-Gentle Rivage 6-11-07 Owner-Geoffrey and Donna Keeys; Trainer-Nigel Twiston-Davies; SP-50/1
14 ran, Time-4m 52.0s, Dist-8,5
1999-WINNER-BARTON 6-11-07 Owner-Stan Clarke; Trainer-Tim Easterby; Jockey-Lorcan Wyer, SP-2/1 Fav
2ND-Artadoin Lad 6-11-07 Owner-Jim Shaw; Trainer-Jenny Pitman; Jockey-Mick Fitzgerald; SP-28/1
3RD-Winston Run 7-11-07 Owner-Mr & Mrs John Poynton; Trainer-Ian Williams; Jockey-Glenn Tormey; SP-100/1
18 ran, Time-5m 5.6s, Dist-9, .5
1998-WINNER-FRENCH HOLLY 7-11-07 Owner-Kieran Flood; Trainer-Ferdy Murphy; Jockey-Andrew Thornton; SP-2/1 Fav
2ND-Torboy 8-11-07 Owner-Paul Green; Trainer-Martin Pipe; Jockey-Tony McCoy; SP-8/1
3RD-Cloone Bridge 6-11-07 Owner-Kathleen Gillane; Trainer-Aidan O'Brien IRE; Jockey-Charlie Swan; SP-8/1
18 ran, Time-4m 59.7s, Dist-14, 2.5
1997-WINNER-ISTABRAQ 5-11-07 Owner-J P McManus; Trainer-Aidan O'Brien IRE; Jockey-Charlie Swan; SP-6/5 Fav
2ND-Mighty Moss 6-11-07 Owner-Ken Hutsby; Trainer-David Nicholson; Jockey-Mr Fred Hutsby; SP-11/1
3RD-Daraydan 5-11-07 Owner-David Johnson; Trainer-Martin Pipe; Jockey-Richard Hughes; SP-16/1
17 ran, Time-4m 58.2s, Dist-1, .75
1996-WINNER-URUBANDE 6-11-07 Owner-Martin St Quinton; Trainer-Aidan O'Brien IRE; Jockey-Charlie Swan; SP-8/1
2ND-Go-Informal 5-11-07 Owner-R G Marshall; Trainer-Malcolm Jefferson; Jockey-Mark Dwyer; SP-12/1
3RD-Karshi 6-11-07 Owner-Lord Vestey; Trainer-Henrietta Knight; Jockey-Jason Titley; SP-14/1
24 ran, Time-5m 11.7s, Dist-.75, .7511/2 Fav Jet Rules (10th)

BALLYMORE PROPERTIES NOVICES' HURDLE
ROLL OF HONOUR
(Ballymore Properties Novices' Hurdle since 2007, Royal & SunAlliance Novices' Hurdle 1998-2006, Royal Sun Alliance Novices' Hurdle 1997, Sun Alliance Novices' Hurdle 1974-96, Aldsworth Hurdle 1971-73)
Year Winner Age/Wt Jockey Trainer Owner SP Ran
2006 Nicanor 5-11-07 Paul Carberry Noel Meade IRE Des Sharkey 17/2 17
2005 No Refuge 5-11-07 Graham Lee Howard Johnson Andrea & Graham Wylie 17/2 20
2004 Fundamentalist 6-11-07 Carl Llewellyn Nigel Twiston-Davies Gripen 12/1 15
2003 Hardy Eustace 6-11-07 Kieran Kelly Dessie Hughes IRE Laurence Byrne 6/1 19
2002 Galileo 6-11-07 Jason Maguire Tom George Sharon Nelson, Allan Stennett, Terry Warner 12/1 27
2001 No Race (Foot and Mouth)
2000 Monsignor 6-11-07 Norman Williamson Mark Pitman Malcolm Denmark 5/4F 14
1999 Barton 6-11-07 Lorcan Wyer Tim Easterby Stan Clarke 2/1F 18
1998 French Holly 7-11-07 Andrew Thornton Ferdy Murphy Kieran Flood 2/1F 18
1997 Istabraq 5-11-07 Charlie Swan Aidan O'Brien IRE J P McManus 6/5F 17
1996 Urubande 6-11-07 Charlie Swan Aidan O'Brien IRE Martin St Quinton 8/1 24
1995 Putty Road 5-11-07 Norman Williamson David Nicholson Lady Harris 7/1 21
1994 Danoli 6-11-07 Charlie Swan Tom Foley IRE Dan O'Neill 7/4F 23
1993 Gaelstrom 6-11-02 Carl Llewellyn Nigel Twiston-Davies Jenny Powell 16/1 19
1992 Thetford Forest 5-11-07 Richard Dunwoody David Nicholson Saeed Manana 7/1 27
1991 Crystal Spirit 4-10-12 Jimmy Frost Ian Balding Paul Mellon 2/1F 29
1990 Regal Ambition 6-11-07 Peter Scudamore Martin Pipe Skeltools Ltd 3/1F 22
1989 Sayfar's Lad 5-11-07 Mark Perrett Martin Pipe Arthur Whiting 12/1 22
1988 Rebel Song 6-11-07 Simon Sherwood Oliver Sherwood Maggie Heath 14/1 25
1987 The West Awake 6-11-07 Simon Sherwood Oliver Sherwood Maggie Heath 16/1 28
1986 Ten Plus 6-11-07 Kevin Mooney Fulke Walwyn Basil Thwaites 5/2F 28
1985 Asir 5-11-07 Mr Ronnie Beggan Paul Kelleway HH Prince Yazid Saud 9/1 27
1984 Fealty 4-10-12 Seamus O'Neill Peter Brookshaw Peter Brookshaw 33/1 29
1983 Sabin Du Loir 4-10-08 Graham Bradley Michael Dickinson Brian Kilpatrick 16/1 27
1982 Mister Donovan 6-11-08 Tommy Ryan Edward O'Grady IRE J P McManus 9/2 21
1981 Gaye Chance 6-11-08 Sam Morshead Fred Rimell Mrs M Curtis 7/1 21
1980 Drumlargan 6-11-08 Tommy Ryan Edward O'Grady IRE Mary Cuddy 5/2F 27
1979 Venture To Cognac 6-11-08 Mr Oliver Sherwood Fred Winter Nat Sherwood 4/1 29
1978 Mr Kildare 5-11-07 Tommy Carmody Liam Browne IRE Owen Canty 8/11F 20
1977 Counsel Cottage 6-11-08 Sean Treacy Paddy Mullins IRE Lady Elizabeth Byng 6/1 26
1976 Parkhill 5-11-07 Dessie Hughes Mick O'Toole IRE Mrs J McGowan 4/1 21
1975 Davy Lad 5-11-07 Dessie Hughes Mick O'Toole IRE Mrs J McGowan 5/2F 20
1974 Brown Lad 8-11-08 Ron Barry Paddy Osborne IRE J Osborne 2/1F 25
1973 Willie Wumpkins 5-11-06 Pat Colville Adrian Maxwell IRE Jane Pilkington 11/1 15
1972 Even Dawn 5-11-06 Ron Hyett Katie Gaze Katie Gaze 40/1 17
1971 Midsprite 5-11-12 Macer Gifford Tom Jones Mrs Ogden Phipps 7/1 20