cheltenham festival / 2008 news /
Leading Root Vegetable Growers & Packers Albert Bartlett Revealed as Sponsor of Three-Mile Novices' Hurdle Pattern 22/11/07
Cheltenham today announced that Albert Bartlett, the UK's largest grower of root vegetables, will be sponsoring the Three-Mile Novices' Hurdle Pattern, a four-race series which culminates in the newly promoted Grade One Albert Bartlett Novices' Hurdle at The Festival, won in the last two years by Wichita Lineman and Black Jack Ketchum.
Black Jack Ketchum
© racing-images.co.uk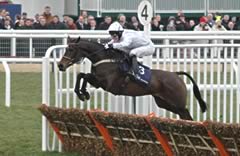 A family business for more than 50 years, Albert Bartlett now supplies over 500,000 tonnes of fresh produce each year to the retail, food service, wholesale and processing industries. The company provides the nation with one in six of its fresh potatoes, carrots, onions and parsnips.
The Albert Bartlett Novices' Hurdle Pattern Series features televised three-mile events at Cheltenham on Saturday, December 15, Doncaster on Saturday, January 26, Haydock Park on Saturday, February 17 and at The Festival on Friday, March 14.

John Hicks, Bartlett's Head of Marketing, said today: "I am delighted that Albert Bartlett is to be involved in such a high-profile series of races and particularly that we are to become the sponsor of a new Grade One race at The Festival.
"We have had an involvement with race sponsorship for a number of years but, with ambitious plans for the company, we felt that now was the right time to raise our profile significantly."
In addition to the race sponsorship, Albert Bartlett will also be providing racegoers at The Festival with the chance to taste their produce, by providing caterers at the course with vegetables to include in the menus on each raceday.

Cheltenham's Director of Sponsorship, Peter McNeile, commented: "Albert Bartlett is a solid and increasingly successful British company and this sponsorship is an excellent way for Albert Bartlett to increase their brand and product awareness."