Naiad Du Misselot Edges Dramatic Coral Cup Finish
14/03/08
1st (22) Naiad du Misselot 7-1
2nd (1) Kicks For Free 11-1
3rd (15) Junior 12-1
4th (18) Mendo 14-1
24 ran
Also: 11-2 Fav County Zen
NR: Liberate, Warne's Way, Leg Spinner, Shazand
Naiad du Misselot (Davy Russell black and white checks) come with a well timed run to claim Junior (Robert Thornton blue) and Song of Songs (AP McCoy yellow and green) in the competitive Coral Cup.
© racing-images.co.uk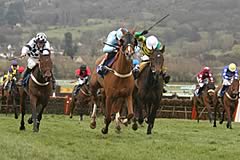 Naiad du Misselot came out on top in one of the most thrilling finishes seen so far this week when just holding on by a nose from the fast-finishing Kicks For Free to land the ultra-competitive Coral Cup.
Winning trainer Ferdy Murphy said: "From where I was standing, I thought he had won.
"He won on heavy ground at Haydock last time so I was happy when I saw it was raining last night.
"Graham Lee has been fantastic, as he told us exactly how to ride him. He told Davy (Russell) to come down the inner and to race in mid division, towards the front. Davy did that and has given him a fantastic ride.
"Graham should hopefully be back in action for Aintree. My son-in-law bought this horse and thinks he is really a chasing type.
"That is what his pedigree certainly suggests and he definitely goes chasing next year.
"I would say that is probably it for this season now and he will most likely be turned out. It was always the plan to give him a relatively light campaign this year."
"When I was younger when you looked at a horse and people would see he's a Cheltenham horse, or when you're buying a horse, everyone would say it's a Cheltenham horse. It is the big Festival and you try to give your clients a good day out . Every winner at the Cheltenham Festival is fantastic.
"It's been a good week for the north, with Howard and myself having winners and some placed horses and its nice to see the northern horses coming down and holding their own.
"New Alco was a bit unlucky in the William Hill Trophy on Tuesday but generally the horses have been running well."
Russell added: "Fair play to Ferdy, he was oozing confidence. Before the race he was a little worried about the ground but, having ridden in the first, I felt Ferdy was speaking about soft ground and I thought it would be soft enough for him and the horse has pulled out all the stops.
"Ferdy was speaking to Graham and he said let the horse take me there and he jumped super when I needed him and he battled when I needed him. I felt that Ruby might have done me right on the line if anywhere but it would have been very unfortunate for my horse to get done after being so tough."
FREE BEATEN BY NOSE
Kicks For Free, partnered by Ruby Walsh, lost out by a nose in a photo for the Coral Cup to the disappointment of trainer Paul Nicholls.
"It was a brilliant run but I shot myself in the foot winning at Kempton the other day because he went up 10lb for it," said Nicholls.
Alan King, trainer of third-placed Junior, said: "It was a super run. He's done nothing wrong and the blinkers have helped. We're thrilled with him."
Noel Chance was similarly pleased with the efforts of Mendo, who finished fourth at 14/1. He said: "I'm delighted. When the horse (Whispered Promises) fell, the horse next to him was interfered with and there was a bit of a knock-on effect which didn't help him but it's great that he managed to get fourth for all the people who've backed him."
The trainer indicated he could now be on course for Aintree and said: "A three-miler around Liverpool on softer ground and it wil be a different ball game for him."
CORAL CUP FACTS & FIGURES
1. Other than the races added to the four-day Festival in 2005, the Coral Cup is the newest contest at The Festival, having been introduced in 1993, the year after the first running of the Weatherbys Champion Bumper.
2. The first winner, Olympian, picked up an additional £50,000 bonus having won the Imperial Cup at Sandown Park the previous weekend. The bonus, increased to £75,000 in 2006, is offered again by Sunderlands, bookmaking sponsor of the Imperial Cup, to any horse that wins the Sandown race and then goes on to success in any contest at The Festival.
3. The fastest time in the 14 runnings was set in 2000 by What's Up Boys, who scored in 4m 53.8s, beating the previous best of 4m 57.0s set by Big Strand in 1997.
4. Ireland have won the race on five occasions, most recently with Sky's The Limit in 2006, trained by Edward O'Grady, who also sent out Time For A Run to score in 1994.
5. Martin Pipe is the leading trainer in the contest, having scored three times with Olympian (1993), Big Strand (1997) and Ilnamar (2002). Among current trainers, Edward O'Grady and Philip Hobbs (What's Up Boys 2000 & Monkerhostin 2004) lead the way.
6. No jockey has won the Coral Cup more than once.
7. Both What's Up Boys (2000) and Idole First (2005) scored at 33/1 and are they are the longest priced winners, while Olympian (1993) and Xenophon (2003) were successful at 4/1, the shortest priced scorers, and they are also the only two favourites to have obliged.
Coral Cup – Analysis
The Coral Cup, run on Wednesday, March 12 and run over two miles and five furlongs, is always one of the most hotly-contested race of the The Festival and has received 140 entries in 2008, including 40 from Ireland.
If he runs, the likely top weight will be Lough Derg, trained by David Pipe and successful in the Grade One Long Walk Hurdle at Ascot earlier this season. Pipe has a total of 10 entries in the race and could also be represented by Whispered Promises, Buena Vista, The Package, Laustra Bad, Prince de Bersy, Tino Tino, Estate, Soliya and Pablo Du Charmil.

Last year Burntoakboy provided Dr Richard Newland with by far the biggest win of his career and he could attempt a repeat victory along while Hold Em has been a real star for Keith Goldsworthy this season, most recently finishing second to Aigle D'Or in the Grade Two Ballymore Properties Novices' Hurdle at Cheltenham on Festival Trials Day, January 26. Another small trainer with a live chance is Newmarket-based Lucy Wadham who could run the smart Backbord, who won a valuable contest at Ascot last time out.
The Irish-trained entries contain a number of exciting contenders including Leg Spinner from the shrewd Tony Martin yard, who won the Cesarewitch on the Flat at Newmarket in October and is a dual winner over hurdles this season on his favoured good going. Other leading Irish-trained challengers include Catch Me, Cheltenham specialist Hordago, Kasimali and Newton Bridge, a winner at The Open in November.

Reigning champion trainer Paul Nicholls has entered five, including Five Dream, winner of the Brightwells Handicap Hurdle at Cheltenham on Festival Trials Day, Janaury 26 before disappointing when favourite for the totesport Trophy at Newbury. Nicholls' other entries are Kicks For Free, Ofarel d'Airy, Sporazene and The Tother One, who is unbeaten in five starts including a Grade Three contest at Sandown on his latest appearance.
CORAL CUP (HANDICAP HURDLE) PREVIOUS RESULTS
2007-WINNER-BURNTOAKBOY 9-09-12 Owner-Dr Richard & Laura Newland; Trainer-Dr Richard Newland; Jockey-Sam Jones; SP-10/1
2ND-Powerstation 7-11-00 Owner-Fat Frog Syndicate; Trainer-Michael John Phillips IRE; Jockey-Denis O'Regan; SP-12/1
3RD-Baron De Feypo 9-10-03 Owner-Rita Shah; Trainer-Oliver Brady; Jockey-Niki O'Shea; SP-20/1
4TH-Oscatello 7-10-08 Owner-Rye Braune; Trainer-Philip Hobbs; Jockey-Richard Johnson; SP-8/1
28 ran, Time-5m 07.10s; Dist-3, 5, 1½ 6/1 Fav Copsale Lad (16th)
2006-WINNER SKY'S THE LIMIT 5-11-12 Owner-Raymond Rooney; Trainer-Edward O'Grady IRE; Jockey-Barry Geraghty; SP-11/1
2ND-Strangely Brown 5-11-03 Owner-We Didn't Name Him Syndicate; Trainer-Eric McNamara IRE; Jockey-Brian Byrnes; SP-25/1
3RD-Dom D'Orgeval 6-11-12 Owner-Jane Williams; Trainer-Nick Williams; Jockey-Richard Johnson; SP-20/1
4TH-Phar Bleu 5-11-06 Owner-The Stewart Family; Trainer-Paul Nicholls; Jockey-Ruby Walsh; SP-10/1
30 ran, Time-5m 02.50s; Dist-4, .75, nk 5/1 Fav No Where To Hyde (Fell)
2005-WINNER-IDOLE FIRST 6-10-10 Owner-Direct Sales UK Ltd; Trainer-Venetia Williams; Jockey-Alan O'Keeffe; SP-33/1
2ND-Dancing Bay 8-11-01 Owner-Elite Racing Club; Trainer-Nicky Richards; Jockey-Mick Fitzgerald; SP-14/1
3RD-Tumbling Dice 6-11-01 Owner-Mrs John Donegan; Trainer-Tom Taaffe IRE; Jockey-Barry Geraghty; SP-16/1
4TH-Covent Garden 7-10-07 Owner-Ada Partnership; Trainer-Howard Johnson; Jockey-Tony Dobbin; SP-14/1
29 ran, Time-5m 04.80s; Dist-5, 6, 5 100/30 Fav Distant Prospect (9th)
2004-WINNER-MONKERHOSTIN 7-10-08 Owner-Martin St Quinton; Trainer-Philip Hobbs; Jockey-Richard Johnson; SP-13/2
2ND-Court Shareef 9-9-11 Owner-Derek and Cheryl Holder; Trainer-Richard Price; Jockey-Wayne Hutchinson; SP-200/1
3RD-Rhinestone Cowboy 8-11-05 Owner-Sue Magnier; Trainer-Jonjo O'Neill; Jockey-Mr J P Magnier; SP-5/1 Fav
4TH-Mughas 5-10-05 Owner-B Winfield, C Fenton & A Longman; Trainer-Alan King; Jockey-Robert Thornton; SP-11/2
27 ran, Time-4m 59.50s; Dist-1, 1 1/4, 2 1/2
2003-WINNER-XENOPHON 7-11-00 Owner-Lane Syndicate; Trainer-Tony Martin IRE; Jockey-Mick FitzGerald; SP-4/1 Fav
2ND-Samon 6-11-03 Owner-The Macca & Growler Partnership; Trainer-Martin Pipe; Jockey-David Casey; SP-25/1
3RD-Spectrometer 6-11-08 Owner-Concertina Racing; Trainer-Philip Hobbs; Jockey-Richard Johnson; SP-10/1
4TH-Emotional Moment 6-11-04 Owner-Watercork Syndicate; Trainer-Tom Taaffe; Jockey-Barry Geraghty; SP-7/1
27 ran, Time-5m 4.30s, Dist-3.5, 1, 3
2002-WINNER-ILNAMAR 6-10-05 Owner-Joe Moran; Trainer-Martin Pipe; Jockey-Rodi Greene; SP-25/1
2ND-Joss Naylor 7-10-00 Owner-Darren Mercer; Trainer-Jonjo O'Neill; Jockey-Liam Cooper; SP-13/2
3RD-Master Tern 7-10-03 Owner-J P McManus; Trainer-Jonjo O'Neill; Jockey-Tony Dobbin; SP-8/1
4TH-Stromness 5-10-03 Owner-Lady Harris; Trainer-Alan King; Jockey-Robert Thornton; SP-12/1
27 ran, Time-5m 15.0s, Dist-8, 3, 4 11/2 Fav Golden Alpha (26th)
2001 - No Race (Foot and Mouth Disease)
2000-WINNER-WHAT'S UP BOYS 6-10-03 Owner-RJB Partners; Trainer-Philip Hobbs; Jockey-Mr Paul Flynn; SP-33/1
2ND-Native Dara 7-10-04 Owner-Oriel Two Syndicate; Trainer-Noel Meade IRE; Jockey-Barry Geraghty; SP-25/1
3RD-Ross Moff 7-10-03 Owner-Seamus Ross; Trainer-Tony Martin IRE; Jockey-Charlie Swan; SP-15/2
4TH-Vanilla Man 7-10-00 Owner-Mrs Paul Duffin; Trainer-Paddy Mullins IRE; Jockey-Tommy Treacy; SP-25/1
26 ran, Time-4m 53.80s, Dist-nk, 3, 2, 7/1 Fav Brandon Court (5th)
1999-WINNER KHAYRAWANI 7-11-03 Owner-J P McManus; Trainer-Christy Roche IRE; Jockey-Fran Berry; SP-16/1
2ND-Miltonfield 10-10-00 Owner-J C Savage; Trainer-John Mulhern IRE; Jockey-Conor O'Dwyer; SP-33/1
3RD-Generosa 6-10-10 Owner-Trish Hyde; Trainer-John Hassett IRE; Jockey-Tommy Treacy; SP-12/1
4TH-Darapour 5-10-00 Owner-J P McManus; Trainer-Aidan O'Brien IRE; Jockey-Charlie Swan; SP-14/1
30 ran, Time-5m 6.6s, Dist-hd, nk, 5 13/2 Fav Archive Footage (25th)
1998-WINNER-TOP CEES 8-10-00 Owner-Charlton Bloodstock Ltd; Trainer-Lynda Ramsden; Jockey-Barry Fenton; SP-11/1
2ND-Khayrawani 6-10-06 Owner-J P McManus; Trainer-Christy Roche IRE; Jockey-Fran Berry; SP-20/1
3RD-Royal Marine 6-10-00 Owner-J P McManus; Trainer-Arthur Moore IRE; Jockey-Conor O'Dwyer;SP-10/1
4TH-Like A Lion 7-10-00 Owner-Orla Finucane; Trainer-Donald Swan IRE; Jockey-Charlie Swan; SP-12/1
21 ran, Time-5m 1.1s, Dist-1.25, .75, 1 6/1 Fav Daraydan (10th)
1997-WINNER-BIG STRAND 8-10-00 Owner-E C Jones; Trainer-Martin Pipe; Jockey-Jamie Evans; SP-16/1
2ND-Allegation 7-11-06 Owner-Martin Pipe Racing Club; Trainer-Martin Pipe; Jockey-Tony McCoy; SP-20/1
3RD-Castle Sweep 6-12-00 Owner-Lord Vestey; Trainer-David Nicholson; Jockey-Richard Johnson; SP-14/1
4TH-Tullymurry Toff 6-10-10 Owner-John Wilson and J H Riley; Trainer-Malcolm Jefferson; Jockey-Eddie Callaghan;
SP-9/2 Fav 28 ran, Time-4m 57.0s, Dist-sh, hd, 1
1996-WINNER-TRAINGLOT 9-10-03 Owner-Marquesa de Moratalla; Trainer-Jimmy FitzGerald; Jockey-Mark Dwyer; SP-11/2
2ND-Treasure Again 7-10-00 Owner-J H Gwynne; Trainer-Merrita Jones; Jockey-Derek Byrne; SP-9/1
3RD-New Co 8-10-07 Owner-Mrs L C Ronan and Anne Daly; Trainer-Mouse Morris IRE; SP-9/1
4TH-Barna Boy 8-10-02 Owner-Lynn Wilson; Trainer-Nicky Henderson; Jockey-Mick FitzGerald; SP-16/1
20 ran, Time-5m 12.2s, Dist-hd, 1.25, 2 7/2 Fav Time For A Run (8th)
1995-WINNER-CHANCE COFFEY 10-10-00 Owner-Paddy O'Donnell; Trainer-Pat O'Donnell IRE; Jockey-Gerry O'Neill; SP-11/1
2ND-Derrymoyle 6-10-10 Owner-Herb Stanley; Trainer-Michael Cunningham IRE; Jockey-Mark Dwyer; SP-12/1
3RD-Time For A Run 8-11-10 Owner-J P McManus; Trainer-Edward O'Grady IRE; Jockey-Charlie Swan; SP-10/1
4TH-Collier Bay 5-10-06 Owner-Wally Sturt; Trainer-Jim Old; Jockey-Tom Grantham; SP-7/1
30 ran, Time-5m 18.4s, Dist-3.5, sh, 3 6/1 Fav Lemon's Mill (17th)