'Best Ever' Kauto Star Regains Gold Cup
13/03/09
1 (2) Kauto Star 7/4 fav
2 (5) Denman 7/1
3 (6) Exotic Dancer 8-1
Kauto Star created history in the totesport Cheltenham Gold Cup when becoming the first horse to regain Jump racing's most coveted prize with a brilliant performance.
Kauto Star won the 2007 Gold Cup before trailing in second behind his stablemate Denman last year.
But it was a different story today as Kauto Star, sent off a well-backed 7/4 favourite, always travelled confidently and kicked clear of the field to score by 13 lengths. Denman ran an excellent race in second, two and a half lengths in front of Exotic Dancer with Neptune Collonges, a stablemate of the first two, in fourth.
"The race just went as we thought it might," said winning trainer Paul Nicholls. "Kauto is just brilliant when he's right, we now know he needs to run fresh and he'll be as good next year.
"I think he'll just have the three runs again next season - Down Royal, Kempton and then here. Kauto wasn't right last year, we shouldn't have run him at Ascot beforehand, and Denman was the best horse on the day.
"Denman ran a cracker today, he's had a lot of problems that we had to get right and the ground was a bit quick for Neptune, as we feared it might be.
"I'm so proud of Kauto for coming back but I'm just as proud of Denman as well, he deserves an awful lot of credit for running as well as he did today. My Will ran a blinder as a prep for Aintree and Star De Mohaison ran a good race as well.
"Kauto Star won't be going to Aintree but whether we run again I don't know."
Ruby Walsh added: "It's a privilege to ride a horse like that - he'd be that one in a million horse for any jockey.
"He has shown he can win a Tingle Creek and King George, he just has incredible speed. He's a wonderful horse.
"For the first circuit I was just trying to get him switched off which he did and I knew early on he was going well and better than last year.
"He jumped the fourth last and third last brilliantly. We were always travelling and after he hit the third last running I knew we were in business. I went a bit early but it didn't matter and I had a half glance at the big screen and didn't think anything was going to come to me so I was happy then.
"Denman ran an incredible race as well."
Owner Clive Smith, who won Wednesday's Seasons Holidays Queen Mother Champion Chase with Master Minded, added: "I asked Ruby if I was the luckiest owner in Paul's yard and he said I was the luckiest owner in the country!
"There's a group of 50 of us here to support him and it's fair to say we'll be celebrating in the hotel tonight."
GOLD CUP TIME
The time of the totesport Cheltenham Gold Cup was 6m 44.95s
Position

Horse
Trainer
Jockey
Weight
Starting Price
Beaten Distance
1

Kauto Star
P F Nicholls
R Walsh
11st 10lbs
7 - 4
Winner
2

Denman
P F Nicholls
S Thomas
11st 10lbs
7 - 1
13 lengths
3

Exotic Dancer
Jonjo O'Neill
A P McCoy
11st 10lbs
8 - 1
2 1/2 lengths
4

Neptune Collonges
P F Nicholls
Christian Williams
11st 10lbs
15 - 2
6 lengths
5

My Will
P F Nicholls
Nick Scholfield
11st 10lbs
100 - 1
2 lengths
6

Roll Along
C Llewellyn
G Lee
11st 10lbs
40 - 1
Neck
7

Barbers Shop
N J Henderson
B J Geraghty
11st 10lbs
10 - 1
9 lengths
8

Madison Du Berlais
D Pipe
T Scudamore
11st 10lbs
10 - 1
10 lengths
9

Albertas Run
Jonjo O'Neill
D Elsworth
11st 10lbs
14 - 1
5 lengths
10

Knowhere
N A Twiston-Davies
P J Brennan
11st 10lbs
100 - 1
14 lengths
11

Cerium
Paul Murphy
K Mercer
11st 10lbs
300 - 1
1 3/4 length
12

Air Force One
C J Mann
N Fehily
11st 10lbs
16 - 1
5 lengths
13

Star De Mohaison
P F Nicholls
T J Murphy
11st 10lbs
20 - 1
2 3/4 lengths
na

Snoopy Loopy
P Bowen
S E Durack
11st 10lbs
66 - 1

na

Miko de Beauchene
R H & Mrs S Alner
A Thornton
11st 10lbs
150 - 1

na

Halcon Genelardais
A King
R Thornton
11st 10lbs
40 - 1

HANDICAPPER'S REACTION TO KAUTO STAR'S PERFORMANCE
The official handicapper Phil Smith's initial view of the totesport Cheltenham Gold Cup is that Kauto Star put up a "stunning performance that was roughly on a par with Master Minded last year."
Paul Struthers, media relations manager for the British Horseracing Authority, reported that the handicapper cannot find fault with the race and with AP McCoy confirming that Exotic Dancer ran up to his best, a rating somewhere in the 180s beckons the history-making Paul Nicholls' horse.
RUBY WALSH PRESS CONFERENCE QUOTES
On the race itself:
"From the go, he [Kauto Star] was just travelling where I wanted him to be, behind Neptune and just inside Denman. He jumped super all the way and travelled really, really well. I didn't really want to be in front. I hadn't planned to be in front as early as I was, but when he pinged four out I just had to sit beside Neptune. Then he flew three out and Denman carried me round to the straight and I thought well I have to go now, I'm committed.

"He was spectacular two out and thankfully there was a stride there for the last. It's not very usual for him to be spot on, but he pinged it. Listen, he's an incredible horse and it was an incredible performance.
"He travelled a lot better this year. Lot fresher, a lot sharper. Paul has changed his routine, with regard to races. It's a big call and it seems to have worked out. He has the power in him to stand out a long way when he jumps. You don't want to use it too often because it takes it out of him."
Denman


© Dan Abraham 2009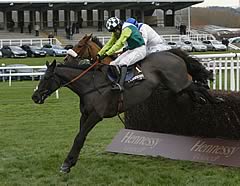 On Denman:
"I think the second [Denman] deserves as much credit. Two weeks ago he was only fifty-fifty to run. I was surprised to see Denman there. I rode him at Kempton a few weeks ago and he was so lacklustre. I didn't expect him to run that well. I think he's run an outstanding race."
On riding seven winners at this Festival:
"I just hope I don't wake up and it's Tuesday morning. That's all I'm hoping - that it's actually real. It's been an incredible week. If you think from the first race, when Kempes stepped out at the first hurdle chance gone, fall at the third in the Arkle chance gone, Celestial Halo gets beaten a neck and you think, 'Jesus is it going to be one of those weeks - but it's just turned around.
"I'm just really lucky to be riding for two phenomenal trainers like Paul Nicholls and Willie Mullins."
PAUL NICHOLLS
PRESS CONFERENCE QUOTES

"Obviously Kauto's run an absolutely blinding race and probably done what Ruby and I thought he might on the day. But Denman, I'm very proud of him. Two weeks ago, as you know, there was a chance of him not running. But he's improved enormously and for him to run like that performance reflects brilliantly on the horse and the team for getting him here. He'll be a force to be reckoned with next year. That was a huge run from him because it's not been easy at all.
"I don't know if you noticed in the paddock, I had a sheet on everything but him. He's gone a bit light. I think if the owners agree to it we'll probably rough him off now and bring him back next year and start off from scratch.
"Yes, Sam was [under orders to ride Denman with more restraint]. The way the prep's gone with him, he was only going to finish if he was ridden sensibly. Last year was a one-off blitz and it got to the bottom of him and I don't want to see that happen to him again. He [Sam Thomas] has ridden him really well today and it's paid off.
"Neptune's run a blazing round in fourth. A course like this doesn't really suit him. Softer ground would help him. And My Will in fifth - what a fantastic National trial. That'll be something to see in three weeks time.
"I enjoyed watching the race today, because I just thought that Kauto was going to do what he did. I had every confidence with him. The prep's gone right, everything's gone right and I was just looking forward to him doing what he did.
"Believe me, he's as good as he's ever been. We thought that at the start of the season, then I made a pig's ear of running him at Haydock.
"He's always been really, really good [as a jumper] but he just lacked concentration. The sheepskin noseband has made a huge difference, helping his concentration. He was a bit exuberant before and there was perhaps a lack of respect for the fences, but today he was at his very, very best.
"He definitely won't go to Aintree. I'll discuss with the owner Clive [Smith] what we're going do."
[more]