cheltenham festival / 2009 news /
Master Minded Queen Mother Champion Chase Double
11/03/09
1st (6) Master Minded 4/11 fav
2nd (12) Well Chief 12/1
3rd (8) Petit Robin 12/1
Master Minded
© racing-images.co.uk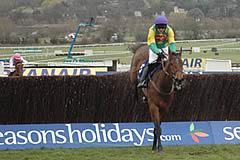 If the second successive victory of Master Minded in the Seasons Holidays Queen Mother Chase was not the rout that some pundits predicted, it more than satisfied connections.
"He's an amazing horse. I thought that about Kauto [Star] then he came along," said trainer Paul Nicholls.
The race unfolded at a hectic pace, with Marodima, who caused two breakaways sat the start, leading the field to the ninth.
"Ruby [Walsh] and I talked about it before the race and knew they were going to go fairly fast. It just worked out right. The one place you want to be then is in front. He's so uncomplicated, you can ride him how you want to ride him," said the trainer.
"He was a bit of a tearaway when he was younger and had his falls, but he's much more relaxed now. Ruby said you can give him a slap and he just takes off. He's so relaxed now you just don't know what's in the tank," he added.
"We knew we had him right and it was brilliant. I'm obviously relieved because everybody expects a lot of him and all this nonsense of how far he was going to win by was of no interest. We just wanted him to win the race and that is what he has done. If we mind him and look after him he can keep on coming back.
"Last year we were probably a little bit harder on him than today because we didn't really know about him. You only get them ready to perform at a level you think. People were talking about 15 or 20 lengths today but we just wanted the horse to win the race and he has done that.
"He's got a little lazy now because he does have everything so easily. He jumped great and travelled really well - what a wonderful run by Well Chief as well.
"These are the races that count. We have had a few runners this week and Celestial Halo ran an absolute blinder yesterday. It's the big races that you concentrate on and it's just great. I just want to say well done to the whole team.
Nicholls sees much the same sort of schedule for Master Minded next season: "It'll be the Tingle Creek, the Victor Chandler and back here, God willing. There's no point in going to Punchestown, it'll be too fast. If we keep looking after them, they'll keep winning good races. That's what National Hunt racing wants."
Owner Clive Smith admitted that he felt a certain amount of relief: "You hope he's going to win, everyone says he's going to win, so there is a lot of relief. But Ruby said he was no problem at all. He jumped beautifully. He just did what he had to do. Ruby is the very, very best and Paul is a sensational trainer. They are great chaps."
Ruby Walsh commented: "I would say that he wasn't as good today as he can be. He got worked up in the parade and the couple of false starts were messy. He's just a very, very good horse. I think he's better this year. Good horses always win on an off day."
For Walsh, Master Minded's victory made it three successive wins for the Irishman, who had won on Mikael d'Haguenet and Cooldine in the previous two races. You have to go back to 1999 for the last jockey to win three races on a single Festival day. That was Mick Fitzgerald, whose wins that day included See More Business in the Cheltenham Gold Cup, Nicholls' first Gold Cup win. Fitzgerald, though, did not win his races in sequence.
Position

Horse
Trainer
Jockey
Weight
Starting Price
Beaten Distance
1

Master Minded
P F Nicholls
R Walsh
11st 10lbs
4 - 11
Winner
2

Well Chief
D Pipe
T J Murphy
11st 10lbs
12 - 1
7 lengths
3

Petit Robin
N J Henderson
B J Geraghty
11st 10lbs
12 - 1
2 lengths
4

Newmill
J J Murphy
R M Power
11st 10lbs
100 - 1
1 1/2 length
5

Scotsirish
W P Mullins
P Townend
11st 10lbs
40 - 1
5 lengths
6

Mahogany Blaze
N A Twiston-Davies
P J Brennan
11st 10lbs
40 - 1
7 lengths
7

Ashley Brook
K Bishop
R Johnson
11st 10lbs
66 - 1
11 lengths
8

Santa's Son
J Howard Johnson
Denis O'Regan
11st 10lbs
33 - 1
15 lengths
9

Marodima
Miss R Curtis
Nick Scholfield
11st 10lbs
100 - 1
distance
na

Briareus
A M Balding
A P McCoy
11st 10lbs
16 - 1

na

Big Zeb
C A Murphy
R Thornton
11st 10lbs
12 - 1

na

Twist Magic
P F Nicholls
S Thomas
11st 10lbs
16 - 1

PRESS CONFERENCE QUOTES
Paul Nicholls, Trainer
"There are four big races at The Festival - the Champion Hurdle, this race, the World Hurdle and the Gold Cup. We were beaten a neck yesterday in the Champion Hurdle with Celestial Halo which was great but it's nice to have one of the big four on the board.
"At the end of the day, we want to look after Master Minded. He may not have been as impressive today as he was when he won last year but we know him better now. We want to win nicely but also leave plenty in the tank for the future.
"Ruby was very happy with him today. The horse is so uncomplicated - he jumps and travels and you can do anything you like with him.
"Clive (Smith, owner) and I will have a chat about what we do next with him but he won't be going to Aintree this year as he would have to go over two and a half miles there. He is not the easiest horse to train as he tends to tie up if you give him a day off. The horse needs to be fresh. Sandown or Punchestown could be a possibility, but the ground could be too quick for him by then. We will give him a fortnight off after today and then decide what to do.
"We will bring him back here again next year and as I said, we want to leave plenty in the tank with him.
"My main worry was that I gave him some time off after he won at Ascot and it took a fair bit of work to get him right for today. I said to Georgie (his partner) I just hope we have done enough with him. We are still learning all the time with this horse.
"I must just say that Clive is a pleasure to train for. He has put the money down to buy some good horses with Anthony Bromley and myself and doesn't interfere.
"Ruby is unflappable. Willie (Mullins) and I are lucky to have him and he is a real pro.
"I don't see that there is really any point at this stage going over further with him while he is so good at two miles, but you can never rule anything out."
Clive Smith, Owner
"I just feel extremely lucky. I first came to The Festival in 1974 when Captain Christy won the Gold Cup and watched the races down on the rails with my friends. I never thought I would own a runner here, let alone a winner. It really is a great excitement.
"I will discuss it with Paul, but I would say that he is very likely not to run again this season. If he does, it could be at Punchestown.
"Last Saturday I saw Kauto Star and he looked probably the best he has ever been."
PREVIOUS RESULTS -
SEASONS HOLIDAYS QUEEN MOTHER CHAMPION CHASE
2008-WINNER-MASTER MINDED 5-11-10 Owner-Clive Smith; Trainer-Paul Nicholls; Jockey-Ruby Walsh; SP-3/1
2ND-Voy Por Ustedes 7-11-10 Owner-Sir Robert Ogden; Trainer-Alan King; Jockey-Robert Thornton; SP-5/2 Fav
3RD-Fair Along 6-11-10 Owner-Alan Peterson; Trainer-Philip Hobbs; Jockey-Richard Johnson; SP-12/1
8 ran, 3m 55.80s, Dist-19, 16
2007-WINNER-VOY POR USTEDES 6-11-10 Owner-Sir Robert Ogden; Trainer-Alan King; Jockey-Robert Thornton; SP-5/1
2ND-Dempsey 9-11-10 Owner-Tracy Brown; Trainer-Carl Llewellyn; Jockey-Noel Fehily; SP-20/1
3RD-River City 10-11-10 Owner-Sarah Rowley-Williams; Trainer-Noel Chance; Jockey-Tom Doyle; SP-33/1
10 ran, 3m 53.88s, Dist-1½, 5 Evens Fav Well Chief (Fell)
2006-WINNER-NEWMILL 8-11-10 Owner-Mary Hayes; Trainer-John Murphy IRE; Jockey-Andrew McNamara; SP-16/1
2ND-Fota Island 10-11-10 Owner-J P McManus; Trainer-Mouse Morris IRE; Jockey-Tony McCoy; SP-4/1
3RD-Mister McGoldrick 9-11-10 Owner-Richard Longley; Trainer-Sue Smith; Jockey-Dominic Elsworth; SP-50/1
12 ran, Time-3m 51.50s, Dist-9, 1.5 2/1 Fav Kauto Star (Fell)
2005-WINNER-MOSCOW FLYER 11-11-10 Owner-Brian Kearney; Trainer-Jessica Harrington IRE; Jockey-Barry Geraghty; SP-6/4 Fav
2ND-Well Chief 6-11-10 Owner-David Johnson; Trainer-Martin Pipe; Jockey-Timmy Murphy; SP-7/2
3RD-Azertyuiop 8-11-10 Owner-John Hales; Trainer-Paul Nicholls; Jockey-Ruby Walsh; SP-2/1
8 ran, Time-3m 54.30s, Dist-2, 13
2004-WINNER-AZERTYUIOP 7-11-10 Owner-John Hales; Trainer-Paul Nicholls; Jockey-Ruby Walsh; SP-15/8
2ND-Flagship Uberalles 10-11-10 Owner-J P McManus; Trainer-Philip Hobbs; Jockey; Richard Johnson; SP-14/1
3RD-Tiutchev 11-11-10 Owner-The Liars Poker Partnership; Trainer-Martin Pipe; Jockey-Tony McCoy; SP-16/1
8 ran, Time-3m 54.10s, Dist-9, 1.5 5/6 Fav Moscow Flyer (UR)
2003-WINNER-MOSCOW FLYER 9-12-00 Owner-Brian Kearney; Trainer-Jessica Harrington IRE; Jockey-Barry Geraghty; SP-7/4 Fav
2ND-Native Upmanship 10-12-00 Owner-Sue Magnier; Trainer-Arthur Moore IRE; Jockey-Conor O'Dwyer; SP-12/1
3RD Cenkos 9-12-00 Owner-Judy Stewart; Trainer-Paul Nicholls; Jockey-Ruby Walsh; SP-7/1
11 ran, Time-3m 53.70s, Dist-7, 3
2002-WINNER-FLAGSHIP UBERALLES 8-12-00 Owner-Elizabeth Gutner & Michael Krysztofiak Racing; Trainer-Philip Hobbs; Jockey-Richard Johnson; SP-7/4 Fav
2ND-Native Upmanship 9-12-00 Owner-Sue Magnier; Trainer-Arthur Moore IRE; Jockey-Conor O'Dwyer; SP-9/1
3RD-Cenkos 8-12-00 Owner-Judy Stewart; Trainer-Paul Nicholls; Jockey-Timmy Murphy; SP-66/1
12 ran, Time-4m 7.70s, Dist-3, .5
2001- Cancelled
2000-WINNER-EDREDON BLEU 8-12-00 Owner-Jim Lewis; Trainer-Henrietta Knight; Jockey-Tony McCoy; SP-7/2
2ND-Direct Route 9-12-00 Owner-Michael Thompson; Trainer-Howard Johnson; Jockey-Norman Williamson; SP-5/1
3RD-Flagship Uberalles 6-12-00 Owner-Elizabeth Gutner & Michael Krysztofiak Racing; Trainer-Paul Nicholls; Jockey-Joe Tizzard; SP-11/10 Fav
9 ran, Time-3m 44.6s, Dist-sh, 6
1999-WINNER-CALL EQUINAME 9-12-00 Owner-Mick Coburn, Paul Barber and Colin Lewis; Trainer-Paul Nicholls; Jockey-Mick Fitzgerald; SP-7/2
2ND-Edredon Bleu 7-12-00 Owner-Jim Lewis; Trainer-Henrietta Knight; Jockey-Tony McCoy; SP-3/1 Fav
3RD-Direct Route 8-12-00 Owner-Chris Heron; Trainer-Howard Johnson; Jockey-Norman Williamson;
SP-11/2
13 ran, Time-3m 59.2s, Dist-1.25, 3.5
1998-WINNER-ONE MAN 10-12-00 Owner-John Hales; Trainer-Gordon Richards; Jockey-Brian Harding; SP-7/2
2ND-Or Royal 7-12-00 Owner-David Johnson; Trainer-Martin Pipe; Jockey-Tony McCoy; SP-7/2
3RD-Lord Dorcet 8-12-00 Owner-John Hogg; Trainer-Alistair Charlton; Jockey-Brian Storey; SP-50/1
8 ran, Time-3m 50.8s, Dist-4, 5 5/2 Fav Ask Tom (6th)
1997-WINNER-MARTHA'S SON 10-12-00 Owner-Paddy Hartigan and Michael Ward-Thomas; Trainer-Tim Forster; Jockey-Rodney Farrant; SP-9/1
2ND-Ask Tom 8-12-00 Owner-Brian Stewart-Brown; Trainer-Tom Tate; Jockey-Russ Garritty; SP-6/1
3RD-Viking Flagship 10-12-00 Owner-Roach Foods Ltd; Trainer-David Nicholson; Jockey-Richard Dunwoody; SP-3/1
6 ran, Time-3m 50.1s, Dist-2.5, .5 5/2 Fav Strong Promise (5th)
1996-WINNER-KLAIRON DAVIS 7-12-00 Owner-Chris Jones; Trainer-Arthur Moore IRE; Jockey-Francis Woods; SP-9/1
2ND-Viking Flagship 9-12-00 Owner-Roach Foods Limited; Trainer-David Nicholson; Jockey-Charlie Swan; SP-9/4
3RD-Sound Man 8-12-00 Owner-David Lloyd; Trainer-Edward O'Grady IRE; Jockey-Richard Dunwoody; SP-11/8 Fav
7 ran, Time-4m 0.4s, Dist-5, 1.25

SEASONS HOLIDAYS QUEEN MOTHER CHAMPION CHASE
ROLL OF HONOUR
(Seasons Holidays Queen Mother Champion Chase since 2007, Queen Mother Champion Chase 1980-2006, previously National Hunt Two Mile Champion Chase from when first run in 1959)
Year Winner Age/Wt Jockey Trainer Owner SP Ran

2008 Master Minded 5-11-10 Ruby Walsh Paul Nicholls Clive Smith 3/1 8
2007 Voy Por Ustedes 6-11-10 Robert Thornton Alan King Sir Robert Ogden 5/1 10
2006 Newmill 8-11-10 Andrew McNamara John Murphy IRE Mary Hayes 16/1 12
2005 Moscow Flyer 11-11-10 Barry Geraghty Jessica Harrington IRE Brian Kearney 6/4F 8
2004 Azertyuiop 7-11-10 Ruby Walsh Paul Nicholls John Hales 15/8 8
2003 Moscow Flyer 9-12-00 Barry Geraghty Jessica Harrington IRE Brian Kearney 7/4F 11
2002 Flagship Uberalles 8-12-00 Richard Johnson Philip Hobbs Elizabeth Gutner/Michael Krysztofiak 7/4F 12
2001 No Race (Foot and Mouth)
2000 Edredon Bleu 8-12-00 Tony McCoy Henrietta Knight Jim Lewis 7/2 9
1999 Call Equiname 9-12-00 Mick Fitzgerald Paul Nicholls Mick Coburn,Paul Barber,Colin Lewis 7/2 13
1998 One Man 10-12-00 Brian Harding Gordon Richards John Hales 7/2 8
1997 Martha's Son 10-12-00 Rodney Farrant Tim Forster Paddy Hartigan/Michael Ward-Thomas 9/1 6
1996 Klairon Davis 7-12-00 Francis Woods Arthur Moore IRE Chris Jones 9/1 7
1995 Viking Flagship 8-12-00 Charlie Swan David Nicholson Roach Foods Ltd 5/2F 10
1994 Viking Flagship 7-12-00 Adrian Maguire David Nicholson Roach Foods Ltd 4/1 8
1993 Deep Sensation 8-12-00 Declan Murphy Josh Gifford Robin Eliot 11/1 9
1992 Remittance Man 8-12-00 Jamie Osborne Nicky Henderson Jim Collins Evs F 6
1991 Katabatic 8-12-00 Simon McNeill Andrew Turnell Pell-Mell Partners 9/1 7
1990 Barnbrook Again 9-12-00 Hywel Davies David Elsworth Mel Davies 11/10F 9
1989 Barnbrook Again 8-12-00 Simon Sherwood David Elsworth Mel Davies 7/4F 8
1988 Pearlyman 9-12-00 Tom Morgan John Edwards Valerie Shaw 15/8F 8
1987 Pearlyman 8-12-00 Peter Scudamore John Edwards Valerie Shaw 13/8F 8
1986 Buck House 8-12-00 Tommy Carmody Mouse Morris IRE Mrs Phil Purcell 5/2 11
1985 Badsworth Boy 10-12-00 Robert Earnshaw Monica Dickinson Doug Armitage 11/8 5
1984 Badsworth Boy 9-12-00 Robert Earnshaw Michael Dickinson Doug Armitage 8/13F 10
1983 Badsworth Boy 8-12-00 Robert Earnshaw Michael Dickinson Doug Armitage 2/1 6
1982 Rathgorman 10-12-00 Kevin Whyte Michael Dickinson J Lilley 100/30 9
1981 Drumgora 9-12-00 Frank Berry Arthur Moore IRE D Monahan 25/1 9
1980 *Another Dolly 10-12-00 Sam Morshead Fred Rimell Ian Urquhart 33/1 7
1979 Hilly Way 9-12-00 Mr Ted Walsh Peter McCreery IRE J W Sweeney 7/1 9
1978 Hilly Way 8-12-00 Tommy Carmody Peter McCreery IRE J W Sweeney 7/1 10
1977 Skymas 12-12-00 Mouse Morris Brian Lusk IRE Mathew Magee 7/2 8
1976 Skymas 11-12-00 Mouse Morris Brian Lusk IRE Mathew Magee 8/1 7
1975 Lough Inagh 8-12-00 Sean Barker Jim Dreaper IRE A Martin 100/30 8
1974 Royal Relief 10-12-00 Bill Smith Edward Courage Edward Courage 6/1 6
1973 Inkslinger 6-12-00 Tommy Carberry Dan Moore IRE Mrs M Jenney 6/1 6
1972 Royal Relief 8-12-00 Bill Smith Edward Courage Edward Courage 15/8 5
1971 Crisp 8-12-00 Paul Kelleway Fred Winter Sir Chester Manifold 3/1 8
1970 Straight Fort 7-12-00 Pat Taaffe Tom Dreaper IRE George Ansley 7/4F 6
1969 Muir 10-12-00 Ben Hannon Tom Dreaper IRE Waring Willis 15/2 11
1968 Drinny's Double 10-12-00 Frank Nash Bob Turnell Paul Mellon 6/1 5
1967 Drinny's Double 9-12-00 Frank Nash Bob Turnell Paul Mellon 7/2 8
1966 Flyingbolt 7-12-00 Pat Taaffe Tom Dreaper IRE Mrs Jean Wilkinson 1/5F 6
1965 Dunkirk 8-12-00 Dave Dick Peter Cazalet Bill Whitbread 8/1 6
1964 Ben Stack 7-12-00 Pat Taaffe Tom Dreaper IRE Anne, Duchess of Westminster 2/1 5
1963 Sandy Abbot 8-12-00 Stan Mellor George Owen Mrs J D McKechnie 5/1 5
1962 Piperton 8-12-00 Dave Dick Archie Thomlinson Archie Thomlinson 100/6 7
1961 Fortria 9-12-00 Pat Taaffe Tom Dreaper IRE George Ansley 2/5F 5
1960 Fortria 8-12-00 Pat Taaffe Tom Dreaper IRE George Ansley 15/8F 7
1959 Quita Que 10-12-00 Bunny Cox Dan Moore IRE Mrs D R Brand 4/9F 9
*Another Dolly finished second to Chinrullah, who was subsequently disqualified after failing a post-race urine test