cheltenham festival / 2009 news /
Chapoturgeon Turns on the Style
12/03/09
1st (13) Chapoturgeon 8/1
2nd (17) Isn't That Lucky 11/1
3rd (4) Crescent Island 25/1
4th (2) Northern Alliance 8/1
Straw Bear - 5th


© racing-images.co.uk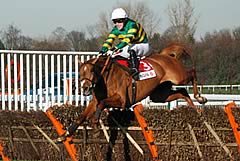 Day three of The Festival got off to the perfect start for champion trainer Paul Nicholls when 8/1 chance Chapoturgeon landed the opening Jewson Novices' Handicap Chase in impressive fashion under Timmy Murphy in the colours of David Johnson.
The five-year-old was travelling like the winner at the top of the hill and pulled right away to record a comfortable nine-length victory.
Paul Nicholls said: "The horse did it well.
"He fell first time over fences and then finished second to Araldur at Warwick.
"The race he won at Doncaster last time was moderate but at least that meant he was on a decent mark for today.
"It was always the plan to step him up in trip. Ruby (Walsh) said after he ran in the Fred Winter last year that the horse wants two and a half miles - he is crying out for it.
"He has been declared for the Grand Annual tomorrow but won't run. He will have no chance in handicaps after that so we will look for a novice chase over two and a half miles for him now. There should be plenty of races for him."
Winning jockey Timmy Murphy added: "He hasn't got much experience but he guessed the first a little bit but I don't think he has ever gone that fast to a fence.
"All the credit goes to Paul. He has done a good job and he knew that we had a favourable mark and it's not often that you do coming here. He's in great form and this lad has jumped absolutely fabulous.
"Paul had no doubt about him staying but it was a strong pace and it was a long way to commit turning in off that good gallop. He just got a bit tight at the second last but, on the whole, he has jumped very, very well."
The successful owner David Johnson added: "All credit to Paul. I thought he was a two-miler but Paul said he'd get a trip. I listened to him and I'm pleased I did. He was right and I was wrong. Paul's laid the horse out for the race and it has all come good."
William Hill rate Chapoturgeon a 14/1 chance for glory in next year's Ryanair Chase.
Position

Horse
Trainer
Jockey
Weight
Starting Price
Beaten Distance
1

Chapoturgeon
P F Nicholls
T J Murphy
10st 11lbs
8 - 1
Winner
2

Isn't That Lucky
Jonjo O'Neill
R McGrath
10st 7lbs
11 - 1
9 lengths
3

Crescent Island
N A Twiston-Davies
P J Brennan
11st 2lbs
25 - 1
2 1/4 lengths
4

Northern Alliance
A J Martin
R Walsh
11st 4lbs
8 - 1
6 lengths
5

Straw Bear
N J Gifford
N Fehily
11st 2lbs
33 - 1
7 lengths
6

Tranquil Sea
E J O'Grady
A J McNamara
11st 2lbs
8 - 1
4 lengths
7

Pancake
P J Hobbs
R Johnson
10st 9lbs
25 - 1
2 1/4 lengths
8

Astarador
J Howard Johnson
Denis O'Regan
10st 12lbs
18 - 1
3 3/4 lengths
9

Slash And Burn
C F Swan
D N Russell
11st 0lbs
20 - 1
2 lengths
10

Kia Kaha
Jonjo O'Neill
A P McCoy
11st 1lbs
15 - 2
1 1/4 length
11

Auroras Encore
Mrs S J Smith
Tjade Collier
10st 9lbs
20 - 1
1 1/2 length
12

Ring The Boss
P J Hobbs
T J O'Brien
11st 10lbs
22 - 1
1 3/4 length
13

Bohemian Lass
W Harney
J Cullen
10st 5lbs
40 - 1
distance
14

Quws Law
Miss Lucinda V Russell
P Buchanan
10st 6lbs
80 - 1
9 lengths
na

Naiad du Misselot
Ferdy Murphy
G Lee
11st 1lbs
8 - 1

na

Exmoor Ranger
V R A Dartnall
Christian Williams
11st 0lbs
14 - 1

na

Back On The Road
A L T Moore
A P Crowe
10st 5lbs
25 - 1

na

Jaamid
N Meade
P Carberry
10st 7lbs
33 - 1

na

Au Courant
N J Henderson
B J Geraghty
11st 1lbs
20 - 1

na

The Vicar
Miss H C Knight
D Elsworth
10st 11lbs
14 - 1

TWISTON-DAVIES PLEASED WITH CRESCENT
Trainer Nigel Twiston-Davies was delighted with the efforts of Crescent Island, who finished third in the Jewson Novices' Handicap Chase after racing prominently through the race.
"He was giving weight away to the first two and at the top of the hill I thought he might just get it," said Twiston-Davies. "It was his first time in blinkers, they just made him concentrate a bit, and I was delighted with his run.
"He's going to make a lovely staying chaser and we'll run him through to the end of the season, because he'll lose his novice status after that."
JEWSON NOVICES' HANDICAP CHASE PAST RESULTS
2008-WINNER-FINGER ONTHE PULSE
2007-WINNER-L'ANTARTIQUE 7-10-11 Owner-Mary Durkan; Trainer-Ferdy Murphy; Jockey-Graham Lee; SP-20/1
2ND-Bob Hall 6-10-09 Owner-J P McManus; Trainer-Jonjo O'Neill; Jockey-Noel Fehily; SP-10/1
3RD-Wee Robbie 7-10-13 Owner-P H Betts (Holdings) Ltd; Trainer-Nick Gifford; Jockey-Leighton Aspell; SP-20/1
4TH-Rasharrow 8-10-10 Owner-Ashleybank Investments Limited; Trainer-Len Lungo; Jockey-Keith Mercer; SP-14/1
19 ran, Time-5m 10.70s, Dist-2, 2½, 4 7/2 Fav New Little Bric (7th)
2006-WINNER-REVEILLEZ 7-10-11 Owner-J P McManus; Trainer-James Fanshawe; Jockey-Tony McCoy; SP-9/2 Fav
2ND-Copsale Lad 9-11-00 Owner-Swallow Partnership; Trainer-Nicky Henderson; Jockey-Mick Fitzgerald; SP-8/1
3RD-Tumbling Dice 7-11-01 Owner-Mrs John Donegan; Trainer-Tom Taaffe IRE; Jockey-Barry Geraghty; SP-14/1
4TH-Direct Flight 8-10-04 Owner-Top Flight; Trainer-Noel Chance; Jockey-Paul Carberry; SP-25/1
18 ran, Time-5m 05.00s, Dist-1.25, 9, shd
2005-WINNER-KING HARALD 7-10-04 Owner-Piers Pottinger & PBJ Partnership; Trainer-Mark Bradstock; Jockey-Mattie Batchelor; SP-9/1
2ND-Lacdoudal 6-11-10 Owner-Carol Skan; Trainer-Philip Hobbs; Jockey-Richard Johnson; SP-12/1
3RD-See You Sometime 10-11-03 Owner-J A G Meaden; Trainer-Seamus Mullins; Jockey-Andrew Thornton; SP-12/1
4TH-Sir Oj 8-10-11 Owner-Brian Keenan; Trainer-Noel Meade IRE; Jockey-Paul Carberry; SP-18/1
19 ran, Time-5m 12.20s, Dist-12, 8, 2 8/1 Fav Captain Corelli (PU)
JEWSON NOVICES' HANDICAP CHASE ROLL OF HONOUR
(First running in 2005)
Year Winner Age/Wt Jockey Trainer Owner SP Ran
2008 FInger Onthe Pulse
2007 L'Antartique 7-10-11 Graham Lee Ferdy Murphy Mary Durkan 20/1 19
2006 Reveillez 7-10-11 Tony McCoy James Fanshawe J P McManus 9/2F 18
2005 King Harald 7-10-04 Mattie Batchelor Mark Bradstock Piers Pottinger & P B-J Partnership 9/1 19