cheltenham festival / 2009 news /
Oh Crick On Cue to Land Johnny Henderson Chase
13/03/09
1st (19) Oh Crick 7/1
2 (10) Moon Over Miami 20/1
3 (11) French Opera 10/1
4 (16) Tramantano 33/1
Trainer Alan King was on course for setting a new and unwanted record at this year's Cheltenham Festival, having saddled four seconds and three thirds before he finally broke his 2009 duck in the last race of this year's Festival, the Johnny Henderson Grand Annual Chase.
Moon Over Miami - 2nd


© racing-images.co.uk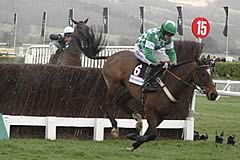 "They've run bloody marvellous, but I just thought it was going to be one of those years," said King, after Oh Crick had just got the better of the Charlie Mann-trained Moon Over Miami in a protracted dual up the final hill.
"You need everything to go right to be able to win here and we have had one or two who have been a tad unlucky. I had just about given up before this fella.
"But it was no good feeling grumpy, the horses were running well and the owners were having a wonderful time," said the trainer.
The victory was also King's 700th in his career, the same horse having been responsible for this 500th success two seasons ago. It was also his 11th winner at the Festival.
Stable jockey Robert Thornton could not do the weight on Oh Crick, which provided the opportunity for Wayne Hutchinson to celebrate a first Cheltenham Festival win.
"It's amazing, absolutely amazing. I am sure everybody says the same thing but I am speechless. You dream it as a kid and you still do when you get here but you have to believe that it will happen - it seems to happen to everyone else bar you," said the jockey.
"We have got out of jail in the end. Alan's horses have been running well all week and we have got there at last," he added.
Position

Horse
Trainer
Jockey
Weight
Starting Price
Beaten Distance
1

Oh Crick
A King
W Hutchinson
10st 0lbs
7 - 1
Winner
2

Moon Over Miami
C J Mann
N Fehily
10st 9lbs
20 - 1
3/4 length
3

French Opera
N J Henderson
M Foley
10st 8lbs
10 - 1
7 lengths
4

Tramantano
N A Twiston-Davies
P J Brennan
10st 3lbs
33 - 1
4 1/2 lengths
5

Tiger Cry
A L T Moore
D N Russell
10st 12lbs
14 - 1
Nose
6

Calatagan
J M Jefferson
P Kinsella
10st 7lbs
16 - 1
3/4 length
7

Valain
C F Swan
D J Casey
10st 1lbs
14 - 1
4 lengths
8

Poquelin
P F Nicholls
R Walsh
10st 12lbs
3 - 1
3/4 length
9

Pasco
P F Nicholls
S Thomas
10st 11lbs
8 - 1
10 lengths
10

I'm So Lucky
D Pipe
T Scudamore
10st 13lbs
16 - 1
3 1/2 lengths
11

Clew Bay Cove
C A Murphy
A P McCoy
10st 9lbs
9 - 1
19 lengths
12

Lorient Express
Miss V Williams
A Coleman
10st 5lbs
14 - 1
7 lengths
13

Jigsaw Dancer
Andrew Turnell
M D Grant
10st 2lbs
66 - 1
distance
na

Palarshan
H D Daly
A Tinkler
10st 0lbs
66 - 1

na

Beggars Cap
Ferdy Murphy
G Lee
10st 0lbs
33 - 1

na

Psychomodo
B G Powell
K Renwick
10st 8lbs
20 - 1

na

My Petra
N J Henderson
B J Geraghty
11st 3lbs
10 - 1

na

Andreas
P F Nicholls
Christian Williams
11st 12lbs
33 - 1

Non Runner

Perce Rock
T Stack
A P Crowe
11st 0lbs


Non Runner

Central House
D T Hughes
P W Flood
10st 12lbs


Non Runner

Chapoturgeon
P F Nicholls
T J Murphy
10st 10lbs


MANN PLEASED WITH MIAMI
Moon Over Miami came very close to giving trainer Charlie Mann his first winner at The Festival when going down by three-quarters of a length to Oh Crick in the Johhny Henderson Grand Annual Handicap Chase, the concluding contest of The Festival 2009.
The Upper Lambourn handler said: "He ran a great race.
"All credit must go to my assistant Jeremy Young who has done a lot of work with this horse. He just lost his way his bit, had problems with bleeding and was a bit of a thinker. We sent him to a health farm and Jeremy has been riding him out every day - he has done a great job with him.
"We will now have a look at Aintree."
JOHNNY HENDERSON GRAND ANNUAL CHASE - PREVIOUS RESULTS
2007-WINNER-ANDREAS 7-10-11 Owner-Trevor Hemmings; Trainer-Paul Nicholls; Jockey-Robert Thornton; SP-12/1
2ND-Hasty Prince 9-10-05 Owner-J P McManus; Trainer-Jonjo O'Neill; Jockey-Tony McCoy; SP-8/1
3RD-Ground Ball 10-10-05 Owner-J P McManus; Trainer-Charlie Swan IRE; Jockey-David Casey; SP-33/1
4TH-Ursis 6-10-08 Owner-P Martin; Trainer-Steve Gollings; Jockey-Barry Geraghty; SP-14/1
23 ran, Time-3m57.30s; Dist: 3, 4, 2½ 5/2 Fav Saintsaire (6th)
2006-WINNER-GREENHOPE 8-10-11 Owner-Lynn & Giles Wilson, Martin Landau; Trainer-Nicky Henderson; Jockey-Andrew Tinkler; SP-20/1
2ND-Tiger Cry 8-10-13 Owner-Chris Jones; Trainer-Arthur Moore IRE; Jockey-David Casey; SP-6/1
3RD-Madison Du Berlais 5-10-04 Owner-Roger Stanley & Yvonne Reynolds; Trainer-Martin Pipe; Jockey-Tom Scudamore; SP-11/1
4TH-Nyrche 6-11-02 Owner-Tony & Jeni Fisher; Trainer-Alan King; Jockey-Robert Thornton; SP-20/1
23 ran, Time-3m 55.90s; Dist: 2, 1, 1.25 4/1 Fav Andreas (Fell)
2005-WINNER-FOTA ISLAND 9-10-00 Owner-J P McManus; Trainer-Mouse Morris IRE; Jockey-Paul Carberry; SP-7/1
2ND-Bambi De L'Orme 6-10-00 Owner-Mr & Mrs John Poynton; Trainer-Ian Williams; Jockey-Graham Lee; SP-16/1
3RD-Caracciola 8-10-12 Owner-Piers Pottinger; Trainer-Nicky Henderson; Jockey-Marcus Foley; SP-16/1
4TH-Tysou 8-10-06 Owner-Bill Brown; Trainer-Nicky Henderson; Jockey-Mick Fitzgerald; SP-10/1
24 ran, Time-4m 03.40s; Dist: 5, 1, 1 9/2 Fav L'Ange Au Ciel (14th)
2004-WINNER-ST PIRRAN 9-10-01 Owner-Graham Roach; Trainer-Paul Nicholls; Jockey-Ruby Walsh; SP-4/1 Fav
2ND-Ground Ball 7-10-05 Owner-J P McManus; Trainer-Charlie Swan IRE; Jockey-David Casey; SP-10/1
3RD-Reiziger 8-9-11 Owner-D Jones & B Thomas; Trainer-Venetia Williams; Jockey-Paddy Brennan; SP-33/1
4TH-No Visibility 9-10-00 Owner-David Moon; Trainer-Robert Alner; Jockey-Timmy Murphy; SP-14/1
21 ran, Time-4m 5.90s; Dist- 2.5, 7, 9
2003-WINNER-PALARSHAN 5-10-00 Owner-Mrs A L Wood; Trainer-Henry Daly; Jockey-Mark Bradburne; SP-8/1
2ND-Risk Accessor 8-10-01 Owner-J P McManus; Trainer-Christy Roche IRE; Jockey-Seamus Durack; SP-20/1
3RD-Dark'n Sharp 8-11-02 Owner-Ascot Five Plus One; Trainer-Richard Phillips; Jockey-Richard Johnson; SP-13/2
4TH-Vol Solitaire 5-10-08 Owner-Barry Marshall; Trainer-Paul Nicholls; Jockey-Ruby Walsh; SP-13/2
21 ran, Time-3m 58.60s; Dist-3, .75, .75 6/1 Fav Ross Moff (5th)
2002-WINNER-FADOUDAL DU COCHET 9-10-00 Owner-Sir Anthony O'Reilly; Trainer-Arthur Moore IRE; Jockey-David Casey; SP-6/1
2ND-Exit Swinger 7-11-00 Owner-Sandicroft Stud Syndicate; Trainer-Martin Pipe; Jockey-Tony McCoy; SP-4/1 Fav
3RD-Dark 'n Sharp 7-10-00 Owner-Ascot Five Plus One; Trainer-Richard Phillips; Jockey-Richard Johnson; SP-13/2
4TH-Logician 11-10-01 Owner-Robert Roulston; Trainer-Ian Balding; Jockey-Barry Keniry; SP-20/1
18 ran, Time-4m 5.20s; Dist-.75, 3, 5
2001- No Race (Foot and Mouth Disease)
2000-WINNER-SAMAKAAN 7-10-11 Owner-Lady Harris; Trainer-Venetia Williams; Jockey-Norman Williamson; SP-9/2 Fav
2ND-Green Green Desert 9-10-13 Owner-Angela Tincknell; Trainer-Paul Nicholls; Jockey-Joe Tizzard; SP-12/1
3RD-Aghawadda Gold 8-11-10 Owner-The Ivy Syndicate; Trainer-Tom Tate; Jockey-Russ Garrity; SP-10/1
4TH Clifton Beat 9-10-09 Owner-Martin St Quinton; Trainer-Philip Hobbs; Jockey-Richard Johnson; SP-14/1
16 ran, Time-3m 52.40s, Dist-4, hd, 9
1999-WINNER-SPACE TRUCKER 8-10-01 Owner Mrs Eileen Queally; Trainer-Jessica Harrington IRE; Jockey-Shay Barry; SP-7/2 Fav
2ND-Dines 7-10-08 Owner-T Chappell, Terry Curry, D Nichols & John Blackwell;Trainer-Paul Nicholls; Jockey-Tony McCoy; SP-6/1
3RD-Hurricane Lamp 8-10-07 Owner-Fred & Sue Welch; Trainer-David Nicholson; Jockey-Richard Johnson; SP-16/1
15 ran Time-4m 4.1s, Dist-1.5, 1
1998-WINNER-EDREDON BLEU 6-11-06 Owner-Jim Lewis; Trainer-Henrietta Knight; Jockey-Tony McCoy; SP-7/2 Fav
2ND-Tidebrook 8-10-03 Owner-Richard Williams; Trainer-Kim Bailey; Jockey-Norman Williamson;SP-9/2
3RD-Cumbrian Challenge 9-11-10 Owner-Cumbrian Industrials Ltd; Trainer-Tim Easterby; Jockey-Lorcan Wyer; SP-16/1
4TH-Morstock 8-10-00 Owner-Mrs M Fairbairn; Trainer-Ron Hodges; Jockey-Tom Dascombe; SP-33/1
17 ran Time-3m 58.6s, Dist-3.5, 2.5, 4
1997-WINNER-UNCLE ERNIE 12-11-04 Owner-Lady Lloyd-Webber; Trainer-Jimmy FitzGerald; Jockey-Graham Bradley; SP-20/1
2ND-Elzoba 5-10-08 Owner-David Johnson; Trainer-Martin Pipe; Jockey-Tony McCoy; SP-13/2
3RD-Perknapp 10-10-00 Owner-Mrs Seamus Purcell; Trainer-Tony Martin IRE; Jockey-Charlie Swan; SP-25/1
16 ran, Time-4m 00.4s, Dist-2, 1 7/2 Fav Certainly Strong (8th)
1996-KIBREET 9-10-12 Owner-Terry Warner and Jill Emery; Trainer-Philip Hobbs; Jockey-Tony McCoy;SP-7/1
2ND-Easthorpe 8-10-12 Owner-Martin Broughton; Trainer-Henrietta Knight; Jockey-Jason Titley; SP-6/1
3RD-Uncle Ernie 11-11-03 Owner-Lady Lloyd Webber; Trainer-Jimmy FitzGerald; Jockey-Mark Dwyer; SP-12/1
13 ran, Time-4m 4.1s, Dist-4, 1.5 5/1 Fav Front Street (7th)
1995-WINNER-SOUND REVEILLE 7-10-10 Owner-Angela Abecassis; Trainer-Charlie Brooks; Jockey-Graham Bradley; SP-7/1
2ND-Auburn Castle 6-10-00 Owner-Rashleigh Arms Charlestown St Austell; Trainer-Oliver Sherwood; Jockey-Jamie Osborne; SP-7/2
3RD-Around The Horn 8-10-06 Owner-Pell-Mell Partners; Trainer-Josh Gifford; Jockey-Simon McNeill; SP-7/2
8 ran, Time-4m 17.1s, Dist-1.75, .25 3/1 Fav Thumbs Up (4th)
JOHNNY HENDERSON GRAND ANNUAL CHALLENGE CUP HANDICAP CHASE ROLL OF HONOUR
Year Winner Age/Wt Jockey Trainer Owner SP Ran
2008 Tiger Cry
2007 Andreas 7-10-11 Robert Thornton Paul Nicholls Trevor Hemmings 12/1 23
2006 Greenhope 8-10-11 Andrew Tinkler Nicky Henderson Lynn Wilson, Giles Wilson, Martin Landau 20/1 23
2005 Fota Island 9-10-00 Paul Carberry Mouse Morris IRE J P McManus 7/1 24
2004 St Pirran 9-10-01 Ruby Walsh Paul Nicholls Graham Roach 4/1F 21
2003 Palarshan 5-10-00 Mark Bradburne Henry Daly Mrs A L Wood 8/1 21
2002 Fadoudal Du Cochet 9-10-00 David Casey Arthur Moore IRE Sir Anthony O'Reilly 6/1 18
2001 No Race (Foot and Mouth)
2000 Samakaan 7-10-11 Norman Williamson Venetia Williams Lady Harris 9/2F 16
1999 Space Trucker 8-10-01 Shay Barry Jessica Harrington IRE Eileen Queally 7/2F 15
1998 Edredon Bleu 6-11-06 Tony McCoy Henrietta Knight Jim Lewis 7/2F 17
1997 Uncle Ernie 12-11-04 Graham Bradley Jimmy FitzGerald Lady Lloyd-Webber 20/1 16
1996 Kibreet 9-10-12 Tony McCoy Philip Hobbs Terry Warner 7/1 13
1995 Sound Reveille 7-10-10 Graham Bradley Charlie Brooks Mrs G Abecassis 7/1 8
1994 Snitton Lane 8-10-00 David Bridgwater Bill Clay H D White 33/1 17
1993 Space Fair 10-11-01 Adrian Maguire Richard Lee Osborne House Ltd 5/1 12
1992 My Young Man 7-11-10 Graham Bradley Charlie Brooks Georgina Tulloch 7/1 17
1991 Aldino 8-10-00 Jamie Osborne Oliver Sherwood Arthur Boyd-Rochfort 15/2 12
1990 Katabatic 7-10-08 Hywel Davies Andy Turnell Pell-Mell Partners 11/4F 13
1989 Pukka Major 8-10-02 Peter Scudamore Tim Thomson Jones Mrs Solna Jones 4/1JF 17
1988 Vodkatini 9-10-13 Richard Rowe Josh Gifford Dick Richardson Horse Racing Ltd 4/1F 14
1987 French Union 9-11-03 Richard Dunwoody David Nicholson Claire Smith 13/2 16
1986 Pearlyman 7-11-05 Graham Bradley John Edwards Valerie Shaw 14/1 19
1985 Kathies Lad 8-11-10 Steve Smith Eccles Alan Jarvis J E Clayton 7/1 19
1984 Mossy Moore 8-10-00 Jonjo O'Neill Brian Chinn Brian Chinn 11/2 13
1983 Churchfield Boy 7-10-00 Joe Byrne Michael Cunningham IRE J Quinn 8/1 18
1982 Reldis 8-10-00 Paul Barton David Gandolfo Haunch Lane Stores Ltd 9/1 16
1981 Friendly Alliance 8-10-07 John Francome Fred Winter John Mulhern 11/2 11
1980 Stopped 8-11-12 Ben De Haan Fred Winter T Ludlow 7/2 13
1979 Casbah 12-11-13 Graham Thorner Tim Forster Lord Leverhulme 5/1 10
1978 Young Arthur 9-11-04 Allen Webb Derek Kent Mrs Derek Kent 3/1JF 8
1977 Tom Morgan 8-11-06 Tommy Stack Ken Oliver Wing Commander P Stead 9/4F 9
1976 Dulwich 9-11-07 Bob Davies Colin Davies T Elley 9/4F 10
1975 No race (course waterlogged)
1974 Dulwich 7-10-01 Taffy Salaman Colin Davies T Elley 100/30F 9
1973 Coolera Prince 8-10-10 Nigel Wakley Tim Handel Mrs C Handel 8/1 15
1972 Tudor Dance 6-10-02 Jeff King Bob Turnell Jim Joel 4/1 15
1971 Khan 7-10-08 Frankie Carroll Mick Burke IRE Lord Petersham 2/1F 8
1970 Fortina's Palace 7-11-11 Peter Jones Michael Scudamore J Nesbitt Davis 10/1 18
1969 All Glory 8-10-00 Mr Anthony Robinson John Edwards A Morley 10/1 10
1968 Hal's Farewell 7-10-10 Jeff King Peter Bailey George Jeffreys 5/1 10
1967 San Angelo 7-11-01 John Buckingham Edward Courage Edward Courage 10/1 13
1966 Well Packed 8-10-11 Tommy Stack Bobby Renton Mrs Anne Myddleton 100/7 12
1965 Fort Rouge 7-11-00 George Milburn Ken Oliver Lady Edmondstone 13/2 10
1964 Richard Of Bordeaux 9-11-03 Willie Robinson Fulke Walwyn John Schillizzi 9/1 14
1963 Anner Loch 8-10-06 David Nicholson John Hicks Pat Colvin 7/1 13
1962 Moretons 9-10-12 Bill Rees Peter Cazalet Mrs A T Hodgson 100/8 14
1961 Barberyn 6-11-00 Michael Scudamore Willie Stephenson John Bigg 3/1 10
1960 Monsieur Trois Etoiles 8-11-06 Frankie Carroll Jimmy Brogan IRE Mrs W L Pilkington 3/1F 9
1959 Top Twenty 10-12-06 Fred Winter Clem Magnier IRE Mrs Thomas O'Brien 9/2JF 12
1958 Top Twenty 9-10-07 Francis Shortt Clem Magnier IRE Mrs M O'Brien 10/1 18
1957 Sir Edmund 7-10-12 Bert Morrow Alec Kilpatrick F H Curnick 6/1 11
1956 Rosenkavalier 7-10-06 Harry Sprague Bob Turnell George Strakosch 8/1 11
1955 No race (Abandoned because of snow)
1954 Hipparchus 5-10-01 Jack Dowdeswell Peter Rice-Stringer Mrs H J Rice-Stringer 100/8 11
1953 Rose & Crown 6-10-00 Johnny Bullock Fulke Walwyn Dorothy Paget 33/1 13
1952 Marcianus 6-11-02 Tim Molony George Beeby Lord Bicester 7/1 12
1951 Merry Court 6-1-011 Tim Molony Tom Yates Edward Bee 10/1 11
1950 Norborne 6-11-04 Eddie Reavey Geoffrey Champneys N Clark 8/1 11
1948 Clare Man 7-10-03 Charlie Hook Walter Nightingall Mrs Geoffrey Kohn 20/1 20
1947 Rope Trick 6-10-08 Tony Doyle Verly Bewicke Capt A M Keith 100/7 12
1946 Loyal King 6-11-12 Dan Moore Fulke Walwyn Dorothy Paget 7/2 1