cheltenham festival / 2009 news /
Cooldine Impressive in RSA Chase
11/03/09
1st (4) Cooldine 9/4 fav
2nd (7) Horner Woods 66/1
3rd (20) Massini's Maguire 10/1
Cooldine
© racing-images.co.uk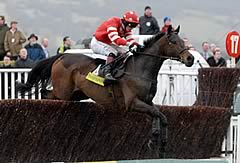 Cooldine proved a cut above the opposition when recording a 16-length success in the Grade One RSA Chase to give trainer Willie Mullins and jockey Ruby Walsh a quickfire 10.4/1 double following the success of Mikael d'Haguenet in the preceding Ballymore Novices' Hurdle.
Carruthers did all the donkey work out in front but it was clear at the top of the hill that there was nothing travelling better than the 9/4 favourite who powered right away in the colours of Archie and Violet O'Leary, who previously won this race with Florida Pearl in 1998.
Trainer Willie Mullins said: "He jumped from fence to fence today. He made a mistake in his schooling session at Leopardstown, but Ruby blamed himself for that.
"There is no room for mistakes if you want to win the RSA Chase and this horse always has the ability to find a fifth leg.
"I thought if he jumped today, there would be very few horses that would outstay him. He has out and out stamina. I thought he was my best chance of success today and I could believe how easily Mikael d'Haguenet won earlier today.
"We will now go to Punchestown with him."
However, Cooldine almost didn't make the line up today as Mullins explained: "About an hour and a half before the race my head girl Ali called me to say the horse was lame and only standing on three legs.
"I had the farrier Richard have a look at him and it transpired that one shoe was too tight and a nail was pressing on him. Richard managed to glue a new shoe on him and added some pollyfiller. We then put some ice on him for about an hour. Richard did a fantastic job - I owe him a drink tonight!
"Ruby said he was slightly feeling himself on the concrete but was fine once he got out on the track."
Ruby Walsh added: "I love this horse, I have always loved this horse.
"He has the heart of a lion and jumped like a stag.
"He is a hell of a good horse."
Position

Horse
Trainer
Jockey
Weight
Starting Price
Beaten Distance
1

Cooldine
W P Mullins
R Walsh
11st 4lbs
9 - 4
Winner
2

Horner Woods
Mrs J Harrington
R M Power
11st 4lbs
66 - 1
16 lengths
3

Massini's Maguire
P J Hobbs
R Johnson
11st 4lbs
10 - 1
9 lengths
4

Carruthers
M Bradstock
Matthew Batchelor
11st 4lbs
13 - 2
4 lengths
5

Casey Jones
N Meade
P Carberry
11st 4lbs
16 - 1
1 length
6

What A Friend
P F Nicholls
S Thomas
11st 4lbs
13 - 2
Neck
na

Gone To Lunch
J Scott
A P McCoy
11st 4lbs
7 - 1

na

Bohemian Lass
W Harney
J Cullen
10st 11lbs
150 - 1

na

Siegemaster
D T Hughes
D N Russell
11st 4lbs
16 - 1

na

The Market Man
N J Henderson
B J Geraghty
11st 4lbs
14 - 1

na

Hold Em
W K Goldsworthy
G Lee
11st 4lbs
66 - 1

na

Lodge Lane
V R A Dartnall
Christian Williams
11st 4lbs
33 - 1

na

Lightning Strike
Miss V Williams
A Coleman
11st 4lbs
28 - 1

na

Ballyfitz
N A Twiston-Davies
P J Brennan
11st 4lbs
16 - 1

na

Killyglen
J Howard Johnson
Denis O'Regan
11st 4lbs
12 - 1

WOODS A TIGER AT 66-1
Cooldine became Europe's leading novice chaser when winning the RSA Chase, but there was a surprisingly good run by second-placed Horner Woods, who started at 66-1.
The Jessica Harrington-trained seven-year-old won a beginners' event at Limerick last month over two miles and one furlong, a very distant cry from the demands of today's event. Yet he belied his odds under jockey Robbie Power, and although 16 lengths behind the winner was nine lengths clear of the third. Ironically he had been due to run in tomorrow's Jewson Novices' Chase with a featherweight, but was balloted out.
A surprised Harrington said: "Everything has gone wrong for him this season. First time out he was all wrong, then he fell, then he ran at Christmas and nothing went right in the race - Robert couldn't ride him because he got hurt - and despite that he was only just beaten.
"Then we had snow and heavy ground and I couldn't find an opportunity for him, so I was forced to go to Limerick on ground that was too deep for him and a race over two miles and a furlong. He only just got home, but I knew he needed three miles and good ground.
"He's a brilliant jumper, and since I put a new bridle on him with a Swedish snaffle that acts like a gag he's been much improved. He was exploding over fences and not listening.
"It was a pity about the Jewson, because he would have gone well with 10st. I thought he was a near certainty in that contest."
Philip Hobbs, trainer of third-placed Massini's Maguire, said: "Now we know he stays this trip it's a big plus, because it was a doubt. It's disappointing to be beaten so far, but he's finished ahead of Carruthers and What A Friend.
"I suppose the three-mile novices' chase at Aintree would suit, as would better ground."
Carruthers, with Mattie Bachelor on board, made the pace until three out, when a mistake cost him dear. "He just made a horlicks of it which didn't help him, but I'm really chuffed with that. He's just a big baby. Now he's finished for the season, we'll put him out in a field," said trainer Mark Bradstock.
RSA CHASE FACTS AND FIGURES
1. The RSA Chase is run with its current title for the first time this year although is backed by one of Cheltenham's longest-running sponsors. It was run as the Royal & SunAlliance Chase up to 2008 and as the Royal SunAlliance Chase in 1997. Sun Alliance, which merged with Royal Insurance in 1996, previously backed the Sun Alliance Chase for 23 years and sponsored at Cheltenham for 26 years altogether. From 1971-73, the Foxhunter Chase was titled the Sun Alliance & London Foxhunters.
2. Sun Alliance & London was the first sponsor outside racing to embrace commercial sponsorship at The Festival. Only the tote precedes the insurance company. Before 1974 the race was titled the Broadway Novices' Chase and the Totalisator Champion Novices' Chase.
3. Since 1959, seven horses have won both the RSA Chase and totesport Cheltenham Gold Cup. They are:
1959 Mandarin (Gold Cup 1962)
1963 Arkle (Gold Cup 1964-6)
1974 Ten Up (Gold Cup 1975)
1979 Master Smudge (Gold Cup 1980 on the disqualification of Tied Cottage)
1990 Garrison Savannah (Gold Cup 1991)
1999 Looks Like Trouble (Gold Cup 2000)
2007 Denman (Gold Cup 2008)
To this list might be added the name of Tied Cottage, winner of the RSA Chase in 1976 and the Gold Cup in 1980, before subsequent disqualification.
4. The biggest field for the race has been 30, in 1986, and the smallest eight, in 1993. The current safety limit is 20.
5. Fred Winter had the best record in the contest, having landed three victories with Killiney (1973), Pengrail (1975) and Brown Chamberlin (1982). Among current trainers Willie Mullins and Paul Nicholls have both landed the race twice, Mullins having sent out Rule Supreme (2004) and Florida Pearl (1998) while Nicholls has trained the past two of the past three winners – Star De Mohaison (2006) and Denman (2007).
6. Irish-trained winners number eight since 1964, the latest being Rule Supreme in 2004.
7. The most successful jockey in the RSA Chase has been Peter Scudamore, who notched up a hat-trick from 1991 to 1993 with Rolling Ball, Miinnehoma and Young Hustler. The latter went on to further big-race success while Miinnehoma won the 1994 Grand National.
8. The longest-priced winners since 1964 are Hussard Collonges in 2002 and Canny Danny in 1983, both at 33/1, with Arkle the shortest-priced at 4/9 in 1963.
9. The fastest running of the race was won by Lord Noelie in 2000 at 6 mins 5.3s, beating the previous best of 6 mins 6.6s set by Miinnehoma in 1992.
10. The West Awake is the only horse to have won both the Ballymore Properties Novices' Hurdle (previously the RSA Novices' Hurdle) and the RSA Chase. He won the Hurdle in 1987 and the Chase in 1988.
Previous results
RSA CHASE
2008-WINNER-ALBERTAS RUN 7-11-04 Owner-Trevor Hemmings; Trainer-Jonjo O'Neill; Jockey-Tony McCoy; SP-4/1 Fav
2ND-Roll Along 8-11-04 Owner-Bryan & Philippa Burrough; Trainer-Carl Llewellyn; Jockey-Timmy Murphy' SP-20/1
3RD-Battlecry 7-11-04 Owner-Hamsard Ltd; Trainer-Nigel Twiston-Davies; Jockey-Paddy Brennan; SP-25/1
11 ran, Time-6m 23.5s Dist-4½, 3½
2007-WINNER-DENMAN 7-11-04 Owner-Maggie Findlay & Paul Barber; Trainer-Paul Nicholls; Jockey-Ruby Walsh; SP-6/5 Fav
2ND-Snowy Morning 7-11-04 Owner-Quayside Syndicate; Trainer-Willie Mullins IRE; Jockey-Mick Fitzgerald; SP-10/1
3RD-According To John 7-11-04 Owner-Sir Robert Ogden; Trainer-Nicky Richards; Jockey-Tony Dobbin; SP-66/1 17 ran, Time-6m 6.80s Dist-10, 3½
2006-WINNER-STAR DE MOHAISON 5-10-08 Owner-Sir Robert Ogden; Trainer-Paul Nicholls; Jockey-Barry Geraghty; SP-14/1
2ND-Idle Talk 7-11-04 Owner-Mrs M J George; Trainer-Tom George; Jockey-Jason Maguire; SP-33/1
3RD-Darkness 7-11-04 Owner-Lady Lloyd-Webber; Trainer-Charles Egerton; Jockey-Paddy Brennan; SP-11/2
15 ran, Time-6m 9.20s Dist-6, 11 9/2 Fav Commercial Flyer (PU)
2005-WINNER-TRABOLGAN 7-11-04 Owner-Trevor Hemmings; Trainer-Nicky Henderson; Jockey-Mick FitzGerald;SP- 5/1
2ND-Comply Or Die 6-11-04 Owner-David Johnson; Trainer-Martin Pipe; Jockey-Timmy Murphy; SP-3/1 Fav
3RD-Cornish Rebel 8-11-04 Owner-Graham Roach; Trainer-Paul Nicholls; Jockey-Ruby Walsh; SP-9/2
9 ran, Time-6m 12.85s Dist-3, 3
2004-WINNER-RULE SUPREME 8-11-04 Owner-John Lynch; Trainer-Willie Mullins IRE; Jockey-David Casey; SP-25/1
2ND-Royal Emperor 8-11-04 Owner-Widdop Wanderers; Trainer-Sue Smith; Jockey-Dominic Elsworth; SP-6/1
3RD-Our Vic 6-11-04 Owner-David Johnson; Trainer-Martin Pipe; Jockey-Tony McCoy; SP-11/8 Fav
10 ran, Time-6m 9.70s Dist-1½, 2
2003-WINNER-ONE KNIGHT 7-11-04 Owner-Robert Gibbs; Trainer-Philips Hobbs; Jockey-Richard Johnson; SP-15/2
2ND-Jair Du Cochet 6-11-04 Owner-Miriam Montauban; Trainer-Guillaume Macaire FR; Jockey-Jacques Ricou; SP-4/1
3RD-Barrow Drive 7-11-04 Owner-Mrs B Leniham; Trainer-Tony Mullins IRE; Jockey-Barry Geraghty; SP-9/1 9 ran, Time-6m 14.90s Dist- 1¾, 10 9/4 Fav Keen Leader (5th)
2002-WINNER-HUSSARD COLLONGES 7-11-04 Owner-Nick Bannister; Trainer-Peter Beaumont; Jockey-Russ Garritty; SP-33/1
2ND-Iznogoud 6-11-04 Owner-County Stores-Avalon Surfacing; Trainer-Martin Pipe; Jockey-Tony McCoy; SP-14/1
3RD-Chives 7-11-04 Owner-Trevor Hemmings; Trainer-Henrietta Knight; Jockey-Richard Guest; SP-33/1
19 ran, Time-6m 35.65s Dist- 2, 4 9/2 Fav Colonel Braxton (5th)
2001-Cancelled
2000-WINNER-LORD NOELIE 7-11-04 Owner-Executive Racing; Trainer-Henrietta Knight; Jockey-Jim Culloty; SP-9/2
2ND-Alexander Banquet 7-11-04 Owner-Miriam O'Callaghan; Trainer-Willie Mullins; Jockey-Ruby Walsh; SP-9/2
3RD-Toto Toscato 6-11-04 Owner-Hilda Clarke; Trainer-Alan King; Jockey-Richard Johnson; SP-11/1
9 ran Time-6m 5.3s Dist-1¼, hd 7/2 Fav-Native Upmanship (4th)
1999-WINNER-LOOKS LIKE TROUBLE 7-11-04 Owner-Universal Conference & Incentive Trv Ltd; Trainer-Noel Chance; Jockey-Paul Carberry; SP-16/1
2ND-Lord Of The River 7-11-04 Owner-Brian Stewart-Brown; Trainer-Oliver Sherwood; Jockey-Tony McCoy; SP-11/2
3RD-Billingsgate 7-11-04 Owner-Dr David and Mrs B Chesney; Trainer-David Elsworth; Jockey-Paul Holley;
SP-25/1 14 ran Time-6m 21.5s Dist-dist, 3 5/4 Fav-Nick Dundee (fell)
1998-WINNER-FLORIDA PEARL 6-11-04 Owner-Violet O'Leary; Trainer-Willie Mullins IRE; Jockey-Richard Dunwoody; SP-11/8 Fav
2ND-Escartefigue 6-11-04 Owner-Darren Mercer; Trainer-David Nicholson; Jockey-Adrian Maguire; SP-5/1
3RD-Fulip 5-10-08 Owner-Roger Barby; Trainer-Francois Doumen FR; Jockey-Mr Thierry Doumen; SP-9/1
10 ran Time-6m 8.3s Dist-1½, 19
1997-WINNER-HANAKHAM 8-11-04 Owner-Malcolm Brereton; Trainer-Ron Hodges; Jockey-Richard Dunwoody; SP-13/2
2ND-Eudipe 5-10-08 Owner-David Johnson; Trainer-Martin Pipe; Jockey-Tony McCoy; SP-4/1
3RD-Djeddah 6-11-04 Owner-Stella Elkaim; Trainer-Francois Doumen FR; Jockey-Adam Kondrat; SP-100/30 Fav 14 ran Time-6m 8.8s, Dist-2½, 5
RSA CHASE ROLL OF HONOUR
(Royal & SunAlliance Chase since 1998, Royal Sun Alliance Chase 1997, Sun Alliance Chase 1974-96, Totalisator Champion Chase 1971-73, Totalisator Champion Novices' Chase 1964-1970, Broadway Chase 1961-63, Broadway Novices' Chase before 1961)

Year Winner Age/Wt Jockey Trainer Owner SP Ran

2008 Albertas Run 7-11-04 Tony McCoy Jonjo O'Neill Trevor Hemmings 4/1F 11
2007 Denman 7-11-04 Ruby Walsh Paul Nicholls Maggie Findlay & Paul Barber 6/5F 17
2006 Star De Mohaison 5-10-08 Barry Geraghty Paul Nicholls Sir Robert Ogden 14/1 15
2005 Trabolgan 7-11-04 Mick FitzGerald Nicky Henderson Trevor Hemmings 5/1 9
2004 Rule Supreme 8-11-04 David Casey Willie Mullins IRE John Lynch 25/1 10
2003 One Knight 7-11-04 Richard Johnson Philip Hobbs Robert Gibbs 15/2 9
2002 Hussard Collonges 7-11-04 Russ Garritty Peter Beaumont Nick Bannister 33/1 19
2001 No Race (Foot and Mouth)
2000 Lord Noelie 7-11-04 Jim Culloty Henrietta Knight Executive Racing 9/2 9
1999 Looks Like Trouble 7-11-04 Paul Carberry Noel Chance Universal Conf. & Incentive Trv Ltd 16/1 14
1998 Florida Pearl 6-11-04 Richard Dunwoody Willie Mullins IRE Violet O'Leary 11/8F 10
1997 Hanakham 8-11-04 Richard Dunwoody Ron Hodges Malcolm Brereton 13/2 14
1996 Nahthen Lad 7-11-04 Warren Marston Jenny Pitman Jim Shaw 7/1 12
1995 Brief Gale 8-10-13 Philip Hide Josh Gifford Carrie Zetter 13/2 13
1994 Monsieur Le Cure 8-11-04 Peter Niven John Edwards Hector Brown 15/2 18
1993 Young Hustler 6-11-04 Peter Scudamore Nigel Twiston-Davies Gavin MacEchern 9/4 8
1992 Miinnehoma 9-11-04 Peter Scudamore Martin Pipe Freddie Starr 7/2F 18
1991 Rolling Ball 8-11-04 Peter Scudamore Martin Pipe Hilda Clarke 7/2F 20
1990 Garrison Savannah 7-11-04 Ben de Haan Jenny Pitman Autofour Engineering 12/1 9
1989 Envopak Token 8-11-04 Peter Hobbs Josh Gifford Frank Arthur 16/1 15
1988 The West Awake 7-11-04 Simon Sherwood Oliver Sherwood Maggie Heath 11/4F 14
1987 Kildimo 7-11-04 Graham Bradley Toby Balding Lady Harris 13/2 18
1986 Cross Master 9-11-04 Reg Crank Tom Bill Harlow Bros 16/1 30
1985 Antarctic Bay 8-11-04 Frank Berry Pat Hughes IRE P Meade 6/4F 11
1984 A Kinsman 8-11-04 Geordie Dun John Brockbank Mrs John Brockbank 10/1 18
1983 Canny Danny 7-11-04 Niall Madden Jimmy FitzGerald P Norton 33/1 14
1982 Brown Chamberlin 7-11-04 John Francome Fred Winter Mrs Coral Samuel 7/1 15
1981 Lesley Ann 7-11-04 Colin Brown David Elsworth Brian Gaule 25/1 17
1980 Lacson 8-11-04 Steve Knight Bob Hawker Bob Hawker 16/1 17
1979 Master Smudge 7-11-04 Richard Hoare Arthur Barrow Arthur Barrow 16/1 17
1978 Sweet Joe 6-11-04 Steve Smith Eccles Tom Jones Milton Ritzenberg 12/1 17
1977 Gay Spartan 6-11-04 Michael Dickinson Tony Dickinson M Armstrong 13/2 15
1976 Tied Cottage 8-11-00 Tommy Carberry Dan Moore IRE Anthony Stanley Robinson 12/1 15
1975 Pengrail 7-11-00 John Francome Fred Winter Mrs G Morton 12/1 11
1974 Ten Up 7-11-00 Tommy Carberry Jim Dreaper IRE Anne, Duchess of Westminster 7/2 12
1973 Killiney 7-11-03 Richard Pitman Fred Winter Enid Boucher 8/15F 9
1972 Clever Scot 7-11-07 David Mould Tom Jones Milton Ritzenberg 11/1 18
1971 Tantalum 7-11-07 David Nicholson Michael Pope Colonel S W Green 14/1 16
1970 Proud Tarquin 7-11-12 Pat Taaffe Tom Dreaper IRE John Thomson 100/7 17
1969 Spanish Steps 6-11-12 John Cook Edward Courage Edward Courage 100/8 22
1968 Herring Gull 6-11-12 Joe Crowley Paddy Mullins IRE Mrs G A J Wilson 9/1 16
1967 Border Jet 7-11-00 Josh Gifford Ryan Price Lady Weir 4/1F 19
1966 Different Class 6-11-12 David Mould Peter Cazalet Gregory Peck 10/1 17
1965 Arkloin 6-11-07 Liam McLoughlin Tom Dreaper IRE George Ansley 100/7 17
1964 Buona notte 7-12-04 Johnnie Haine Bob Turnell Jim Joel 11/8F 16
1963 Arkle 6-12-04 Pat Taaffe Tom Dreaper IRE Duchess Of Westminster 4/9F 15
1962 Caduval 7-11-08 Laurie Morgan Bogden Lubecki Bogden Lubecki 11/2 13
1961 Grallagh Cnoc 7-12-01 Pat Taaffe Joe Osborne IRE Mrs K Harper 8/13F 17
1960 Solfen 8-11-12 Pat Taaffe Willie O'Grady IRE B Naughton 5/4F 21
1959 Mac Joy 7-11-12 Arthur Freeman Ken Bailey W C Simpson 4/1 11
1958 Just Awake 6-11-08 Arthur Freeman Peter Cazalet Bill Whitbread 100/7 19
1957 Mandarin 6-12-01 Michael Scudamore Fulke Walwyn Peggy Hennessy 8/1 14
1956 Polar Flight 6-11-08 Tommy Cusack George Spann Mrs P Pleydell-Bouverie 100/7 19
1955 Great Eliza 7-11-13 B Cooper Danny Morgan IRE Mrs N Hope Collins 7/2F 23
1954 Glenbeigh 8-11-13 Dave Dick Fulke Walwyn Dorothy Paget EvsF 16
1953 Coneyburrow 7-11-03 Pat Taaffe Joe Osborne IRE I E Levy 100/8 13
1952 Good And Plenty 8-11-08 Jimmy Power Jack Fawcus Lady Joicey 8/1 18
1951 On View 8-11-13 Bryan Marshall Fulke Walwyn Dorothy Paget 8/1 23
1950 (I) Manicou 5-11-06 Lord Mildmay Peter Cazalet Lord Mildmay 2/1F 9
1950 (II) Arctic Gold 5-10-13 Glen Kelly Gerald Balding John Hay Whitney 100/30 9
1949 (I) Glen Fire 6-11-02 Mr J Spencer Syd Mercer J G Greenaway 100/8 19
1949 (II) Comeragh 8-11-02 D Kelly Major Noel Furlong Major Noel Furlong 10/1 10
1948 (I) Blakely Grove 7-11-04 Joe Maguire Ivor Anthony Paul Mellon 5/4F 17
1948 (II) Mountain Prince 9-11-04 Bryan Marshall Fulke Walwyn Dorothy Paget 100/8 15
1947 No race (snow and frost)
1946 Birthlaw 11-11-07 Ted Vinall Tommy Rayson Mrs V Bruce 20/1 16