cheltenham festival / 2010 news /
Spirit River Wins Coral Cup
17/03/10
1 Spirit River 14/1
2 Tullamore Dew 80/1
3 James De Vassy 16/1
28 ran
Spirit River


© racing-images.co.uk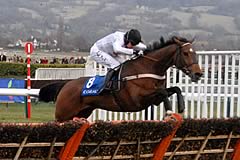 Jockey Barry Geraghty went to the top of the Festival's jockeys' table when Spirit River won the Coral Cup for owner Michael Buckley and trainer Nicky Henderson.
Buckley said: "He's a young horse who will be chasing next year, so it's a bonus to win a race like this. I'm an idiot, so I always fancy my horses - it's my downfall. It's years since I've had a winner at the Festival in my colours - Thumbs Up in the [1993 Vincent O'Brien] County Hurdle was the last one and that year I'd had a terrible Festival and didn't have a shilling on him.
"Barry's a great guy and a great jockey, and it's wonderful for Nicky. Small beer after Binocular [winner of yesterday's Smurfit Kappa Champion Hurdle], but nice nonetheless and thrilling for me."
Spirit River had finished unplaced in the totesport Trophy at Newbury on his previous outing, but a blunder there was a factor in defeat said Henderson, who added: "He did look as though he was going very well at Newbury, but a mistake at the third-last turned him sideways and that was game over.
"It always looked as though another half mile would suit him, and as far as going chasing next season is concerned I think he's going to build up into a staying chaser. The handicapper will have a good look at him now, and I don't think there's really anything left for him this season so we'll look after him."
Henderson reported that Punchestowns, unplaced in the RSA Chase, was "quite sore" and lame behind. He also added that Binocular, "is happy in his box and getting lots of treats".
Position

Horse
Trainer
Jockey
Weight
Starting Price
Beaten Distance
1

Spirit River
N J Henderson
B J Geraghty
11st 2lbs
14 - 1
Winner
2

Tullamore Dew
N J Gifford
L Treadwell
10st 10lbs
80 - 1
4 1/2 lengths
3

James De Vassy
Nick Williams
D Jacob
11st 4lbs
16 - 1
2 3/4 lengths
4

Micheal Flips
Andrew Turnell
Nick Scholfield
11st 7lbs
33 - 1
1/2 length
5

Quantitativeeasing
N J Henderson
A P McCoy
11st 0lbs
8 - 1
3/4 length
6

Naiad du Misselot
Ferdy Murphy
G Lee
10st 5lbs
25 - 1
Head
7

Sir Harry Ormesher
A King
R Thornton
11st 1lbs
12 - 1
1 3/4 length
8

Racing Demon
Miss H C Knight
H Frost
10st 9lbs
50 - 1
2 1/4 lengths
9

Silverhand
N Meade
P Carberry
10st 10lbs
22 - 1
Head
10

Mamlook
D Pipe
T Scudamore
11st 6lbs
18 - 1
2 lengths
11

On Raglan Road
J Howard Johnson
Denis O'Regan
11st 1lbs
16 - 1
1 length
12

Deutschland
W P Mullins
R Walsh
10st 9lbs
7 - 1
3/4 length
13

Ring The Boss
P J Hobbs
T J O'Brien
10st 11lbs
66 - 1
3/4 length
14

Good Old Thyme
Dr R D P Newland
R Johnson
10st 5lbs
40 - 1
4 lengths
15

Eleazar
Mrs L Wadham
J A McCarthy
10st 6lbs
50 - 1
7 lengths
16

Andytown
N J Henderson
D Bass
11st 8lbs
25 - 1
1 length
17

Chief Yeoman
Miss V Williams
A Coleman
10st 9lbs
50 - 1
3 lengths
18

Ballyvoile
Ms M Flynn
K Whelan
10st 6lbs
100 - 1
8 lengths
19

Takeroc
P F Nicholls
Harry Skelton
11st 1lbs
33 - 1
Neck
20

Shadow Dancer
Jonjo O'Neill
Gerald Quinn
10st 1lbs
9 - 1
Head
21

City Theatre
Jonjo O'Neill
R P McLernon
10st 5lbs
22 - 1
Nose
22

Chicago Grey
G Elliott
A P Cawley
11st 12lbs
50 - 1
1/2 length
23

Gold Award
N J Henderson
Felix De Giles
10st 2lbs
22 - 1
3 3/4 lengths
24

Silk Affair
M G Quinlan
T J Murphy
10st 6lbs
14 - 1
9 lengths
25

Silk Hall
A King
Christian Williams
11st 1lbs
80 - 1
2 lengths
26

Lake Legend
A King
W Hutchinson
11st 6lbs
18 - 1
distance
na

Wishfull Thinking
P J Hobbs
G Hawkins
11st 5lbs
9 - 1

na

Hampshire Express
W P Mullins
Paul Townend
10st 4lbs
16 - 1

GERAGHTY PRAISES HORSE & TRAINER
Barry Geraghty, after riding his second winner of the day on Spirit River in the Coral Cup, said: "It's been a good day. They didn't go that quick so I worked out a nice position on the way in and he jumped brilliantly for a five-year-old.
"I had a fair idea that Spirit River would stay but he is only five so it was a good performance and he kept on really well.
"Nicky (Henderson - the trainer) is the best man to ride for, especially here. He is such a gent and it makes my job easier - I know that I am not going to have a stewards' enquiry from him when I come in."
TULLAMORE DEW AND THE GLUE SHOES
Nick Gifford acknowledged that he was as surprised as anyone at The Festival when Tullamore Dew, at a withering 80/1, chased home Spirit River in the Coral Cup. The horse was second by four and a half lengths.
"I'm a little bit stunned really. It is very, very difficult to keep this horse sound. That's why he hasn't run for such a long time. It wasn't a major plan or a coup, he's just been a bugger to keep sound.
"He's got terrible feet, joints everything and it's a big thank you to the team at home. Carol rides him out every day, his feet get poulticed every night, he's got glue-on shoes, the physio does him every week, the chiropractor does him... the list is as long as my arm.
"But it just fell right for him today. It was either this or the Pertemps and I thought, 'Is he an out and out stayer?'. I mean he's not slow.
"But it just fell right today. The trip, the ground, and Liam (Treadwell) gave him a peach of a ride. Right round the inner and he's such an electric jumper that I always knew he'd hold his position round there. He gave him a breather at the right time and we were only beaten by a very good horse.
"We haven't had a winner for a while and everybody was a bit down. But this will change things.
"One of the owners passed away just over a year ago, Tommie Keogh, and he had horses with dad [Josh] for twenty years - his sister and ex-wife are here today - and never had one good enough for Cheltenham so he'll be smiling up there," said Gifford.
CORAL CUP (HANDICAP HURDLE) PREVIOUS RESULTS
2007-WINNER-BURNTOAKBOY 9-09-12 Owner-Dr Richard & Laura Newland; Trainer-Dr Richard Newland; Jockey-Sam Jones; SP-10/1
2ND-Powerstation 7-11-00 Owner-Fat Frog Syndicate; Trainer-Michael John Phillips IRE; Jockey-Denis O'Regan; SP-12/1
3RD-Baron De Feypo 9-10-03 Owner-Rita Shah; Trainer-Oliver Brady; Jockey-Niki O'Shea; SP-20/1
4TH-Oscatello 7-10-08 Owner-Rye Braune; Trainer-Philip Hobbs; Jockey-Richard Johnson; SP-8/1
28 ran, Time-5m 07.10s; Dist-3, 5, 1½ 6/1 Fav Copsale Lad (16th)
2006-WINNER SKY'S THE LIMIT 5-11-12 Owner-Raymond Rooney; Trainer-Edward O'Grady IRE; Jockey-Barry Geraghty; SP-11/1
2ND-Strangely Brown 5-11-03 Owner-We Didn't Name Him Syndicate; Trainer-Eric McNamara IRE; Jockey-Brian Byrnes; SP-25/1
3RD-Dom D'Orgeval 6-11-12 Owner-Jane Williams; Trainer-Nick Williams; Jockey-Richard Johnson; SP-20/1
4TH-Phar Bleu 5-11-06 Owner-The Stewart Family; Trainer-Paul Nicholls; Jockey-Ruby Walsh; SP-10/1
30 ran, Time-5m 02.50s; Dist-4, .75, nk 5/1 Fav No Where To Hyde (Fell)
2005-WINNER-IDOLE FIRST 6-10-10 Owner-Direct Sales UK Ltd; Trainer-Venetia Williams; Jockey-Alan O'Keeffe; SP-33/1
2ND-Dancing Bay 8-11-01 Owner-Elite Racing Club; Trainer-Nicky Richards; Jockey-Mick Fitzgerald; SP-14/1
3RD-Tumbling Dice 6-11-01 Owner-Mrs John Donegan; Trainer-Tom Taaffe IRE; Jockey-Barry Geraghty; SP-16/1
4TH-Covent Garden 7-10-07 Owner-Ada Partnership; Trainer-Howard Johnson; Jockey-Tony Dobbin; SP-14/1
29 ran, Time-5m 04.80s; Dist-5, 6, 5 100/30 Fav Distant Prospect (9th)
2004-WINNER-MONKERHOSTIN 7-10-08 Owner-Martin St Quinton; Trainer-Philip Hobbs; Jockey-Richard Johnson; SP-13/2
2ND-Court Shareef 9-9-11 Owner-Derek and Cheryl Holder; Trainer-Richard Price; Jockey-Wayne Hutchinson; SP-200/1
3RD-Rhinestone Cowboy 8-11-05 Owner-Sue Magnier; Trainer-Jonjo O'Neill; Jockey-Mr J P Magnier; SP-5/1 Fav
4TH-Mughas 5-10-05 Owner-B Winfield, C Fenton & A Longman; Trainer-Alan King; Jockey-Robert Thornton; SP-11/2
27 ran, Time-4m 59.50s; Dist-1, 1 1/4, 2 1/2
2003-WINNER-XENOPHON 7-11-00 Owner-Lane Syndicate; Trainer-Tony Martin IRE; Jockey-Mick FitzGerald; SP-4/1 Fav
2ND-Samon 6-11-03 Owner-The Macca & Growler Partnership; Trainer-Martin Pipe; Jockey-David Casey; SP-25/1
3RD-Spectrometer 6-11-08 Owner-Concertina Racing; Trainer-Philip Hobbs; Jockey-Richard Johnson; SP-10/1
4TH-Emotional Moment 6-11-04 Owner-Watercork Syndicate; Trainer-Tom Taaffe; Jockey-Barry Geraghty; SP-7/1
27 ran, Time-5m 4.30s, Dist-3.5, 1, 3
2002-WINNER-ILNAMAR 6-10-05 Owner-Joe Moran; Trainer-Martin Pipe; Jockey-Rodi Greene; SP-25/1
2ND-Joss Naylor 7-10-00 Owner-Darren Mercer; Trainer-Jonjo O'Neill; Jockey-Liam Cooper; SP-13/2
3RD-Master Tern 7-10-03 Owner-J P McManus; Trainer-Jonjo O'Neill; Jockey-Tony Dobbin; SP-8/1
4TH-Stromness 5-10-03 Owner-Lady Harris; Trainer-Alan King; Jockey-Robert Thornton; SP-12/1
27 ran, Time-5m 15.0s, Dist-8, 3, 4 11/2 Fav Golden Alpha (26th)
2001 - No Race (Foot and Mouth Disease)
2000-WINNER-WHAT'S UP BOYS 6-10-03 Owner-RJB Partners; Trainer-Philip Hobbs; Jockey-Mr Paul Flynn; SP-33/1
2ND-Native Dara 7-10-04 Owner-Oriel Two Syndicate; Trainer-Noel Meade IRE; Jockey-Barry Geraghty; SP-25/1
3RD-Ross Moff 7-10-03 Owner-Seamus Ross; Trainer-Tony Martin IRE; Jockey-Charlie Swan; SP-15/2
4TH-Vanilla Man 7-10-00 Owner-Mrs Paul Duffin; Trainer-Paddy Mullins IRE; Jockey-Tommy Treacy; SP-25/1
26 ran, Time-4m 53.80s, Dist-nk, 3, 2, 7/1 Fav Brandon Court (5th)
1999-WINNER KHAYRAWANI 7-11-03 Owner-J P McManus; Trainer-Christy Roche IRE; Jockey-Fran Berry; SP-16/1
2ND-Miltonfield 10-10-00 Owner-J C Savage; Trainer-John Mulhern IRE; Jockey-Conor O'Dwyer; SP-33/1
3RD-Generosa 6-10-10 Owner-Trish Hyde; Trainer-John Hassett IRE; Jockey-Tommy Treacy; SP-12/1
4TH-Darapour 5-10-00 Owner-J P McManus; Trainer-Aidan O'Brien IRE; Jockey-Charlie Swan; SP-14/1
30 ran, Time-5m 6.6s, Dist-hd, nk, 5 13/2 Fav Archive Footage (25th)
1998-WINNER-TOP CEES 8-10-00 Owner-Charlton Bloodstock Ltd; Trainer-Lynda Ramsden; Jockey-Barry Fenton; SP-11/1
2ND-Khayrawani 6-10-06 Owner-J P McManus; Trainer-Christy Roche IRE; Jockey-Fran Berry; SP-20/1
3RD-Royal Marine 6-10-00 Owner-J P McManus; Trainer-Arthur Moore IRE; Jockey-Conor O'Dwyer;SP-10/1
4TH-Like A Lion 7-10-00 Owner-Orla Finucane; Trainer-Donald Swan IRE; Jockey-Charlie Swan; SP-12/1
21 ran, Time-5m 1.1s, Dist-1.25, .75, 1 6/1 Fav Daraydan (10th)
1997-WINNER-BIG STRAND 8-10-00 Owner-E C Jones; Trainer-Martin Pipe; Jockey-Jamie Evans; SP-16/1
2ND-Allegation 7-11-06 Owner-Martin Pipe Racing Club; Trainer-Martin Pipe; Jockey-Tony McCoy; SP-20/1
3RD-Castle Sweep 6-12-00 Owner-Lord Vestey; Trainer-David Nicholson; Jockey-Richard Johnson; SP-14/1
4TH-Tullymurry Toff 6-10-10 Owner-John Wilson and J H Riley; Trainer-Malcolm Jefferson; Jockey-Eddie Callaghan;
SP-9/2 Fav 28 ran, Time-4m 57.0s, Dist-sh, hd, 1
1996-WINNER-TRAINGLOT 9-10-03 Owner-Marquesa de Moratalla; Trainer-Jimmy FitzGerald; Jockey-Mark Dwyer; SP-11/2
2ND-Treasure Again 7-10-00 Owner-J H Gwynne; Trainer-Merrita Jones; Jockey-Derek Byrne; SP-9/1
3RD-New Co 8-10-07 Owner-Mrs L C Ronan and Anne Daly; Trainer-Mouse Morris IRE; SP-9/1
4TH-Barna Boy 8-10-02 Owner-Lynn Wilson; Trainer-Nicky Henderson; Jockey-Mick FitzGerald; SP-16/1
20 ran, Time-5m 12.2s, Dist-hd, 1.25, 2 7/2 Fav Time For A Run (8th)
1995-WINNER-CHANCE COFFEY 10-10-00 Owner-Paddy O'Donnell; Trainer-Pat O'Donnell IRE; Jockey-Gerry O'Neill; SP-11/1
2ND-Derrymoyle 6-10-10 Owner-Herb Stanley; Trainer-Michael Cunningham IRE; Jockey-Mark Dwyer; SP-12/1
3RD-Time For A Run 8-11-10 Owner-J P McManus; Trainer-Edward O'Grady IRE; Jockey-Charlie Swan; SP-10/1
4TH-Collier Bay 5-10-06 Owner-Wally Sturt; Trainer-Jim Old; Jockey-Tom Grantham; SP-7/1
30 ran, Time-5m 18.4s, Dist-3.5, sh, 3 6/1 Fav Lemon's Mill (17th)