cheltenham festival / 2010 news /
Sanctuaire Sparkles for Ruby
17/03/10
1 Sanctuaire 4/1 Fav
2 Notus De La Tour 13/2
3 Orsippus 33/1
24 ran
Santuaire


© racing-images.co.uk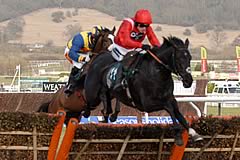 The Paul Nicholls-trained Santuaire will surely be the easiest winner of a handicap at this year's Festival. The Fred Winter Juvenile Handicap Hurdle was claimed with absolute ease by the French-bred four-year-old in only his second race in Britain.
Starting 4/1 favourite, he won by nine lengths, to give Nicholls his first winner of the week and his 26th overall. The most significant statistic, though, was for jockey Ruby Walsh, whose Cheltenham total of winning rides is now 26, surpassing Pat Taaffe's tally of 25.
Of the stunning performance by Sanctuaire, Nicholls said:
"The first time I ran him, he won at Taunton in the mud and won nicely, but none of us knew how good he was, I mean it was a Taunton novice hurdle. We were guessing and he hadn't shown enough really.
"When we bought him from France, I had a whole lot of problems with him. He wouldn't go on the gallop, wouldn't do anything, and Dan, my assistant [Skelton], went on him and then all of a sudden the penny dropped.
"But there's still plenty of improvement in him mentally. He's got a huge engine, but it's up to him now to believe in himself.
"I had no idea [of his ability]. Ruby was very keen on him at Taunton and it took him half a mile to pull him up after the race. I was pleased he won there and he wouldn't have come here otherwise. He's never done any fast work, so you wouldn't know what you've got really.
"He won't go into a handicap again now, I should think he'll go to the juvenile at Aintree, or Punchestown perhaps. Whatever he does, he's going to make some chaser. He's could be anything," he said.
"Never look back in this game, always look forward," he added, referring to the earlier disappointment of Master Minded in the Champion Chase, in which the hot favourite was only fourth.
Position

Horse
Trainer
Jockey
Weight
Starting Price
Beaten Distance
1

Sanctuaire
P F Nicholls
R Walsh
11st 2lbs
4 - 1
Winner
2

Notus De La Tour
D Pipe
J W Farrelly
11st 9lbs
13 - 2
9 lengths
3

Orsippus
M Smith
D J Condon
11st 0lbs
33 - 1
1 1/2 length
4

Son Amix
T Cooper
B J Cooper
11st 9lbs
14 - 1
3 lengths
5

Stormy Weather
J Howard Johnson
Denis O'Regan
10st 12lbs
10 - 1
Neck
6

Kudu Country
T P Tate
G Lee
10st 13lbs
25 - 1
1 3/4 length
7

Bothy
B Ellison
K Mercer
11st 2lbs
10 - 1
Head
8

George Nympton
Nick Williams
D Jacob
10st 12lbs
20 - 1
1 1/4 length
9

Loch Long
T Collins
A J McNamara
10st 13lbs
16 - 1
3/4 length
10

Doctor Deejay
W P Mullins
Paul Townend
11st 2lbs
25 - 1
3/4 length
11

Riptide
D McCain Jnr
J M Maguire
10st 11lbs
66 - 1
1 1/4 length
12

Cross Appeal
N Meade
P Carberry
11st 3lbs
14 - 1
1 length
13

Shanrod
M Halford
R M Power
10st 13lbs
50 - 1
5 lengths
14

Ned Of The Hill
Miss M A Doran
R M Moran
11st 1lbs
33 - 1
1 length
15

Theologist
Dr R D P Newland
Christian Williams
10st 13lbs
33 - 1
2 lengths
16

Stars Du Granits
Miss V Williams
A Coleman
11st 10lbs
28 - 1
Neck
17

Hunterview
D Pipe
T Scudamore
11st 0lbs
8 - 1
9 lengths
18

Causeway King
A King
R Thornton
11st 7lbs
20 - 1
3/4 length
19

Fin Vin De Leu
C J Mann
D N Russell
11st 4lbs
20 - 1
7 lengths
20

Bocamix
A Crook
M O'Connell
11st 0lbs
33 - 1
7 lengths
21

Baccalaureate
N A Twiston-Davies
P J Brennan
11st 9lbs
40 - 1
4 1/2 lengths
22

Open Day
Jonjo O'Neill
A P McCoy
11st 10lbs
12 - 1
1 1/2 length
23

Diktalina
Mrs A M Thorpe
R Johnson
11st 3lbs
28 - 1
6 lengths
na

Prince Pippin
S Curran
A Freeman
11st 0lbs
66 - 1

RUBY WALSH SETS NEW FESTIVAL RECORD
Ruby Walsh set a record for winners by a jockey at the Cheltenham Festival when Sanctuaire, winner of the Fred Winter Juvenile Handicap Hurdle, took him to a mark of 26 successes.

Walsh, 30, the son of former amateur rider and now trainer and television pundit Ted Walsh, acknowledged former record holder Pat Taaffe, but said he may not hold the position for long given the presence of Tony McCoy (22 wins) and Barry Geraghty (18).

Walsh said: "It's a nice record to break, but I don't know I'll hold onto it for long given that AP is only four behind. It's not something I set out to do because it's not something you think will happen, but it's a nice one to have.

"Pat Taaffe was born in the same parish as me - he lived on one side of the motorway and we lived on the other. I remember going racing with my grandfather and picking up Pat's horses to take to the races.

"Anyone in racing would talk about Arkle and that meant they talked about Pat Taaffe. He also won four Grand Nationals. He was very lucky to ride for Tom Dreaper and I've been very lucky to ride for Willie Mullins and Paul Nicholls - that's what wins records for you; big teams.

"His record has stood for so long and it's nice to do it, but as I said I doubt I'll hold it as long because AP is only four behind and Barry isn't far behind that."
Walsh had endured a torrid day before Sanctuaire's victory, with two falls in earlier races and Master Minded running poorly in the Queen Mother Champion Chase. On a brighter note his sister, Katie, won the National Hunt Chase.
Walsh, who rides hot favourite Big Buck's in tomorrow's feature event, the Ladbrokes World Hurdle, said of Master Minded: "Your first instincts are usually right, and I was beaten so far out that something has to be wrong with the horse. All his best form is on slower ground and that's the first time he's faced genuine good ground and didn't handle it. But animals are not machines - you cannot switch them on and off. That's racing, you get up you keep going."
PIPE HAPPY WITH NOTUS DE LA TOUR
Trainer David Pipe was very satisfied with the performance of Notus De La Tour, the nine-length runner-up behind easy winner Sanctuaire in the Fred Winter Juvenile Novices' Handicap Hurdle.

Pipe said of the 13/2 chance: "He has run a blinder and finished closest to the winner from the horses that had more weight. The winner was a very well handicapped horse.

"There are no plans as to where he goes next - we will take him home and see how he is before making any plans."
Earlier in the afternoon the veteran Well Chief finished last of the seven finishers in the Seasons Holidays Queen Mother Champion Chase for the trainer.

Pipe continued: "Well Chief couldn't go the pace today and Timmy Murphy just let him come home in his own time. There are no plans for him at the moment - we will have a chat with everyone after The Festival is over."
FRED WINTER JUVENILE NOVICES' HANDICAP HURDLE PAST RESULTS
2007-WINNER-GASPARA 4-10-11 Owner-Martin Pipe; Trainer-David Pipe; Jockey-Andrew Glassonbury; SP-9/2 Joint Fav
2ND-Altilhar 4-10-08 Owner-H R Hunt; Trainer-Gary Moore; Jockey-Noel Fehily; SP-12/1
3RD-Laustra Bad 4-11-00 Owner-Sarah Ling; Trainer-David Pipe; Jockey-Tom Scudamore; SP-16/1
4TH-Zilcash 4-11-07 Owner-David Bellamy & Stephen Williams; Trainer-Alan King; Jockey-Gerard Tumelty; SP-50/1
24 ran, Time-3m 57.75s, Dist-5, nk, 3 9/2 Joint Fav Pouvoir (10th)
2006-WINNER-SHAMAYOUN 4-11-03 Owner-Ronald Brimacombe; Trainer-Charles Egerton; Jockey-Paddy Brennan; SP-40/1
2ND-Artist's Muse 4-10-13 Owner-Seamus Ross; Trainer-Ted Walsh IRE; Jockey-Ruby Walsh; SP-12/1
3RD-Patman du Charmil 4-11-03 Owner-Raymond Mould; Trainer-Nigel Twiston-Davies; Jockey-Carl Llewellyn; SP-40/1
4TH-Gardasse 4-11-03 Owner-A S Helaissi; Trainer-Tom Tate; Jockey-Jason Maguire; SP-33/1
24 ran, Time-3m 57.20s, Dist-2.5, 2.5, 2.5 9/2 Fav Royals Darling (15th)
2005-WINNER-DABIROUN 4-11-04 Owner-Donal O'Gorman; Trainer-Paul Nolan IRE; Jockey-Miss Nina Carberry; SP-20/1
2ND-At Your Request 4-11-03 Owner-Cockbury Court Partnership; Trainer-Ian Williams; Jockey-David Dennis; SP-33/1
3RD-Nation State 4-11-04 Owner-J D Brownrigg; Trainer-Gary Moore; Jockey-Jamie Moore; SP-7/1
4TH-Miss Academy 4-11-12 Owner-David Johnson; Trainer-Martin Pipe; Jockey-Timmy Murphy; SP-16/1
14 ran, Time-3m 54.00s, Dist-8, 1.5 , 1.75 4/1 Fav Ease The Way (14th)
FRED WINTER JUVENILE NOVICES' HANDICAP HURDLE ROLL OF HONOUR
(First running in 2005)
Year Winner Age/Wt Jockey Trainer Owner SP Ran
2009 Silk Affair
2008 Crack Away Jack
2007 Gaspara 4-10-11 Andrew Glassonbury David Pipe Martin Pipe 9/2 JF 24
2006 Shamayoun 4-11-03 Paddy Brennan Charles Egerton Ronald Brimacombe 40/1 24
2005 Dabiroun 4-11-04 Miss Nina Carberry Paul Nolan IRE Donal O'Gorman 20/1 24