cheltenham festival / 2012 news /

By Billy Blakeman ValueChecker

2012 Cross Country Chase - Mullins to Take Over?
08/01/12

The Glenfarclas Cross Country race at the festival is a bit of a marmite type of affair and on too many occasions, races on this unusual bank course are marred by the jockeys being unable to successfully navigate the complex course layout. Still, the latest debacle will hopefully bring some further preventative measures and the riders involved in the Championship race of this sphere are all likely to be experienced and competent.

Looking at the trends and stats for the race, there are two that stand out above all others. Firstly, the Irish have been behind the training of all seven winners with Enda Bolger being the most prolific with 4 wins under his belt. To add strength to this stat, 28 of the 31 horse that won or placed have been Irish-trained!

The other key trend on the face of it is that all winners have been aged 9 or over. However, this is a near-classic case of not being fooled by simple statistics. In fact, the majority of runners have been in the age group, especially at the front end of the market. In 2009, only one contender, a 50/1 shot, contested the race and only two went to post in 2008 so horses younger than 9 should not be automatically crossed-off. Again, this is a near-classic case of the trend having a perfectly explained and logical reason behind it rather than it being significant as a trend in itself. Horses that contest these races have limited opportunity to race given how few are held relative to conventional chases. Therefore, the older more experienced horse is often tried on the bank course with the hope of rejuvenaiting a horse that may have become jaded. Add to that the fact that many who take to the course race up until they are 13 or 14 and given the same horses tend to win or place consistently, then the 7/7 stat for 9-y-o winners is nothing more than expected probablility.

So, we are looking for an Irish-trained runner I grant you but age immaterial. A more useful asset is class. The past results suggest that this is not a race in which to get bogged down in thinking about handicap marks and weights, far more important is previous course form and the ability to navigate the obstacles fluently and with enthusiasm, which many horses do.

Garde Champetre


© racing-images.co.uk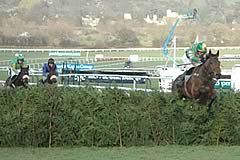 Enda Bolger and Garde Champetre are the obvious starting points and on the Wiki profiles alone, Garde Champetre would get the call with 6-12 wins from Cheltenham including this race twice. He was beaten in 2010 and 2011 though and whilst victorious in December, that was a notably fortunate win. Owner JP McManus has told the press that the horse seems to have lost his old dash and it doesn't seem overly likely we will see what would be a fairytale result come March.
Irish maestro Willie Mullins seems to have taken exception to Enda Bolger's stranglehold and this season he has introduced two classy and experienced chasers into this sphere. Scotsirish never quite made it into the top league but he has won a couple of Grade 2 races and after a long career, he has the right profile to be switched to this unusual discipline. He certainly proved his case when stringing his rivals out at Punchestown before travelling over for a go round Cheltenham. Even watching the video, it isn't easy to decipher who was going to win that race when half the field took the wrong course turning in but Scotirish was certainly staying on nicely. There looks to be no reason that he won't run well and he could well hang on the favouritism from now until the off time.
Stablemate at the Mullins yard, Uncle Junior has a very similar profile, although the 11-y-o has less miles on the clock. Fair to point out that he is not quite as classy as Scotsirish looking back over the respective form and reportedly had only shown limited aptitude in training over the new and varied obstacles. However, he won here quite nicely in November from Garde Champetre and may well have won the December race here had they gone the correct way. Worth mentioning that he was not wonderfully fluent there or indeed when he won here so just a nagging concern there. Nonetheless, a very credible contender and one for whom decent ground would be an advantage.
A hugely strong Irish challenge includes last year's winner, Sizing Australia. Henry De Bromhead has a pretty impressive strike rate on these shores and his contender had three placings here before that 2011 success. Given that Punchestown has not seemed to suit him nearly as well, he is likely to be spot-on for a repeat bid and that has to be a real possibility.
The best of the English challengers looks to be Maljimar. Famously caught by an inspired AP McCoy at the 2009 festival, Nick Williams' charge looked set for compensation in this race last year but again, the line was just a few yards too far away. If arriving in peak form, Maljimar would certainly have prospects of upsetting the Irish raiders although a third near-miss could be more probable!
Tips wise, it isn't an easy call but I think Willie Mullins is likely to be successful in his mission to muscle in on this race and he could set up a nice sequence. Uncle Junior almost gets the vote but there is just the worry about his fluency. With Scotsirish, one could fairly worry about his stamina given that he was racing over 2 miles as recently as October 2011 but he did appear to stay this trip last time and his class would well carry him home.
Recommendation: Scotsirish @ 4/1