cheltenham festival / news /

£45m Cheltenham Racecourse Development Project Achieves Planning Consent 19/07/13

Cheltenham Borough Council last night gave planning consent to The Jockey Club's proposed £45 million development project at its flagship Cheltenham Racecourse.

Commenting on the news, Ian Renton, Cheltenham and South West Regional Director for Jockey Club Racecourses, said:

"I am delighted that Cheltenham Borough Council has approved the application and am most grateful for the very positive support received from the local community. The new development will enable us to provide facilities for our racegoers in keeping with the quality of the National Hunt Racing on offer at Cheltenham and ensure that Cheltenham Racecourse enhances its status as a world-class sports venue for many years to come."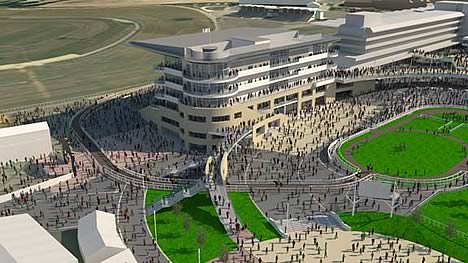 The proposed development will create a state-of-the-art new grandstand alongside the existing main grandstand, replacing the circa 1920s 'A&R' block. It will include new annual members' facilities, general public viewing areas, private boxes and the Royal Box. The project will include improvements for owners and trainers, and focus on enhancing the overall customer experience at the racecourse, including elevated walkways to ease mobility and multi-tiered viewing of the parade ring. A detailed planning application for the development was submitted to Cheltenham Borough Council at the end of April 2013 after a successful public consultation.

The main development is scheduled to begin immediately after the 2014 Cheltenham Festival with a planned completion date ahead of The Festival in 2016. During the construction period, Cheltenham will be able to continue staging its race programme as normal.

At a projected £45 million, the development will be The Jockey Club's largest single investment in facilities and builds on more than £80 million invested in facilities at Cheltenham in the last 30 years. The Jockey Club, which is the largest commercial group in British horseracing, raised nearly £25 million towards the funding of the Cheltenham Racecourse development through the first retail bond in British sport. The remainder of the capital will be funded through cashflow, commercial agreements and bank financing.

The Jockey Club, which runs 15 racecourses in the UK, including Cheltenham, Aintree, Epsom Downs and both the Rowley Mile and July Course in Newmarket, has funded more than £155 million in the last ten years on new and upgraded facilities for customers and racing's participants, including new grandstands at Aintree (£31 million, two grandstands) and Epsom Downs (£28 million, one grandstand).
Before and after shots: