New Approach to Vodafone Derby Victory
07/06/08
1st (12) New Approach 5-1
2nd (16) Tartan Bearer 6-1
3rd (5) Casual Conquest 7-2 Fav
16 ran
Also: 11-2 Doctor Fremantle 4th
NR: 14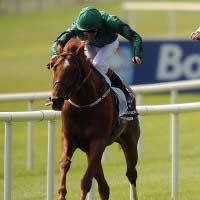 The Jim Bolger-trained New Approach - who a week ago was not going to contest the Vodafone Derby - ran out a brilliant winner in the 229th running of the Classic at Epsom when holding off the fast-finishing Tartan Bearer by half a length. Bolger's son-in-law Kevin Manning was in the saddle.
"Everything went according to plan and he just got the job done," said Bolger. "We'd been settling him at home recently and I was never too concerned.
"I thought before the race that winning would be up there with the best but after winning I can very willingly say it is the very best day I have had in racing.
"It gives me great satisfaction, I love to be competitive and this is a terrific sporting occasion."
Bolger accidentally left New Approach in the Vodafone Derby at the final forfeit stage on May 23 and added: "It was the biggest mistake I've made for a long time but it was the best mistake I have made in my life.
"Kevin didn't panic and he really starred. It was the best ride I have ever seen around Epsom in any year because it was difficult beforehand and there would not be many jockeys that could be organised like that
"There has been no pressure from Sheikh Mohammed, Princess Haya or John Ferguson and I don't do pressure. The only pressure may have been among the staff but they can be proud of what they do, it has been a team effort. The time that we've put into the horse has paid off.
"I'm not capable of contempt and I'm sure the punters who backed him antepost are happy and he came home to a great cheer.
"Yesterday we were hoping we'd win the Oaks (with Lush Lashes) but unfortunately she didn't get home but we got some consolation in the Coronation Cup (breeding the winner Soldier Of Fortune) and that was a masterful training performance from Aidan O'Brien. But today is a bit better, it's the best day I have had in racing."
Manning added: "From a young age every jockey dreams of Epsom Derbys. There's always pressure, you do get a bit worked up beforehand, but he is a very classy horse and made things easy. It's nice to ride this type of horse rather than 33/1 chances.
"He has got little quirks like most good horse, he just has his moments like George Washington, but on the track he has no problems. He's not a horse that has ever bolted to the start, he has never given me any bad vibes.
"I dropped him in behind, a bit further back than I'd wished, and he was taking a strong hold so had to drop him back but he got going from the top of the hill and it was a big relief to win."
Owner Princess Haya of Jordan added: "I can't tell anyone how excited I am to be here at the greatest sporting event in the world and I hope everyone here on the Downs has enjoyed it. The horse is so aptly named for Sheikh Mohammed."
Position

Horse
Trainer
Jockey
Weight
Starting Price
Beaten Distance
1

New Approach
J S Bolger
K J Manning
9st 0lbs
5 - 1
Winner
2

Tartan Bearer
Sir Michael Stoute
R L Moore
9st 0lbs
6 - 1
1/2 length
3

Casual Conquest
D K Weld
P J Smullen
9st 0lbs
7 - 2
4 1/2 lengths
4

Doctor Fremantle
Sir Michael Stoute
K McEvoy
9st 0lbs
11 - 2
1 1/2 length
5

Washington Irving
A P O'Brien
C O'Donoghue
9st 0lbs
33 - 1
3/4 length
6

Alessandro Volta
A P O'Brien
J A Heffernan
9st 0lbs
33 - 1
Short Head
7

Rio de La Plata
Saeed bin Suroor
L Dettori
9st 0lbs
20 - 1
1 length
8

Tajaaweed
Sir Michael Stoute
R Hills
9st 0lbs
10 - 1
1/2 length
9

Bouguereau
P W Chapple-Hyam
A Munro
9st 0lbs
100 - 1
1/2 length
10

Curtain Call
L M Cumani
J P Spencer
9st 0lbs
7 - 1
1 1/4 length
11

Frozen Fire
A P O'Brien
M J Kinane
9st 0lbs
16 - 1
1 1/4 length
12

King of Rome
A P O'Brien
J Murtagh
9st 0lbs
16 - 1
9 lengths
13

Alan Devonshire
M H Tompkins
P Mulrennan
9st 0lbs
100 - 1
4 1/2 lengths
14

Kandahar Run
H R A Cecil
T E Durcan
9st 0lbs
11 - 1
14 lengths
15

Bashkirov
A P O'Brien
D R McCabe
9st 0lbs
125 - 1
11 lengths
16

Maidstone Mixture
Paul Murphy
M O'Connell
9st 0lbs
250 - 1
distance
NonRunner

River Proud
P F I Cole
T Quinn
9st 0lbs


Kevin Manning, the winning rider, said of New Approach moving up in the straight: "I ran down behind the heels of four horses. The camber was hanging in and I didn't think there was plenty of room on the inside so I just got out and kept his momentum up and then I rolled him onto the fence.
"It's just great to win because there has been so much hype with the horse and it's great to get him here and get the job done. He's done nothing wrong in either of the Guineas and he's proved it today.
"He's just a very, very classy horse. He gets the mile and a half very well but he's also a very pacy horse. To do what he did today, he had to be a pacy horse. I don't know what the horse's plans are, I'm just quite happy to ride him, but the ground in the Irish guineas was way too firm for him.
"It's every jockey's dream from the time you are a kid to win the Derby, an Irish Derby or English Derby or any of them, and it's just fantastic to achieve it."
Princess Haya, the winning owner, declared: "I don't think he was a monkey. He had one way of running and they changed it at the last minute and he put up with that and showed that he has a brilliance in him that we never saw before.
"I think it's such an amazing dream, I can't believe it! Well, he's Sheikh Mohammed's horse and to think that we would have his Derby dream together, it's wonderful."
Sheikh Mohammed, Princess Haya's husband, commented: "For a half mile he was pulling and I thought that with this pulling and fighting he would get tired but really he's improved. He's a great horse."
Jim Bolger, the winning trainer, said: "There was no problem with us, everything was very calm and everything went to plan.
"There was no excitement and we just got the job done and that was it. Coming out of the stables we noticed that he had a bit of paper on his foot on the way up so we wanted to get rid of it, which was a mistake because when we stopped to dig it out his foot, he stopped. But after that he walked on and we didn't have too many anxious moments after that.
"We knew he would lob down because we've been settling him recently so I was never too concerned about that. Kevin really starred today. He kept his cool, did everything right and didn't panic. He had a huge job trying to manage and steer him and he got it done in great style.
"The victory is very special. I thought before the race that it would be up there with the best, but I very willingly say it is the best.
"The decision to leave him in was the biggest mistake I have made in a long time but it was fortuitous one and has worked out for the best. I am just extremely lucky and thankful that I did make the mistake. I admitted the mistake from the word go and I don't see why people should have had such a big problem when I put my hand up and admitted the mistake."
Winning groom Pat O'Donovan said: "It's fantastic, a brilliant performance! New Approach is okay to work with and once you know his moves, he's straightforward enough.
"I was never worried about him today. We took him out this morning and he behaved perfectly well. He did the same as when you saw him walk to the start and he operated perfectly well throughout the race."
STOUTE "DELIGHTED" WITH DERBY PAIR
Sir Michael Stoute narrowly failed to capture his fifth Vodafone Derby as 6/1 chance Tartan Bearer finished a valiant half-length runner-up to the triumphant New Approach.
The Spectrum colt, a Ballymacoll homebred full-brother to 2001 Vodafone Derby runner-up Golan, was unable to master the winner, who is himself a son of Golan's Epsom nemesis, Galileo.
The Freemason Lodge handler was also responsible for fourth-placed Dr Fremantle, owned by Khalid Abdulla and beaten just under six lengths. The Chester Vase winner was a supplementary entry on Monday and the 11/2 shot recouped the £75,000 entry fee.
Stoute said: "Im delighted with both horses. I'd like to sit down and see the race again properly.
"From the angle I was at, I thought we might win but it was a bad angle."
Peter Reynolds Stud Manager at Ballymacoll Stud, commented: "Ryan (Moore) said that the pace could have been slightly better but it was a good performance and we're happy. The winner is a very good horse. Hopefully we'll go to the Curragh now for the Irish Derby."
A disappointed Moore said: "We just got done but he's run a great race and we almost got there."
CONQUEST A HORSE FOR THE FUTURE
While his 9/2 favourite Casual Conquest could finish no better than a five-length third in this afternoon's Group One Vodafone Derby, trainer Dermot Weld was "delighted" that there was an Irish success in compatriot Jim Bolger's New Approach.
He said: "I'm delighted for Jim Bolger and I'm delighted as an Irishman here today.
"Casual Conquest ran a great race in the third race of his life. He was a little bit inexperienced, which told but Pat (Smullen) gave him a perfect ride."
Meanwhile Smullen, who was having his fourth ride in the race, added: "I had no excuses - Casual Conquest ran a blinder and he's a horse for the future.
"He'll get better and better and I couldn't be more pleased without winning. I wouldn't say that he didn't stay, it's just the fact that it was only his third race."