Fame And Glory Lands Investec Coronation Cup
04/06/10
1 (4) Fame And Glory 5/6F
2 (10) Sariska 5/2
3 (9) High Heeled 25/1
Last year's Investec Derby runner-up Fame And Glory went one better on his return to Epsom, repelling Sariska to win the Investec Coronation Cup by a length and a half.

Having now won his last three races, the son of Montjeu could not head to Royal Ascot and drop to 10 furlongs for the Prince Of Wales's Stakes.

Trainer Aidan O'Brien said: "He's tactically very quick now. We'll maybe have a look at the Prince of Wales's Stakes for him next as he's very pacey but we'll see how he is.

"Sariska's a great filly but we were very happy as he was going very well - he travelled very well through the race. He's a great horse."
Winning rider Johnny Murtagh was full of praise for his mount who atoned for fluffing his lines at the gate by quickly hitting his stride to be prominent throughout just behind his pacemaker Dixie Music.

Murtagh said: ""He just missed the stalls a little bit today - he didn't jump out very well - and there didn't look to be too much pace in the race so I said to Seamus that I would probably follow him. He rides Fame And Glory in his work all of the time, so he knows him well.
"The horse on my inside probably had me a little bit keen early in but he has done it the hard way.
"I wanted to just get a breather into him but he went hard for a long way and he's a real champion. I like the way he knuckled down.

"He's a real champion and I liked the way he knuckled down in the last furlong. When Sariska came to us, there was only going to be one winner.

"He likes his races to be a good test but he's a lot sharper and more mature this year. Apart from Sea The Stars he was the best horse around last season and coming here last year Seamus (Heffernan), who rides him in his work at home, said he thought he would win the Derby."
He added: "He's very solid, there are no chinks in his armour. He's much more on the ball this year and is showing a bit more dash. He's really in the zone now. When Sariska came, she put up a good battle but it wasn't good enough. He won comfortably in the end."
Position

Horse
Trainer
Jockey
Weight
Starting Price
Beaten Distance
1

Fame And Glory
A P O'Brien
J Murtagh
9st 0lbs
5 - 6
Winner
2

Sariska
M L W Bell
J P Spencer
8st 11lbs
5 - 2
1 1/2 length
3

High Heeled
J H M Gosden
William Buick
8st 11lbs
25 - 1
1 1/4 length
4

Youmzain
M R Channon
K Fallon
9st 0lbs
8 - 1
3/4 length
5

Cavalryman
S bin Suroor
L Dettori
9st 0lbs
9 - 1
1 3/4 length
6

South Easter
W J Haggas
R L Moore
9st 0lbs
33 - 1
4 1/2 lengths
7

Jukebox Jury
M Johnston
R Ffrench
9st 0lbs
16 - 1
5 lengths
8

Bashkirov
L Comer
R P Walsh
9st 0lbs
125 - 1
10 lengths
9

Dixie Music
A P O'Brien
J A Heffernan
9st 0lbs
125 - 1
14 lengths
NonRunner

Clowance
R Charlton
J Fortune
8st 11lbs


OPTIONS OPEN FOR 'STAR' SARISKA
Investec Oaks winner Sariska returned to Epsom today for a crack at the same sponsor's Coronation Cup, and she ran a fine race when second to Fame And Glory.

Sariska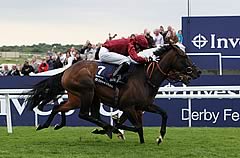 The Michael Bell-trained four-year-old stalked the winner into the straight, but could not quicken past him and was beaten one and a half lengths, with third-placed High Heeled another length and a quarter further behind.

Bell said: "He [Fame And Glory] is a very good horse right on his game, Sariska is a very good filly right on her game, but we came up a little bit short. Not by much and that was a very good run against a very good horse. The filly is a star, and it's no disgrace to be second."
Sariska is well known as a filly who is at her peak on easy ground, and Bell said: "Jamie [Spencer] said the ground wasn't ideal for her - she's effective on this ground, but softer plays to her strengths.

"It's never wise to make a decision straight after a race and we'll have a big discussion and make a strategy with Carol [owner Lady Carol Bamford] and Hugo [racing manager Hugo Lascelles]. The Arc is the ultimate aim if the ground is in her favour, but in the meantime we've got the option of going back against her own sex. Unless Fame And Glory has an operation we won't meet him there, although we'll happily take him on again when the time comes."
Sariska is an imposing filly, with the size and strength that would do justice to a four-year-old colt. Bell said: "She's a beast - she's half man - but she's also lightly-raced and that's what is standing her in good stead now."
High Heeled, running her first race for trainer John Gosden, made a mockery of her odds of 25/1 to finish third in the Investec Coronation Cup, two and three quarter lengths behind the winner Fame and Glory.

High Heeled, sold at the Tattersalls December Sales for 600,000 guineas, joined the Gosden yard the day after she came out of the ring. The trainer inisted that she came to Epsom for the Investec Coronation Cup at only about "85%" and his delight was evident.

"We wanted to run her in the Middleton, but it was far too firm at York and we had to wait for this. I know Andrew [Cooper, clerk of the course] does a grand job here. I walked the whole course and it's perfect racing ground, the stick going in three inches.

"She ran a great race and I couldn't be more thrilled. William [Buick] said she was a little bit tired in the last furlong. She just blew up in the dip, the last 30 yards. And she's a better filly with juice in the ground," said Gosden.

High Heeled now has the Prix Vermeille, the Lancashire Oaks and the Pretty Polly Stakes to choose from as possible future targets, according to the Newmarke-based handler.

Mick Channon, trainer of fourth-placed Youmzain, was upset that three horses - Dixie Music, Jukebox Jury and the eventual winner Fame And Glory - were allowed to go clear up the hill.

Channon said: "He ran well again, but it was really two different races out there and I don't understand what they [the rest of the field] were doing. They gave three horses 10 lengths and you just cant do that especially when one of the horses is an [Irish] Derby winner.

Saeed bin Suroor, trainer of fifth-placed Cavalryman, said: "We didn't really get a clear run, we were stuck in traffic and had no luck today. He should have finished better than that. He's in the Prince of Wales's Stakes [at Ascot] and we will have to see how he comes back from this as it's only 12 days away.
"But it's good that he showed his class again today; the stiff mile and a quarter at Ascot should suit him well."