[an error occurred while processing this directive] epsom derby 2011 /
Pour Moi Swoops to Investec Derby Triumph
04/06/11
1 Pour Moi 4/1
2 Treasure Beach 25/1
3 Carlton House 5/2 Fav
13 ran Distances: hd, ¾l, ¾l
TIME 2m 34.54s (fast by 0.76s)
French teenage riding sensation Mickael Barzalona starred in the Investec Derby when bringing 4/1 chance Pour Moi up on the line to win by a head from Treasure Beach. The Queen's Carlton House, who was sent off 5/2 favourite, finished third.
Pour Moi
© JC Briens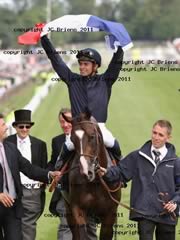 It was a first success in Flat racing's Blue Riband for Chantilly-based trainer Andre Fabre, whose 34-year training career feature victories in many of the world's other big races. Pour Moi was the first French-trained winner of the Investec Derby since Empery in 1976.

"Finally!" said Fabre. "I think the bad luck we have had here before has been more because the horses were not good enough but I thought here we had a proper horse for Epsom. The reality is that you have to have the horse. This is one of the races everyone wants to win and now it's over. Everyone knows about the Derby and I've tried a long time, it has not been a good track for me!

"This is the horse that I would like to win because he is such a good horse and it is not by hazard that he has won.

"What surprised me was that he had two accelerations - the first one to catch up and then he hit another extra gear. This was the sign of a champion and it was his first time at a mile and a half.

"It was a pleasure that Mickael is a home-made jockey and I know his family. Obviously it is such a pleasure to win this race and under these conditions, with a young jockey and this big crowd. I couldn't be more happy.

Asked about beating the Queen, Fabre said: "It is a race between horses, not between persons otherwise I would have finished far behind Her Majesty."

Barzalona, who celebrated by standing up in his irons and saluting, said: "It is fabulous! It is brilliant and I came so fast at the end that I knew I was going to win."

Part-owner Michael Tabor said: "It was sensational. He was at the back of the field as everybody saw - I always knew that he had to be ridden that way - but, having said that, it was a tall order. We knew that he was very good and so it was not a surprise.

"Obviously, we want to win - it goes without saying - but, if we didn't we certainly wanted the Queen to win. It was one of those things.

"It was utopia and I could always seeing Pour Moi winning because of what Andre told us about the horse. The only problem was the first time in a race at Epsom - it's all very well in a gallop but it's slightly different in a race. That's always the question mark when you come here."

Fellow part-owner Derrick Smith added: "I have to confess that I was cheering home Treasure Beach, not seeing where Pour Moi was coming from. It's incredible. That is the fourth time that I have been second in the purple colours. Hopefully it will happen - if I live long enough!"

John Magnier, whose wife Sue's colours were carried by the Montjeu colt, added: "I wish that somebody else owned the third horse but that's racing. Andre was confident. All the way throughout the last few weeks, he has been saying how good he was. He said how he was going to be ridden and he told us that he had more speed than Peintre Celebre.

"He was telling all of the youngsters up in the box to back him. Usually trainers go off the horses when they get close to the race but he was confident."
4.00pm INVESTEC DERBY (GROUP ONE)

£1,250,000 guaranteed, 1m 4f 10y. For 3yo, entire colts and fillies Weights colts 9st; fillies 8st 11lb Entries 456 pay £400 Confirmed 17 pay £ 2500 Penalty value 1st £709,625.00 2nd £269,000.00 3rd £134,625.00 4th £67,125.00 5th £33,625.00 6th £16,875.00

1 POUR MOI (IRE) (Sue Magnier, Michael Tabor, Derrick Smith) Andre Fabre FR 3-9-0 Mickael Barzalona [7] 4/1
2 TREASURE BEACH (D Smith, S Magnier, M Tabor) Aidan O'Brien IRE 3-9-0 Colm O'Donoghue [12] 25/1
3 CARLTON HOUSE (USA) (The Queen) Sir Michael Stoute 3-9-0 Ryan Moore [13] 5/2f
4 MEMPHIS TENNESSEE (IRE) (S Magnier, M Tabor, D Smith) Aidan O'Brien IRE 3-9-0 Joseph O'Brien [6] 20/1
5 NATIVE KHAN (FR) (Ibrahim Araci) Ed Dunlop 3-9-0 Johnny Murtagh [3]
6 RECITAL (FR) (S Magnier/M Tabor/D Smith/Mordukhovitch) Aidan O'Brien IRE 3-9-0 Pat Smullen [4]
7 VADAMAR (FR) (Aga Khan) Alain de Royer-Dupre FR 3-9-0 Christophe Lemaire [9]
8 MASKED MARVEL (Bjorn Nielsen) John Gosden 3-9-0 William Buick [5]
9 PISCO SOUR (USA) (Michael Kerr-Dineen) Hughie Morrison 3-9-0 Jimmy Fortune [1]
10 SEVILLE (GER) (M Tabor, D Smith, S Magnier) Aidan O'Brien IRE 3-9-0 Christophe Soumillon [2]
11 OCEAN WAR (Godolphin) Mahmood Al Zarooni 3-9-0 Frankie Dettori [10]
12 CASTLEMORRIS KING (Charles O'Connell) Michael Attwater 3-9-0v1 Mark Coumbe [11]
13 MARHABA MALYOON (IRE) (Ahmad Al Shaikh) David Simcock 3-9-0 Jamie Spencer [8]

13 ran Time: 2m 34.54s
BARZALONA GETS ONE-DAY BAN AND WARNING

Investec Derby-winning jockey Mickael Barzalona has been given a one-day whip ban and a warning following his premature celebration.

At a stewards' inquiry the teenager was found to have used his whip with excessive frequency and without allowing time for his mount, Pour Moi, to respond. He was suspended on Sunday, June 19.

The stewards also expressed their concern to the rider in regard to the timing and manner of his celebration, which began before the line and saw him standing up in the stirrups and waving his whip in the air, risking defeat by a fast-finishing rival.
'BRIEN AND DUNLOP PLEASED WITH PLACED RUNNERS

The Coolmore triumvirate of Sue Magnier, Michael Tabor and Derrick Smith landed a one-two in the Investec Derby with their French-trained Pour Moi swooping late to gain glory while the best of their four Irish-based runners proving to be runner-up Treasure Beach, who was ridden by Colm O'Donoghue and trained by Aidan O'Brien. Another of O'Brien's charges, Memphis Tennessee, made the early running and held on to take fourth.
O'Brien said: "They all ran well and Treasure Beach has run a really good race."
Native Khan


© racing-images.co.uk




Ed Dunlop, trainer of Native Khan, who finished a close-up fifth, said: "He was slightly boxed in but he's run a great race. The first thing that Johnny said was maybe he could have finished a length closer, but he stayed well and it was a really good run.

"Johnny said that he's only just beginning to become a racehorse. Well done to the ones in front of us."

Dunlop added: "He's in the Irish Derby but we'll take him home and see how he is. There are many options."