[an error occurred while processing this directive] epsom derby 2012 /
Stone Of Folca Cuts a Dash at Epsom
02/06/12
1 Stone Of Folca 50/1
2 Desert Law 11/1
3 Catfish 7/1 Fav
4 Taajub 25/1
20 ran Distances: ½l, ¾l, 1¼l
TIME 53.69s (fast by 1.21s)
Stone of Folca came back to his best to land the Investec Specialist Bank 'Dash' for trainer John Best and jockey Luke Morris.
Stone Of Folca
© Folkestone Racecourse Owners Group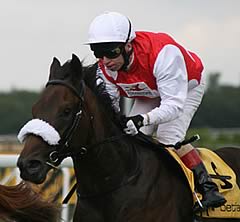 The winner of a Folkestone maiden early last year has been highly tried through his career, including when finishing 16th in the King's Stand Stakes last June, but still started a 50/1 chance.

Morris weaved his way across from stall two on the far side and went on to score by half a length.

Best said: "If he was drawn higher then we would have had a punt but he was badly drawn in stall two.

"We have always thought he is a very, very fast horse and I told Luke to jump and edge across to the stands' side.

"We have always thought he is quicker than Native Gallery. We will have a think about it but we might try the King's Stand Stakes again with this horse.

"Gelding him may have helped but he was such a handful going out on to the course - he was like an untamed lion."

Morris added: "If he had been drawn higher he would have broken the track record."

The time was 53.69 seconds, with the track record standing at 53.60.
Investec Specialist Bank 'Dash' (Handicap)
Going: Good to Firm
Position

Horse
Trainer
Jockey
Weight
Starting Price
Beaten Distance
1

Stone Of Folca
J R Best
L Morris
8st 12lbs
50 - 1
Winner
2

Desert Law
A M Balding
J Fortune
9st 2lbs
11 - 1
1/2 length
3

Catfish
B J Meehan
M Barzalona
8st 7lbs
7 - 1
3/4 length
4

Taajub
P Crate
I Mongan
8st 11lbs
25 - 1
1 1/4 length
5

Confessional
T D Easterby
T E Durcan
9st 4lbs
8 - 1
1/2 length
6

Jamesway
R A Fahey
Liam Jones
8st 4lbs
8 - 1
1/2 length
7

York Glory
K A Ryan
J P Spencer
9st 1lbs
12 - 1
Neck
8

Vocational
M Johnston
S De Sousa
9st 2lbs
33 - 1
1 1/4 length
9

Captain Dunne
T D Easterby
Dane O'Neill
9st 10lbs
11 - 1
1/2 length
10

Fitz Flyer
D Nicholls
K Fallon
8st 12lbs
20 - 1
Short Head
11

Oor Jock
J P Shanahan
C O'Donoghue
8st 11lbs
50 - 1
1/2 length
12

Sohraab
H Morrison
K T O'Neill
8st 9lbs
14 - 1
Head
13

Long Awaited
T D Barron
Martin Dwyer
8st 6lbs
16 - 1
1/2 length
14

Diamond Charlie
S Dow
Hayley Turner
8st 4lbs
40 - 1
Head
15

Courageous
K A Ryan
Raul Da Silva
8st 3lbs
40 - 1
Neck
16

Living It Large
E De Giles
J P Fahy
8st 8lbs
20 - 1
1 length
17

Judge 'n Jury
R Harris
M Harley
8st 10lbs
10 - 1
3/4 length
18

Dickie's Lad
K A Ryan
T P Queally
8st 13lbs
16 - 1
1 1/2 length
19

Bear Behind
Tom Dascombe
R Kingscote
9st 2lbs
7 - 1
2 3/4 lengths
20

Arctic Feeling
R A Fahey
P Hanagan
8st 7lbs
25 - 1
3 3/4 lengths
CONNECTIONS WEIGH UP ASCOT OPTIONS FOR DESERT

Owner Jeff Smith was thrilled with Desert Law's run to finish second in the Investec Specialist Bank 'Dash' Handicap and he is now toying with two options at Royal Ascot.

"That was absolutely tremendous," said Smith. "He's in the Wokingham and King's Stand Stakes at Royal Ascot and we will have to think it over. I'd probably just favour going for the King's Stand."

Third-placed Catfish could now try and pick up some black type. Her trainer Brian Meehan said: "She didn't quite get out when she wanted but she ran well. She's going to have a good year. She could head to Ayr in three weeks' time for the Listed Land O'Burns Fillies' Stakes."