Long Run, Poquelin & Tranquil Sea Head Fantastic Paddy Power Gold Cup Entry 27/10/10
This year's £150,000 Grade Three BetVictor Gold Cup looks set to be another superb renewal with the likes of Long Run, Poquelin and Tranquil Sea featuring among the 53 entries for the showpiece of The Open at Cheltenham on Saturday, November 13.
Tranquil Sea (right)


© racing-images.co.uk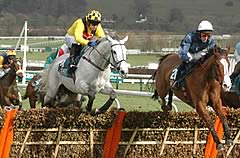 Tranquil Sea (12/1), trained in Ireland by Edward O'Grady, romped to a four and a half-length triumph over the Paul Nicholls-trained Poquelin (14/1) in last year's contest and the pair could clash once more in the prestigious extended two and a half-mile handicap chase.
The lightly-raced but top-class Noland (25/1) is also among Nicholls' six entries, while O'Grady could also saddle last season's Grade One The Irish Independent Arkle Challenge Trophy third Osana (14/1) and Catch Me (12/1), last seen finishing third to Pandorama in the Grade One Knight Frank Novices' Chase at Leopardstown in December.
Paddy Power's current market leader is the exciting second-season chaser Long Run (4/1), winner of the Grade One Feltham Novices' Chase at Kempton last term. His trainer Nicky Henderson also has Grade Two winners Riverside Theatre (20/1), Mad Max (16/1) and Duc De Regniere (25/1) among his eight entries.
Great Endeavour


© racing-images.co.uk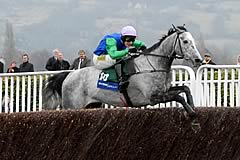 Also of note is the David Pipe-trained Great Endeavour (5/1), who landed the Grade Three Byrne Group Plate at The Festival from the Jonjo O'Neill-trained Sunnyhillboy (6/1), as well as the Ian Williams-trained Weird Al (25/1).

Chaninbar (20/1) could return to Cheltenham for trainer Milton Harris. The seven-year-old was a battling runner-up behind Edgbriar (20/1) in the ZEturf.com Handicap Chase over the course and distance at The Showcase on October 16, having impressively landed the Grade Three Red Rum Handicap Chase at Aintree in April.

He was raised 6lb by the handicapper for his latest effort and Harris is aiming his charge at the Grade Two Haldon Gold Cup on November 2, prior to a possible tilt at the Paddy Power Gold Cup.

The Banbury trainer revealed today: "The plan is to go next week to the Haldon Gold Cup and then we will make a decision on the Paddy Power Gold Cup based on how he gets on. The Paddy Power Gold Cup is a good race and we would love to be part of it but we will make a decision about his participation after he runs at Exeter.

"He is a good horse and he has improved quite dramatically since his last run, so I am really thrilled with him."

Nicky Richards could run Noble Alan (16/1), a smart novice chaser last season, who is also entered for the Greatwood Handicap Hurdle the following day at Cheltenham. Successful in the Grade Two Scottish Champion Hurdle in 2009, the seven-year-old was third to the impressive Australia Day in a two-mile hurdle at Kempton on October 17.

The Cumbria trainer revealed today: "I'm putting Noble Alan in a few races to give us options as he is very much ground dependent. The Paddy Power Gold Cup is one option, as is the Greatwood Handicap Hurdle, but at the moment I'm leaning towards the Elite Hurdle at Wincanton.

"I was well satisfied with his run at Kempton. The winner broke the track record and before the race we thought we had no right to be winning it on ratings - he was beaten 11 lengths and I thought he ran a nice race. He blew up and I expect him to improve a nice bit for next time.

"He's the type of horse that is very ground dependent, he doesn't want it too soft, and the lucky thing about him is that we may have a few more options if we can swap him back and forth a little bit between hurdles and chases. We just have to see how the weather pans out.

"He won three novice chases and ran in six all told, so he gained a bit of experience over fences and jumped very well in the Grade One Maghull Novices' Chase at Aintree - he broke blood vessels that day, unfortunately. He's a sound enough jumper, so I wouldn't worry about running him in a competitive handicap."

PADDY POWER GOLD CUP - Paddy Power prices:
4/1 Long Run, 5/1 Great Endeavour, 6/1 Sunnyhillboy, 12/1 Tranquil Sea, Catch Me, 14/1 Osana, Poquelin, 16/1 Dave's Dream, Mad Max, Noble Alan, Tchito Polos, 20/1 According To Pete, Chaninbar, Edgbriar, Riverside Theatre, The Package, 25/1 Can't Buy Time, Duc De Regniere, Gansey, I'msingingtheblues, Noland, Prince De Beauchene, See U Bob, Tatenen, Weird Al, 33/1 Fiendish Flame, Finger Onthe Pulse, Five Dream, Forzy Origny, Free World, From Dawn To Dusk, Gwanako, Hills Of Aran, ll Duce, Little Josh, Massini's Maguire, Scotsirish, The Sawyer, 40/1 Dancing Tornado, Fisher Bridge, Panjo Bere, Passato, Pickamus, Pigeon Island, You're The Top, 50/1 Awesome George, Gonebeyondrecall, Nozic, Private Be, Rory Boy, Working Title, 66/1 Door Boy, Just Smudge
Each way 1/4 odds, 1-2-3-4

THE PADDY POWER GOLD CUP
Class 1, Grade 3, £150,000 Total Prize Fund. 2.30pm, Cheltenham, Saturday, November 13, 2010. For four year olds and upwards, two miles, four and a half furlongs. Penalties: after October 31, a winner of a chase 5lb. No penalty to increase a horse's weight above 11st 12lb. Entries closed October 26, entries revealed October 27 (53 entries), weights revealed Wednesday, November 3, five-day confirmation stage November 8, final declaration stage 10.00am, November 11. Form figures supplied by Weatherbys and are correct up to and including the racing of Monday, October 25. May not include some overseas form.

Form Horse Age Owner Trainer

553050- ACCORDING TO PETE 9 P Nelson Malcom Jefferson
151P3-2 AWESOME GEORGE 6 Gwen Meacham Alan King
4F/016F- CAN'T BUY TIME (IRE) 8 J P McManus Jonjo O'Neill
15/1F43- CATCH ME (GER) 8 J P O'Shea Edward O'Grady IRE
1P14P-2 CHANINBAR (FR) 7 Watts, Middleham Park, Thompson, Naylor Milton Harris
41R-320 DANCING TORNADO (IRE) 9 J P McManus Michael Hourigan IRE
66/1340- DAVE'S DREAM (IRE) 7 David Murdoch & Jenny Murdoch Nicky Henderson
P/113F6- DOOR BOY (IRE) 7 Andrea & Graham Wylie Howard Johnson
513211- DUC DE REGNIERE (FR) 8 Sir Peter & Lady Gibbings Nicky Henderson
12310-1 EDGBRIAR (FR) 8 D Allen Paul Webber
23163-0 FIENDISH FLAME (IRE) 6 Mr & Mrs R N C Hall Donald McCain Jnr
0PFU-13 FINGER ONTHE PULSE (IRE) 9 J P McManus Tom Taaffe IRE
35P-621 FISHER BRIDGE (IRE) 7 P R Syndicate Noel Meade IRE
2422-62 FIVE DREAM (FR) 6 Scott-MacDonald, Kilduff, Donlon & Doyle Paul Nicholls
60031-2 FORZY ORIGNY (FR) 8 Sir Robert Ogden Nicky Henderson
32/2230- FREE WORLD (FR) 6 Clive Smith Paul Nicholls
1/30313- FROM DAWN TO DUSK 11 Charles Lloyd-Baker Philip Hobbs
311U10- GANSEY (IRE) 8 Trevor Hemmings Sue Smith
0F4112 GONEBEYONDRECALL (IRE) 7 Noel Glynn Noel Glynn IRE
0/31441- GREAT ENDEAVOUR (IRE) 6 David Johnson David Pipe
F/U056-F GWANAKO (FR) 7 The Stewart Family Paul Nicholls
05/11-04 HILLS OF ARAN 8 David Hughes Mike Evans and Partners Keith Goldsworthy
2/6302-F I'MSINGINGTHEBLUES (IRE) 8 Jo Tracey David Pipe
2/P40/0-0 IL DUCE (IRE) 10 Mrs Peter Prowting Alan King
4/P1P-41 JUST SMUDGE 8 Sastastic Partnership Venetia Williams
2F1F16- LITTLE JOSH (IRE) 8 Tony Bloom Nigel Twiston-Davies
211113- LONG RUN (FR) 5 Robert Waley-Cohen Nicky Henderson
10/1341- MAD MAX (IRE) 8 Carole Skipworth & Paul Murphy Nicky Henderson
12235/3- MASSINI'S MAGUIRE (IRE) 9 Alan Peterson David Pipe
F2116-3 NOBLE ALAN (GER) 7 Craig Bennett Nicky Richards
1132/11/- NOLAND 9 John Hales Paul Nicholls
00/60UP- NOZIC (FR) 9 Coral Racing Limited Nick Gifford
123324- OSANA (FR) 8 Thomas Barr Edward O'Grady IRE
55314F- PANJO BERE (FR) 7 Paul Chapman & Elizabeth Kiernan Gary Moore
0-11110 PASSATO (GER) 6 P Ponting Jo Davis
21411-0 PICKAMUS (FR) 7 Neville Statham & Family Henry Daly
2F510-3 PIGEON ISLAND 7 Raymond Mould Nigel Twiston-Davies
1212U-2 POQUELIN (FR) 7 The Stewart Family Paul Nicholls
321/201- PRINCE DE BEAUCHENE (FR) 7 Andrea & Graham Wylie Howard Johnson
2250-05 PRIVATE BE 11 David and Daphne Walsh Philip Hobbs
4/3115F- RIVERSIDE THEATRE 6 Jimmy Nesbitt Partnership Nicky Henderson
23402-6 RORY BOY (USA) 5 Colin Cornes Nigel Twiston-Davies
431620- SCOTSIRISH (IRE) 9 Double R Stables Syndicate Willie Mullins IRE
10120-2 SEE U BOB (IRE) 7 J P McManus Paul Nolan IRE
415312- SUNNYHILLBOY (IRE) 7 J P McManus Jonjo O'Neill
U360UP- TATENEN (FR) 6 The Stewart Family Richard Rowe
13F212- TCHICO POLOS (FR) 6 Chris Giles Paul Nicholls
2312U5- THE PACKAGE 7 David Johnson David Pipe
011300- THE SAWYER (BEL) 10 D R Fear Bob Buckler
112106- TRANQUIL SEA (IRE) 8 Dermot Cox/Nelius Hayes Edward O'Grady IRE
2/1/111- WEIRD AL (IRE) 7 Brannon Dennis Dick Holden Ian Williams
1F20-61 WORKING TITLE (IRE) 8 Auld Hayes & Murphy Nicky Henderson
131PP-4 YOU'RE THE TOP (FR) 6 Michael Buckley Nicky Henderson

53 Entries
9 Irish-trained