Paddy Power Cup Finally Crosses The Irish Sea Once Again
14/11/09
1 (7) Tranquil Sea 11/2 (F)
2 (5) Poquelin 12/1
3 (20) Hold Em 14/1
4 (9) Ballyfitz 6/1 (2F)
It has been a long time coming, but Tranquil Sea finally broke the 29-year hiatus for Irish-trained horses in the £150,000 Paddy Power Gold Cup, winning by four and a half lengths from Poquelin. In total, he was the fifth Irish-trained winner of the Paddy Power Gold Cup following Fortria (1960 and 1962), Skymas (1983) and Bright Highway (1980).
Tranquil Sea (right)


© racing-images.co.uk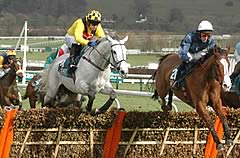 Partnered by Andrew McNamara, the seven-year-old was always travelling supremely well and looked to have the race at his mercy as Hold Em began to fade away. Poquelin came from off the pace to challenge, but there was only ever going to be one winner. The 11/2 market leader was trained by Edward O'Grady, the most successful current Irish trainer at The Festival with 18 winners. Tranquil Sea was also, surprisingly, O'Grady's first runner in the Paddy Power Gold Cup.
Edward O'Grady said: "I looked up the three previous Irish winners of this race and they were fantastic. It would be nice if we could aspire to the same level with this horse.
"Two days after he won his novice hurdle at Punchestown (a Grade One event in April, 2008), he got spooked by a pigeon and injured his shoulder. At first we thought he might have broken his shoulder but fortunately he didn't.
"However, his injury meant that he missed a summer at grass as he was in his box for three to four months and after starting last season well, he trained off.
"He ran well enough in the Jewson at The Festival last season and ran better than his finishing position suggested after making a mistake at the water. With a better run, he could maybe have finished second or third - he made up a lot of ground.
"Today's race was always going to be on his agenda. I couldn't have had him any better. It was more a case of whether he was good enough and whether he had luck in running. We should ideally have come here without a penalty, but I didn't have the confidence.
"I think we might just sit back and not rush on deciding his next target. I hope he could be a horse for the Ryanair Chase and that is the race I would like to aim him at but at the moment he is still a handicapper and I'm not sure today was the strongest renewal of the Paddy Power Gold Cup.
"I don't think the conditions helped him today although maybe they didn't inconvenience him as much as some of the others. I think he will be a better horse on better ground."
Winning rider Andrew McNamara added: "He travelled so much easier than I had expected and handled conditions well - it's not easy jumping off this sort of ground.
"He did get tired on the run in but he had travelled so sweetly."
Paddy Power make Tranquil Sea 6/1 for the Ryanair Chase.
Position

Horse
Trainer
Jockey
Weight
Starting Price
Beaten Distance
1

Tranquil Sea
E J O'Grady
A J McNamara
10st 13lbs
11 - 2
Winner
2

Poquelin
P F Nicholls
R Walsh
11st 1lbs
12 - 1
4 1/2 lengths
3

Hold Em
W K Goldsworthy
J E Moore
10st 0lbs
14 - 1
2 lengths
4

Ballyfitz
N A Twiston-Davies
P J Brennan
10st 11lbs
6 - 1
3 1/2 lengths
5

According To Pete
J M Jefferson
P Kinsella
10st 7lbs
9 - 1
5 lengths
6

Our Vic
D Pipe
Danny Cook
11st 12lbs
25 - 1
6 lengths
7

Il Duce
Mrs P Robeson
S P Jones
10st 10lbs
40 - 1
7 lengths
8

Tartak
T R George
S Thomas
11st 5lbs
18 - 1
24 lengths
Fell

Chapoturgeon
P F Nicholls
T J Murphy
11st 4lbs
7 - 1

PulledUp

Tarotino
A King
R Thornton
10st 10lbs
12 - 1

PulledUp

Knowhere
N A Twiston-Davies
T Molloy
11st 5lbs
20 - 1

PulledUp

Northern Alliance
A J Martin
P Carberry
10st 12lbs
10 - 1

PulledUp

Three Mirrors
Ferdy Murphy
G Lee
10st 1lbs
33 - 1

PulledUp

My Petra
N J Henderson
A P McCoy
10st 10lbs
16 - 1

PulledUp

I'm So Lucky
D Pipe
T Scudamore
10st 4lbs
28 - 1

UnseatedRider

Tatenen
P F Nicholls
Christian Williams
11st 0lbs
12 - 1

NonRunner

Pop
H D Daly
A Tinkler
10st 3lbs


NonRunner

Bible Lord
Andrew Turnell
Nick Scholfield
10st 8lbs


NonRunner

Leslingtaylor
J J Quinn
D C Costello
10st 1lbs


NonRunner

From Dawn To Dusk
P J Hobbs
R Johnson
10st 1lbs


GROUND AGAINST POQUELIN, SAYS NICHOLLS
It had been 29 years since an Irish stable won the Paddy Power Gold Cup, and while that losing run was ended by the victory of Tranquil Sea, the wait for Britain's champion trainer Paul Nicholls goes on.
Nicholls has yet to train the winner of the famous handicap chase, and he had to be content with second today, when Poquelin and jockey Ruby Walsh proved best of the stable's three runners. Chapoturgeon fell and Tatenen unseated.
Nicholls said of Poquelin: "He looked fantastic and has run a blinder on the ground - it's just a shame that the ground was against him. I'll not run him during the winter; we'll put him away until the spring and bring him back for the Ryanair Chase [at The Festival]. He could run in one of the handicaps, but I suspect the Ryanair will be the target.
"Ruby said the horse was on and off the bridle because he was hating the ground, and when they went down the back he was going nowhere at all. I knew Ruby was nurturing him hoping to get a run going down the hill and I thought he might pick them up. Ruby is very good at that game plan but every time he hit a bit of soft ground he got stuck in it."
Keith Goldsworthy from West Wales was pleased with the run of Hold Em, who finished third. Goldsworthy said: "He's in the form of his life, is working very well at home and looks a million dollars. I stuck my neck out earlier this week and said he was the stand-out each-way bet of the race and here we are third at 14/1. Some of the boys got 70s on Betfair so they are happy.
"I train them, but don't back them - it's the best policy.
"He always runs so well at Cheltenham that we will have to come back here next month for the boylesports.com Gold Cup. Two miles five furlongs is his trip and Cheltenham his course. He's an out-and-out handicapper so we won't make life complicated, we'll just come back here."
IRISH WIN THE PADDY POWER GOLD CUP FOR THE FIRST TIME SINCE 1980
Tranquil Sea was the impressive winner of today's £150,000 Paddy Power Gold Cup and became the fifth Irish-trained winner of the race since it was founded in 1960 and the first for 29 years.
The other Irish-trained winners have been Fortria who took the first running and was successful for a second time two years later in 1962.
The Irish had to wait for more than a decade for a further winner which came in the shape of Skymas in 1973, and Bright Highway was then successful from the Emerald Isle in 1980.
THREE MIRRORS
Claisse reported that the Ferdy Murphy-trained Three Mirrors, who was quickly tailed off in the Paddy Power Gold Cup and was soon pulled up, had been humanely put down.
"It is thought he suffered a pelvic injury," explained Claisse.